Adorable Crocheted Elephant Projects
When we pick favourites in something, we really pick them. By that, we mean that everything we do or buy for weeks follows that theme. Our DIY projects are no exception! When we go through a "phase", suddenly everything we crochet from there on our for at least a few months has something to do with what we're currently loving most. Lately (and we're not quite sure why) our biggest obsession has been elephants. On TV, on printed fabric for clothing, on umbrellas… we don't care where the elephants are as long as we get to enjoy their awesomeness as we go about our day.
Just in case you love elephants as much as we do and you also want to incorporate them into your crafting routine, here are 15 wonderful crocheted elephant projects that we can't wait to try!
1. Elephant book ends
When we first came across this idea, we were actually shocked to realized that we never knew you can crochet book ends! Imagine how pleased we were, then, when we learned that, not only can you crochet them, but you can crochet them to be shaped like adorable little elephants! Moogly Blog shows you how it's done.
2. Elephant comfort blanket
We've always loved comfort blankets, ever since we were little kids. Whether you're the person making it or the person snuggling it, comfort blankets are just extra fun because you have a toy and a warm blankie all in one place. Naturally, we're particularly big fans of this design because the adorable little toy at the top is a little elephant! Get the pattern from Look What I Made.
3. Ella the Elephant and Her Boyfriend
We're always happy to find patterns that involve not just one thing, but two in one place! Especially if it's a project we enjoy, we're never opposed to having more crochet work on our hands. This cute little blue elephant and her boyfriend by Vanja Grundmann is the perfect example of what we mean! Give them to two different grandchildren so they can play together or gift them as a set.
4. Crocheted elephant rattle
Are you hoping to introduce your kids to the wonder of crochet early? Then crocheted baby toys are the perfect way to do it! We love the way this little elephant shaped rattle combines soft texture with a cute character, but also with a practical shape that will keep Baby busy, especially if they're teething. Just make sure you choose washable yarn! Get the full instructions on Loopsan.
5. Little Bigfoot Elephant
If there's anything we like even more than a cute elephant themed crochet project, it's an ironic name for an elephant themed crochet project! This little amigurumi style toy is less than ten inches tall and has an excited expression that makes us feel just as happy as he looks. Amigurumi To Go shows you step by step how to work in tiny stitches and with fine yarn to make this whole doll, right down to the trunk and ears.
6. Little Elephant
Perhaps you're looking to make a little elephant figurine that's more for looking at and appreciating and less for playing with? Then this adorable little guy is perfect for what you want to make. Besides being a detailed pattern that looks impressive to people who don't crochet, the expression on his face as he holds his little heart up towards you with his trunk just squeezes our hearts. Check out how he's made on Teri Crews!
7. Padma
When you crochet toys do you prefer that they're a little more cartoon-ish than realistic? Then this awesome Padma design might be exactly what you're looking for! We love that it looks like an illustration come to "life", as though it walked off the page and fell asleep right in front of you. Dawn Toussaint has the tutorial for you.
8. Meimei Baby Elephant
guides you through the surprisingly simple process of creating a little "baby" elephant that not only looks like it might be a baby itself, but also makes a very baby friendly gift. We're absolutely in love with the variegated rainbow detailing around the edges of the toy, but you could make it any colour or combination you like! See how Look at What I Made crocheted this one.
9. Critter trio
Maybe you're prefer to make a little cartoon-like elephant that comes with an adorable crew of friends so that your child has more fun playing? Then this trio pattern by Lion Brand is definitely the one for you! We love how rounded they are, as well as how colourful the yarn choices in this picture were. It adds to the cheery look of the little friends!
10. Amigurumi Elephant Snuggle
Did you see the comfort blanket and the amigurumi toys and immediately start to wish that you could combine the two because each idea is so cute? Well, we're happy to report that Dendennis has found an easy way for you to do so! Check out their tutorial on creating a comfort blanket that features an adorable amigurumi elephant snoozing happily in the centre of the blanket.
11. Not Your Everyday Elephant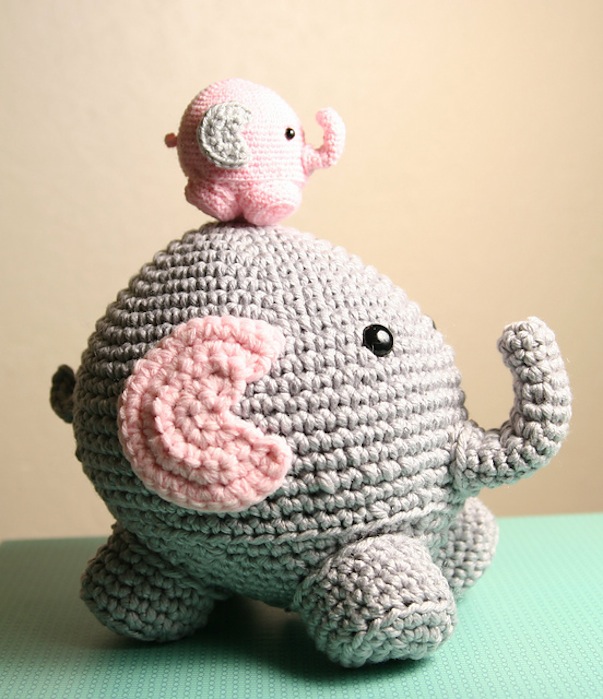 Have we ever mentioned that we love a pattern that gives us sizing options? The more different variations we can make of the same thing, the more we'll use that pattern and really get its worth! That's why we love this adorable rounded elephant toy by Cassie McSassy Craft. You can make a big, squishy elephant and then you can make it a baby too!
12. Percy the Elephant amigurumi
Besides the adorably tiny size that's characteristic of amigurumi crochet projects, our favourite part of this cute little Percy the Elepahnt design is that you can change up their adornments! Irene Strange chose to make a little bowler hat for one elephant and a little hair bow for another, but you could give them all kinds of accessories that will give each toy some personality.
13. Chevron elephant lovey
Are you still looking for the perfect comfort blanket idea and, even though you like the idea of the ones we've already shown you, they didn't quite do the trick for you? Consider this adorable chevron design instead! Did you ever expect that there were so many options when you decided you wanted to make an elephant themed comfort blanket? We didn't, but we're so happy to learn that we were wrong! Check out the pattern on Hooks and Heels.
14. Little Elephant toy
Do you love the look of abstract toys that feature lots of shapes, colours, and patterns? Then these little squared off elephant dolls are the ones for you! Lickety Stitch guides you through the process of crocheting all kinds of little characters and, once you've got some practice under your belt, you can even customize your own!
15. Easy Elephants
Maybe a few of these patterns caught your eye but none of them quite lived up to the idea you had in your mind of chunky, chubby little elephants that are practically circles with trunks? Then you'll love this design from Top Crochet Patterns! They're a great way to practice shaping and patterns all at once.
Do you know a fellow crochet enthusiast who loves elephants just as much as we do? Share this post with them for a little bit of inspiration!