DIY Crochet Lace Doily Patterns
Knitting and crochet is one of those traditional arts that gets passed down by the generation. We're knitters, but the fact that we don't crochet very well beyond a simple chain stitch has given us a crazy appreciation for the fine and fancy things you can make with a crochet hook. Our particular favourite pieces, and the ones we'd love to learn for most, are vintage style lace doilies!
Check out these 15 beautiful and unique crocheted doily patterns we've collected that we think are lovely enough to inspire us to work on our technique. You might be ready to make these right now while we practice and aspire to projects like these!
We love this pattern idea because the style and stitches are so classically pretty, but the colour choices are much more jazzed up and modern. Think of how kitschy and cool this would look on your mantle piece or on the hall table near your entry way!
2. Fourth of July doily by Lacy Crochet
If you prefer very fine wool and a small crochet hook for a finer stitch then this pattern might be more up your alley! It's also a good chance to show your patriotic side with your colour choices, although it will look quite pretty in just about any colour you choose!
Here's a pattern with an even finer stitch if the one above isn't quite enough of a challenge for you! We can't get over how gorgeous these swirling lines are and we love the way the thicket pattern grows from the centre, contrasting with the thinner details and the pineapple overlap points.
This pattern looks pretty and classic, but also steady and consistent. The scalloped edging might be our favourite part, but we also can't stop staring at the way the different layers of patterned holes create a beautiful visual all the way around.
We love a Picot edge in knitting, so we guess it just makes sense that we'd totally adore it in crochet as well! No matter how simple the rest of the piece (and this one might be simple to crochet, but it's sure not plain to look at), a Picot finish around the outside will automatically class things up.
Okay, are you ready for a real challenge? This butterfly pattern is just about as lacy and fine as lace crochet gets! It's got all the fixings of a great advanced pattern; intricate detailing in the middle, yarn colour changes, a border. If you're very experienced and you like eye catching things, then this one is basically everything you need in one!
7. Mandala doily floor rug by Tuts Plus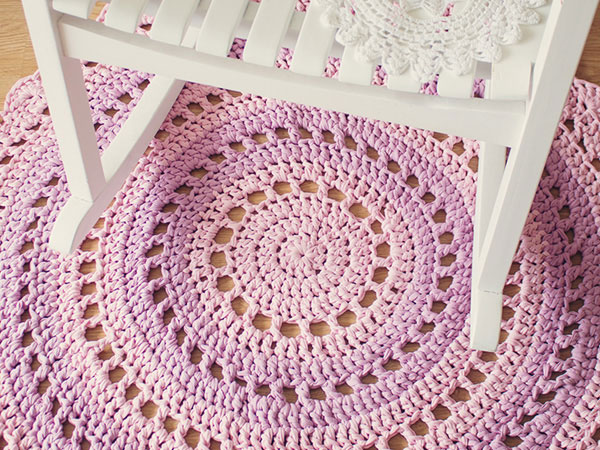 Do you love the idea of a simple project that'll keep you pleasantly occupied for quite some time? Then try knitting this massive version of  a lace doily instead! Imagine how accomplished you'll feel each time you walk across the room and see just how much your work, with its neat and tidy stitches, contributes to the decor?
Crocheting a bigger project, like a rug or a floor mat, lets you use bigger yarn and a bigger crochet hook, but that doesn't mean your pattern can't still be intricate and full of detail! This giant floor version of a lazy doily is the perfect example of just how much the real thing an expanded version of a doily pattern can look like.
9. Valentine Ring of Hearts crochet doily by Crochet Doilies
Do you love giving handmade crochet wares to people as gifts at any opportunity? We're particular fans of gifting people our handiwork around Valentine's Day, because they'll be able to see the effort and love you put into the piece just for them. If you like that idea too, try this heart themed pattern so the gift suits the season!
10. Zpagetti crochet rug by By Number 19
Maybe you like the idea of making a doily but you're looking for something with a big more of a modern feel? This particular pattern reminds us of one of those optical illusion books you might have had as a child. It doesn't just catch your eye, it really holds your attention!
Did you like the way the pineapple daisy pattern above overlapped chains to really look like little pineapples were resting periodically around the edge? Then we're willing to be that you'll love this design too! We're particular fans of how the pineapple pattern alternates with delicate fans all the way around the outside.
12. Small pineapple doily pattern by Free Crochet
Maybe you can't wait to crochet a doily, but you don't want to take on a task that's too big, or perhaps you only have the space for a little project on the surfaces in your home? We find we have to control the sizes of the things we make sometimes, otherwise our house is suddenly over stuffed with things made of yarn. This adorable little doily pattern is a great option for you then. Even though it's small, we think it's one of the prettiest patterns on this whole list.
13. Pretty pineapple crochet pattern by Fave Crafts
Do you love seeing doilies that have arching overlapped stitches to resemble the shape of a pineapple's surface? Well, in case you've never actually tried making one yourself before, here's a great pattern for you to try! It's rather simple as long as you've got some crochet experience, but your final product is still undoubtedly impressive.
14. Pineapple doily pattern with a scalloped edge by yarnaroundhook
Do you like the idea of a doily with scalloped edges but you kind of prefer a bigger, more rounded look than the teeny little version of the edge you saw above? Then this is the pattern for you! We absolutely adore the idea of making multiple doilies of this same pattern in different colours, especially pretty pastels like this picture!
15. Filet crochet name doily pattern by Instructables
Have you recently learned to crochet letters? Then we tip our hates to you, because we can still barely crochet a scarf. We can, however, tell you that your friends and family members will be quite impressed if you combine your letter making with some careful lace doily stitching in order to make this gorgeous design!
Do you know a crochet enthusiast who's been hankering to make something pretty and lacy lately? Share this post with them for a little bit of inspiration!