Creative Ways to Number Your House
While we usually spend our crafting and DIY time inside the house, we'll fully admit that occasionally our love for making things ourselves spills out into the garden or onto the outside of the house as well. That's how we got into the concept of making our own house number! We loved the idea of creating a unique looking marker that people would not only see easily from the street, but also remember well, letting friends and family always find your house without trouble.
When it came down to actually choosing a design for our homemade house number, however, we met a problem: there are so many cool tutorials out there that we just couldn't pick! We finally did decide on a design after a while, but just in case you need a little bit of inspiration just like we did, here's a list of 15 of the best DIY house number designs we came across in our process!
1. Paint sticks and scrap wood
Do you have leftover wooden paint stirrers and other similar sized wood pieces from your last house renovation or room redesign projects? Why not put those to good use rather than letting them sit around or throwing them out? We love the way Sew At Home Mommy painted a few of their sticks with a bright colour pop and pieced them together like a mosaic to serve as a backing for a standard metal house number.
2. Faux garden box number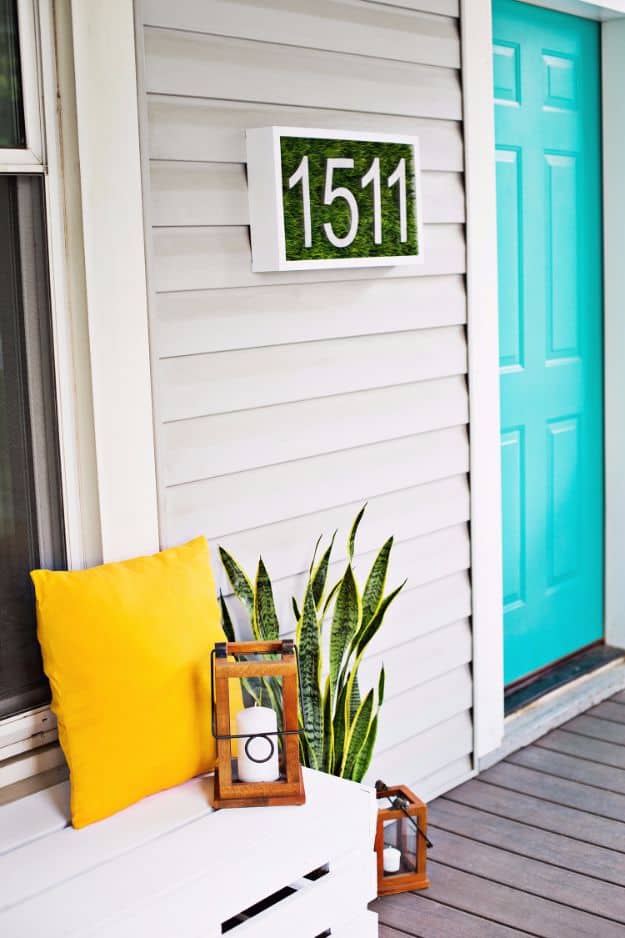 Do you live in a warm climate that's always green and you make sure to keep lots of plants and greenery around on your porch as well because it makes you feel fresh and at home? Then this faux grass boxed number from Architecture Designs is a great idea that'll match your aesthetic! They show you how to set the grass inside the box and attach the numbers before you hang it on the wall.
3. Mini wooden planter numbers
Speaking of plants, were you intrigued by the planter box number idea but you'd rather have a number that actually involves a real planter so you can grow a cute little bundle of flowers below the markings to greet your guests with? Then check out how Shades of Blue Interiors made one of their own! They show you how to use basic wood working skills to make the planter box itself, a swell as how to attach the numbers and hang the whole thing up.
4. Old door number
Have you worked hard to establish a sort of rustic chic aesthetic for your home that relies on a lot of upcycling? Well, there's no point in breaking that theme just to make your own house numbers! The Pennington Point suggests creating what's actually more of a house number display by hanging the number from a wooden board in the emptied window frame of an old wooden door that shows its vintage wear and tear. We especially like this idea for properties that have long lawns or drive ways so you can't easily see the numbers on the actual house itself from the road. This will let your visitors know where to go!
5. Mid-century modern floating numbers
Have you always loved the clean, streamlined aesthetic from the slightly kitschy modernized mid-century era? Well, that style of home décor is actually trending quite a lot again right now, so you could probably find this kind of number plaque easily in a store, but you can probably tell by now that we always prefer to make things ourselves when we can! That's why we were glad to have stumbled upon this tutorial from Sew At Home Mummy.
6. Piled pumpkin numbers
Perhaps you're actually just looking for a way to change the house numbers up seasonally but the place you live in gets pleasant fall weather for many months in a row, and you take full advantage of that because it's your favourite season of all? Then we have a feeling these piled pumpkin house numbers will fit right in outside your home! At The Picket Fence shows you how to paint, pile, and attach the numbers for a wonderfully fall look that's good all the way from Halloween through past Thanksgiving until the snow starts to fall and the pumpkins freeze.
7. Painted plant pot numbers
Are you still intrigued by the idea of involving plants and greenery in your DIY house number but the planter ideas we've shown you so far just haven't quite kept your attention yet? In that case, here's another alternative for your consideration! We love the way The 36th Avenue painted terra cotta plant pots in an intentionally weathered way, choosing a bright contrasting colour for the numbers and filling the pots with flowers to give some life to their porch.
8. Industrial screw numbers
Rather than making the base that you're going to put your numbers on but just buying the metal numbers themselves at the closest hardware or homewares store, would you rather do a project that actually lets you create the numbers with your own hands? Then we think we've found the project for you! This industrial chic idea from Ideas 2 Live 4 entails drilling silver screws into a backing or the side of your house mosaic style until you've created the shape of your numbers by hand.
9. Hanging macramé planter numbers
Just in case you're sold on the idea of planters but still not quite sold on any of the designs you've seen so far, here's another idea because having lots of options never hurts! We love this hanging macramé wrapped planter concept from Think Crafts because it adds a clearly homemade look to the front of your home but in a way that's comfortable and homey.
10. Rustic hanging wooden sign
Are you still searching for a home number idea that's in the realm of rustic and upcycled but you live in a small space and just don't have space for the vintage door we showed you earlier? Then we have a feeling this reclaimed wood and metal brace plaque on a chain might be a little more appropriate for what you're working with! The Honey Comb Home shows you precisely how they pieced this one together from things they gathered.
11. Shining DIY wooden plaque
Are you actually living in a brand new home that's just been built, so you'd looking for a house number and plaque idea that's just as shiny and new looking as everything in the house itself? In that case, perhaps you'd prefer this neatly measured, cleanly put together polished blonde wood and metal number idea from Salvage Seattle. Sometimes it's nice to make something yourself that's so professional looking that people will think it's store bought!
12. Mosaic and key numbers
Do you already have the big house numbers ready to go but, now that you're looking at them, you find them a little bit too plain for your tastes and personal style? In that case, we'd suggest embellishing them however you please until they suit the way you want people to see the outside of your home a little bit better! In case you're strapped for ideas, we really like the way Kenarry used flat back coloured tiles, beads, and old house keys to make a creative, spiralled looking design to hang on their front fence.
13. Solar powered numbers made with pallets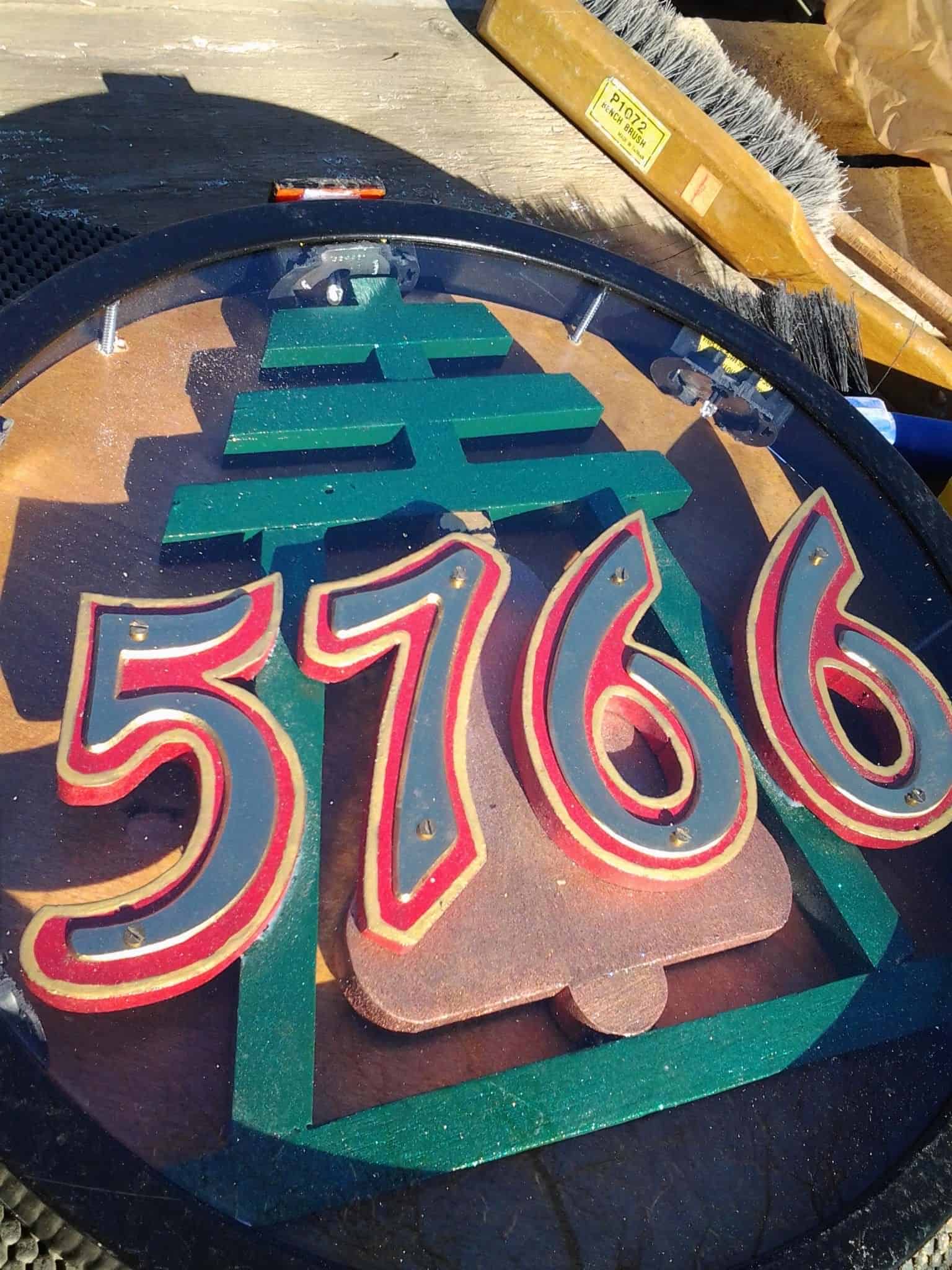 Do you live in an area where the street light doesn't really light your house or perhaps have a porch light that falls just short of keeping your house number lit, meaning that guests have some trouble finding your house at night or in the winter when the early evenings get dark quickly? Then maybe it's time to try making yourself a self lighting house number! We love this design from 1001 Pallets because not only does it upcycle pallet wood, making it easy to customize, but it also lights up thanks to solar power, meaning you don't have to figure out electrical pieces or change batteries.
14. Wooden fish and branch numbers
Perhaps it's actually your cottage that you're looking for a creative house number for, and you've got access to simple wood working tools and some down time there? In that case, why not make yourself something that lets everyone know how much you like fishing when you're out there, since that's usually where you can be found when you're not making your own cottage décor? We love this homey little wooden fish design from Scavenger Chic.
15. Fabric decoupage flower plaque
Are you still thinking that perhaps a simple design with numbers attached to a basic wooden plaque would suit your house best, but you'd also still like to decorate it a little bit to make sure it has some personality? Then here's an idea that's great for crafting enthusiasts who often work with fabric and might have scraps lying around! Check out how Dust and Dog Hair cut out floral shapes from old material and used simple decoupage techniques to paste them to the wood, framing the number in a pretty way all around.
Do you know someone who's been looking to give the front of their house a facelift but you know the need some inspiration? Share this post with them to help them out with at least one element!