DIY Countertop Tutorials and Ideas
This summer, the big home renovation project we decided to take on is our kitchen cabinets. Our kitchen itself is old and beautiful, but the countertops themselves are just a touch too old and worn to suit the aesthetic we're looking for and the style we've been trying to build in the space. That's why we've been scouring the Internet for tutorials that will help us out in renovating them ourselves and using our DIY skills to give them an entire makeover!
1. Concrete kitchen countertops over tile
Perhaps you're actually looking to modernize your kitchen a little, and one of the biggest things you feel needs changing is the old tile finish on the countertops? Well, if a smooth, modern looking concrete finish sounds like an upgrade to you, then we'd definitely suggest taking a look at how Remodelaholic outlines the process for making beautiful countertops like theirs in detail!
2. Repairing and refinishing laminate countertops
Does your kitchen currently have a classic laminate countertop finish but it's a little worse for wear and could definitely use some work, even if you don't replace it entirely with a new material? In that case, we think you'll really find this clear, detailed tutorial from DIY Network very useful indeed. They show you how to repair and refinish laminate to make it glossy and gorgeous again.
3. DIY wide plank butcher block countertops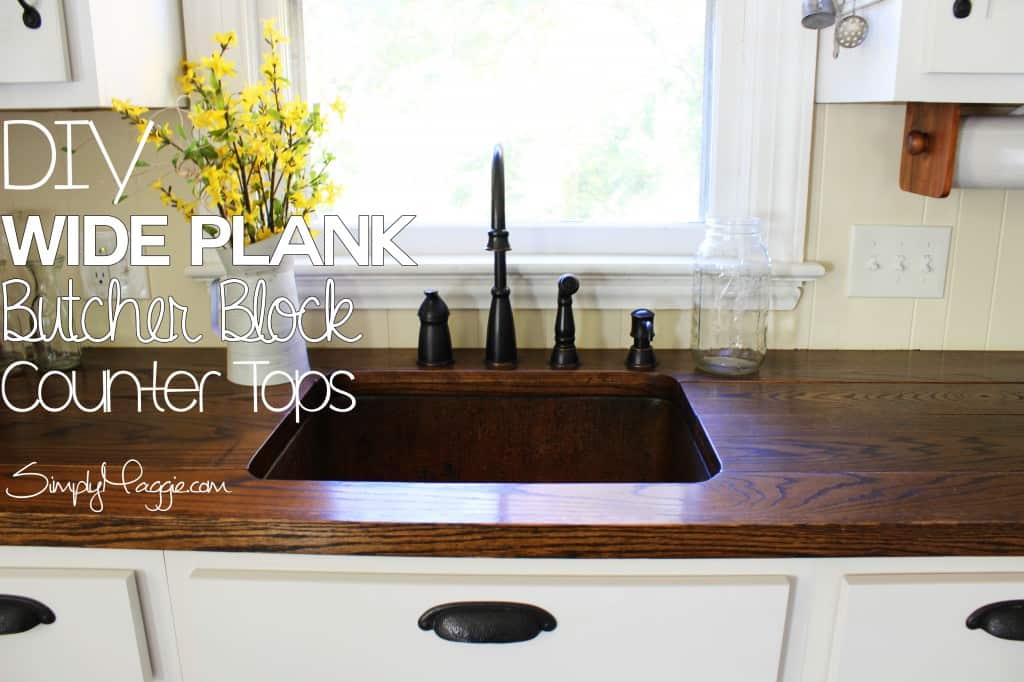 If you're going to put in the time and effort it takes to completely redo your countertops, would you much rather transform the aesthetic of the space entirely and install something gorgeous and wooden? Then we think you might get along very well indeed with this tutorial from Simply Maggie that guides you step by careful step through the process of replacing your current countertops with wide plank wood like a traditional butcher block counter!
4. DIY granite tile kitchen countertops
Did we kind of pique your interest when we started talking about the idea of making a polished concrete countertop but you can't help wondering whether you might prefer something that has a little more visual texture than the constant grey of concrete? In that case, we wonder whether you might have a little more success with something like DIY Network's tutorial that teaches you, step by step, how to make your countertops over using shining granite tile.
5. Black pipe and wood kitchen counters
Are you feeling very enamoured indeed with this whole concept of making wooden counters that look a little more farmhouse chic than the standard laminate but your house also has a slightly industrial influenced aesthetic blended in as well, and you're looking for something that brings that forth as well? In that case, we'd absolutely suggest taking a look at how Whittled Down made this fantastic black pipe and wooden finish countertop piece that has wooden shelves rather than wooden cupboards.
6. Faux reclaimed wood kitchen countertops
Just in case you're still feeling pretty intent on giving your kitchen a wooden countertop makeover but neither of the ideas we've shown you so far quite work for what you're envisioning, here's another guide and look for your consideration! Remodelaholic outlines the whole detailed process of making a beautifully sanded multi-plank countertop from naturally stained and unglazed wood.
7. How to make laminate countertops that look like stone
Have we caught you feeling torn somewhere between wanting to do a simple laminate project but also loving the way the polished granite tiles look and you can't decide between the two? Then we think you just might be the perfect person to take a look at how Rain On a Tin Roof transformed their simple laminate cabinets to look like stone thanks to unique but easy painting techniques!
8. DIY sealed pennies countertop
Have you actually been scrolling through our list thinking about how you might prefer to make something slightly more unique an unconventional, or something that will really catch visitors' eye when they visit? In that case, we have a feeling this awesome sealed pennies countertop tutorial outlined step by step on Domestic Imperfection might be right up your alley!
9. Glossy countertop makeover
Are you actually still feeling quite interested in the idea of transforming simple laminate counters into something even more impressive than the classic look already was? In that case we have a feeling you might really appreciate the way AD Aesthetic did just that, giving it a glossy stone look in an impressively affordable way.
10. Affordable stainless steel countertops
Did we really catch your attention when we started talking about industrial looking countertop makeovers but the wooden and black pipe design we showed you earlier just isn't quite as modernized looking as you'd like? In that case, we'd definitely suggest taking a look at how Remodelaholic created these stunning stainless steel countertops instead!
11. DIY white concrete countertops
Are you actually still scrolling through our list and finding yourself thinking about the idea of making some smooth concrete countertops but you're not sure the grey of natural homemade concrete will really suit the rather clean, white look of the rest of your house? Then we'd be willing to bet that you'll get along a little better with something like this tutorial from Chris Loves Julia that shows you how to make white concrete counters instead!
12. Routered wood ebony countertops
Are you quite intrigued by the neat minimalism of the all-white look we showed you earlier but you're actually convinced that a black finish would suit your space much better? Then we'd be willing to wager that you'll get along much better with something like this tutorial from Lemon Thistle that shows you how to make deep ebony counters from routered wood.
13. Plywood waterfall countertop
Just in case you're still loving the idea of making your own wooden countertop but you're trying to do it where there actually isn't already a counter existing, here's another tutorial that might solve all your problems! We adore the way Vintage Revivals shows you how to make a drop counter, or a counter where its top continues down one side. They did theirs over their laundry machines but the idea is simple enough to adapt for elsewhere in the house thanks to their clear instructions.
14. Simple light painted laminate countertops
Perhaps you're actually just interested in the very simple idea of painting your laminate countertops for a simple colour change but you're rather new to the whole concept of DIY home renovations and you definitely feel like you'll need some guidance? In that case, we'd absolutely suggest taking a look at this full tutorial from DIY Network that teaches you how to do a full and properly finished light painting job on yours.
15. $30 faux marble painted countertops
Perhaps you're actually looking for a way to make your countertops feel much more glamorous and fancy looking than they currently do but you're also working on a budget? Well, if you've ever loved the look of expensive, luxury marble countertops, then we have a feeling you'll also appreciate how authentic and beautiful this faux marble countertop project from Remodelaholic looks, especially considering that it only costs $30!
Do you know another DIY enthusiast who has been wanting to redo their own kitchen countertops lately and has all the skills but who could still use a little help along the way? Share this post with them so they have all kinds information and inspiration!