Useful DIY Concepts for Small Living Rooms
Have you ever looked around your living room and wondered whether or not you might use your creative skills to improve your space a little? We've been doing that a lot lately because we recently moved into a new little apartment the living room is quite small indeed. That's why we always have our eyes peeled for DIY projects and creative solutions that might help us make better, more organized use of the space that we do have!
Are you feeling just as interested as we are, if not more, in the idea of creating some DIY pieces that suit small living rooms very well? Check out this list of 15 of the very best ideas, designs, and tutorials that we've come across so far in our search for inspiration and guidance.
1. DIY murphy desk
Are you the kind of person who frequently works from home or has a hobby that requires a flat surface of some kind, like drawing or sewing, but your home is small enough that you don't really have the space to spare for a permanent desk? In that case, we think you might get a real kick out of the way Shanty 2 Chic made their own "murphy desk" that folds down when you need it and then collapses away into a wall mounted shelf when you need the space for something else. They even show you how to build a few shelves right into the base so you have somewhere to put the supplies you need for whatever you do on your desk.
2. DIY hanging wooden side table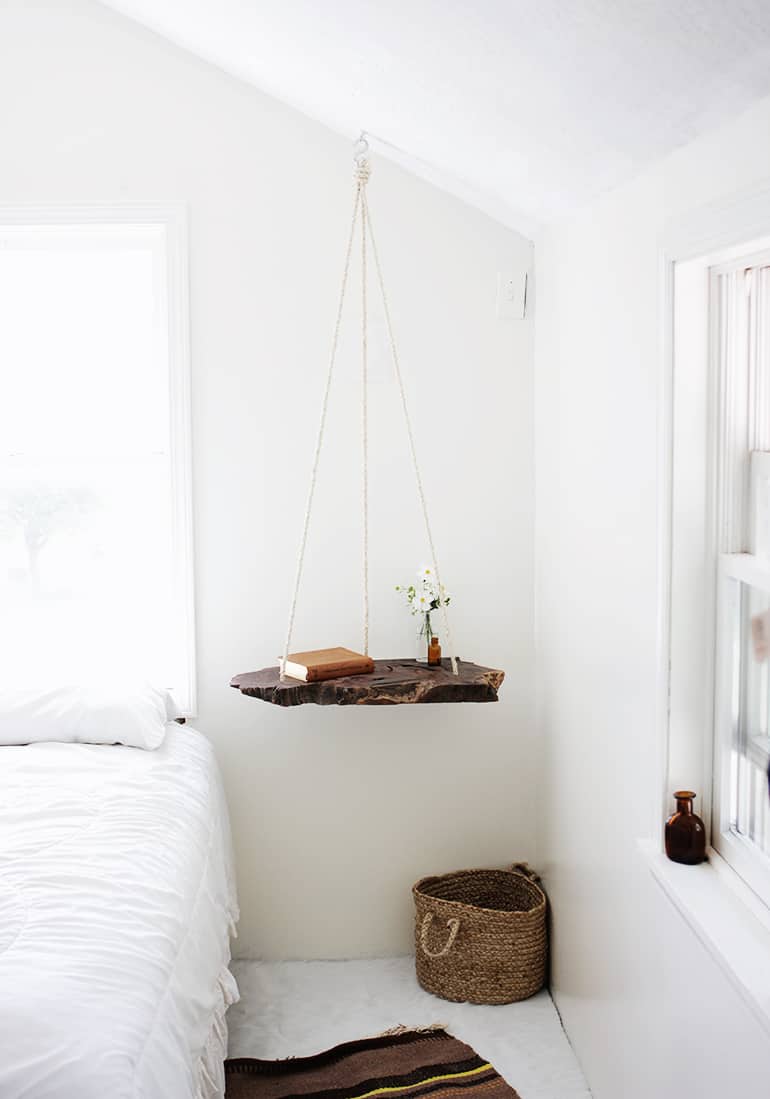 Perhaps you're in need of a side table near your couch for putting a plant, your book, or your morning coffee on, but you don't really have the floor space to spare for a wide wooden table to continually stand, just like we mentioned with the desk earlier? In that case, we'd absolutely suggest taking a look at how The Merry Thought made this hanging wooden side table that appears to float next to your furniture. It's particularly nice for rooms that have a rustic atmosphere to them! We know this particular table is pictured next to as bad, but we think the concept would work just as well in a living room.
3. Floating glass plant shelves in windows
Did we catch your attention with our brief mention of making yourself a space to put plants on in order to brighten up your space a little bit but you don't have any spare spots for a side table of any kind? Then perhaps the answer is to get really creative with the spaces you do have! We're in love with the way Design Sponge used lengths of glass to created floating shelves in the vertical recessed space of their window and set plants all over them in the sun.
4. DIY tall, thin sofa table
Are you still thinking about how you would love another table surface to put some decor and necessities on but you'd prefer it to be within reach of your couch and you just don't have the space on either end without putting a table right in the way of movement space? In that case, we have a feeling you might get along a little better with the way Jenna Sue Design hand made this wooden sofa table that's long and thin enough to sit right behind your couch in the space between that and the wall.
5. Storage crate coffee table alternative
Perhaps the issue in your little living room isn't so much floor space and space to put furniture pieces as it is a complete lack of storage? Well, what if we said that making your own simple furniture would also let you create yourself some new storage as well? In that case, we'd absolutely suggest taking a look at how Live, Laugh, Rowe created a bit of rustic atmosphere by making themselves this crate coffee table but also made it a storage opportunity by giving it a hollow centre and a lifting top. We like how they put wheels on as well, making it easy to move if it gets in the way in your small room!
6. DIY geometric divider
In addition to being small, is your living room quite open concept as well? Then perhaps your space could benefit from being portioned out with a divider in order to delineate different spots for different functions? We love the idea of making a decorative divider that adds some visual appeal to the space at the same time as it separates, say, a quiet reading corner from where you'd usually watch TV on the couch. If you've got a little bit of experience in simple woodworking, then we think you'll enjoy the way Oh Oh Deco created this lovely geometric frame divider that's actually a lot easier to make than it looks.
7. Wooden stacked toy bins
Maybe you're looking to make yourself a piece that will give you some more space efficient storage because you have small children and you find that their toys tend to take up your living room, which is a total issue when it's so small? Well, particularly if you're trying to keep things in line with a slightly more old fashioned or rustic aesthetic, then we'd definitely suggest taking a look at how Ana White made these stacked wooden crate toy bins that are very simple to put together indeed!
8. DIY wood framed standing mirror
If you're going to make something for your space from scratch, would you actually prefer to make something that might help the room look a little bit bigger than it is, without taking up a lot of space? In that case, we'd absolutely encourage you to look at how The Wood Grain Cottage made this lovely, rustic looking wood framed mirror that leans vertically against the wall and will expands the room's visuals.
9. Wooden floating shelf as a desk or table
Are you still feeling very intrigued indeed with the idea of making some kind of alternative desk because you really just don't have the space for a regular one, but you just haven't felt convinced by any of the ideas we've shown you so far? Then here's another idea for your consideration! We love the way Rock My Style turned a simple floating shelf, mounted a little lower than usual, into a tabletop surface! This photo shows it dressed up with a wall mounted mirror to make it into a vanity, but the idea is extremely easy to customize into a simple little desk as well.
10. DIY wooden couch sleeve
Perhaps the thing we've mentioned that has caught your attention the best so far was the need for a solid surface to set your morning coffee on near the couch or chair that you like to watch TV from, but your space is so limited that none of the side table ideas we've shown you so far will do? In that case, we'd absolutely suggest taking a better look at this tutorial from Ugly Duckling House that teaches you step by step how to make a very simple DIY wooden couch sleeve that slides right over the top and gives you a perfectly mug sized spot. This project is so easy that we actually made one successfully even though we have no experience at all in woodworking, as we use it all the time!
11. DIY floating corner shelves
Whether you have decor or storage in mind, are you actually mostly in need of some shelving in your small living room, but you don't have a single sizeable straight wall free to set anything against or mount anything on? Then maybe it's time to make use of your corners too! We're in love with the way 4 Men, 1 Lady cut and mounted these triangular shaped shelves that fit right into a corner and can be mounted above and below each other vertically to your heart's content.
12. Small wooden twisty table
Perhaps you still are very interested in the idea of creating some kind of side table, but you know you'll have to keep it extremely small and thin in order to take advantage of that last one space in your living room? In that case, if you do have a little bit of woodworking experience that you'd like to put to good use, then we would definitely suggest taking a look at how Woodshop Diaries created this stunning little table that appears to twist from bottom to top! Their tutorial clearly outlines for you how surprisingly simple it actually is to make.
13. Upside down spray painted metal garbage can
Are you absolutely interested in the idea of making yourself some kind of simple, space efficient side table to sit next to your couch, but you're also quite new to the DIY world and you're just not sure that constructing your own table from scratch is the direction you're ready to go in? Then we have a feeling you might get along a little better with something like this upcycled, upside down metal garbage can table that The Crafting Chicks shows you how to transform with a simple coat of paint!
14. Over-the-arm couch table
Did we almost catch and keep your attention when we started talking about the idea of making a coffee mug sized surface that sits right over the arm of your couch, but the style of your favourite living room seat is one that you don't thing a reasonable over-sleeve in that style will fit properly? In that case, we have a feeling you might get along a little better with something like this under-the-edge, over-the-arm couch table table that's outlined nice and clearly on Sinnerausch.
15. Narrow floating side table
Like a few of the other examples on this list, this particular side table idea is depicted being used beside a bed, but it would also work just as well placed next to a couch or armchair in your living room! If you're still intrigued by the idea of making yourself some kind of wood furnishing to amp up your living room space but you're also feeling up for a wood working challenge, then we'd definitely suggest taking a look at how Bob Vila made this "floating" side table that fits nicely in a narrow space.
Have you made other awesome DIY projects that were fantastic in your own small living room and that you still use to this day but that you don't see on our list? Tell us all about what you created and how you did it in the comments section or link us to photos of your finished work in the comments section!