Coconut Lime Shortbread Cookies
Coconut lime shortbread cookies – rich, buttery shortbread cookies with a tropical twist!
These cookies are like a taste of tropical heaven – rich, buttery, crumbly shortbread with a hint of lime and coconut, topped with a tangy lime glaze and a scattering of extra coconut to make them look pretty. They practically melt in your mouth and are utterly addictive.
Of course shortbread is pretty awesome as it is, but sometimes it is nice to vary things a bit and these coconut lime shortbread cookies are an easy, delicious way to do just that. The dough takes all of five minutes to whip up, and the food processor does most of the work for you – easy!
If you don't want to bake them all at once, the cut-out, unbaked cookies can be frozen on a baking sheet then placed in a ziplock bag and stored in the freezer and baked from frozen. That way you can have cookies whenever the craving hits! Obviously you would either need to eat them un-glazed, or make a smaller amount of glaze whenever you bake a batch; it is really quick and easy to make and can easily be halved or quartered however so that shouldn't be a problem.
Here's what you'll need:
Cookies:
3/4 cup unsweetened desiccated coconut
1/2 + 1/8 cup granulated sugar
finely grated zest of 2 limes
1 tsp vanilla extract
2 1/2 cups all-purpose flour
2 sticks cold butter, cubed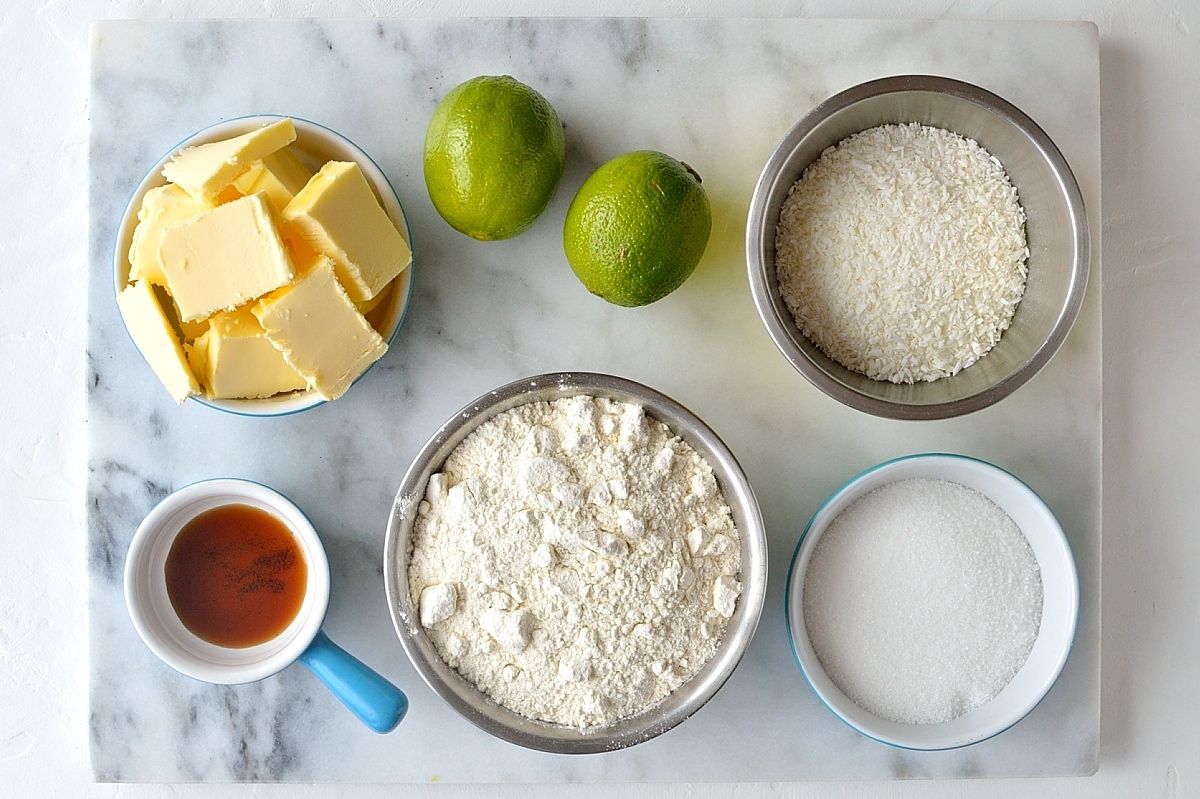 Glaze:
2 cups powdered sugar
juice of 1-2 limes
finely grated zest of 1 lime
unsweetened desiccated coconut for sprinkling
1.Line two baking sheets with parchment paper. Place the coconut, sugar, lime zest and vanilla extract in a food processor. Blitz until the coconut is very finely chopped. Add the flour and pulse to mix then add the cubed butter and blitz until it resembles fine breadcrumbs and no chunks of butter remain.
2.Tip the mixture out into a bowl and bring it together using your hands into a ball. Divide the dough in half.
3.Roll one half out on a lightly floured surface to about ¼ inch thick and use the cookie cutter of your choice to cut out as many shapes as you can. Place the cutouts on one of the prepared baking sheets then re-roll the scraps to cut out more cookies. Repeat with the other half of the dough.
4.Place the sheets of cookies in the freezer (or fridge if you don't have room in the freezer) for 15 minutes while you heat the oven to 325°F. Bake the cookies for about 15 minutes until pale golden. Remove from the oven and leave to cool on the trays for 5 minutes then carefully transfer them to a wire rack to cool completely.
5.To make the glaze, sift the powdered sugar into a bowl and gradually stir in the lime juice to make a thick but pourable glaze. I used the juice of one lime, you might need more or less than that so make sure you add it gradually. Stir in the lime zest.
6.Spoon a little bit of the glaze into the centre of each cookie and spread it out gently. Sprinkle with desiccated coconut and allow the glaze to set before serving. Store in an airtight container.