Healthy and Easy To Make: Chocolate Berry Granola
Chocolate berry granola – a healthy, easy to make breakfast that almost tastes like dessert!
Step away from the shop-bought granola! It is waaay cheaper to make your own and it is so easy! Best of all it is totally customiseable – don't like hazelnuts? Use almonds instead. Not a fan of seeds? Just leave them out. Hate raisins? Use berries, chopped dates, apricots or dried tropical fruits instead.
This delicious chocolate berry granola is flavoured with cocoa powder and mixed with juicy dried berries and crunchy hazelnuts. The base is made with rolled oats and some mixed seeds – both super healthy ingredients. It is bound together and sweetened with a little bit of coconut oil and some maple syrup but it isn't hugely sweet, combined with the berries it has just the right level of sweetness I think.
The secret to making granola that forms big clusters rather than tiny crumbs is to mix in an egg white before you bake it; this helps it to clump together properly in nice, big, crunchy pieces. If you happen to prefer granola with a finer texture, or you want to make it vegan, then you can just leave the egg white out, the granola will still be extremely tasty.
This granola is great eaten for breakfast with milk, especially if you add some fresh berries on top, but it is also good with yogurt, stewed fruit to make a quick crumble, ice cream or just straight from the jar as a snack.
Here's what you'll need:
2 1/2 cups/250g whole rolled oats
3 Tbsp cocoa powder
5 Tbsp mixed seeds (I used hemp, sunflower and poppy seeds)
2 Tbsp coconut oil
1/2 cup maple syrup
1 tsp vanilla extract
pinch salt
1 large egg white
2/3 cup hazelnuts
1 cup dried berries (I use a shop-bought mixture of cherries, blueberries, cranberries and flame raisins)
1.Preheat the oven to 300°F. Line a roasting tray with baking parchment. Roughly chop the hazelnuts and set aside.
2.Place the oats, cocoa powder and seeds in a large bowl and mix to combine.
3.Place the coconut oil and maple syrup in a pan and heat gently until the oil has melted. Stir in the vanilla extract and salt then stir it into the oat mixture.
4.Whisk the egg white with a balloon whisk until it is very frothy then mix it into the oat mixture.
5.Spread it out on the prepared roasting tray in an even layer. Bake for 30-35 minutes until it is dry to the touch. About halfway through the baking time, use a spatula to carefully turn sections of the granola over so that it cooks evenly on both sides; try to break the pieces up as little as possible. If you like you can add the hazelnuts to the pan for the last five minutes of baking so that they get a little toasted.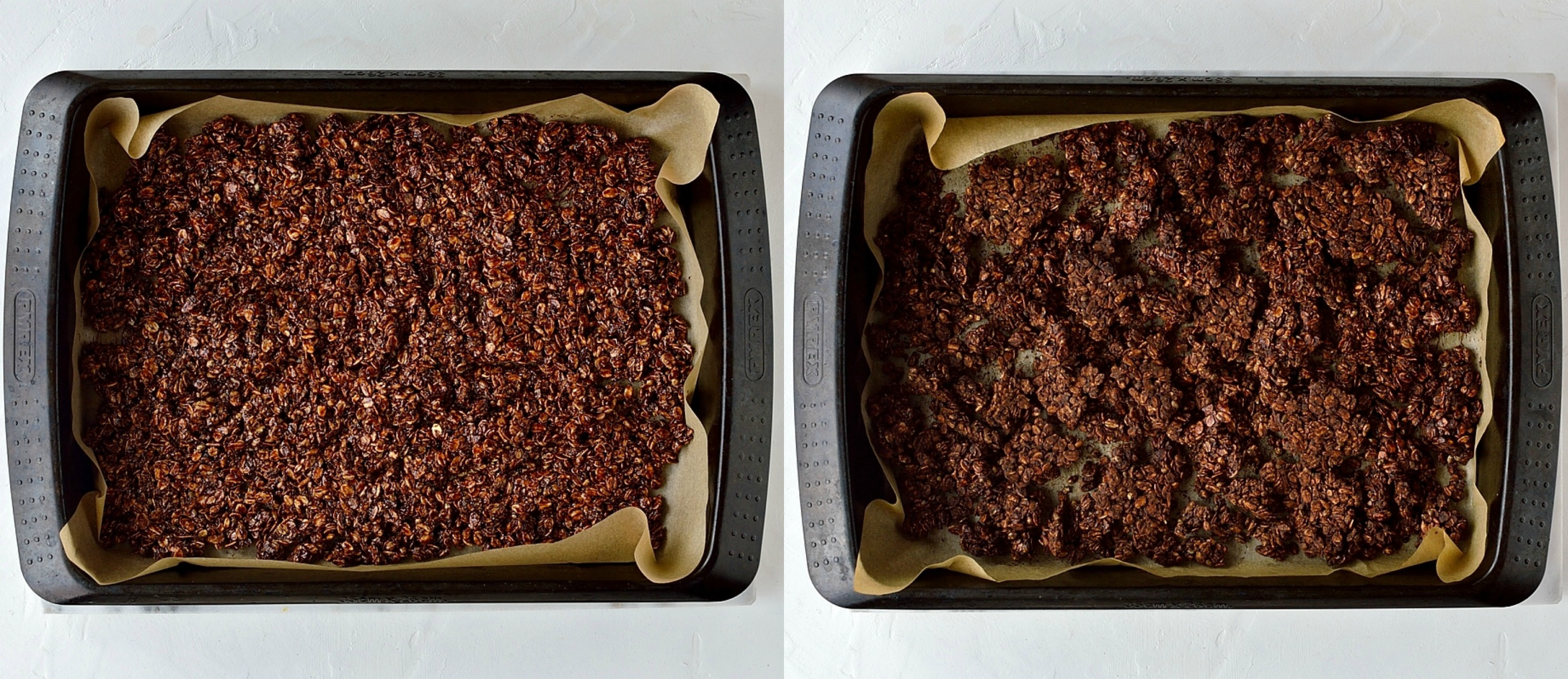 6.Remove from the oven and leave to cool in the pan, it will crisp up further as it cools. Once cold, break the granola up into bite-sized pieces and stir in the dried berries (and hazelnuts if you didn't add them in earlier). Store in an airtight container.