Decorate Your Beach House With These 50 DIY Coastal Decor Pieces
Whether it's your beach house or you like to style your home with a slightly nautical, sand-inspired theme, we've got tons of inspiration for you to enjoy! Decorate your space with these 50 DIY coastal decor pieces. From the dining room to the guest bath, there are ideas for every corner below!
1. Color-Dipped Bar Stools
Brit + Co dipped some wooden barstools in paint and made a functional piece of the home a bit more trendy and style. And because of the turquoise color you get a bit of a beachy vibe with the finished product.
2. Braided Rope Mirrors
These braided rope mirrors from Curbly certainly add a coastal vibe to the bedroom or home office. Grab the details after the jump!
3. Anchor-Printed Wall
Go all in with your nautical home vision and visit A Beautiful Mess for the details behind this anchor-printed wall. It'll be such a fun way to add surprise and interest to the home!
4. Rope Table Mats
Tara Dennis made some roped table mats that also add a coastal feel to the kitchen or dining room. You can really do a lot with these textural pieces.
5. Sailor's Knot
This sailor's knot is a great way to stop some doors around the house. It's such a unique and fun way to transform your beach-inspired home. (via)
6. Jute Stool
Even your stools could be transformed into something with a more coastal style. And thanks to Design Sponge you'll learn how a bit to jute can get the job done.
7. Mason Jar Lanterns
Suburb made some mason jar lanterns that we're swooning for. They're perfect to decorate the back porch with!
8. Shower Curtain
Check out this funky shower curtain from Attic Lace! Add some anchors to your beachy bathroom!
9. Vintage Suits
Vintage bathing suits on the wall could be an unique way to decorate nooks of the home. Thanks for the inspiration BHG!
10. Whitewashed Box
A Beach Cottage found a box on the side of the road and turned it into something new. Check out the details after the jump!
11. Ship Helm Wreath
Welcome guests into your home with this lovely DIY ship helm wreath. Visit Modern Mountain Wreath for the easy-to-follow tutorial.
12. Scattered Rope
You can really scatter rope pieces all around the house. Just use this nook from Martha Stewart as inspiration.
13. Knotted Napkin Rings
These knotted napkin rings from Martha Stewart could be an easy and fun addition to the home as well. Just hop on over and check out the details.
14. Anthro-Inspired Rug
This rug, inspired by an Anthro design has quite the beachy vibe as well. Visit Brit + Co and learn how to make one for yourself over the weekend.
15. Photo Frame
Of course you can create some photo frames to scatted around the house too. Decals, paint and more … it's a fun way to get the family together as well. (via)
16. Rope Vases
These rope vases bode well with the nautical decor as well. Grab the tutorial by visiting Style Me Pretty.
17. Pleated Pom Pom Curtains
A Beautiful Mess whipped up these beautiful and personality-filled pom pom curtains. Its subtle charms seem to also mix well with a coastal scheme.
18. Rope Shelving
We also love the idea behind homemade rope shelving. Again, it fits the theme but it's also an interesting way to provide function to the home. (via)
19. Beachy Caddy
This beach caddy from Martha Stewart could be a great addition to the guest bathroom, home office or even on the coffee table in the living room. Add some subtle, seaside flavor with this piece!
20. TV Tray Table
Check out this nautically-inspired TV tray makeover from Apartment Therapy. Use them for easy dinners or as makeshift side tables.
21. Starfish Pencil Holder
Add some beach flavor to the home office with some help from Maker Crate. This starfish pencil holder will help to transform your desk area.
22. Memo Board
We're absolutely in love with this DIY memo board from Emily A. Clark. Check out all the details after the jump!
23. Striped Wreath
Making the World Cuter make a beachy wreath to welcome guests and decorate the doors with. Even a novice crafter will be able to recreate this one.
24. Seashell Art
Some seashell art is just another easy way to test your crafting skills but add coastal charm to the house too. Grab the details at This Grandma is Fun.
25. Gold-Leaf Seashells
Houzz gave us some great inspiration with these wonderful gold-leaf pieces. Grab your biggest beach finds and some metallic spray paint to recreate this look at home.
26. Sand-Filled Votive
Your candles can get a seaside makeover as well. Some glass pebbles and sand can go a long way as you learn at Yesterday On Tuesday.
27. Driftwood Starburst Mirror
A la Mode made this gorgeous driftwood starburst mirror that we instantly fell head-over-heels in love with.
28. Capiz Shell Art
The Country Chic Cottage grabbed some capiz shells and got to work with this beauty. Get it done in a relaxing afternoon.
29. Sea Glass Mosaic
Sand and Sisal gives us another great DIY to follow along with. The sea glass mosaic will definitely bring in some coastal vibes to the afternoon.
30. Glass Buoys
These glass buoys from Craftberry Bush is just another way to DIY and decorate with coastal style. Check out the details after the jump.
31. Painted Oars
You can always paint some oars. This inspiration from Rambling Renovators will help to add some style to the porches or even the walls of the basement.
32. Shell Planters
Air plants in seashells from Yesterday On Tuesday are absolutely making us swoon. They mix both beachy vibes with modern interest.
33. Jute Drum Shade
Cover a a drum shape with some jute. Learn about how to make this all happen with some help from The DIY Village.
34. Flag Garland
Consumer Crafts whipped up this nautical flag garland and the possibilities behind it are endless. The mantle, the play room, check out the directions now!
35. Toy Crate
Check out this anchor toy crate from The Girl Creative! Create one of these to organize and store whatever you may need!
36. Mod Podge Tray
Crafts By Courtney showed off this easy serving tray DIY that works great for beach themes as well. Just grab the mod podge!
37. Marquee Anchor
Simple Stylings created this gorgeous anchor marquee that has endless possibilities too. Snag the tutorial after your visit.
38. Burlap Wall
With some starfish and a bit of burlap you can recreate this coastal wall with ease. Check it out at Pastels and Macarons.
39. Side Table
We absolutely are loving this side table. It provides so much inspiration in terms of nautical styling but also ideas for other DIYs. (via)
40. Striped Stool
This stool can be used for so many things. The kiddos can enjoy it in the guest bath or use it in the playroom. Grab the details at Whistle and Ivy.
41. Driftwood Wreath
Consumer Crafts also made a wreath with seaside style that we're loving. With a little driftwood you too can make this beauty your own.
42. Beachy Lantern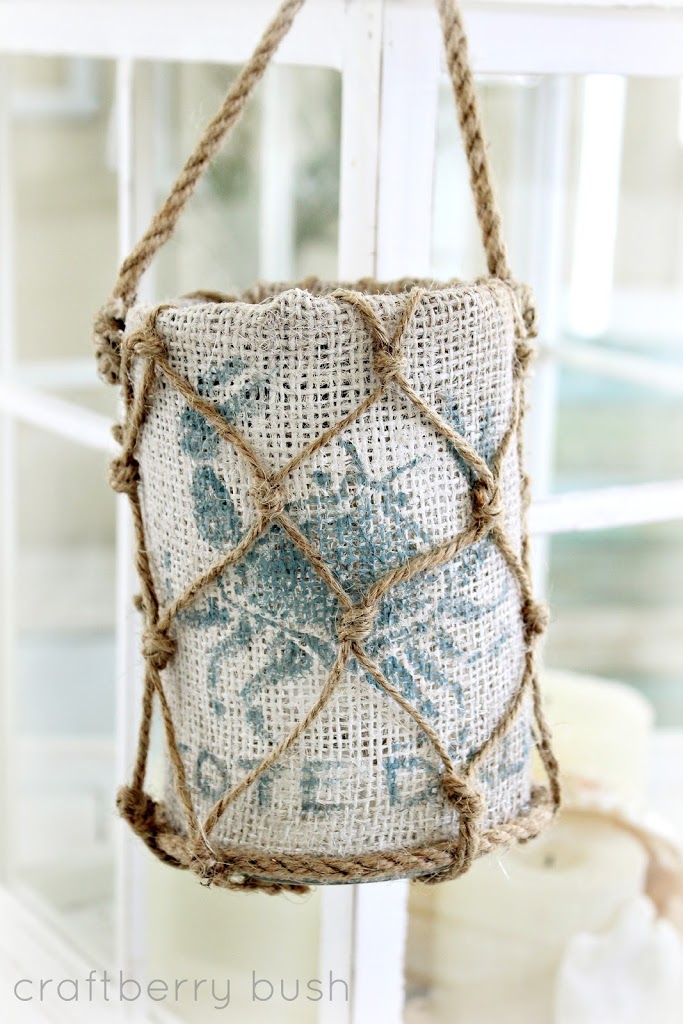 Craft berry Bush made a beach-inspired lantern that we love too. It can be used in so many spots around the house!
43. Anchor Wall Art
Check out this easy anchor wall art from Restoration Beauty! The kiddos may even help you with this one.
44. Towel Holder
Hang some rope and use it in the bathroom! This is definitely one of the easier DIYs on the list but certainly packs the right kind of punch! (via)
45. Rope Basket
Celebrate Creativity made an entire basket from rope and we certainly love its nautical flavor. Grab the details after your visit.
46. Braided Doormat
Martha Stewart braided a doormat and easily beached up the front door with its addition. Learn how to make this beauty after the jump.
47. Anchor Coasters
Thees anchor coasters are certainly easy to make. Of course, rope is involved but you'll want to grab a bit of paint for this one too. (via)
48. Rope Banister
This is the perfect DIY for transforming your beach home. This rope banister from House & Home may be our favorite idea of the bunch.
49. Painted Driftwood Hanger
Grab some driftwood and get creative with some paint. Then follow along at The Sweetest Digs and learn how to make it functional.
50. Tassel Pillows
Brit + Co made some colorful tassel pillows that speak to our coastal-loving hearts. Hop on over and pick your colors now!