15 DIY Clutches To Rock All Year Long
There's no right or wrong way to wear a clutch. In fact, they're one of the most versatile pieces in your closet. They can be dressed up, dressed down, and no matter the season, they can be used. And today, we're sharing 15 DIY clutches that you not only can rock all year long but you can make right in the comfort of your own home. Let's have a look, shall we?
1. Studded Clutch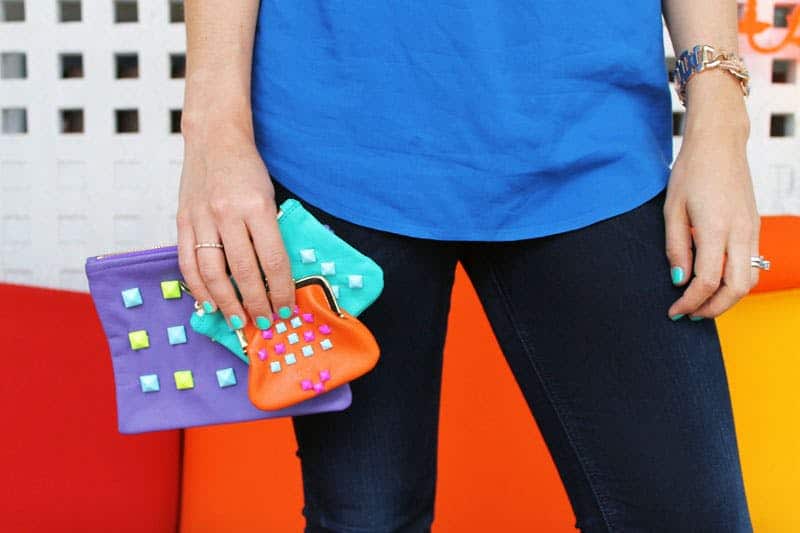 Brit + Co starts off our clutch journey with a tutorial on how to make these adorable, colorful, and studded designs. We love how funky and cool these ones are. They're perfect for all ages and super easy to recreate.
2. Shell-Embellished Clutch
For a bit of beachy style, infuse some natural embellishments into your design. That's exactly what Annawii did with this piece. Between the fringe and the seashells, you have an outdoor-inspired look that's perfect for our boho-lovers.
3. Envelope Clutch
For something slick and modern, learn how to make one of these trendy envelope clutches. They go with a ton of different looks and styles – from casual to more formal. Check out the tutorial over at Behind the Seams.
4. Tote Clutch
This is one of the more innovative looks on the list. Create a tote that can turn into a clutch! Check out all the details over at Brit + Co.
5. Leather Fold Over Clutch
Say Yes To Hoboken teaches us how to make this gorgeous leather fold over clutch. And we're really loving the delicate details. Just look at that beautiful zipper and its contrast against the hot pink leather.
6. Gold Chain Fringe Clutch
We're kind of swooning over this gold chain fringe clutch and we want one for our own closets, immediately! Thankfully, Typical Housecat gives us all the know-how for making one right at home. You could do the same with silver!
7. Quoted Clutch
Sometimes you have a clutch that needs a pick-me-up. If that's you and your favorite piece, then Paper & Stitch has the makeover idea you need to make that happen. A little quote addition could do the trick!
8. No-Sew Clutch
If you don't sew, then this project from kollabora will make you happy. You can create a fun, no-sew envelope clutch without ever picking up a needle or thread. Hop on over now and check it out!
9. Gold Foil Brushstroke Clutch
We're really loving this beauty from Delineate Your Dwelling too. The finished look feels very designer and you'd never know that you whipped it up and styled it right at home. That gold foiling really transforms it all.
10. Eye Spy Clutch
Paper & Stitch created this funky eye spy clutch and we're in love with it too. You'll have fun whipping up this beauty. And we think it'd make a great DIY gift for friends or family members!
11. Cotton & Leather Clutch
Bring together a bit of cotton and leather to make a trendy piece for your closet or maybe even your best friend's. You'll find all the details for this over at A Beautiful Mess. We especially love this particular pattern and leather color combination – it's quite stylish!
12. Sequin Clutch
Henry Happened made a sequin-covered clutch perfect for days where you want a bit more jazzy spirits. You can again, dress this one up or down so it'll become a more versatile piece for your closet. And you can pick out any color sequins that inspire you – from rose gold to black!
13. Chandelier Crystal Clutch
Honestly WTF modeled this beauty after a designer piece they loved. And you'll have so much fun creating this piece at home too. Just make sure you find the right kind of crystal embellishments to get the job done.
14. Glitter Clutch
Another glittery piece that we're swooning for, this clutch from I Am Style-ish is a favorite of the bunch. And there's a wrist-piece attached to this design making it even easier to carry around, especially on your shopping trips.
15. Mini Photo Clutch
A Beautiful Mess gave us another great idea – one that's perfect for DIY gifting as well. You can take a photo and create a clutch out of the memory. Perfect for organizing bigger totes and even school supplies, check out the tutorial after the jump.