15 Fantastic Clothespin Crafts
In the world of crafting, there are certain supplies and techniques that have just always been classics, especially when it comes to crafting with kids. Making DIY projects from clothespins is absolutely one of those things! Our kids have always loved turning regular clothes pins into all different kinds of things, so we've always got our eyes peeled for new ideas that we can use them for when we're crafting together.
Just in case you love the idea of making all kinds of different DIY projects using clothespins just as much as we do, if not more, here are 15 of the very best ideas, designs, and tutorials we've come across so far in our search for inspiration and guidance!
1. Starburst laundry room clothespin wreath
When you think of clothespins, does your mind immediately go to the laundry room, no matter what you're doing with them? Well, that doesn't have to be a bad thing because, thanks to tutorials like this one from Overthrow Martha, there are all kinds of cute laundry room themed decor pieces you can make! This funny clothespin wreath is the perfect example of what we mean.
2. Thread wrapped wooden clothespin dolls
Are the kinds of clothespins you have to work with actually the old fashioned ones that don't have a hinge so you're not so sure about a craft where clipping them onto something is the main component? In that case, we think maybe you'll prefer making these adorable yarn wrapped clothespin dolls outlined step by step on This Heart of Mine! We love that they used different colours and techniques to create different looking people in all kinds of outfits.
3. Clothespin airplanes
In your house, are the most popular crafts always the ones that are fun to make and to play with in some way after? Well, that's true for our house too, so we'd definitely suggest taking a look at these awesome clothespin airplanes outlined step by step on My Super Foods. They were a huge hit in our house and now we have a whole air fleet.
4. Clothespin coffee filter butterfly
If you're going to make a craft with clothespins, would you also like to have some other kind of upcycled supply or crafty technique involve, just to keep things interesting? In that case, we'd absolutely suggest taking a look at how The Imagination Tree got creative with colour by dying coffee filters to make butterfly wings and pinching them into a wooden clothespin body.
5. Clothespin catapults
Did we really catch your attention when we started talking about DIY projects that your kids can actually play with when they're finished because they have some kind of fun working function? In that case, we really think you're going to enjoy the way Therapy Fun Zone created these hilarious clothespin and bottle cap catapults that will actually shoot a ball across the room.
6. Clothespin race car
If you're going to bookmark one kind of awesome working DIY clothespin toy, would you actually prefer to save a few, since you're pretty sure they're going to be a hit with your kids? In that case, we can't wait to show you how iKatbag made these fantastic clothespin cars that actually roll on their button wheels.
7. Kid-sized clothespin Foosball table
As it turns out, clothespins are fantastic crafting supplies for making all kinds of cool DIY toys! We're pretty partial to this awesome miniature, kid-sized foosball table because it reminds us of one we had as a kid, even though ours was old and carved from wood. U Create Crafts walks you step by step through the process of making it happen with wooden dowels, clothespins, and a shoebox.
8. Clothespin angels
Are you the kind of avid crafting parent who loves bookmarking seasonal and holiday themed crafts even if the project doesn't really align with the season that's currently happening outside, just because you love having things in your back pocket when the time comes so you feel prepared? In that case, we'd definitely suggest taking a look at how Project Kid made these adorable clothespin angels in just a few simple steps.
9. Clothespin trivet
Perhaps it's not actually your kids who are quite so interested in making something practical or useful from clothespins because it's actually you who is quite interested in the concept? In that case, we'd definitely suggest taking a look at how Dream A Little Bigger made these fantastic trivets from deconstructed clothespins that have been glued together in different ways and painted bright, fun colours.
10. Clothespin picture holder
Have you actually been scrolling through our list hoping to find a clothespin repurposing project that might actually make a cute DIY gift for a coworker or for your kids to give someone they admire? In that case, we think you simply must take a look at the way The Folding Chair made these simple but adorable photo holders from wire, painted wooden cubes, and miniature clothespins.
11. Headphone cord organizer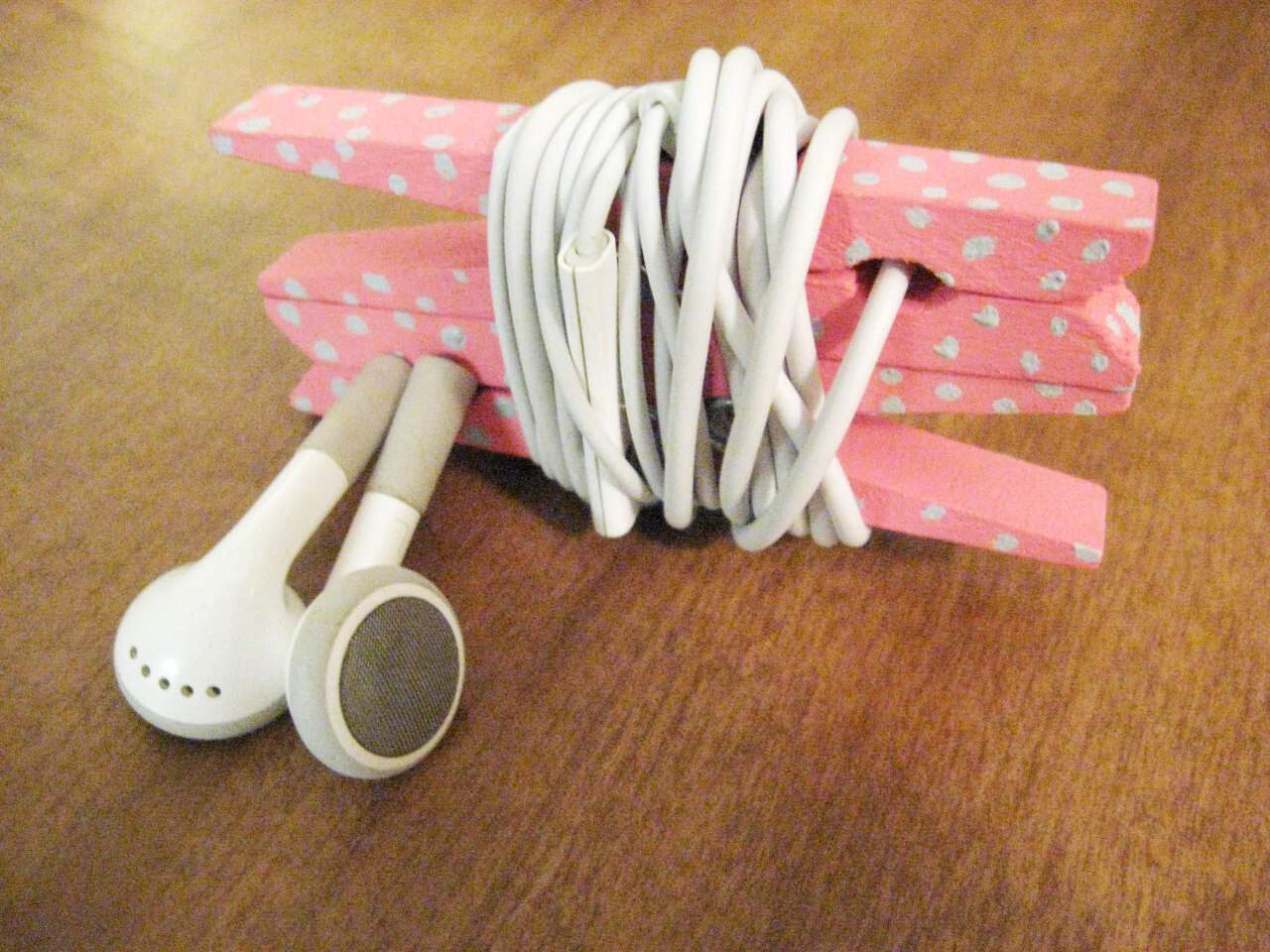 Have we really caught your attention with all the different ways that you can actually use clothespins to make something practical but you're thinking on a smaller scale, like something you can use on the go on a daily basis? In that case, we have a feeling this cord and headphones organizer from Make Something Mondays might be right up your alley! Simply glue two together along the side in opposite directions, paint them fun colours, and voila.
12. Menu planning station
Clothespins have always been useful for keeping notes and reminders in, of course, kind of how you saw with the photo holder we mentioned earlier, but what if you're looking to make something that will help you organize your daily kitchen process? In that case, we'd absolutely suggest taking a look at how The Real Thing with The Coake Family made a specialized note board where family members can put suggestions in the clothespins to help pick dishes and menu plan for the week.
13. Clothespin glasses holder for the car
Are you still totally interested in the practical qualities of clothespins in all kinds of places in your life, especially since we mentioned the idea of being on the go? Then we have a feeling you'll be very interested indeed in this idea from Instructables for creating a simple glasses clip on the sun shade so you always have a safe, accessible place to put them between wearing them to drive.
14. Clothespin party backdrop
Are you looking for quick and affordable DIY ideas to help decorate for a party that you're planing last minute and don't have a whole lot of time or money to shop for in the design department? Well, did you know that simple wooden clothespins can be transformed into decor pieces too? Check out how Chickabug made this adorable multi-coloured garland in a super simple way.
15. Mini clothespin necklace
Perhaps your kids would rather make some kind of awesome craft they can wear after they're done with it because their favourite game in the whole world is playing dress up? In that case, we have a feeling this awesome clothespin necklace outlined step by step on Babble Dabble Doo! Your kids can colour theirs however they please, of course, but we adore the look of the rainbow original.
Have you made other kinds of awesome clothespin crafts before that you and your kids really enjoyed but that you don't see here on our list? Tell us all about what you created and how you did it or link us to photos of your finished work in the comments section!