Can You Freeze Chicken Noodle Soup? Here's What to Do
Chicken noodle soup is the unofficial medicine that everyone needs when they catch a cold – it will make you feel better instantly. How about keeping it for longer? Can you freeze chicken noodle soup?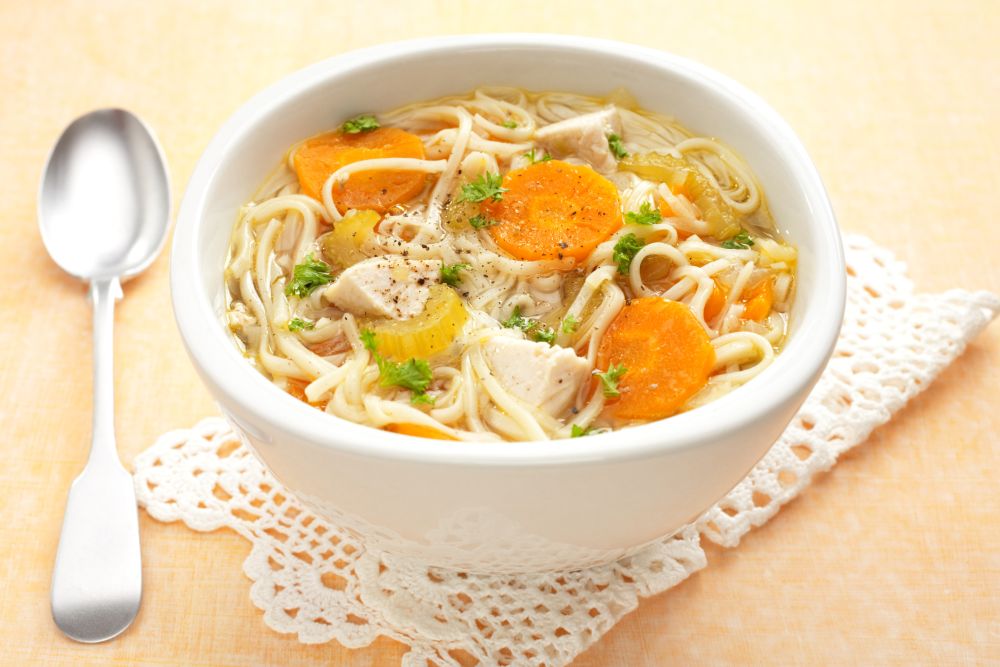 If you're making your own chicken noodle soup or your mom is sending you some – because we all know that mom's chicken noodle soup is the best ever – and you want to keep it for longer, let's see how we can do this.
Can You Freeze Chicken Noodle Soup?
One of our readers is in love with chicken noodle soup too, and we got this message from them:
I like to cook big batches of soups and stews to freeze for the winter. I work long hours, and I don't always feel like cooking when I get home from work. Being able to just pull out a meal and reheat it on the stove is perfect for late nights or cold winter days.

One of my favourite soups is chicken noodle, but I've only ever made it one pot at a time. I've heard that noodles go mushy after being frozen, and I wouldn't want to do all that work just to end up with gross, yucky soup. Can you freeze chicken noodle soup?
Yes, you can freeze chicken noodle soup, although you are correct about the noodles. When noodles that are cooked in soup are frozen and then thawed, they tend to break down and become really mushy. In addition, they also have a tendency to soak up a lot of the soup liquid, turning it into more of a porridge than a soup. However, all of that can be avoided by taking a bit of precaution.
How to Freeze Chicken Noodle Soup?
If you are making chicken noodle soup to freeze for later, I recommend making the soup without the noodles. Once you are ready to eat the soup, simply boil some noodles and add them to the soup. This allows you to do the time-consuming cooking ahead of time, while still enjoying the soup with the flavour and consistency you enjoy.
To freeze chicken noodle soup, prepare the soup according to your recipe, but omit the noodles.
Allow the soup to cool completely.
Then, you can either freeze the soup in large batches, or in single serving sizes.
To freeze a large batch, place a freezer bag in a large bowl with the side turned down over the edge of the bowl.
Pour the soup into the freezer bag, leaving some headroom to allow for expansion.
Seal the bag, then label and date it.
The freezer bag can be stacked for easier storage.
To freeze in individual serving sizes, pour the soup into muffin tins.
Place the muffin tin in the freezer until the soup is frozen, and then pop out the frozen servings and place them in a freezer bag.
Remove the excess air, then seal the bag.
Label and date the bag, and then place it in the freezer.
Simply remove a frozen serving when ready to eat.
How to Keep Chicken Noodle Soup for Longer?
If you want to make sure your chicken noodle soup will keep for a long time in the freezer, it's perhaps time you looked into vacuum sealers. The way vacuum sealers work is by taking out all the air in the bag or container and sealing it all perfectly.
Understandably, when it comes to soups, this can be a problem. However, if you put the soup in the bag, seal it as best you can and freeze it for a few hours, you can then use the vacuum sealer on the bag. In this way, you'll take out all the air from the bag after the soup has finished expanding and has some consistency.
We love loads of vacuum sealers, and you can try them all out. Our favorite is the one who ended up at the top of our list, the FoodSaver V4840 2-in-1 Vacuum Sealer Machine, which works with freezer bags and containers of different sizes.
How to Thaw Chicken Noodle Soup?
When you want to have chicken noodle soup next, you can take the bags out of the freezer, depending on how many portions you want to eat. Place it in the fridge overnight, preferably in a bowl or pot.
You can also thaw the bags of chicken noodle soup under running water.
Once the soup is somewhat back to a liquid state, you can put it on the stove in a pot and warm it all through. This is the spot where you can add your cooked noodles.
Chicken Noodle Soup Recipe
If you want to put a new twist to the chicken noodle soup, we have a great recipe for you. Unlike most quick-made soups these days, this one will take a while to be ready, as it is slow cooked. However, that also means it's going to be even more flavorful.
Chicken noodle soup ingredients:
1 ready-roasted chicken
2 carrots, peeled.
1 brown onion
1 stick of celery
1 red chili
3 cloves garlic, chopped in half (no need to peel)
1 thumb-sized piece of ginger, roughly chopped (no need to peel)
2 tbsp olive oil
¼ tsp salt
¼ tsp pepper
2 tbsp vegetable bouillon powder
1 tbsp rice wine vinegar or mirin
3 tbsp soy sauce
2 tbsp Gochujang Korean sauce (this can be found on the speciality aisle of stores)
water
4 large eggs
7 oz dried ramen noodles
1 leek, washed and sliced
10 small mushrooms, sliced
2 packed cups spinach leaves
1 tsp sesame seeds
1 tsp black sesame seeds
small bunch scallions, chopped
1 tsp red chili flakes
Check out our recipe page to get all the instructions on what you have to do to get a delicious chicken noodle soup.