Spoil Your Furry Friend or Yourself With These 25 Cat Lover DIYs
Believe it or not, there are tons of great DIYs for pet owners. And today we're shining a light on some pretty charming and adorable projects that your kitties are going to love. So go ahead and spoil your furry friend or yourself with these 25 cat lover DIYs!
1. Cat Tent
Instructables shows us how to make an absolutely adorable tent for our cats to rest in. Whether they're used inside or out, your cat will love their own personal space to relax in.
2. Cat Stamps
Sign all of your greeting cards from yourself and the cat with the help of this DIY stamp from The Pink Samurai. How adorable are these little craft-helpers!?
3. Cat Shoes
Your little kitten will really love you for paying homage to her with these adorable cat-toed shoes. Check out the details over at Kittenhood – and remember these would be great for making for a friend!
4. Cat Toys
These junk foot cat toys are just too darn adorable. A Beautiful Mess provides us with all the details on how to make these cuties too and your kittens will have a ball playing with them.
5. Cat Tights
Sprinkles in Springs made these adorable and quite genius cat tights in mere minutes and so can you. Just follow the directions and put your cat-loving vibes out there for the world to see.
6. Cat Confetti
Dress up any event with some confetti cat pouches. Whether it's your pets birthday party or your own, pass these cuties out and celebrate! Bespoke Bride as the 4-1-1.
7. Cat Purse
A Beautiful Mess always has the best ideas and this one will keep cat lovers smiling from ear to ear. How adorable is this innovative idea? And who knew how easy it was to create and make your own purse?
8. Cat Placemat
Make feeding time a bit more stylish and cleaner with these cat placemats from Sidewalk Shows. It's such a genius idea that all cat-owners are going to need to have some for themselves!
9. Cat Treats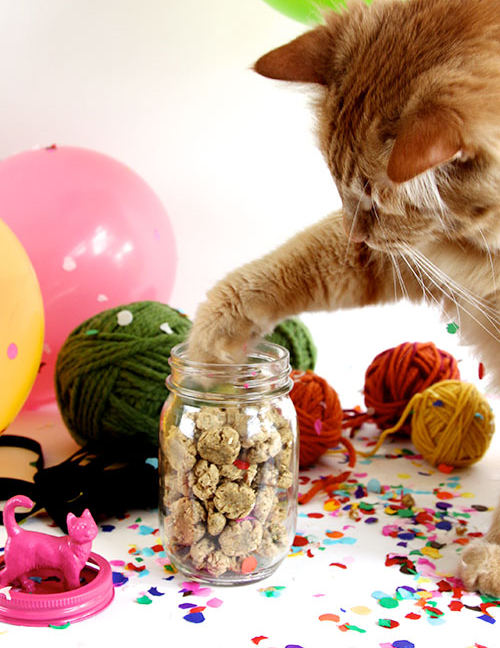 You can even learn how to make your own cat treats right at home. Design Sponge has the info on some crunchy ones that the kitties in your house are going to love!
Cat Scratch Posts
So Fancy made these traffic cone cat scratch posts and we love how easy and adorable they are! Spoil your cat this weekend after you creating this in the afternoon.
Cat Puzzle
Give your cat's brain a bit of a workout with this easy puzzle from The Glam Cat. It's quick to get started and you'll have your furry friend busy for hours!
Cat Wand
Irresistible Pets made this adorable wand for cats and we're not only swooning over its whimsical but we can't wait to make one and try it out with our own kitties!
Cat Planters
Check out these charming cat planters from Recylart. This is just another way to show your love of our furry felines but in a fashion-forward and innovative way.
Cat Bookmarks
DIY Candy gives us a super simple DIY that both you and the kiddos can get involved with. And it easily shows your love of cats and pays homage to your pets!
Cat Cookies
Check out these DIY cat cookies from The Cookie Rookie. These catnip treats are super easy to make and aren't packed with chemicals for your pet to enjoy.
Cat Shirt
It's hard not to fallen love with this cat shirt from De Huismuts and the best part is that you can make it – right at home. Just check out the details after the jump.
Cat Mask
Shelterness shows us, step-by-step, how to create this super adorable sleeping mask. Make it for yourself, the cat-lover that you are, or a friend that loves them just as much!
Cat Spoon
Learn how to design your own kitchen wooden spoons over at Honestly Yum. Do you see that adorable cat face in the mix? It's just another way to add your love of kittens to the rest of your world.
Cat Phone Sleeve
Lana Red made a chic and functional cat sleeve that we're absolutely loving. Learn how to make it and take your cake everywhere you go, or at least the thought of him or her.
Cat Makeup Pouch
Use real photos to make a cat makeup pouch (or a pouch for anything else you may need) over at Minted Strawberry. How adorable would your pet look on one of these?
Cat Pillow
Make this cat pillow for yourself, a friend or even for your cat to cuddle up with! Citrus and Cream has all the details on its creation – including the fact that it's made from recycled sweats!
Cat Decals
Decorate your personal corner or the cats with these DIY printed cat decals from Design Sponge. We love the innovation and how many different things you can do with them!
23. Cat Tote
Create your own tote in a super easy way with the help from The Pink Samurai, who seems to love cats as much as we do! There's a free pattern to download as well.
24. Cat Ears
How do some rhinestone cat ears sound to show off your love of kittens? Check this out over at Deconstruct and snag all the know-how info, don't forget the rhinestones!
25. Cat Teepee
Fudge & Joy made a cat teepee that we are absolutely swooning over. Create a stylish nook in the house for both you and your cat to enjoy .. and this teepee would fit right in!