15 Brunch Cocktails To Serve Up To The Ladies This Weekend
Brunch is one of the best parts of the weekend. Mimosas and waffles, there's really not a better combo. But, what are some other sips that we can test out during this morning happy hour? Try something new with any one of these 15 brunch cocktails perfect for seeing up to your ladies this weekend. We've tried a few, and they're delicious!
1. Pimm's Cocktail
This is the British equivalent to sangria and it's absolutely delicious. Put a new spin on your Sunday traditions with this sips. Check out the recipe at Vikalinka.
2. Moscow Mule Mimosa
Take two of your favorite cocktails and blend them into one. Thanks to The Cookie Rookie, you'll be able to serve up something extra special to your ladies this weekend. It'll become the new favorite.
3. Pomegranate Orange Spritzers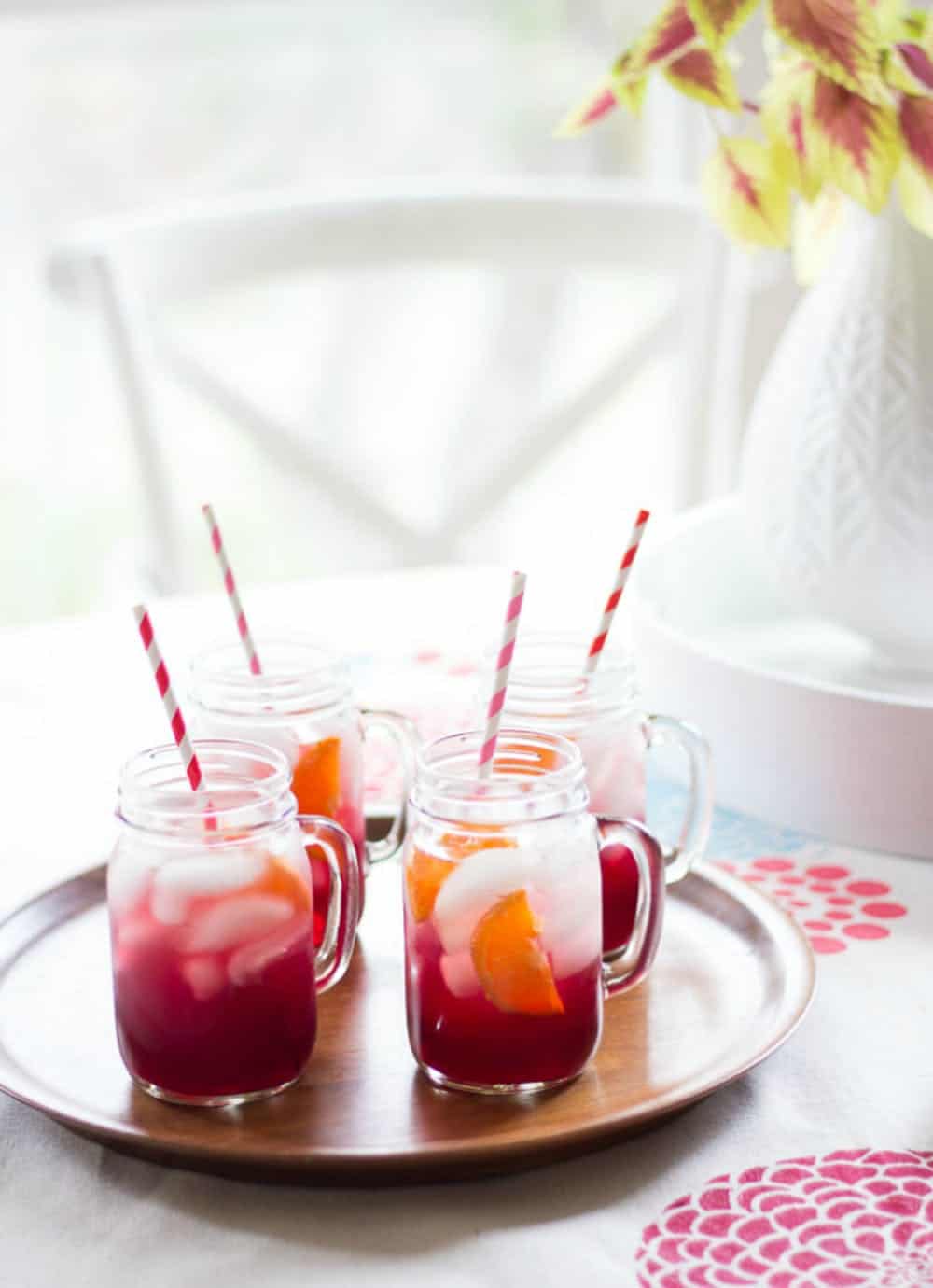 If you're feeling fruity, take this pomegranate and orange concoction and whip it up in the kitchen. you can find all the juicy details by taking a peek at the recipe at Design Improvised. We love the fresh slices of orange!
4. Grapefruit Thyme Fizz
Brit + Co. has a lot of great ideas up their sleeve and we're really digging this unique combination. Fresh thyme and bitter grapefruit come together so nicely in this sophisticated sip. Check out the details after the jump!
5. Rainbow Mimosas
Yeah, you'll want to run over to Brit + Co. for this one too. Whether you want to really start the party and celebrate a day with the girls or just want to shake things up and try something different, this is the mimosa that will take it all to the next level. Mimosas are already a classic brunch time cocktail!
6. Peach-Basil Arnold Palmer
Arnold Palmers are delicious already. But adding a few new flavors like peach and basil really jazz things up. You can check out how to make this both a cocktail and a mocktail by visiting Shared Appetite.
7. Spicy Bacon Bloody Mary
The Novice Chef knows that bacon is always welcome at brunch. And yes, bacon goes with your favorite cocktails too. Serve this next level bloody Mary up this weekend!
8. The Love Potion Cocktail
If you're feeling particularly feminine and romantic, you'll want to learn how to create this "love potion" cocktail. You can find all the instructions on its makings over at Lark & Linen.
9. Pear Vanilla Coconut Cooler
The Cookie Rookie has another super special treat up their sleeve and we're absolutely drooling over this one. We've tried it out first hand and it was the hit of the party. Pear, coconut, and vanilla; it's like serving up a light and sweet dessert!
10. Frozen Peach Bellini
Go the extra mile and serve up a frozen belinni! This is especially perfect for your summertime brunch. Jennifer Meyering will teach you the magic.
11. Hibiscus & Rose Iced Tea
Matters of the Belly utilized the freshness of roses in this refreshing creation. It's not only beautiful to look at, but it's an adventure to taste as well. Highlight everyone's Sunday afternoon with this stunner.
12. Champagne Margarita
Grab some champagne and turn it into a real celebration. Theme your brunch this weekend with a bit of Mexican flair. Check out the recipe at Brit + Co.
13. Strawberry Basil Lime Cooler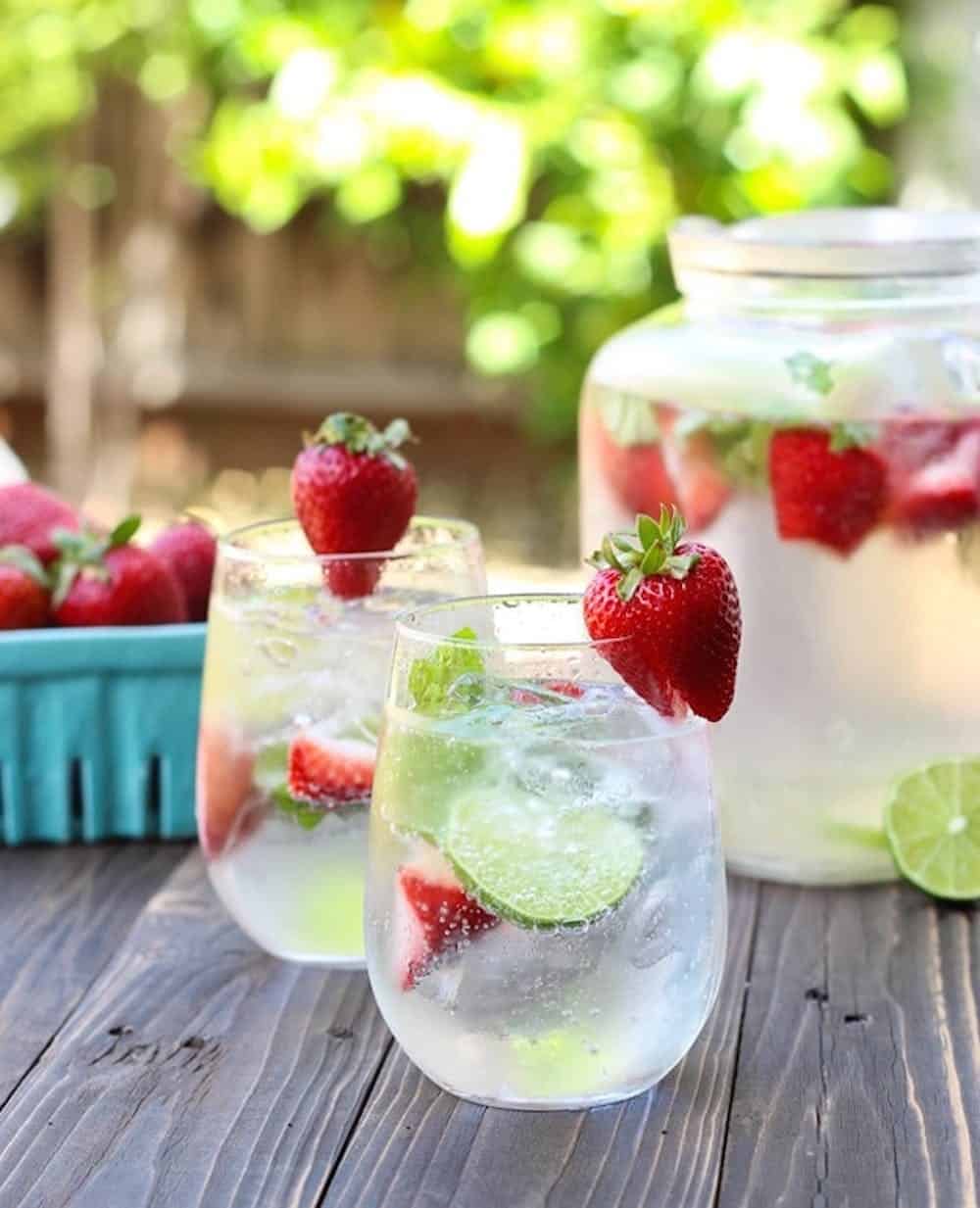 Here's a healthier and lighter cocktail to indulge in. You can find the recipe over at Making Thyme for Health and combine all these fresh ingredients into making a delicious spring or summertime sip.
14. Strawberry & Peach Rose Sangria
Sangria is always a fan favorite. And when you theme it a bit, like with rose, peach, and strawberry, it gets even better. All the details behind this deliciousness is at What's Gaby Cooking.
15. Ginger Beer Margaritas
Home Sweet Eats has our final recipe of the day. Ginger beer margaritas are fun, delicious, and a unique way to top off your pancake brunch. You could even make a frozen edition.