25 Breakfast Finger Foods
Breakfast can be a difficult time of the day to squeeze in a meal – so it makes sense to go with something easy that doesn't require plates and forks and knives. And finger foods are especially handy if you're hosting a brunch for friends or family. Here are 25 of our favorite breakfast finger food recipes.
1. To-Go Oatmeal
This recipe is basically oatmeal in a handheld format, with a couple of eggs in the recipe to bind everything together. These are great to grab if you're running out to work in the morning… just make them the week before! Head over to The Wholesome Dish for the recipe.
2. French Toast Sticks
Another breakfast classic, french toast, can be turned into a finger food with just a few adjustments… most importantly, the shape! Make your way over to The Fork Bite to find out how to make your own delicious french toast sticks for your next big brunch.
3. Mini Breakfast Burritos
If you're a fan of savory breakfast items, then this might be the perfect option for you. These delicious miniature breakfast burritos are filled with beef, onions and refried beans… and can be dipped in anything from salsa to guacamole. Get the recipe here.
4. Baked Hashbrown Cups
These golden brown hashbrown cups look absolutely delicious, and would make a wonderful addition to any breakfast or brunch event. You might serve them with a side of ketchup, too! Head over to Everyday Made Fresh to find out how to make them yourself.
5. Blueberry Pancake Bites
These adorable blueberry pancake bites take the form of ball-shaped little bites of blueberry deliciousness. Served with a bit of maple syrup on the side, these are the perfect solution for larger families or for big get-togethers. Head over to Cincy Shopper to get the recipe.
6. Frozen Fruit Protein Bites
These healthy protein bites have some fresh fruit involved, giving them a sweet side with the added benefit of lots of antioxidants. And you can make them ahead and store them in the freezer! Check out the full recipe over at One Little Project.
7. Bacon Jalapeno Deviled Eggs
These flavor-filled bites are made with hard-boiled eggs, bacon, jalapenos and a few other ingredients. They are savory with a bit of a spicy kick that would make a great little breakfast treat. Head over to The Homestead Survival to check out the recipe.
8. Fruit Skewers
If you have more of a sweet tooth in the morning, these fruit skewers might be just the ticket. Slice up strawberries, melon, kiwi, bananas and any other fruit you have in the house and slide them onto wooden skewers. Get the recipe at By Stephanie Lynn.
9. Carrot Zucchini Muffins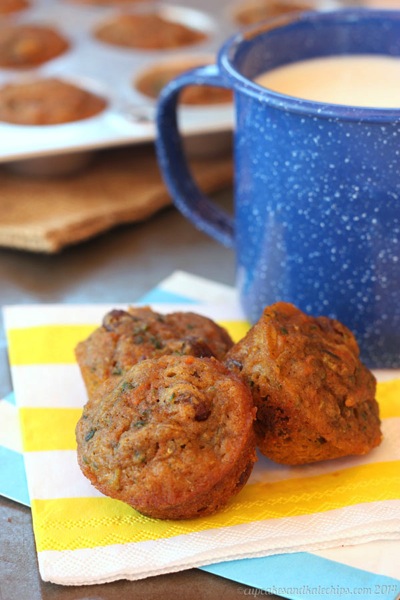 If you're a big vegetable fan, then you're sure to love these carrot zucchini muffins that are made with flour, a small amount of butter and maple syrup and a few other ingredients. Make your way over to Cupcakes and Kale Chips to see the recipe.
10. Mini Spinach and Cheddar Quiches
These savory pastries would be a wonderful choice if you're hosting brunch for a large group of people, as guests can simply grab a mini quiche will they chat with others. Head over to Amazing Appetizer Recipes to find out how to make them.
11. Raspberry Coconut Balls
If you're on the hunt for a healthy finger food for breakfast, then these raspberry and coconut balls might be perfect. They are made with some almond flour and oats to create the perfect texture to be rolled into bite-sized portions. Check out the recipe here.
12. Birdsnest Bites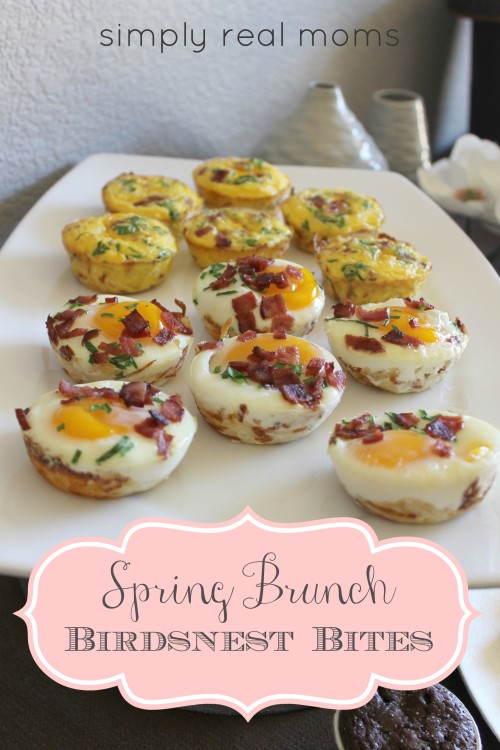 These pretty looking little bites are made by lining muffin tins with hash browns and then placing the egg and toppings above. You can customize them to your liking, too! Head over to Simply Real Moms to check out the full recipe for yourself.
13. Strawberry and Donut Kabobs
Here is another recipe that utilizes wooden skewers, invaluable for creating easy-to-eat breakfast options. These have two simple ingredients – strawberries and frosted donut holes. Make your way over to Confetti Diaries to read more about them.
14. Sweet Potato Banana Bites
These miniature muffins are made using four simple ingredients, and (believe it or not) they are both gluten-free and dairy-free! They are a great breakfast or snack for families who are trying to avoid certain allergens. Head over to The Lean Green Bean to see the recipe.
15. Sausage and Cream Cheese Crescents
If you're looking for a crowd-pleaser, search no further! These delicious crescent bites are filled with sausage and cream cheese, making for a decadent breakfast finger food. Head over to Plain Chicken to check out the recipe for these yummy bites.
16. Broccoli Tots
These healthy baked broccoli tots are a great way to sneak some broccoli into your diet, without torturing yourself! These are made with bread crumbs, cheese and onions and are best served with ketchup. Head over to Hip2Save to read the full recipe.
17. Petite Vanilla Bean Scones
These tiny treats are made with a basic pastry base of flour, sugar and eggs and then topped with a delicious vanilla bean glaze. And they are meant to be small so you can easily grab one or two if you're on the go. Head over to Cooking Classy to get the recipe.
18. Egg Casserole Bites
These beautiful egg casserole bites pack a serious punch with both meat and vegetables added for a flavor-filled breakfast option. And they're easy to put together, too! Make your way over to Jules Food blog to check out the full recipe.
19. Apple Cinnamon Quinoa Muffins
These breakfast muffins are packed with healthy ingredients, from fruit to quinoa to cinnamon. And you can make them gluten-free, too, if you buy gluten-free oats. Head over to Family Food On The Table to find out how to make these yourself.
20. Mini Broccoli and Cheese Frittatas
These egg-based breakfast bites are filled with lots of veggies, making them relatively healthy to eat – and very delicious! The key is to cut them into smaller, bite-sized pieces. Make your way over to My Fussy Eater to check out the full recipe and more photos.
21. Ham and Cheese Party Rolls
These rolls ups are perfect for a larger gathering, and they will certainly be a crowd-pleaser! Sliced ham and cheese are wrapped up with pizza dough to create delicious roll-ups. Head over to Kevin and Amanda's blog to find out how to make them.
22. Strawberry Cheesecake Bites
These sweet treats almost qualify as dessert, but they would fit in perfectly at the end of a brunch party. Simply grab some strawberries, cream cheese and a few other basic ingredients and you'll be well on your way to making these fun bites. Get the recipe here.
23. Irish Potato Bites
These are basically potato skins, but made on a smaller scale… and you can serve them at breakfast, brunch, or any time of the day really. Just fill up small red potatoes with corned beef, bacon and cheese to create these yummy bites. Get the recipe at Homemade Interest.
24. Sausage and Hash Brown Balls
These cheesy sausage bites certainly won't qualify as healthy, but they will definitely be a hit at your next big family breakfast. They make great little snacks on holiday mornings as well. Head over to Plain Chicken to find out how to make them.
25. Peanut Butter Pretzel Energy Bites
If you're on the hunt for something that will satisfy your sweet tooth while also providing a boost of energy, you may have found your answer. These delicious (and pretty) peanut butter pretzel bites are packed with protein and other nutrients. Get the recipe here.