Family Dinner Just Got Better With These 15 Bratwurst Recipes
In a sandwich or on the side with some sauerkraut, these 15 bratwurst recipe will make family dinner so much better. The kids will dive in and the parents get something outside the realm of pizza or chicken fingers. Grill them, bake them, boil them; create something new for everyone to try with some help from below.
1. Bratwurst-Stuffed Jalapenos
Start the party off right with some of these bratwurst-stuffed jalapenos! The recipe is over at Whitney Bond and you can grab all the details there. But, if you like something both innovative and a bit spicy too, you'll love these fun bites!
2. Bratwurst and Butternut Squash Stew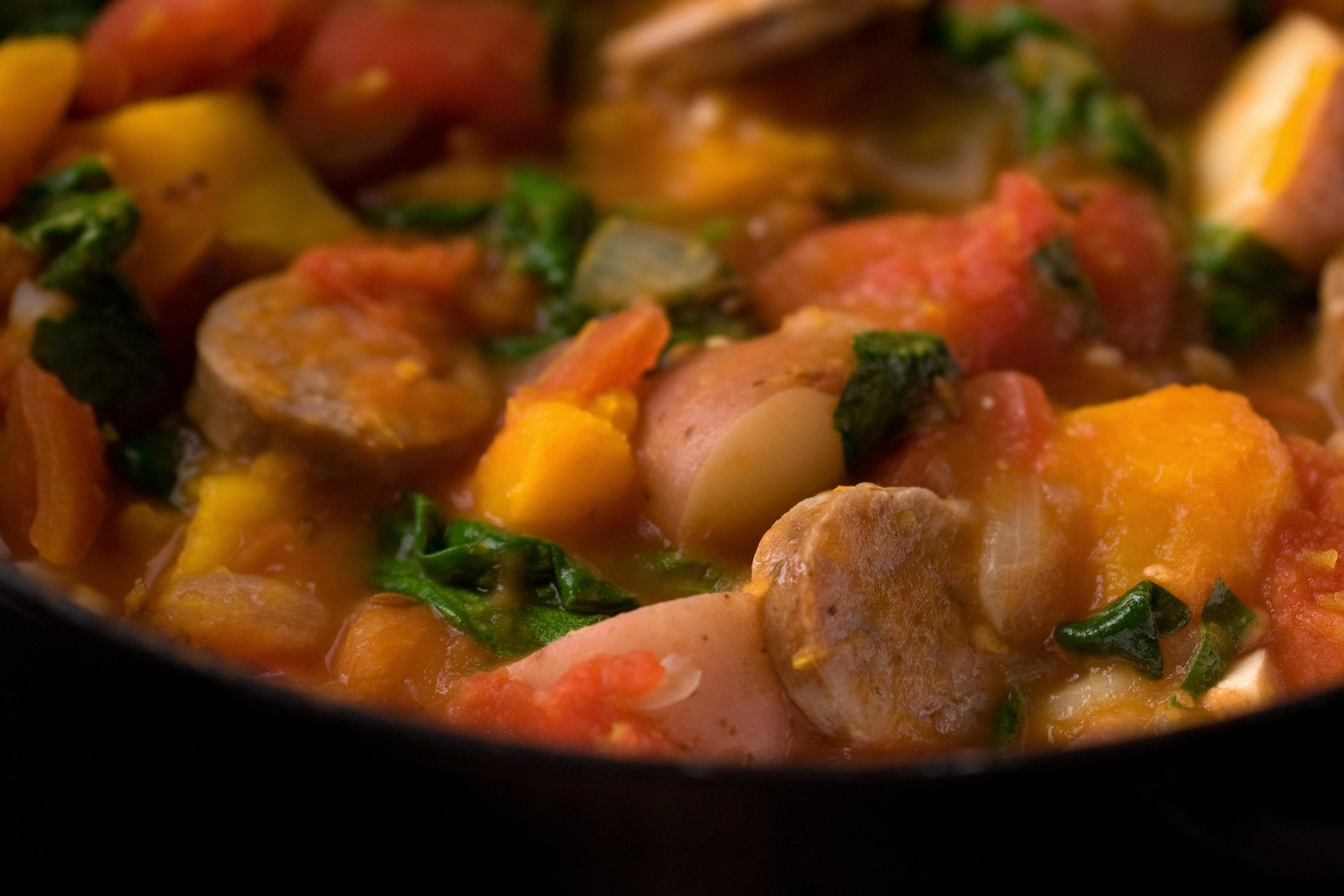 Chowhound whipped up a stew that's perfect for a chilly, fall day. Paired with some butternut squash, this bratwurst masterpiece will satisfy the entire family. Throw in some other veggies too for extra flavor.
3. Grilled Brats with Onion Relish
Pork Be Inspired grilled up their bratwursts! On the right roll and with some onion relish too, serve these up on the weekend for all of your friends and family. Just make sure that you have some chips or fresh-cut French fries to serve up alongside.
4. Grilled Beer Braised Bratwurst
You can beer braise them too! Hop on over to Leite's Culinaria to learn how to make it happen. And those pretzel buns will really highlight all of the comforting and delicious flavors behind these sandwiches.
5. Bacon, Bratwurst, and Beer Cheese Potato Skins
Serious Eats has another fun appetizers to start the party with. Bacon, bratwurst, cheese and potato too, this takes a classic bite to an entirely new level. It'll be great for football games, birthday parties and more!
6. Grilled Hot Tub Beer Brats
Here's a recipe from Deep South Dish that you'll fall in love with too. These "hot tub" beer brats are a great way to spice up the cook out. Have the family take a bite into something a bit more than a regular ol' hot dog this weekend.
7. Hawaiian Bratwurst Sausage
You could always add some Hawaiian flavor to your brat like they did over at Kleinworth & Co. The right bread and some pineapple salsa or chutney on top, it'll be a great way to make your dinner party a bit more fun. And don't forget the cheese!
8. Sautéed Bratwurst with Broccoli Rabe
Chowhound went with a healthier dish that we're digging. Served with a side of broccoli rabe, indulge a little with out all the guilt. This low carb recipe is sure to please.
9. Tortilla-Wrapped Bratwursts with Beer Mustard
Homemade Hooplah wrapped their brats in tortillas. With some cheese and beer mustard too, it'll be hard not to go back for seconds – or even third for some. Tailgate parties are a little more fun with these.
10. Grilled Bratwurst with Warm German Potato Slaw
These grilled brats are being served up with some fresh potato slaw. Grab the details over at Serious Eats. Learn how to take a plain grilled bite to a new level of flavor with this one.
11. Wisconsin Bratwurst Pizza
Who knew bratwurst could make a delicious pizza? Oh, right, Simple Comfort Food did. And that's what you'll find out by jumping on over and checking out all the details. Just be sure to add a bit of extra cheese.
12. Crock Pot Bratwurst with Potatoes and Sauerkraut
Seasoned to Taste made bratwurst in the crock pot! It's just another way to make a comforting, satisfying meal for the entire family. What's great about this one is that it's a lot less work!
13. Bratwurst with Peppers and Onions
Bratwurst made with peppers and onions is a classic, delicious way to go. Jump on over to My Recipes to learn how. And know that you can serve this up with or without some rolls to go with it – depending on whether you want something a bit more guilt-free or not.
14. Bratwurst Pasta
Yes, bratwurst can be served up in some pasta too. Check out all the great ideas over at Food Baskets. There are lots of great ways to get the kids to eat dinner while throwing in a bit of extra protein.
15. Bratwurst-Veggie Skillet
Sizzle it up with some help from She Knows. Throw some sliced bratwurst in the skillet with some veggies and dinner will be ready in no time. You can add some spice or make it savory, it's all up to you!