Best Veggie Burger Recipe With Black Bean
There's not a backyard barbecue that's complete without a big juicy flavor-packed burger. But the options for those who prefer a veggie burger, are limited. Most store-bought patties can be dry or lacking in flavor. Making a DIY veggie burger at home is a great way to ensure maximum flavor and texture. I am willing to bet that even the meat-eaters in your life will be asking for one of your homemade burgers from time to time.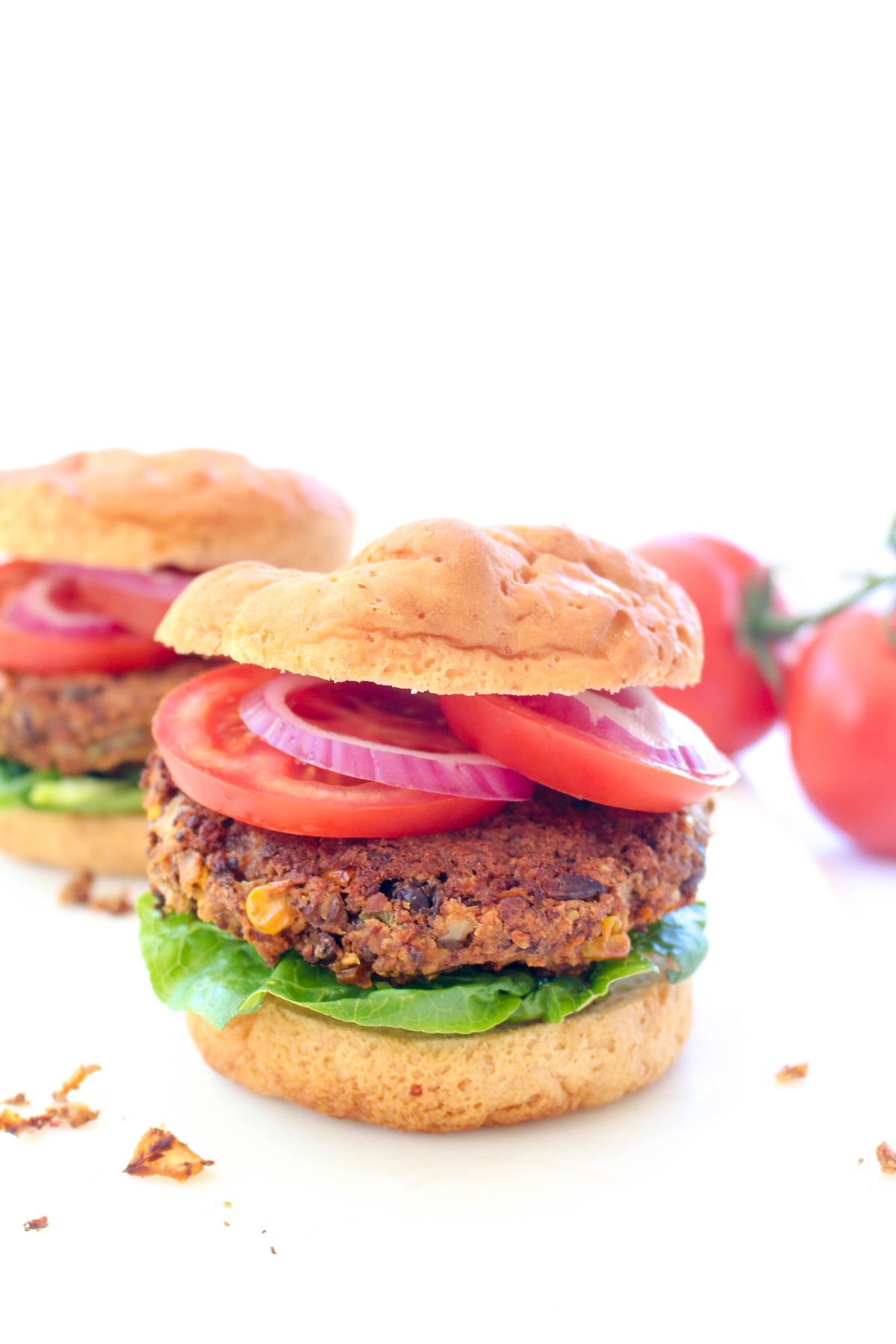 These burgers have a perfectly browned crusty exterior and a soft, but not mushy center. They hold up in burgers without crumbling and have a texture you can really sink your teeth into.
These patties are big on flavor, too. You will use chipotle peppers, corn, cumin, lime juice, and chopped scallions to pack in the flavor. These burgers are smokey, bright, subtly sweet from the corn, and a little spicy. One bite in and your taste buds will be firing away with all the complex flavors.
During my recipe testing, I learned a few key techniques that go into making the perfect black bean burger.
Best 3 Veggie burger recipe tips
Number 1: Create a binder.
The backbone of a good burger is a strong binder that holds it all together and prevents the burger from crumbling. It needs to be the perfect consistency. Too thin, and the burgers will crumble, and too thick and the burgers will be dry. For these burgers, we will blend some of the black beans and chipotles to create a paste that binds the patties together.
Number 2: Cook at varying heats.
We will start the burgers off at a high 450 degree to create a crusty exterior, similar to a sear on a meat burger. After 20 minutes, we will flip the patties and lower the heat down to 350 degrees. This lower temperature allows the middle of the burgers to cook through, making the parties soft, but not mushy.
Number 3: Patience.
Once the burgers come out of the oven, we absolutely positively must let them rest for 10 minutes before serving. This crucial step allows the heat to redistribute and gives the burgers the right texture. Without this step, the burgers are too soft and will fall apart as you are eating them.
Everyone deserves the ability to sink their teeth into a big juicy burger.
Ingredients for the veggie burger recipe:
2-4 tablespoons oil of choice
1 (15 oz.) can black beans, drained and rinsed
2 chilies in adobo sauce
2 tablespoons honey
2 tablespoons lime juice
3 cloves garlic, minced
1 1/2 teaspoons salt
1/2 teaspoon black pepper
2 teaspoons cumin
1 cup quick oats
1/2 cup finely grated carrots
1 white onion, diced
1/4 cup flaxseed + 1/4 cup water
1/2 cup corn
1/4 cup sliced scallion greens
Directions to prepare the vegan burger:
Preheat the oven to 450 degrees and coat a cookie sheet with a good layer of oil. Set aside.
2.In a small bowl, whisk together the flaxseed and water. Set aside.
Add 1/4 cup of the black beans, and chilies into a food processor and process until a paste forms.
Add in the flaxseed mixture, lime juice, honey, garlic, salt, pepper, and cumin. Process until combined.
Add in the black beans and onion and pulse to combine, leaving these ingredients chunky. Transfer to a bowl and stir in the remaining ingredients.
Form the mixture into 4 patties and place on the baking sheet. Bake for 20 minutes, gently flip the burgers and turn down the oven to 350 degrees. Bake for another 40 minutes. Remove from the oven and let cool for 10 minutes before serving.