Spicy Thai Fish Burger Recipe
Bursting with flavor, these Thai fish burger recipes are a great twist on the classic burger! A burger with a difference. Toasted brioche rolls filled with crunchy veggies and a tender spicy salmon patty. Drizzled with sweet chilli sauce, this makes one moreish burger!
There are quite a few ingredients in this recipe, but don't be put off, you've probably already got most of it in your store cupboard. Pretty much everything gets thrown into a food processer and pulsed together. The mix is then molded into burgers and fried on a hot griddle (or a skillet).
Not to be confused with Thai fish cakes – which tend to use white fish and curry paste – these burgers have all of those classic Thai flavors without the need for store-bought pastes.
When you add everything together in the the food processor, be sure to pulse until just combined. This will ensure a juicy, tender burger that almost melts in the mouth.
Topping with strips of crunchy cucumber and carrot adds a whole new taste dimension, but if you prefer you can use regular burger toppings like lettuce and tomato (probably not bacon though – which might be the first time I've ever recommended not using bacon!) or you could go really out there and top with piles of mung bean sprouts and chopped peanuts.
Here's what you'll need for a fish burger recipe:
Serves 4
2 red chiles (I use fresno chiles), roughly chopped
2 tsp lemongrass paste
3 tsp fish sauce
2 tsp sugar
3/4 tsp salt
3/4 tsp cumin
6 scallions, roughly chopped
2 kaffir lime leaves (dried or fresh)
2 cloves garlic, peeled
3cm piece ginger, peeled and roughly chopped
4 salmon fillets, skin removed
1 packed cup of cilantro leaves
4 tbsp vegetable oil
4 brioche rolls – toasted
1 cup mixed salad leaves
Strips from 2 peeled carrots (use a vegetable peeler to make the strips)
Strips from half a cucumber (use a vegetable peeler to make the strips)
Half a red onion, peeled and sliced
4 tbsp sweet chili sauce
Guide to prepare a delicious fish burger:
Place the chilies, lemongrass paste, fish sauce, sugar, salt, cumin, scallions, kaffir lime leaves, garlic and ginger into a food processor. Pulse until well chopped. Add the salmon fillets and cilantro then pulse a few times until the salmon breaks down and everything is combined.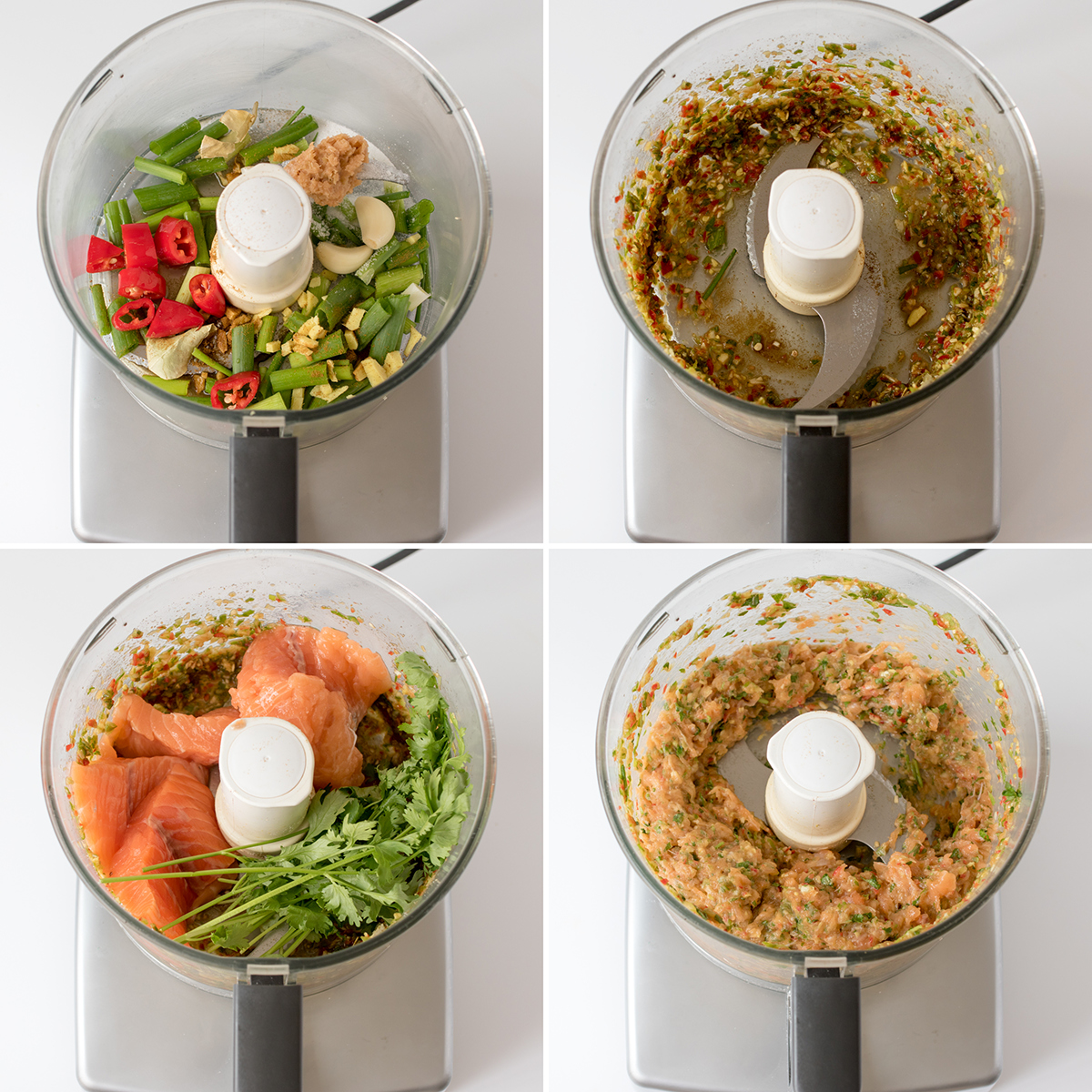 Shape the mixture into four balls using your hands. Place them on a plate and heat up the griddle.
Brush half the oil on the salmon burgers and the rest of the oil on the griddle. Place the burgers on the griddle and flatten slightly with a spatula. Cook for 2-3 minutes until griddle lines appear, then turn over and cook again for a further 2-3 minutes until cooked in the middle (you can open one up to check).
Place the buns on plates. Top with the salad leaves and strips of carrot. Add the burgers, cucumber strips and onion slices, then drizzle on the chili sauce before putting the top of the bun on the burger.
Serve with extra sweet chili sauce!