The 10 Best Welding Jackets That Any Professional Should Have in 2023
Even if you're someone who's never welded a day in their life, you've at least seen someone else doing it, and the first thing that you noticed was that there were a lot of heat, light, and sparks flying everywhere.
The second thing you may have noticed about the person doing the welding was that they were most likely dressed in a certain way, the biggest piece of clothing being their welding jacket.
What Is a Welding Jacket?
Welding jackets are a type of personal protective equipment used by welders to protect them from metal splatter, flying sparks, and the intense heat that is common in welding jobs, and they do this thanks to the specialized fire-resistant and insulating materials that they're made of.
Welding jackets can also be used as generic safety jackets since a lot of the time, these also offer resistance against abrasion, electrical shocks, and, to some degree, even chemical burns.
They usually come with other safety features that make them easily recognizable, such as snap closures, nylon straps, or leather strings, and the sewing and binding are usually made using Kevlar and a metallic foil liner, most commonly aluminum.
They are mainly made out of leather, although many manufacturers incorporate other materials as well, such as cotton, nylon, or rubber, since they can add some extra resistance against certain hazards, make the jacket a lot more breathable, or simply make them cheaper to manufacture.
Speaking of cheap manufacturing, if you're on the market to buy a brand-new welding jacket, we recommend that you never go for low-end productssince you are essentially putting your life on the line by trying to save a few extra dollars.
Besides, even if you do find a welding jacket that is both cheap and offers good protection, they will usually be heavy, hot, and hard to move around in, and wearing them during your 8 hours work shift will be a nightmare.
Since we realized that finding a jacket that is both safe, comfortable, and affordable isn't easy, we did a bit of research and have created a list of the best welding jackets that you can buy, all so that you can have an easier time making a choice.
Which Are the Best Welding Jackets to Buy?
Topping off our list of best welding jackets is the Miller Electric Welding Jacket, a high-quality safety jacket created for those that value a good mix between protective features and flexibility.
It's made from a mix of 88% cotton and 12% Nylon, making it a very lightweight option and thus an ideal choice for those of you that work in hotter climates.
As far as features go, this jacket comes with a stand-up collar for some additional neck protection, as well as one inside pocket that is big enough to keep some essentials, and the end of the sleeves feature very firm snaps cuffs so that they don't slide off that easily.
It comes in a very neat navy color, and the only notable drawback is not something related to the build or the material itself, but rather the fact that this particular model is only available in one size.
So, if you're chest size is 50-inches or less, and you don't need more than 30 inches in torso coverage, this jacket is ideal for you.
If you're considering buying this welding jacket, go to the Miller Electric Welding Jacket's Amazon page and check out what other users have to say about it.
Specs:
Material: Cotton and Nylon
Sizes: XL
Weight: 1.5 pounds
Colors: Navy blue
---
Pros:
Affordable
Very lightweight
Lets the skin breathe
Stand-up collar for added neck protection
Cons:
Only available in one size
View price on Amazon
Unlike the previous entry, the Lincoln Electric Heavy Duty Leather Welding Jacket goes with a more traditional welding jacket build and design, forgoing a lightweight cotton build for a more sturdy full leather design.
It's made from heavyweight split cowhide on both the front and the sides, providing perfect protection against splatter, sparks, fire, and heat, as well as a certain degree of electrical resistance.
The front side of the jacket is the part that will be exposed to sparks and splatter the most, so it comes with a 3-layer design made of leather, cotton, and velcro for added protection.
However, just because the bulk of the jacket is made of leather doesn't mean that it's stiff at all. For example, the sleeves come with a two-part armpit design that provides more freedom of movement compared to the typical design.
More so, your neck will also receive extra protection thanks to the high collar, and you also have one large inner pocket where you can keep your essentials at hand but safe at the same time.
This jacket meets ASTM D6413 requirements, thanks to the flame-retardant inner cotton lining that provides the wearer with better airflow on the inside, so you're not only protected, but you'll feel comfortable wearing it as well.
If this jacket sounds exactly like what you need, go ahead and visit the Lincoln Electric Heavy Duty Leather Welding Jacket's Amazon page, read the reviews, pick a size, and order one for yourself!
Specs:
Material: Leather
Sizes: M – XXXL
Weight: 5.5 pounds
Colors: Black and red
---
Pros:
Full leather build
Sufficient arm freedom
3-layer protection on the front side
Inner cotton lining provides good ventilation.
Cons:
View price on Amazon
The third entry on our list is yet another cotton welding jacket, and while it may seem very delicate and lightweight at first glance, don't let yourself be fooled since the BSX Cotton Welding Jacket is rated as flame-resistant as any standard safety jacket, meeting all safety standards.
When creating this particular model, the manufacturer seems to have focused on comfort and coolness, so long work shifts of continuous welding will not seem all that difficult, as the heat will be a lot easier to manage.
The jacket itself is designed to offer full coverage of your entire upper half, featuring an extra-long length, sleeves, and a high protective collar to keep your neck safe from flame heat, sparks, and splatter.
What's more, no one ever said that you couldn't stay protected and look good while doing it, and this BSX jacket takes full advantage of this idea by creating this jacket with a jet-black design and red flames, so you'll look like a welder that knows how to handle his fire.
If you're on the market to buy a lightweight welding jacket, you might as well get one that will make you look like a hot rod, so go ahead and visit the BSX Cotton Welding Jacket's Amazon page and get yours today
Specs:
Material: Cotton
Sizes: XL
Weight: 16 ounces
Colors: Black and red
---
Pros:
Lightweight cotton build
Good breathable material
Protective high collar
Cool design
Cons:
Only available in XL size
View price on Amazon
Fire, flamers, splatter, sparks, and heat are the most common things a welder will have to deal with, but if you're wearing the Lincoln Electric Premium Cotton Welding Jacket, you won't have to worry about any of them.
Made from ASTM D6413 compliant 9-ounce flame-retardant cotton, this jacket is designed to be breathable, allowing constant airflow on the inside so that you feel comfortable and cool while doing your welding.
More so, the material is treated to be both anti-mildew and anti-static thanks to a special coating for added longevity and protection, and it's made to easily resist through more than 50 machine washes before it starts losing any of its protective properties, so you know this jacket is indeed built to last.
As far as design is concerned, the cotton fabric is sewn together with polyester thread for added protection, and the jacket comes with a flip-up collar for added neck protection, as well as cuffs with chrome-plated metal snaps for better wrist and forearm protection.
Lastly, you also have a very spacious interior pocket to keep a few essentials with you while you're doing your welding.
If this product piqued your interest. Go ahead and do a price check. Simply visit the Lincoln Electric Premium Cotton Welding Jacket's Amazon page and check it out for more details.
Specs:
Material: Cotton
Sizes: M – XXXL
Weight: 1.34 pounds
Colors: Black
---
Pros:
Chrome-plated metal cuff snaps
Flame-retardant fabric
Superior comfort
Easy to was
Cons:
The sleeves may seem too long for some
View price on Amazon
Sometimes you look at a piece of safety equipment, and you just know without even reading the reviews that it will keep you safe no matter what, and that's precisely what you'll be thinking as soon as you lay your eyes on the QeeLink Leather Welding Work Jacket.
This sturdy welding jacket is made from 100% heavy-duty split cowhide leather that makes it extremely heat and flame-resistant, and the rivets used for closing the jacket are also made from a corrosion-resistant material.
The leather is sewn together using high-grade Kevlar for added strength and durability, making this jacket ideal not only for welding but also other lines of work where PPEs are necessary, such as blacksmithing, steel mills, shipyards, carpentry, and more.
One thing we really like about this jacket was that it has a lot of pockets: one large inside one, one large outside one, and 2 soapstone pockets on each of the sleeves.
Specs:
Material: Leather
Sizes: S – XXXXL
Weight: 4.75 pounds
Colors: Brown
---
Pros:
Heavy-duty leather build
Corrosive-resistant buttons
Sewn together with Kevlar thread
The neck, cuffs, and waist can be adjusted
Cons:
Doesn't ventilate too well.
View price on Amazon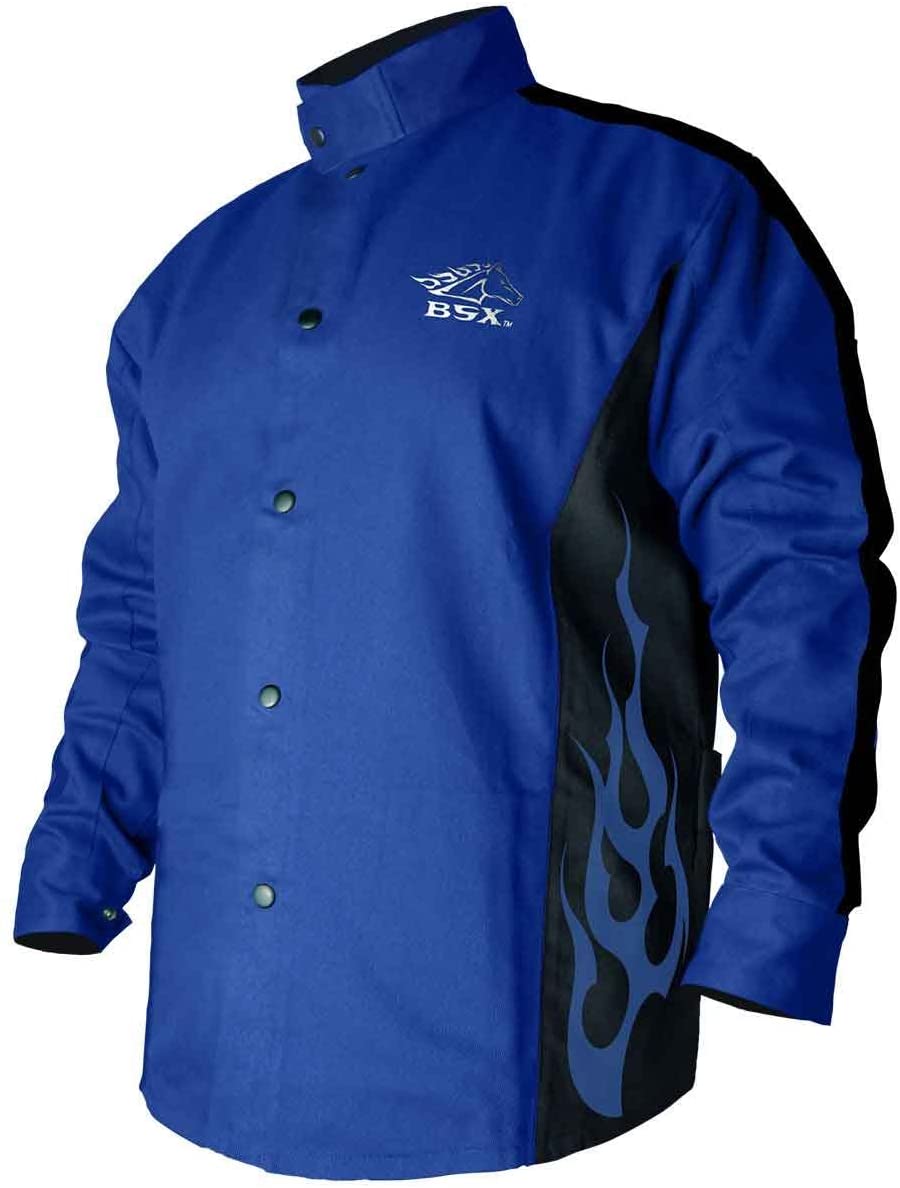 This next welding jacket belongs to the same line of products as the other BSX jacket on our list, having pretty much the same features, with the only notable difference being the color scheme, as it abandons the hot rod black and red combination in favor of a much more elegant Royal blue with a black finish.
Made from high-quality flame-resistant cotton, this welding jacket will provide good protection against most welding hazards while offering the wearer the ability to move freely and unrestrictive.
The design is made to offer full coverage of the entire upper body, from neck and torso, and even the full length of the arms, all so that you have no areas on your body that aren't protected.
The design of the jacket is made with a dual-layer system consisting of the out cotton fabric and the inner cotton lining for added protection and moisture absorption.
Lastly, this jacket will have a very snug fit, and you don't have to worry about your sleeves accidentally rolling up, or your jacket getting pulled up while sitting upside down, thanks to the adjustable cuff and waist straps.
Get the blue and black version of this amazing jacket by visiting the BSX Cotton Welding Jacket's Amazon page.
Specs:
Material: Cotton
Sizes: XL
Weight: 16 ounces
Colors: Royal blue and black
---
Pros:
Lightweight cotton build
Adjustable collar straps
2-layer inner design
Cool color scheme
Cons:
Only available in XL size
View price on Amazon
We all love a product that can perfectly balance out all of our needs, and when it comes to personal protective equipment, you'll have to look for something that will both keep you safe and feel comfortable.
This perfect balance is exactly what you will get if you opt for the Waylander Welding Jacket, as this jacket is made to be both comfortable and protective.
It's made from multiple types of fabrics, starting with the shoulders and arms that are woven with split leather for extra protection, while the rest of the body is made from chemically-treated flame-proof cotton for extra comfort.
This use of different materials in certain areas of the jacket allows it to feel flexible and comfortable while still providing extra protection to the parts of your body that will be closest to the welding: your arms.
Both the cotton and the leather is sewn together using Kevlar thread (an industry standard), so the jacket will last a very long time before the first signs of unstitching even begin to appear.
As for accessories and convenience, this welding jacket has 3 interior pockets placed in such a way that makes them easily accessible, so you can always have your tools with you at hand.
If you like your protective gear to be both rugged and comfortable to wear, go to the Waylander Welding Jacket's Amazon web page and see what everyone else thinks about it.
Specs:
Material: Leather and cotton
Sizes: M – XXXXL
Weight: 2.94 pounds
Colors: Dark brown
---
Pros:
Good mix of leather and cotton elements
stitched together with Kevlar thread
Lined sleeves for extra mobility
3 interior pockets
Cons:
The collar may restrict some of your neck movements
View price on Amazon
While we may have entries that you know are meant for welding just by looking at them, there are others that look so much like regular jackets that you couldn't believe that they can actually protect you during dangerous jobs such as welding.
That's precisely the case with the Carhartt Flame-Resistant Jacket, as it is made out of a mix of 88% cotton and 12% Nylon, and because of its design, it looks like an everyday jacket.
Sure enough, the fabric makes it lightweight and comfortable to wearwhile also making it easy to clean via machine washing.
However, this welding jacket meets all NFPA 70E and NFPA 2112 standards and has a Hear Resistance rating of 3.
The inside of this jacket is where things get interesting, as it comes with a fire-resistant quilt lining and a flapped back where a lanyard can pass through and attach to a safety harness, so this jacket is also good when you're welding in an awkward position, or in high places.
As far as pockets are concerned, this jacket has plenty of them: 2 on the chest, 2 lower-front pockets, and 2 inside patch pockets,
If you want to check out more information on this multi-purpose safety jacket, visit the Carhartt Flame-Resistant Jacket's Amazon page.
Specs:
Material: Cotton
Sizes: L – XXL
Weight: 3.85 pounds
Colors: Brown, Dark Navy
---
Pros:
Doesn't look like a welding jacket
Lightweight and durable design
Cotton fabrics let you breathe
Has a total of 6 pockets
Cons:
Doesn't keep warm in colder environments
View price on Amazon
The last item on our least is the Hobart Cotton Welding Jacket, and while it may not offers as much protection against sparks and splatter as a heavy-duty full leather jacket, it still does a fairly good job at it while still providing you with plenty of mobility so you can perform the finer welding jobs.
The fabric is 100% chemically-treated cotton, and it offers a good degree of heat and flame resistance compared to other cotton jackets of the same price range.
Not only that, but the fact that it is entirely made of cotton means that the jacket lets your skin breathe more easily and has good moisture absorption, making it ideal for working in warmer environments.
It features long sleeves, and the cuffs are adjustable so that they don't accidentally roll up while you're working.
The overall design is made so that it fits a wide variety of body types, all thanks to the fact that it is very loose around the waist area.
If you're only interested in very simple welding jobs where sparks and splatter aren't that common, go ahead and check out the Hobart Cotton Welding Jacket.
Specs:
Material: Cotton
Sizes: XL
Weight: 1.4 pounds
Colors: Dark Gray
---
Pros:
A good degree of flame resistance
Good fit on most body types
Adjustable cuffs
Very affordable
Cons:
View price on Amazon
How Do I Pick a Good Welding Jacket?
OSHA Standards for Welding Clothing
If you're a welder by profession, or if you're an employer that has several workers that also deal with welding, you're probably aware that there are many industrial regulating agencies that require employers to evaluate the potential for risks on the worksite, and also give all of their employees appropriate PPEs.
One prime example is the Occupational Safety and Health Act (OSHA), and these agencies have the right to give out federally mandated fines if work safety requirements are not met, and these aren't cheap at all.
Here are some of the standards concerning PPEs in both the United States, as well as Europe:
As such, a good way to see if a particular welding jacket is appropriate for welding is to check to see if it checks the above-mentioned standards.
Type of Welding
Once you have a selection of welding jackets that you know are safety-approved, the next step in choosing them is based on what type of welding you're interested in.
As you probably already know, there are 4 main types of welding:
Inert tungsten gas welding (TIG)
Metal inert gas welding (MIG)
Flux-cored arc welding
Stick welding
These 4 main types of welding emanate various amounts of light, heat, splatter, sparks, and other debris, and your jacket needs to be specifically designed to focus on certain protective features depending on the job at hand.
For example, if you're Stick welding, you'll need some extra arm protection, while flux-cored welding requires that you have more freedom of movement and dexterity, so a lighter and more comfortable jacket will be ideal.
Spatter and Heat Resistance
We've already pointed out that hot metal splatter and sparks are the most hazardous element when welding, so heat and flame resistance should be a priority for you when deciding what welding jacket to buy.
For example, overhead welding and galvanized welding produce the most amount of sparks and splatter, so naturally, you'll need a jacket that is next to fire-proof, most commonly those made of leather.
However, if you're concerned about your own heat resistance rather than the jacket, you could always swap out the leather for more breathable material, such as fire-resistant cotton.
Sure, it won't protect you as well as leather, but the protection it does offer is more than enough to compensate for the fact that you can actually breathe while wearing it.
Environmental Conditions
Somewhat related to the previous topic, choosing your welding jacket is also dependant on the environment in which you're working.
For example, those of you that work in naturally cold climates can go ahead and use the bulkiest and most protective welding jackets that you can buy since their thickness and lining will also keep you warm.
On the other hand, those of you that work in hot climates will appreciate a welding jacket that is thinner and made from materials that breathe (although this will greatly reduce their thermal resistance as well).
Materials
You've probably noticed a pattern by now, namely the fact that a great emphasis is put on what the welding jacket is made of, and truth be told, that is essentially the most important aspect of them all.
While typical welding jackets were made using treated leather, modern-day technology has evolved to the point where other materials can be used as well.
Leather
Tanned leather is made out of animal hide, and it is one of the most durable materials, offering both heat and fire resistance.
The most commonly used hides usually include cowhide and pig hide, although there are other hides available for particular operations as well.
For example, if you need a jacket that offers more flexibility and elasticity, you can always opt for deer skin or elk skin, though most modern-day welding jackets have leather intermixed with cotton even more flexibility and comfort.
However, the most popular form of leather in use today is cowhide, primarily because it doesn't crack as easily as other types of leather (leather tends to dry and eventually cracks with time), and it is extremely resistant to environmental hazards such as moisture, as well as physical damage like punctures and lacerations.
Cotton
When you first hear about cotton, you're probably wondering how it could be used in making welding jackets since cotton will generally burn like dry wood on a summer day.
The truth is that cotton is flammable by nature, but the key to making it a core component for any welding jacket is treating the fabric with the right chemicals so that it goes from flammable to flame-resistant.
The main reason manufacturers opt for cotton is because it is a lot more flexible than leather and much lighter as well.
Sure enough, welding jackets made entirely out of cotton aren't that popular, but if you're looking for a welding jacket that offers a lot of freedom for arm movements, you'll usually find jackets made with a leather body and cotton sleeves.
There are several derivatives of cotton that are also used in welding, including:
Sateen – Cotton that has been mercerized in caustic soda so that it is much softer and more flame-resistant.
Denim – Cotton with a twill weave that makes it thicker and more durable
Nylon
Synthetic materials are also used in the fabrication of welding jackets, although many users associate them with flammable plastic.
Besides being flame and water-resistant, nylon has the advantage of being very stretchable, strong, and lightweight, and because they have little to no moisture absorbency, it can be easily machine washed.
Besides, Nylon is great even for non-welding safety jackets as well since they also provide the wearer with good protection against puncture and lacerations, making them ideal either as the main fabric for PPEs or at least for the lining of the PPEs.
Other Materials
Aramid and Rayon
Aramids have become to replace asbestos in the making of many materials, and rayon fabrics are sturdy, comfortable to wear, but also allow the skin to breathe.
These two fabrics are usually used in combination with each other to create very durable welding jackets. They allow for tight-fitting designs while still maintaining a good degree of splatter resistance.
Carbon fiber
While not as common as the other materials, many manufacturers out there include carbon fiber in the making of welding jackets.
Sure enough, while the material itself is known worldwide for its durability and flame-resistance, they do need to go through an extensive chemical treatment to make them more flexible and supple.
Comfort and Size
Official standards dictate that a jacket extends from the neckline to the waistline and have sleeves long enough to cover the welder's arms entirely. Another essential feature is a high collar to protect the neck area.
Since the jackets are an essential piece of any welder's attire, you'll most likely be wearing them throughout your entire work schedule, meaning 8 hours or more, so it would help if the jacket itself was the right size and shape to be as comfortable as possible without sacrificing safety features.
As far as size is concerned, welding jackets us the same standard sizes as regular clothes (S, M, L, XL, etc).
However, if you're interested in seeing exactly what size jacket fits you perfectly, you need to measure the largest part of your torso using tape so that the jacket will not be too tight to hinder breathing. So, if you have a broader chest, measure your chest, but if you have a bigger belly, measure your belly.
Most manufactures provide detailed size charts that you can then look at to determine what exact size you should order for yourself.
The build of the jacket can also greatly influence how comfortable it is to wear. For example, the inner lining plays a very important role, and so does the design of the cuffs and the collars.
We also talked about the importance of the main fabrics that make up the jacked, as leather does offer more protection, but cotton offers the highest degree of flexibility and lets your skin breathe as well.
Lifespan
Welding jackets tend to be very expensive, so if you have the chance to choose between one that looks like it could really take a beating and a few burns for a good couple of years, go right ahead and buy it.
There are many things that can influence the lifespan of a jacket, including the fabric material, the build quality, and the amount of damage they sustain on a daily basis, how you store it, and more.
Of course, there's also the maintenance to consider since this too can extend the life of a jacket for a good couple of years. For example, there are oils that you can apply once every few months on leather jackets to keep them soft and supple, thus preventing them from hardening and cracking.
Pros and Cons of Welding Jackets
It may sound redundant to talk about safety equipment and discuss pros and cons since we are talking about objects meant to keep you from harm's wayand maybe even save your life, so it may seem that there are only pros.
However, there are certain disadvantages that welding jackets pose, and while there aren't any ways of eliminating them entirely, there are ways you can diminish them.
Pros
The most obvious benefit to a welding jacket is the fact that it protects your body from burns, heat, cuts, and bruises. Besides, since they are a type of protective clothing that covers your entire upper half, you can go about your business and focus on your welding.
However, jackets don't just protect you from things that happen at that precise moment, such as getting burned or cut, they also play a role in protecting you from the long-term effects of exposure to welding hazards, so even if you don't see yourself being protected, you actually are.
Cons
While we can't stress enough the importance of wearing protective gear at work, we have to admit that they do have several drawbacks as well, the most notable one being the fact that welding jackets, in general, can be uncomfortable, especially thick ones like leather jackets.
The stitching itself can also hinder movement as well. For example, most high-quality jackets have a Kevlar lining that can be very stiff, and this can limit your freedom of movement, especially around the arms.
Besides, you will be working in high temperatures, and it's highly unlikely that your workplace has proper ventilation, so protective gear can get uncomfortable and exhausting, especially in hotter climates.
Unfortunately, you can't stop wearing protective gear either, so the only thing you can do is find a jacket that offers the best balance between safety features and comfort for a particular job.
Best Welding Jackets: Closing Thoughts
As you can see, there are many criteria that you need to pay attention to when browsing for a brand new welding jacket. Not only does it have to protect you from heat, flames, splatter, and sparks, but they also need to allow for enough flexibility so that you can perform your job properly in a decent amount of time.
Besides, you must also think about how comfortable you will feel while wearing it because even 100% fire resistance amounts to nothing if you're cooking on the inside just by wearing it because the materials don't breathe at all.
All in all, we chose products that will suit a wide variety of tastes, from heavy-duty leather jackets to much lighter nylon jackets, all so that you can get a better idea of what's available on the market.
If you want to learn more about the best welding equipment that we haven't covered yet, go ahead and leave us your suggestions for our next big article in the comments section below, and we'll write it up in no time at all.