10 Indoor Herb Gardens That Will Test Your Green Thumb in 2023
These 10 indoor herb gardens will help you test your green thumb without all the fuss of the outdoors. Instead of digging up holes in the backyard, make sure you get the hang of these with one of these kits.
The kiddos can help out and you can learn a bit more about the growing process while you're at it. Let's have a look, shall we?
Editor's Choice
Premium Pick
Best Indoor Herb Gardens
We love having an indoor herb garden as it makes cooking with fresh herb so much easier. Plus, the dishes turn out so much tastier when using fresh ingredients.
The Mindful Design LED Indoor Herb Gardenis one of the trendiest designs on the list. With its mid-century modern styling, it will not only provide function but it'll blend with your aesthetic vision as well.
Home offices, bedrooms, or breakfast nooks can provide a safe home for this indoor herb garden. And you don't need to be too mindful of where you've decided to place the piece – in terms of lighting – because the LED lighting simulates natural sunlight which encourages your herbs to grow healthily.
Pros
Comes with integrated LED lights to help grow your plants.
Features an automatic smart timer.
Cons
Doesn't come with seeds, plants, or pots.
View price on Amazon
There's also the Miracle-Grow AeroGarden Ultra with Gourmet Herd Seed Pod Kitwhich allows you to grow herbs (or veggies) in your home all year long. It's truly a countertop garden that uses water and patented nutrients to grow plants naturally.
With the AeroGarden, you can grown up to 7 plants with LED lighting. This particular lighting is energy-efficient and tuned to the specific spectrum that allows plants to maximize photosynthesis. There's also an easy-to-use control panel that guides you through the entire set-up process.
Pros
Includes the Gourmet Herb Seed Pod kit.
You can grow up to seven plants at a time.
Cons
The plastic isn't very sturdy.
View price on Amazon
We love the Click & Grow Smart Gardenas well. It's a wonderful, simple design and will bring about the freshness everyone need in their home. It's more of a splurge in terms of gift-giving but absolutely worth it in terms of quality.
This kit includes: 3 mini tomato, 3 basil and 3 green lettuce pods. You really get to try your hand at a little bit of everything!
Pros
Includes pods so you can grow your own mini tomatoes, green lettuce, and basil.
The pods don't feature GMOs, pesticides, herbicides, or fungicides.
Cons
View price on Amazon
A sister to its predecessor, this Click & Grow Smart Garden Kitis a smaller design with a lower price point but with the same quality. This self-watering garden will help you grow your own fresh herbs in no time with no hassle.
Set-up is painless and you can truly grow any plants you'd like. We especially like the idea of growing herbs inside like basil, thyme, or rosemary but you can even go so far as growing fruits and veggies – like strawberries – inside as well.
Pros
Great nursery for a ton of plant pods.
Includes basil plant pods, but you can buy extras.
Cons
The pods will cost you a pretty penny.
View price on Amazon
If you're looking for a modern look with a darker edge, check out the Hydroponics Growing System. It includes a new, 4-in-1 light technology and a self-watering system in the 100% soils culture. There's just 3 steps to grow; sowing, germination, and transplantation. Within 25 days, you'll see your garden unfold.
Included in the kit: measuring cup, tweeze, sponge, seed box ,plant hole cover & nutrient water (sent separately). There's also a 100% replacement warranty included.
Pros
You can adjust the type of light given by the lamp.
Comes with 2 gardening pots for plants.
Cons
Doesn't include any seeds.
View price on Amazon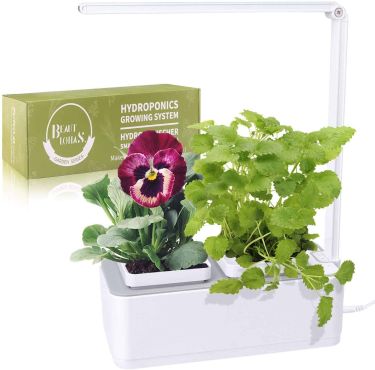 The BEAUTLOHAS Indoor Herb Gardenincludes smart lighting, a water shortage reminder light, and auto-hydration. You can truly grow a garden inside with absolute ease now!
Not only do you get the ease of function with this kit – but it's a wonderful way to bring life and organic appeal to the house – wherever you decide to place it. Grow your herbs all year long and bring a bout of greenery to any nook of the house.
Pros
Features a smart light.
It features auto-hydration, so you don't need to worry about this.
Cons
Not big enough for larger plants.
View price on Amazon
If you're looking for a lower price point, this will do it! The Aquaphoric Herb Garden Tubis as self-watering option at half the price of some of the others on this list. It's the perfect windowsill planter!
Just snip your herbs and your them immediately. Your plants live longer and you don't have to worry about your non-green thumb ruining the process.
Pros
Self-watering planter.
Comes with 6 quarts of Fiber Soil.
Cons
Doesn't feature a grow light.
View price on Amazon
Sometimes simplicity is the key though. And that's what you get with the Farmhouse Decor Flower Pot & Tray. There's no technology here, just good, old fashioned gardening.
Use these to plant your herbs or small flowers inside the home while sprucing up your kitchen nooks (near the windows since you'll need natural sunlight!). It's a wonderful gift for those that love the farmhouse feels.
Pros
Easy to move around thanks to the tray.
You can reuse the planter pots numerous times over.
Cons
View price on Amazon
This Loaka Indoor Herb Garden Kitincludes everything you need to start your own herb garden indoors! You'll get biodegradable bamboo fiber pots, nutrient enriched expandable soil pellets, herb seeds (basil, parsley, cilantro, and chives), plant markers and a detailed instructions booklet.
Customize your meals in the most natural of ways with this beginner kit – and there's extra seeds included just in case you need to "try again!"
Pros
Full starter kit.
Features 4 herb seeds – basil, parsley, cilantro, chives.
Cons
Not all seeds are always viable.
View price on Amazon
Finally, we have the Amazing Creation Stackable Planter. This one excludes the new technology and takes the traditional route of planting and growing. What's unique here is the fun design.
Grow various herbs or florals inside with the varying options to stack and plan here. It's a wonderful price point and would look wonderful on a covered patio or porch.
Pros
5 tier gardening tower for up to 15 different plants.
Sturdy and durable.
Cons
The draining holes are too small, so you'll have to DIY them.
View price on Amazon
Conclusion: Best Herb Gardens
Now that we have a good selection of great herb gardens you can put in your home, we hope that you'll pick the one that best suits your needs. We'd love to hear which one you took home, so drop us a note.