The 10 Best Welding Boots That Any Worker Should Have in 2023
Steel-tipped shoes are not the first safety equipment that may come to mind whenever you're thinking about welding, but they do have real-life applications as well.
For example, imagine that you're doing some welding, and sparks are flying everywhere. While your eyes and face are protected because you're wearing a welder's mask or some welding goggles, some of the sparks may end up falling on your feet, and you can get burned.
On the other hand, imagine that you're cutting a large piece of metal, as as soon as you're don't cutting, the excess material falls on the ground, possibly on your foot. The metal itself isn't lightweight, and even a small piece falling from the table that's just waist-high can do some real damage to your toes.
If you take a minute and think about these 2 very plausible scenarios, you'll come to realize how important safety shoes can be to a welder, and buying a pair for yourself suddenly becomes a must.
Why Do I Need Welding Boots?
Whenever you think of steel-toe boots, you're probably thinking about generic construction workers that need them to prevent injuries caused by heavy falling objects, and you wouldn't be far from the truth at all.
Steel-toe boots (aka safety boots, safety shoes, steel-capped boots, steel toe caps, etc.) are traditionally durable due to their protective reinforcement that is made of steel, although modern models feature caps made out of other materials as well, such as composites, TPU or aluminum because they greatly reduce the weights of the boots.
Well, occupational safety and health legislation made it so that this piece of equipment has become a standard around the world, and they also regulate the safety standards that these shoes need to meet to receive authorization for mass production.
These standards include the level of protection that these shoes usually grant against the following work hazards:
Burns
Impact
Penetration
Compression
Electric shocks, etc
In fact, safety shoes are used in pretty much all branches of the industry, from chemical processing to steel mills, construction sites, and more.
Editor's Choice
OSHA Welding Footwear Standards (Employers Only)
This particular section is aimed mostly at employers, and it discusses the OSHA (Occupational Safety and Health Administration) standards that involve providing your employees with protective gear while working in areas with an increased risk of personal harm.
As per our article, according to regulation 1910.136 of OSHA:
The employer shall ensure that each affected employee uses protective footwear when working in areas where there is a danger of foot injuries due to falling or rolling objects, or objects piercing the sole, or when the use of protective footwear will protect the affected employee from an electrical hazard, such as a static-discharge or electric-shock hazard, that remains after the employer takes other necessary protective measures.
According to regulation 1910.136 of the Occupational Safety and Health Administration (OSHA), each employer has to ensure that employees use protective footwear when working in areas where there is a risk of foot injuries.
This also sets out several standards that these safety shoes have to meet in order to receive approval, including:
ASTM F-2412-2005 – Standard Test Methods for Foot Protection
ANSI Z41-1999 – American National Standard for Personal Protection – Protective Footwear
ANSI Z41-1991 – American National Standard for Personal Protection – Protective Footwear
As an employer, if you have employees that will be working with welding, not only will you have to provide them with protective gear, but you'll also have to make sure that the protective gear follows OSHA standards.
Which Are the Best Boots That You Can Buy In 2021?
Topping off our list of best welding shoes is a pair from none other than manufacturing giant Timberland, and they are the Timberland PRO MetGuard steel-toe boots.
They were developed to meets all ASTM safety standards since they come with a wide range of protective features that make them ideal against main common workplace hazards.
For example, these safety boots come with a high-quality rubber sole that protects against dangerous substances but also renders these buttons resistant to slipping.
The overall build of these boots is very sturdy thanks to the EverGuard waterproof leather upper featuring Goodyear welt construction with Kevlar thread, and since the laces feature a protective waterproof Met Guard flap, you don't have to worry about sparks or dangerous substances reaching your foot.
As you would expect from the first product in a list of best steel-toe boots, this product features some of the most durable steel toe caps on the market, and while they do reduce some of the shoe's flexibility, they don't make them all that heavy at all.
The inside of the shoes is also very comfortable thanks to the shock-absorbent rubber sole, and the high-ankle design makes it so that you can fasten these boots around the shape of your foot in whatever way you want.
Besides, the boots also feature a comfortable polyurethane footbed with a closed-cell design, while the antimicrobial lining makes it so that these shoes will not start developing a smell no matter how much you sweat inside of them.
All in all, these shoes deserve a second look, and if you're interested in reading more about the product, or you just want to see what other users think about it, visit the product's Amazon page right now!
Specs:
Color: Black
Material: 100% leather
Toe-cap: Yes
Sizes (US): 7 – 15 Wide
Weight: 4 pounds
Waterproof: Yes
---
Pros:
Shock-absorbant rubber sole
High-quality toe cap
Very comfortable
Durable build
Lightweight
Cons:
A bit more expensive than some of our other entries
View price on Amazon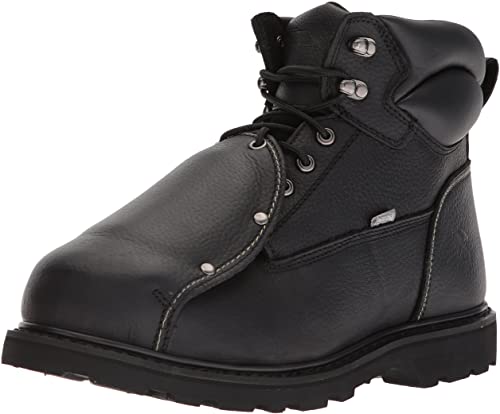 The Iron Age Men's Ground Breaker IA5016 Work Boots are yet another pair of welding and safety boots that stand out because of their design, although their unique look is simply the result of the added protective features that these boots provide.
For starters, you'll notice that the very thick metatarsal guard not only adds some extra protection to your toes (besides the toe cap) but also cover up the laces, so you don't have to worry about leak points.
Besides that, the overall build of the boots is very sturdy, as it has a 100% leather upper, steel toe cap, slip-resistant sloe made out of synthetic materials, advanced electrical insulation, and more, all of which ensure that these boots meet all ASTM requirements.
Everything is held together by a Goodyear welt construction and durable Kevlar stitching, making these boots be almost indestructible when it comes to common industrial hazards.
Of course, you can't just go and get the most impervious armor without thinking about comfort as well, and while there isn't much in the boot's default construction to make them particularly comfortable, they are very roomy on the inside, so you have plenty of space to add a gel pad if you're in need for more cushion.
Besides, the shaft length from the arch is 6.5 inches, so these boots provide plenty of ankle support.
If we could compare these boots with something, it would be a tank, and if you want to get the most protective safety boots on our list, visit the Iron Age Men's Ground Breaker IA5016 Work Boots' Amazon page right now.
Specs:
Color: Black
Material: 100% leather
Toe-cap: Yes
Sizes (US): 6 – 14
Weight: 5 pounds
Waterproof: No
---
Pros:
Meets all ASTM requirements
Thick metatarsal guard
Plenty of interior room
Steel toe cap
Cons:
Get them a size smaller than you normally wear
View price on Amazon
Despite the name, the Dr. Martens Men's Icon Steel Toe Boots are suitable for both men and women to wear because of their unisex design, and they offer all of the most basic protective features to make them viable safety footwear options.
Besides the iconic steel toe cap, the upper is made from water-resistant leather, and the welted construction footbed, together with the padded ankle support, offers exceptional stability and durability.
The sole is made out of Polyvinyl Chloride (PVC), making it ideal not only against oil, fat, petrol, and alkali spills but also against electrical hazards according to ASTM Standards.
Speaking of the sole, it is designed to be air-cushioned, so each step you'll take will feel very soft, and you'll enjoy every moment of walking with these boots.
You can get these versatile boots by visiting the Amazon store, and if you're lucky enough, you may even get them at a special price if they're on sale.
Specs:
Color: Black
Material: 100% leather
Toe-cap: Yes
Sizes (US): 11 M
Weight: 5.41 pounds
Waterproof: No
Pros:
Steel toe cap
Welted footbed
High ankle support
PVC air-cushioned sole
Cons:
Get them a size larger than you normally wear
View price on Amazon
What Should I Look For in a Pair of Welding Boots?
Temperature Resistance
Intense heat, sparks, and splatter are common things during welding, and wearing regular shoes or safety shoes that aren't heat or fire-resistant can lead to severe burns, so the first thing that you'll need to look for when buying your next pair of safety shoes is to check whether or not they are fire-proof.
Sure enough, a lot of safety boots are built with some form of heat or fire resistance, but things are a bit different when talking about welding shoes since temperatures can get really high, to the point where you can actually forgo some of the other safety features in favor of extra fire resistance.
Thus, go ahead and look for shoes that include features like neoprene-based materials, heat-resistant soles, or shoes that have been made out of leather that was treated to be even more fire-resistant.
However, don't just look at shoes that can't get burned since your goal is to protect your foot, not the shoe itself. Look for shoes that prevent any kind of heat transfer between the exterior and your foot, even when the shoes have direct contact with the hot materials.
Such features include:
An in-sock laminated to Kevlar that is non-woven.
Double density polyurethane (PU) leather or an outer rubber sole.

Heat resistance of up to around 300 degrees Celsius or higher would be ideal
Note: Because of the materials involved in making them, most safety shoes are heavier than generic footwear, but since we're talking about safety equipment, the added protection is well-worth the extra weight.
Boot Construction
The next criteria you'll need to pay attention to after making sure the right materials are used is checking how the shoes are constructed since even the most fire-proof materials can't help your foot is if the design of the shoes is faulty.
As such, try to avoid buying safety shoes that have the following features:
Prominent tongues
Eyelets for laces
Openings
The reason behind this is that any type of crook and crannies that expose your foot to the outside is a place where sparks and flaming-hot material can seep through (imagine the openings in an armor joint).
Once you check that the shoe is indeed sealed shut, you'll need to check whether the pieces that make it up are stitched together appropriately, and some of the best materials for making safety shoe stitching is kevlar thread since it's not only durable but also resistant to heat.
Material construction is another crucial consideration that can affect the long-term value you derive from your boot.The first rule with welding footwear is toavoid boots that have prominent tongues, eyelets, or crooks and crannieswhere the molten metal can become stuck.
Stitching is an integral component of a work shoe's design. Kevlar thread is not only incredibly durable but also resistant to heat.
Lace vs. Laceless
When it comes strictly to work safety, both laced and laceless safety shoes have their own pros and cons, so choosing between the two is mostly up to personal preferences and how well you can work around the drawbacks.
For starters, laces need eyelets, and this means direct exposure to burning materials, and untied laces can be a health hazard since you can trip and fall because of them.
However, one way to avoid the inconvenience of wearing laced shoes is to always fasten and tuck your laces awayor getting a pair of safety shoes that come with a metatarsal guard to cover them entirely.
On the other hand, laced shoes are great for extra comfortsince you can fasten them in a way that fits your shoe perfectly, which makes wearing them over long periods of time a lot easier.
On the other hand, laceless boots (aka no-lace or pull-on boots) are much easier to put on and take off, and they are usually made to be high enough to offer ankle and calve protection as well making them a leg version of a welding sleeve.
Waterproofing
Somewhat related to the previous criteria, another key aspect that you'll need to check out when browsing for safety shoes is whether or not they are waterproof.
Naturally, you're probably asking yourself right now:
In what scenario will you ever step into a puddle of water while welding?
Well, welding involves you using an electrical plasma cutter, blow torch, a saw, etc, all of which are electrical tools, and the last thing that you'll want to do is having direct contact with water while working with power tools.
Besides, stepping in a puddle of water and feeling your socks damp isn't exactly the most comfortable feeling in the world, and having to deal with that the entire day can be a nightmare.
That being said, a waterproof safety shoe is important, and most of them are simply because they are made of leather.
However, some manufacturers take a step forward in this direction and even coat the leather with oily substances that are hydrophobic, which not only prevents water from being soaked it, it repels the water altogether.
Another great feature that can help a show stay extra water-proof is a feature called welt construction.
The welt is along strip of leatherthat is placed between the upper and the outsole, and this makes safety shoes not only easily resolvable but also practically waterproof.
Sure enough, while shoes that have thesole directly attached to the upper are indeed lighter, more comfortable, and cheaper, they also tend to be less durable, so buying safety shoes with welt construction may end up saving you money in the long run.
Steel Toe Tip
We can't talk about looking to buy a pair of steel-toe boots without talking about the steel toe, and while this feature is not exactly a primary requirement when welding, don't forget that this feature can still be useful against the various metal pieces that can fall when welding and cutting.
You might be tempted to go for safety shoes that don't have protective caps at all since these tend to be a lot cheaper. However, a few extra dollars can mean a few thousand in hospital payments in case of an accident, and maybe a few tens of thousands if you're an employer and the injured party is an employee that is looking to sue you.
Besides, we talked about OSHA standards, and a steel toe is a primary requirement in any workplace with even the slightest risk of foot injuries, so if you're an employer, you might as well make this criterion your number one priority.
In general, look for safety boots where the protective caps cover the entire toe section, and for those of you that face increased risks of electrical hazards, opt for safety shoes that have protective caps made out of composites instead.
Sole Construction
So far, we talked about the upper part of the shoe, but the sole is just as important, even if you're welding, since there's always the chance of stepping on a piece of broken metal, and the cuts can get very serious.
That is why it's important that you opt for safety shoes that not only have very thick soles but they're also made for enhanced shock absorption and cushioning, although this is something that influences comfort more than safety.
Besides, construction workers work in environments where oil, water, or other slippery substances are almost always spilled at one point or another, so making sure that your boots have slip-resistant soles is also important.
Lastly, just like the toe cap and the leather is treated to withstand heat and corrosive materials, so must the sole be capable of resisting in case you ever step in something otherwise dangerous, such as drips of molten metal that are on the floor.
Comfort
If you're a construction worker, you probably know that standard safety regulations from all around the world dictate that you are not allowed to even enter your work area without being fully equipped with protective gear.
Because of that, you need to take into consideration the fact that you'll be wearing your safety shoes for at least 8h a day, so getting a pair that is comfortable to wear can have a great impact on your productivity.
Even if you're a casual DIY handyman, having to wear a big bulky and uncomfortable pair of shoes for even 2 hours can be annoying, so you also need to see how the shoes fit your foot.
What happens is that if you focus on getting the safest and most indestructible pair of shoes without taking comfort into consideration, you'll end up wearing the shoes for a short amount of time, and then you'll just go ahead and wear regular shoes, and as Murphy's Law dictates, that's when something heavy will most likely fall on your toes.
Thus, look for several features that will dictate how comfortable your foot will feel in a new potential pair of shoes:
Make sure they are breathable
Make sure they are cushioned (more precisely, the sole)
Make sure they are contouring the shape of your foot properly
Make sure that they aren't too heavy
Design
Such is the popularity of safety shoes that they are now available in less-obvious forms as well, such as safety sneakers, or even dress shoes, thus combining utility and style.
Popular shoe brands have even started to make their own separate line of safety shoes, with popular examples like Caterpillar, Timberland, or JCB being licensed to produce safety equipment.
More than that, steel-tipped shoes have even become a fashion statement within certain cultures, especially punk-rock groups, where they intentionally choose to wear steel-tipped shoes that look the part as much as possible.
Thus, while not exactly safety-related criteria, no one will judge if you ever want to mix in some style, so if you have the chance to buy a pair of safety shoes that also look good while respecting all safety norms, go right ahead.
Best Welding Shoes: Closing Thoughts
This concludes our guide featuring the best welding shoes that you can buy, and we hope that you found something that you liked in at least one of the ten products.
Sure enough, each of the featured items has its own strengths and weaknesses, but in the end, it's all a matter of personal choice and knowing what's best for you based on your regular work habits.
All in all, we hope that this article has taught you something about what to look for when buying your next pair of safety shoes and that you'll make a more informed decision with your next purchase.
Let us know what other pieces of safety equipment you'd like to read about, and we'll go ahead and created a detailed guide like the one above in no time at all.