7 Best Watch Repair Kits for the Money
The idea of taking your watch into a shop to be repaired might sound old-fashioned, but if you've ever had a very nice watch that you wear and use every day, you know that there's an inclination to take the best care of it possible. That doesn't mean, however, that taking the time to send your watch in or drop it off if it becomes damaged is an easy task when you're a person with a busy schedule. That's why watch repair kits are a surprisingly helpful thing to have on hand.
Watch repair kits are also, however, often the kind of thing that you might not think is necessary until something breaks and you actually need it. That's why we've been gathering the links to the best ones we could find online. The easier an ideal watch repair kit is to find, and the more we talk about their convenience, the more people will be inclined to keep one on hand.
Editor's Choice
Amazon's
Choice
universal set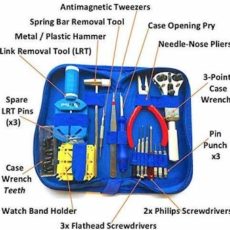 What is a watch repair kit?
The intention ofany kind of home repair kit is usually to give you all of the tools and instructions you'll need to make basic repairs and minor adjustments at home yourself. The same is true of watch repair kits. Whether you're hoping to lengthen or shorten the wristband, change the batteries, or try to fix up an old family watch you found in a keepsake box, a good repair kit can help you do it.
What comes in a watch repair kit?
The answer to this question does depend on the kind you buy, as different kits feature different supplies. In general, however, you'll receive things like specialty sized screwdrivers, pointed tweezers, custom tiny screws, replacement oink hinges, and a cleaning cloth for your glass watch face. The idea is to make sure you have the basics to make your adjustments, even if you're a beginner.
Where can I buy a watch repair kit?
Below you'll find a list of the seven best watch repair kits we came across in our search, along with some comparisons of their features, perks, and drawbacks. We hope it helps!
Are you actually quite confident in your watch repair skills, so you're on the lookout for somethingextremely comprehensive and that you could really make absolutely any repair or adjustment with? Then we think you'll appreciate this 151-piece master kit fromVastar.
Inside a durable zipping case, you'll find not only screwdrivers, tweezers, and screws but also vices for both the watch face and wrist band, link pins, a spring tool, and a watch-sized mallet.
Although this kit is practically a home watch maker's dream, others might find it overwhelming. It's very affordable, but that doesn't necessarily mean it's worth your money if you know you'll only use a fraction of what it comes with.
View price on Amazon
If you're still on the hunt for a very thorough watch repair kit indeed, but you're also working on a strict budget to the point that even the option above is cutting it close, here's a great alternative from Eventronic.
Their zipping case containsmost of what you saw above, with the exception of a few more advanced pieces. Thanks to a long-term sale (that doesn't reflect on the kit's quality, according to previous buyers), the entire thing is available for less than $10.
Although this kit is shockingly well priced and well-stocked, it's still the kind of kit that contains a lot of things. This means it might come with a bit of a learning curve for some beginners. We'd suggest evaluating whether you're feeling up for a challenge or what you really need, just so the purchase doesn't become unused clutter.
View price on Amazon
Just in case you're still interested in a thorough kit, but you're also not convinced by the previous two, here's one that's still well-stocked but a little more pared down and simplified.
EZTool sends you an awesome zipping case with organizational bands, stocked with custom-sized screwdrivers, necessary hand tools, wristband pins, and even a holder for the watch to sit in while you work on it.
Although the price is still reasonable for the quality, it's worth noting that this kit costs more than the others you've seen so far despite containing a bit less. Even at its sale price, this is the most expensive option so far.
View price on Amazon
Just in case you're actually looking for an evenmore thorough watch repair kit than anything else we've offered, here's a bundle fromOhuhu that gives you 156 pieces to work with instead!
It's got everything you've already seen in the options above, plus some additional sizes in the basic needs, account for designs ranging from very delicate to heavy-duty and industrial.
This kit gives you fantastic value for your money, but it might also be a bit overwhelming for beginners. It's recommended more for hobby watch refurbishing enthusiasts who already have some experience tinkering.
View price on Amazon
Are you actually not entirely convinced yet that you reallyneed a watch repair kit, but you're also the kind of prepared person who really likes having the basics on hand in case of emergency? Then check out something a little more essentials-based, like this 16-piece kit from SE.
You're still getting a range of notions and screwdrivers, a specialty hammer and links tool, a tabletop vice, and the other basics, but without all the bells and whistles that you know, you won't use.
The only real drawback to this useful and realistic kit is that it doesn't come with a kit for organizing the tools and storing them all together. You'll have to find a storage solution of your own.
View price on Amazon
Do you actually plan specifically on doing a bit of refurbishing when it comes to old watches, and you're looking for a kit that's particularly durable, just in case you choose to upcycle many of them or run into challenges with lots of damage? Then E-Durable has just the kind of thing you're looking for.
This kit features 149 pieces in total, all bound together in a durable faux leather case. One of the most standout features of this kit is the adjustable precision screwdriver, which works almost like a multi-tool.
Like most watch repair kits, this one comes with a very detailed manual and instructional guide. This is a perk but, because so many tools are included, some beginners have found the guide a bit intimidating to navigate at first.
View price on Amazon
Do you actually already own some of the basic supplies required for watch repair, but you're looking to supplement your kit and make it a little more thorough without doubling up? Then maybe this next option from Vastar was made for you.
This affordable and durable metal tool features different interchangeable heads that let you do a number of different repair tasks. These heads include differently sized watch pins, screwing tips, and prying tools.
You'll notice upon unwrapping it that this tool doesn't come with any kind of case for its spare tips. We'd suggest storing them alongside however your other repair tools are stored, but perhaps bagging them together specifically.
View price on Amazon
Who needs a watch repair kit?
Technically,any watch owner will benefit from owning a watch repair kit. These kits are a little bit like buying an insurance policy; you might not feel as though youneed one or like you'll really use it that often but, on the rare occasion that somethingdoes go wrong, you'll wish you had one! Many kits are very affordable, so it never hurts to have one on hand.
Learning how to use your watch repair kit
Just like watch repair kits come with a full set of tools or supplies, they also usually come with a full set of instructions or a usage guide. The whole idea, after all, is to enable even a beginner DIY enthusiast to make simple fixes on their own. If you still feel like you need more guidance after reading your instructions through, however, rest assured that there are plenty of useful watch repair kit video tutorials on YouTube.
Do you know a DIY enthusiast who has been thinking about investing in their own watch repair kit? Share this post with them, so they have all kinds of options to consider.