10 Best Toolbox Organizers on the Market (Reviews) in 2023
Even if you're not an avid handiwork enthusiast or a regular practitioner of home improvement,most households tend to have at least some kind of small tool kit. Even if it's just the essentials, you're probably still familiar with how pivotal having at least the basic tools on hand can be.
By that logic, it makes sense that keeping your tools conveniently located, organized enough so that you can really find what you need, and decluttered enough that important pieces of your kit don't get lost is of the utmost importance, right? We recently saw the state of our own workbench and felt overwhelmed by just how scattered and disorganized our own tool collection was, so we dove headfirst into the process of researching, comparing, and contrasting the best toolbox organizers that we could find on the Internet.
Editor's Choice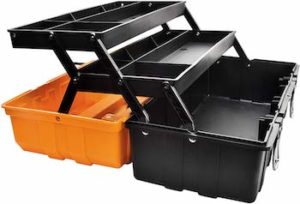 Mobile Pick
What is the best toolbox organizer?
In our search for quality toolbox organizers, we were pleasantly surprised by just how many useful and diverse options were available online.
We compared and contrasted the ten best products we found in order to help you narrow your own search a little and find the toolbox that really fits your needs the best.
If you're a home improvement enthusiast in a small way, but you've still got a large enough toolkit that you want to make sure things are organized as effectively as they can be for ease of use, then tiers and folding trays are definitely the way to go. This toolbox design from Ganchun, which is 17″ wide, gives you two shallow trays for keeping smaller pieces together and easy to find and a larger, deeper compartment underneath these that will fit your heftier hand tools. The hinges that allow you to pull the trays upwards so that all three levels of organization can be seen and accessed at once are smooth moving and created with supports that are designed to bear weight well. The lid even has a little easy access compartment in the top for keeping the small bits and pieces that you need the most in.
Because the stilts and hinges on this particular design are made of stainless steel, we'd recommend keeping the box somewhere very dry. Should those pieces get wet and rust, you'll find your tiered trays much more difficult indeed to expand and fold back into place.
View price on Amazon
Are you actually working on a slightly stricter budget than the above unit allows for, but you're still looking for something with similar perks and capabilities? Then perhaps this model from Ganchun will be a little more suited to your needs. This box is nice and deep, giving you a spacious bottom compartment. It also featurestwo miniature lid storage compartments that once again provide you very easy access for the little piece you use most before you've even actually opened the lid. A durable handle makes the box very portable indeed, as well.
Because the item is sold at a cheaper price, it makes sense that it lacks at least one fancy feature, right? Rather than having two-tiered and collapsible trays that fit over the deeper lower compartment, this box features only one interior tray (but it's a decently spacious one). Rather than folding out on steel stilts and hinges, this interior tray lifts out completely, like a separate piece. This isn't a bad design by any means, but make sure you settle the tray back in properly, so it sits evenly and doesn't stop the lid from closing.
View price on Amazon
Are you a much more avid home improvement enthusiast or handiwork expert with a wider collection of tools, so you're in need of a larger toolbox design? Well, if you're also quite intent on valuing portability in the box you buy, then we're pretty sureDewalt has the design for you. This box, which stands double as tall as the average toolbox, and double as wide as most of those, too, is built for durability. Thanks to its long pull-handle and strong wheels, it's also easy to take on the go any time you might need your full took it elsewhere! Beyond that, it's also a great safety design thanks to its double metal latches, which are made from an anti-rust metal and which keep the lid steadfastly in place while you wheel the box around.
Because of its durable materiality and larger size, this toolbox is naturally a pricier investment than the previous designs you've seen. The initial purchasing option is also one that doesn't come with any organizational trays inside; you get a fantastic interior space that will hold all your things, but further inner compartments to keep small pieces together will cost you extra.
View price on Amazon
Did you love the idea of a larger, deeper toolbox with durability and a strong lid, but you're just not sure that the wheels are necessary for where and how you use your tools and will therefore require your toolbox? Then we'd suggest considering this similar but altered design from Dewalt instead. Once again, you'll benefit from the durability and safety of two anti-rust closing clamps. Instead of a collapsing pull handle (since you don't have wheels this time around), you get a durable handle with extra long sides that gives you the option to loop the box over your forearm and into your elbow or up over your shoulder when you're carrying it. This makes lifting its weight easier than hauling it around by a much smaller handgrip.
Like the design above, this box lacks organizational trays on the inside. The great spaciousnessdoes give you the opportunity to invest in little plastic tubs to pile inside to keep your smaller pieces, like screws and nails, organized, but you'll have to keep in mind how much heavier this might make the box as you lift it.
View price on Amazon
With all this talk or organizing small pieces, have you actually realized that your notions are the primary thing youneed a toolbox for, rather than hand tools and larger things? Then we'd encourage you to consider this cantilevered box fromKeter. Its wider, flatter setup is fitted with a mosaic of interior organizer boxes that you can fill with smaller tool notions by type and rearrange as necessary. The construction of the box itself is durable thanks to the use of polypropylene resin, which is particularly beneficial as far as the smooth moving cantilevers that let the top tray slide back to reveal the bottom one are concerned.
Although a convenient metal handle and durable support legs make this box very portable when it's collapsed and closed and keep it solidly upright when the trays are expanded, it's of the utmost importance that the lid is solidly shit and clicked into place before you lift it, and also that the legs are clicked into placewell when you open the trays. Without double-checking these things, you risk tilting the box either way and spilling your small notions out.
View price on Amazon
If portability is much less of a concern because you know that your tools will stay stationary at home, but you're intent on having a very well organized notions and small pieces collection, then we think you'll find this drawer filled cabinet from Akro-Mils very convenient. The durable resin frame of this cabinet is diverse because you can either set it on a tabletopor wall-mount it for space efficiency. The drawers, which are similarly durable and designed for smooth sliding even if you fill them until they're heavy, provide you with two different sizes so that you can store variously shaped and sized notions and tool bits.
The primary drawback to this design, of course, is that it's not portable. Its stationary nature, however, is made up for by how affordable it is.
View price on Amazon
Are you still thinking about how much you appreciated the nature of the larger, deeper toolbox we showed you that did not have wheels, but you're just not sure that you're a fan of the extra-long handle? In that case, we'd encourage you to give this version from Dewalt that features much of the same qualities but boasts a or standard-sized handle some consideration instead. Like the previous design, this box is made from a durable resin material, and its lid stays clamped well-shut thanks to two anti-rust metal clamps on each side at the front.
Once again, this model features a completely empty interior with no organizational trays or compartments. Its depth is useful in all different manners, but small notions will need an independent case to keep them from rattling around in the bottom. Just keep in mind that adding too many cases inside along with your larger tools will increase the weight on that small handle.
View price on Amazon
Are you actually planning an entire workbench, home improvement supplies, and tools overhaul and looking to purchase a range of storage options and organizational solutions in one fell swoop? Well, if you're a slightly above average home improvement enthusiast with a decently large collection of handheld and small power tools, then Tactix might have you covered with this package of differently sized hardware organizers. In this pack, you'll get one box that is large and deep with an organizational cubby tray that balances across the top, two shallower medium size boxes with similar trays, and wider lidded notions tray that's perfect for keep tips and bits contained. All of it comes bundled together for an extremely impressive price.
Like the other bins with empty centers, it's important to remember with these boxes that if you choose to use smaller plastic tubs to organized little pieces inside them, it might increase the weight, making them harder to lift and move around. That's a particular consideration here because the three larger boxes don't actually have handles by which to maneuver them.
View price on Amazon
Do you still have a toolbox that's at least a little more classic in its shape and features, more like the first option we showed you, but you move your tools around enough that you're in need of a much more durable version? Then we propose consideration of this contractor-grade toolbox offered by Stalwart. This box is 22 inches long and higher than most toolboxes of similar construction. Like the first model, it has a cantilevered tray storage system with smooth, durable stilts and hinges that make expanding the tray to reach the spacious section underneath nice and easy. The tray features a mosaic-like system of little boxes that you can fill and rearrange as you please. Perhaps the most unique feature of the box is its durable metal handle, with extra-long sides, that's got a rubberized section in the center for good grip.
Like most toolboxes that share this basic construction, it's important to remember that you can't fill the deep bottom section too full, or your upper tray won't slide back into place properly. If you force it, you risk irreparably shifting the cantilevered system off balance despite the impressive materiality and construction of the box. This limits what you can place in the bottom section.
View price on Amazon
Have you been feeling intrigued by the shallow section boxes that feature little boxes, trays, or cubbies for organization, but you wish you could find a version with a wider variety of sizes in its sections? Then perhaps this last model fromMassca will give you what you're hoping for a little more accurately. Rather than coming pre-built with specifically sized compartments, this toolbox provides you with 18 sliding dividers that let you customize the inside of the tray to an extent. The heavy-duty plastic makes these dividers easy to move without the worry of damage, while the strong clamps lock the lid in place so that your custom-filled interior stays precisely how you want it. The lid itself is transparent, so you can identify exactly where the thing you need is before you've even unclamped the box.
If you build yourself an interior configuration that features large compartments and leaves you with spare dividers leftover, make sure you keep them somewhere safe (we'd suggest putting them right in the organizer itself). If you lose your dividers, you're pretty much defeated by the purpose of paying for and owning this toolbox and its best feature!
View price on Amazon
The perks of organizing
Even if you're not the kind of advanced handy-person who plans on making any big structural changes to your home any time soon or building yourself a new piece of furniture, it's still the safest plan to keep your tools collected together in one place so that you'll always know where to look if your faucet springs a leak or the hinge on your bedroom door comes loose.
Beyond that, increasing the organization of your tools once you've gathered them in one place, rather than just tossing them all into a pile into a plastic tub or cardboard box, will make the process faster and more streamlined when you suddenly find yourself needing one particular thing for an odd job around the house.
Safety first
Sure, you could take that simple plastic box or cardboard tub we mentioned and put it on a high shelf or hide it to keep your sharp and heavy tools away from the small fingers of your curious children, but that doesn't really help you with your goals of organization or convenience, does it?
If you invest in a toolbox organizer, you'll find that you can choose from all kinds of clamping and locking lids that are specifically designed with safety in mind. They'll by no means be difficult for you, an adult, to open in a hurry whenever you need something, but your children will be protected by things like latches, two-step closing hooks, and even locks in some cases.
Portability
Do you also have a cottage or a campsite that you like to visit for longer periods of time during the summer, and you know that annual repairs are usually part of the routine here and there while you enjoy time on the lake?
Well, instead of investing in two separate sets of tools so that you have some in each place, or having to scramble the day before this year's first trip to sweep all your tools into a tub and risk forgetting something you need, why not keep your pieces organized in a convenient toolbox all year round?
Most toolbox organizers are extremely portable; you'll be able to simply grab the toolbox by the handle, put it in the trunk, and head out to the lake without much thought or even a worry about whether you've remembered to pack everything you might need.
Organize gently
Once you've chosen, ordered, and received, or picked up your toolbox, simply be nice to it while you set it up. That sounds silly, particularly since so many of these boxes are made out of such durable materials, but we're totally serious about this recommendation.
So many organizers have moving parts, tiers and layers, and pieces that are adjustable; it would be a shame to force something because you haven't fully learned about your boxes moving pieces or storage capacity yet and break it before you've ever had a chance to put it to good use.
Avoid over-filling
Your new toolbox might have an extremely impressive volume that holds a whole lot, but, just like we said above, you don't want to over-fill something so that you end up breaking it or not being able to lift it when you need to.
For example, as you fill-up, the larger bottom compartment in your tiered toolbox, gently close the tray every once in a while to see that there's still space to work with and that you're not encroaching on the space that the tray needs to slide evenly back into place.
If you put too many things in the bottom and then force the tray back into place and cram the lid shut, you risk breaking the closing clamp, the lid itself, parts of the tiered tray (or bending the tray off-kilter, so it doesn't sit properly anymore at all), or something you've placed in the bottom). Fitting all of your tools inside is, of course, the ideal scenario, but not if it breaks the supplies you saved up to pay for and need!
You can always prioritize and find another storage solution for the things that have to be taken out if necessary.
Conclusion
Do you know another handy person and tool enthusiast who has been looking to invest in some kind of new toolbox or tool organizer but who still feels like they could use some suggestions in order to make the best choice? Share this post with them, so they have all kinds of great options to choose from!