10 Best Toddler Table and Chairs Sets (Reviews) in 2023
In our house, crafting has become one of our kids' very favorite things to do. We're incredibly grateful for that as parents for many reasons, not the least of which is that we're big DIY enthusiasts ourselves so it makes for great family bonding time that also inspires our kids to be creative and learn patience in mastering certain skills.
We find, however, that our kids are more likely to get crafty when things are accessible to them, easy to reach, and fun for them to use, which is part of why we've been considering investing in a little kids' sized crafting table of their own for them to sit and get creative at. We like the idea of helping them establish a good workspace that's just theirs in order to make them feel like they can get crafty any time, but also to help them learn about keeping their spaces and things clean between projects.
Editor's Choice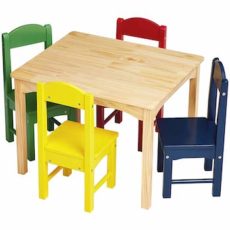 Amazon's Choice
What is the best toddler table and chairs set?
As with anything, we decided that doing some research into the different online options before we made a final decision and purchased anything was a good idea.
We always like to know about what we're putting our money into before we commit. Because we like to bookmark things that we want to review again, however, we find that we've usually created a quality list of recommendations by the time we've made up our minds, and this table search was no exception, so we figured we might as well post the list for others who share similar interests and needs to see.
Check out 10 fantastic toddler-sized tables and chairs that we came across in our search!
If you're going to invest your money in a kids' sized table that's meant to be a creative space for your little ones, would you actually prefer to order a model that looks that part and inspires a little bit of fun while they use it? Then we thinkAmazon Basics might have precisely the kind of thing you're looking for right off the bat.
The height of this table is designed primarily as a perfect fit for toddlers, but that and the chairs will also still work for small children who are a little bit older as well. Each set comes with four chairs, each one painted in a bright primary color, just to keep your kids' interest and maybe even inspire a bit of learning. The wood is natural and smoothly finished to keep it safe and free of splinters, and both the wood and the paint are durable and scratch-resistant in order to help the furniture last longer.
View price on Amazon
Are you the kind of shopper who has slightly expensive taste but doesn't necessarily always have the budget to go along with it? In that case, we think you'll appreciate the way this particular toddler table and chairs set fromMelissa & Doug went on sale for an even more affordable price, just as much as we do!
Rather than being colorful like the one above, this particular wooden set was kept in its natural hue, sanded and sealed for smoothness but free of bright paints. The kit arrives disassembled but is extremely simple to put together (it comes with full instructions and requires only a few fundamental tools) and, once they're built, the chairs are actually strong enough to support enough weight for adults to use them as well, despite their little size.
View price on Amazon
Are your kids the kind of fun color lovers who will always be more interested in using anything that involves bright shades? Maybe you'd just rather invest in plastic things right now for durability rather than delicate wooden things that they might leave gouges and scratches in. Either way, we'ddefinitely suggest taking a look at this super fun and colorful plastic toddler table and chairs set from Tot Tutors!
Besides being a little more affordable than the wooden models we've already shown you, this table has a lot of appeal in its versatility as well as its colorful nature. The upper plastic layer of the rounded tabletop is actually removable, revealing a Lego-friendly building blocks surface underneath! Set the top piece aside when they want to build things using the textured surface and put it back on when they want to do something that requires a smooth surface, like coloring. The top is so light and easy to move that your kids might even quickly learn how to change the table themselves.
View price on Amazon
Are you actually feeling very enthusiastic indeed about the idea of purchasing a pretty wooden children's table that's painted lovely colors but, to go with the decor scheme of their playroom, you'd much prefer lighter, more springlike shades than bright primaries? Then we think this adorable set from KidKraft might be a little more up your alley!
The first piece of good news is that this wooden table and chairs set are right on par with the brighter set we showed you in terms of price. This time, however, the hues that the chairs are painted with are in the pastel range. The table itself, rather than being naturally colored, has been painted white this time to complement all of the chairs in a more cohesive way. The set arrives disassembled but comes with full instructions and is very easy to build.
View price on Amazon
Are you feeling rather intrigued indeed by the idea of a pastel-colored table and chairs set but also one with a removable top and extra feature, but you just haven't quite seen the combination that has hit home for you yet? Then we think you might feel rather intrigued indeed by this alternative set from KidKraft!
This set might be wooden like a few of the others we showed you, but the shape is a little more unique and whimsical. The pink and white pastel theme also contributes to the cute, feminine aesthetic, but both the glossy seal finish and the quality of wood used to keep the pieces a lot more durable than they look. The best part about this set (besides the slightly lower price) is the mesh bag attached underneath for storage; lift and turn the circular inset in the table's center to place or remove things from there, like a tea set or crafting supplies.
View price on Amazon
Are you absolutely interested in getting your kids their own table and chairs to use for crafting and learning, but you don't currently live in a space that's big enough to keep them set up all the time, even when they're not being used? Then we're pretty sure you'll have better luck with something like this set from Flash Furniture!
Besides being super colorful, which is extra fun, this set is also handy and unique because it's collapsible. When your kids don't need it for something, you can easily fold up all the chairs and the table and lean them somewhere out of the way until you need them again. The set is made from lightweight metal and foam padding (for comfort), making it durable enough for play. The easy hinges, however, also make for easy enough folding that your kids might even learn how to set up and break down the set all on their own.
View price on Amazon
Did we catch your attention when we started talking about the idea of purchasing a table that's a little more girly and whimsical, but you know that, more than anything else, your kids like cartoon characters? Well, if they love Disney even half as much as ours do, then we think you'll be just as intrigued as we were to see this adorable Minnie Mouse-themed table and chairs set from Delta Children!
As far as price goes, this table runs about mid-range compared to the other things we've shown you. The only downside to that is the set actually only comes with two chairs instead of four, like most. This is made up for with the adorable Minnie Mouse-themed decal across the top of the table and the backs of the chairs, where are custom shaped at the top like mouse ears and a hair bow. We also like that the table has a safety lock where its legs (which are collapsible) fold so that no little fingers get caught in an unsuspecting folding incident.
View price on Amazon
Rather than purchasing your child a crafting table, have you actually been on the lookout for some kind of activity space that's a little more toy-based? We've always liked this idea because, when our youngest was little, it was nice to have a place for them to sit and keep themselves active and busy during a movie or something while we got something like folding laundry done. That's why this awesome table from Burgkidz caught our attention so well!
This table is actually a 5-in-1 activity station that's a little bit customizable, which makes it the most diverse choice (but also a little more expensive than a couple of the others you've seen). With this durable plastic table (that's very easy to assemble on arrival), you can choose from a textured building block tabletop, a smooth top that's better for coloring or homework, or a sunken top that's great for storing toys and art supplies or filling with sand or water for awesome sensory play! The only drawback of this design is that the bundle only comes with one chair.
View price on Amazon
Have we actually got you feeling the most enamored with the idea of a cartoon-themed table, and especially a Disney branded one specifically, but you're looking for something that's a little less girly than the Minnie Mouse design we showed you before? Then perhaps you and your kids would get along a little better with this adorable Toy Story-themedtable fromDelta Children!
Besides the awesomely colorful decal on the tabletop, the most exciting part of this design is the Buzz Lightyear and Woody theming on the chairs. The table is also interesting because, on top of being collapsible when the safety lock is switched off, there's a mesh storage space underneath the table that's accessed through a lift-out piece in the center, which is great for keeping toys or crafting supplies in so they're convenient but the space stays neat.
View price on Amazon
Were you feeling totally okay with the idea of getting a set that only has two chairs rather than four or more, but you're also feeling pretty intent on the idea of getting a table that's multi-faceted and has more than one function? Then we're pretty sure you might be looking for something just like this design fromUTEX!
This lightweight but durable little table has two main unique points of interest, and we're honestly not sure which one's more useful! Firstly, the table features two drawers underneath that are great for storing toys, building blocks, crafting supplies, or writing utensils. Secondly, the tabletop itself can be swapped out, letting you choose between a smooth top that's great for writing and drawing or even eating at, or a textured top that's fun for working with building blocks.
View price on Amazon
Conclusion
Do you know another parent who has been thinking about investing in a toddler table and chairs set for their little ones but who has also admitted that they could use a little bit of information and guidance when it comes to choosing what kind? Share this post with them so they have even more options to choose from than they've already found in their own search.