5 Best Cheap Grow Lights And The Benefits
Summer has finally arrived and, whether you're living in a house or an apartment, that means the time has come for plants and gardening. We're fortunate enough to have a yard and large garden plot that we adore cultivating every year, but lately, we've taken a much bigger interest in indoor gardening as well. In each area of gardening, we're finding that there are certain times of day when different parts of both our outdoor and indoor gardens lack light a little longer than we'd like.
That's how we got interested in the idea of researching and potentially investing in some grow lights. Now, as with anything, there are definitely large, industrial-grade grow lights that are useful for things like growing produce in greenhouses. People who strive to produce their own vegetable patches might use these but, even you're growing a small number of vegetables in your backyard, that doesn't mean the larger, more expensive items are necessarily the best solution for you. The goal is always to get the best value and function for your money, but it's also important to evaluate what kind of function your needs actually require.
Since we're gardening much more casually, we've opted to look into cheaper grow light models. This saves us money in the end if we don't advance beyond the point we're at, but also lets us learn more about what we're doing while we leave the door open for potential upgrades later when we have a better idea of what the next step is. Because we're so excited about our recent gardening endeavors, the process of researching grow lights before we made our decision was actually a lot more enjoyable than we thought it might be. We couldn't help sharing some of what we learned, just in case fellow novice-but-determined gardeners could use a hand.
Editor's Choice
Lightweight Pick
What is a grow light?
A grow light is a specially designed device that uses light concentration and temperature to mimic the spectral wavelengths that plants take from the sun and use in their natural growth processes. The lights are built to provide very specific energy levels and temperature to plants that need a more direct impact than what they're able to get from the sun, whether that be because of location, climate, shadows, or other environmental factors.
How do grow lights work?
Simply put, grow lights nourish plants' healthy growth by providing the same kinds of spectral wavelengths those plants require from the sun, only without interruption. This more constant presence of ideal energy and light levels encourages plants to reach their full potential by maintaining the optimal conditions required for the chemical process of photosynthesis (the process through which plants convert light into energy and use that energy to grow).
What are "spectrums of light" or "spectral wavelengths"?
Even if you've only done the most basic research into grow lights so far, you might notice that many grow lights give off a different colored glow than the average light you'd use in your home. This is all part of the process of creating the right spectral wavelengths to really nourish plants and encourage healthy photosynthesis. In fact, even some of the grow lights you see that don't appear to give off a noticeable color are, in fact, altered in their color producing energies; it's merely more subtle and not as visible as the ones that, say, glow pink when you turn them on.
During different stages of growth, plants need differing wavelengths that fall into various ranges. For example, short wavelengths are best for plants that are in the early stages of growth. These wavelengths are usually warmer and found in blue-tinged lights. Plants that are already grown or blooming and simply need to be maintained at their maturity, on the other hand, do best with longer wavelengths because they are cooler. These are usually provided with lights that glow red or deep pink.
Some grow lights are adjustable, so you can switch what kind of wavelength you provide your plants. Some people buy each and rotate their plants as they grow according to need. Others only use their grow lights at certain points of growth and then let the plant take over for itself naturally in authentic sunlight, where possible. We'll discuss types of grow lights more in-depth later.
Who should purchase a grow light?
Grow lights are most often used indoors (although you might occasionally find them in large semi-outdoor greenhouses for those cultivating more industrial-sized production plots). This means that people who want to garden on a smaller scale in their home, live in climates that are less than ideal, or want to garden right through the year, even after winter comes, are ideal candidates for purchasing a grow light.
Sometimes avid gardeners who want to get a head start on the season for some of their plants will purchase a grow light. By setting the freshly planted seeds or freshly sprouted seedlings under the light a few weeks early and then transplanting the budding plants into their garden when the weather is right, gardeners can foster stronger, healthier plants that will bloom in the yard with a little more strength and for a little longer.
Price ranges for "cheap" grow lights
As with anything you're new to or still learning about, it can be hard to pinpoint what exactly qualifies as "cheap," especially if there is a large range between the most affordable and most expensive item. The lights that we found for the best value and feature inclusion, however, are a great starting point to guide you in your own research. They range from about $40 USD to around $130 USD, all of which would be considered on the affordable end of the scale for personal grow lights used at home.
You might find grow light designs for even lower prices than you see here, but we'd urge you to read the reviews. Some of these are built like grow lights but don't meet proper quality and material standards for effective or impactful function. You'll also find options that are much more expensive than the ones we've featured. These lights are usually industrial size or quality, featuring strength and combination of features that are far beyond what you'd need for casual gardening at home. They might theoretically be the "higher quality" or "higher power" options, but the trick is in evaluating what you'll actually need and use.
Have you been feeling rather interested lately in the idea of investing in a grow light or two as well? Check out this outline of the five best cheap grow light designs we came across in our searches! We've laid out some of the pros and cons of each design in an attempt to save you a little bit of time and effort.
Key features:
LED light
Effective on both vegetationand blooming plants
Full-spectrum range
Includes a 1-year warranty and a 30-day money-back guarantee following purchase
Made with 600-1200 watt bulbs
Our first recommendation is a grow light designed by ColoFocus. These lights are quite popular because they're reasonably priced for how highly energy-efficient they are. They're also quite accessible to set up and easy to use, even for beginners. The panel the bulbs anchor into is customizable, letting you adjust the wavelengths your plants receive. The heat production of this light is rather low, but the energy output is still good; this makes the light a good investment in terms of longevity but can make a difference in some unique plants' needs, so be aware of it.
Although the kit comes with everything you need to set up and hang your light, it's worth noting that the panel does heat up. This is mitigated by the inclusion of energy-efficient fans that keep it cool. These fans, however, are reviewed as being slightly loud.
Pros:
Great customer service for accessing warranty
Long-lasting bulbs and powerful output
Efficient energy expenditure without great loss into surrounding space
Great starter kit that includes everything a beginner could need for full growth stage coverage
Cons:
Fans that discourage overheating are effective but rather loud
Can be finicky for distance from plants in some case; little guidance for this, so trial and error might be required in terms of proximity upon setup
View price on Amazon
Key features:
300-watt bulb power
Features 2-year warranty and a 30-day money-back guarantee following purchase
LED light with full spectrum range and both IR and UV coverage for plant strength
Suitable for all growth stages in most vegetationand blooming plants
This light sold by Spider Farmer has an impressive and useful blue to red LED bulb ratio of 8:1. This enables it to provide a full spectrum of wavelengths, which in turn makes it suitable for both vegetation and blooming plants throughout their full growth cycles (on different built-in settings). This light is lightweight and rather small in its actual physical measurements, but its light footprint is capable of covering up to nine square feet of space.
This lightdoes produce quite a bit of heat into its own base. To prevent this from becoming a problem, however, it features built-in fans and heat sinks that work together to actively lower its core temperature without affecting its concentrated output towards the plants themselves. The LED bulbs have the capacity to be used continuously for up to about 20 consecutive hours, and they're guaranteed to provide you with about 50,000 cumulative light hours in the span of their lifetime.
Pros:
Includes its own built-in cooling system
Durable design with an impressive lifespan
Easy to install and hang, with all necessary pieces included
Higher red to blue concentration is great for growth butparticularly effective for bloom
Cons:
Lower blue ratio makes this light slightly less effective for easy growth phases than some full-spectrum options
Must be mounted very specifically despite being easy to set up
High heat concentration requires a higher than average hanging height
View price on Amazon
Key features:
Fluorescent bulbs and lighting system
Supports all types of plants (with average needs; always do your research for unique cases) and all of their growth phases
Full-spectrum range (despite very little visible color change to the eye)
Includes a 1-year warranty
This fluorescent light model from Vivosun is highly reviewed specifically for its great fostering of early growth phases. The lights are long-lasting and have a cool burn that gives them a fantastic energy output for their price point. Although some adjustments might be necessary for your specific crops or blooms, this piece is the kind of light that's designed to maintain plant health through every phase of growth with the same device. The heat absorbent cooling hood features a brightness dial and enables the light to be installed in a range of ways, all of which are quite easy to make happen.
Although the lightis full-spectrum and does support every growth phase, its blue range output is far great than its red. This accounts for its praise in early phases but also means that it won't necessarily foster the strongest mature blooms; it will help them grow to their full potential, but its contribution to longevity is more limited than certain other red-heavy options.
Pros:
Particularly great support in early growth phases, but still a full-spectrum
Durable and easy-to-install design with heat absorbent hood
Convenient brightness dial and well-concentrated energy and light output
Cons:
Slightly lower red range or mature bloom support
Reviews report some occasional issues with shipping (although these are covered by warranty)
View price on Amazon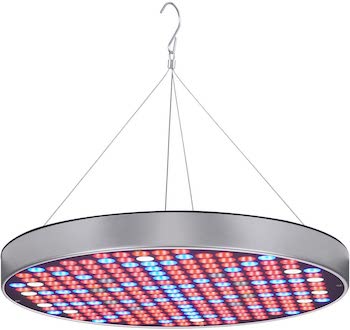 Key features:
LED light with 18-50 watt bulb power
Benefits all growth phases in all plants (research in unique cases is still beneficial)
Full-spectrum wavelength power
Includes 1-year warranty
This LED grow light from Hytekgro is shaped to be what's called a "UFO" light. These are particularly great for growth in small spaces. Their powerful light concentration makes them a great affordable option for hobby gardeners but also a good supplementary option for more experienced growers who are looking for a supplement for their larger lighting systems. Despite its rather conservative size, this affordable little light has an output footprint of up to 18 square feet. This can be reigned in a little by placing the light closer to the plants, which is safe to do because the design is pretty heat efficient.
Although the light is extremely easy to hang and also to adjust in terms of height, the ways in which it can be mounted are quite limited. Additionally, it's actually a little larger than the photos make it appear despite its genuinely conservative size so far as grow lights go, so make sure you check the actual dimensions to make sure it will really fit your space properly.
Pros:
Well-sized and impactful output footprint for its size (up to 18 square feet)
Lightweight, durable, and easy to hang at any height
Full-spectrum, high energy output that's efficient and provides longevity
Cons:
Slightly larger size than photos appear despite genuinely conservative dimensions
Ways that it can be mounted are limited despite the ease with which it can be hung
View price on Amazon
Key features:
Four arms adjustable/shapeable, each with its own LED bar head
Full-spectrum wavelength power for all growth phases
Clipping base for convenient and unconventional placement
Timer and dimmer features for independently scheduled lighting
Are you dealing with a small hobby plant setup that's a little less permanent than some of the designs you've seen so far call for? Then you're going to want something a lot easier to not just mount but also move like this clipping LED light from Jueyingbaili. The base of the light is a convenient clip, kind of like a reading lamp, while the arms are easily adjustable and can be shaped and positioned however best suits your space. This lamp features four arms, each with a long bar of red and blue full-spectrum LED lights, allowing you to aim the wavelengths in different directions and at various angles all at once. The red to blue ratio is 2:1, and each bar contains 18 bead LED lights.
To make things even more convenient, the light comes with a timer and dimmer, allowing you to nourish your plants on a schedule of your choosing without having to keep that schedule yourself. The clip will open and grip up to 2.5 inches. Although the energy and output are fantastic for the size and price, this design is still recommended primarily for small space growing and hobby gardeners rather than more professional setups (unless it's intended to be supplementary to more industrial lighting systems).
Pros:
Adjustable arms and heads provide freedom in direction and angle of lighting
Timer and dimmer allow light scheduling
Especially good for mature phase benefits and blooming thanks to red vs. blue light ratio, but will provide a full spectrum
Cons:
Great output for its size and price, but still best suited for small spaces or supplementary lighting
View price on Amazon
Different types of grow lights
The best way to get ideal results from your grow light is to analyze what the plants you're planning to grow require during the periods where they'd need a grow light the most. This will help you determine whether a particular grow light actually has the features and capabilities you need. The most common kinds of cheap or affordable grow lights you'll find are:
High-intensity discharge (HID) lights: The bulbs in HID lights contain a type of gas. The light given off results from the combustion of that gas. HID lights require a ballast to help regulate the electricity running into them in order to stop them from burning out. They also usually featured a specific hood set up to keep the light concentrated in the right direction, preventing it from diffusing too widely to be impactful. HID lights are often capable of producing the entire spectrum of wavelengths; you'll determine which are given off by changing a setting.
Plasma lights:Plasma lights are built from a type of bulb called ceramic metal halide bulbs. These are similar in function to HID lights, but are actually a slightly updated version of that technology. Plasma lights are highly efficient in their light projection and concentration, meaning that they lose less spare energy to the space around them, allowing them to have a better and more direct impact on the area they're actually aimed at. These lights are usually built with a wide range of spectral wavelength capabilities thanks to adjustable settings. This means they can support plants at any stage of growth, making them an effective choice for people doinglots of growing or trying to turn a profit from their production.
Light-emitting diode (LED) lights: Yes, these are the same bright lights that you might already see in all kinds of gadgets around your home. Thanks to their ability to be produced in specific colors and also their tendency to stay cool, they made a great grow light choice for plants that require the full spectrum of wavelengths at different times. LED lights are typically small and concentrated, unlikely to overheat in their base, and very affordable. Many are built with light settings so you can customize what kind of light they give off to your plants as they mature and as their needs change.
Fluorescent lights:You might already be familiar with fluorescent lighting! It is, in fact, the same kind of bright light often found in offices or large public spaces. You might even have them in your own garage. Believe it or not, these same fluorescent lights are useful in gardening because they also give off spectral wavelengths! Fluorescent lights are usually valued for their long lifespan and their strong production of wavelengths that lie in the blue range (even though they might appear white to your eye), which makes them helpful for plants that are still in their earlier growth stages.
Choosing the best grow light for your space
There are several important factors to consider when you're choosing the grow light that's best for you and your plants. Of course, there's always a price, but that's only part of the story. You want to make sure you're getting the best function for that price. You also, however, want to avoid breaking the bank for fancy features you might not actually need or use. Before investing in a grow light, consider:
The size of your space:If you're trying to grow many plants at once that cover a large area, it stands to reason that you'll need more light! Of course, buying more grow lights will cost more money. We'd suggest looking at the features of each light to find the "footprint" of the energy it gives off. This will help you determine whether it'd be better to purchase multiple cheaper lights or one larger but more expensive light, ultimately saving you money in the end.
What stages of plant growth you're trying to light:If you can determine specifically which periods of growth and life cycle your plants will most require lighting for, you can also better figure out thekind of light you'll need. For example, if your plants will only need lighting for the very early growth stages, then you might not need to purchase a combination or adjustable full spectrum light with a higher price tag. Conversely, if you're trying to make sure your plants will be properly lit for their entire life cycles, then you might actually save money by purchasing the combination light that will provide the right wavelength atevery growth stage since you won't have to purchase multiple different lights or bulbs to get more than one function and effect that you'll have to change out at the right time.
What kinds of plants you're growing: For the most part, the majority of plants experience the same (or similar) growth stages throughout their life cycle. This means that they largely required the same kinds and levels of light and wavelength from seed to bloom across the board, even though they are different plants. That's not to say, however, that certain species of the plant don't have varied, specific, or unique requirements throughout their life cycles. Make sure you research the needs of the plants you're trying to grow very well before you purchase a grow light, just in case.
Learning about and choosing a good quality but affordably priced grow light might seem like a daunting task, but it doesn't have to be. There are plenty more guides just like ours out there, so do some more reading before you put your money down! Reviews like this can help you feel more confident in your choice and contribute to your ability to make the right purchaseand get the best results possible.
Do you know another DIY and gardening enthusiast who has been thinking about investing in a grow light lately, too, but who still feels like they could use a bit of guidance? Share this post with them so they can learn more too.