12 Best Raised Garden Bed Kits That Are Easily Assemble
As any gardener who has ever had their plants ravaged by little burrowing animals, in-ground insects, or traveling weeds can tell you, doing certain types of gardening right in the ground can come with some risks. As is the case with anything you've invested a lot of work into, it's always disheartening to see something interrupt or inhibit your efforts, especially when there are ways to avoid that. Having had a lack of success in our own gardening endeavors last year, we've decided to look into raised garden beds this season for myriad reasons.
Before we began our search, we (and most people we spoke to around us) didn't realize just how affordable raised garden beds can be, nor how accessible and easily they can be to purchase online. Since we value the way online shopping provides extra time to compare and contrast option features, we've been gathering the links to the best-raised garden beds we could find.
What is a raised garden bed?
Rather than planting your herbs, flowers, vegetables, or other plants in a garden bed set directly into the ground in your yard, a raised garden bed is a plot that's set into some kind of platform upoff the ground instead. This is most often some kind of box (usually made of wood, metal, or occasionally plastic) that lets you simulate a garden bed but with protection and solidity around the edges, kind of like when you plant flowers in a window box.
Why purchase a kit?
Of course, you can always make your very own raised garden bed rather easily if you're a handy person who has experienced building simple standing structures. However, for the most part, people enjoy investing in kits because they come with everything you need right off the bat, included in one place and for one price. Pieces for edges, bottoms, and stands are already measured, the nails or screws are packaged up in appropriate quantities, and simple instructions are there to help you out.
People also often choose to purchase kits rather than make the beds from scratch because some kits come with awesome bonus features. You might find a kit that has:
Extendable legs for different heights
Attachable greenhouse covers for certain plants or times of year
Built-in irrigation systems
Protective gates
Best Raised Garden Bed Kits
If you're still feeling like you might be in need of some guidance when it comes to choosing the kit that's truly the best for your needs, check out this pros and cons style outline of the 12 best easily-assembled raised garden beds we came across in our search.
If you're looking for something very simple indeed, in terms of both its buildingand its gardening use, thenGarden in Minutes has what you need right off the bat. This kit can be selected in a range of sizes, giving you some customizability without you have to do any real woodworking. In fact, assembly of this garden bed is so easy that it's actually tool-free! This wooden box stays low to the ground like a traditional garden bed but with raised walls and a protective bottom that keep the plants safe. It also comes with an irrigation and watering system that keep the plants hydrated evenly for you. This is pre-assembled and just needs to be clicked into place.
Although assembly is extremely easy, you'll want to make absolutely sure that you do all of the stepsin order. If you try to click things into place in a different order than listed in the manual, certain things won't fit properly together, and the irrigation system won't actually be effective. It's truly a practice in following basic instructions.
View price on Amazon
Pros:
Extremely simple to assemble, with no tools required
Can be purchased in a range of dimensions according to the size of plot you want to plant
Conveniently pre-assembled irrigation system that provides easy, even watering after planting
Good 8″ planting depth that suits all types of root systems
Cons:
Assembled each thingin order according to the steps in the manual specifically, or certain things won't fit properly
Do you like the simple nature of the raised garden box above, but you're also hoping to plant things with deeper root possibilities, so you think you might need a box with a little more depth? Then check out this design from NuVue Products. Besides having a sleek, fresh white mock wood look, this sizeable square planter gives you an above-ground planting depth of 15 inches. Like the previous box, it doesn't require any tools for assembly and instead is built with an easy snap-lock system. The box's sides are made of heavy-duty vinyl that's easy to clean, durable, and weather-resistant.
Be aware that this rained garden kit doesnot come with a bottom included. Instead, this kit provides you with a low fence style of protection. This is great if you are simply trying to, say, protect your plants from kids and pets or simply give the yard a neat, organized look. However, it might not be the most effective option if you were actually looking to get your root systems up out of the ground so they don't get strangled by traveling weeds that are native to and prevalent where you live.
View price on Amazon
Pros:
15″ side height/planting depth
Fresh, clean white look
Simple snap lock assembly system that doesn't require tools
Weather-resistant, durable, and easy to clean materiality thanks to using vinyl siding
If you're looking for something raised a little higher, and that might help you grow something more specialized in its care requirements, then we're pretty sure Cedar Craft has the kind of thing you're looking for. This stunning cedar planter kit is raised more like a table, sitting 30 inches off the ground and providing you a generous but reasonable planting depth. This height makes tending to vegetables like tomatoes simpler while also protecting them from small scavenging animals. The wood for the planter is reclaimed Canadian cedar. It features custom edges that the detachable greenhouse hood can clip onto to help you create a microclimate that's best for the plants growing there even if your other greenery doesn't need a larger greenhouse space.
Although the size of this piece makes it perfect for patio and balcony gardening as well as backyard gardening, making the size a pro rather than a con for some people, others find it a little too small for the number of vegetables they've like to plant. This is particularly true if what you're planting has a tendency to grow very tall. The greenhouse piece is extremely helpful in nurturing the plans and establishing the right climate, but it doesn't extend any higher.
View price on Amazon
Pros:
Made from beautiful reclaimed wood
Keeps roots systems and plants safe from scavenging animals
Eases pressure on knees and back while tending to garden thanks to raised height
Easily detachable greenhouse piece helps you create a micro-climate for those plants specifically
Cons:
Greenhouse piece does not extend any higher, making its use limited for plants that climb or grow very tall
Some people found the box's dimensions a little too small for the kind of plant they might have liked to use with the greenhouse piece
If natural and reclaimed wood was the detail that caught your attention above, but you don't need your beds to sit quite so high, then you might prefer this design offered by Greenes Fence. This raised garden box is made from 100% chemical-free wood that is naturally rot-free and insect resistant. Besides the decorative post tops, which require a screwdriver, the posts and sides attach using a sliding mechanism that doesn't need to be fastened with tools. This box keeps your garden low to the ground in a more classic way but still gives you a generous planting depth of 14 inches.
Although it's not a detail that was truly regarded as a con by any previous buyers, it's worth noting that the natural knots or notches in the wood these planter sides are made of can make the pieces a little bit difficult to slide into place here and there. The pieces are custom-made to fit together well, but the variances in the wood cause some pieces in some units to momentarily stick on their way down into position, requiring a little more elbow grease here and there in assembly.
View price on Amazon
Pros:
Beautiful reclaimed wood that's naturally rot-free and insect resistant
Good planting depth of 14 inches
Tool-free assembly using a sliding system at the corner posts (except the decorative post tops, which only require a screwdriver)
Cons:
Some pieces in some units might experience momentary sticking when you slide the pieces together and into place due to the natural knots, notches, and inconsistencies in the reclaimed wood, requiring you to put a little more power in
Are you a bit more of a novice gardener, and you're just looking to add some simple greenery to your small space, but in a low maintenance way that accounts for your lack of yard and beginner-level skills? Then you're the perfect person to try out this planter from Victory 8 Garden. Rather than just protecting your plants from the potential dangers of being planted in a yard, this fabric pop-up planter lets you make a simple garden where you otherwise couldn't (i.e., on essentially any flat surface). It's made from AeroFlow fabric that is very durable, UV resistant, and porous enough for good airflow and moisture drainage.
Although most reviews for this handy folding garden bed are very positive, some buyers have reported that they had trouble getting anything to grow in it indoors. The product is advertised as being a great option for both indoorsand outdoors because it works on essentially any flat surface, but something about the airflow changes inside that stunt growth. Additionally, you should consider putting pads of some kind under it if you use them indoors since the porous material does encourage moisture runoff, and you'll want to protect whatever surface you set it on from getting damp.
View price on Amazon
Pros:
Easy to set up and portable folding fabric design
Deep planting space, despite the conservative size
It can be set up on any flat surface
Fabric is good for airflow and moisture drainage and is also durable and UV resistant
Cons:
Might not foster the best results inside, despite advertised ability, likely due to changes in airflow
Put something protective underneath to protect the indoor surface you set this planter on from getting damp since it's porous enough for moisture runoff.
Are you still preferring the wooden look and aiming for something simple but also aware that durability is a priority as well? Then check out this slightly standing solid wood design fromBoldly Growing. This natural, unstained wood blends well into most outdoor landscapes but is also easy to finish with a stain or paint however you please. It's built from naturally strong, and rot-resistant wood and its slightly squat dimensions make it even more solid in its shape and height, despite still raising your garden off the ground. The legs are good for weight-bearing, making it no problem when you fill it with soil. This wood will also easily withstand watering and ever-growing plants without cracking.
Despite the fact that the piecesare prepared for very easy assembly, the occasional unithas been shipped out with one of two problems. Firstly, a number of past buyers have found that the very natural, nearly rustic finish of the wood, though beautiful, can give you splinters in setup, so they recommend wearing gloves while you build it. Secondly, a small number of units have arrived missing a peg hole or two, despite the rest being pre-drilled for you. They ended up having to drill those holes in the right spots themselves with their own power drill.
View price on Amazon
Pros:
Natural wood suits any scenery and landscape but is also easy to paint or stain if you prefer
Wood is naturally rot-resistant and very durable
Legs are good weight bearers, even when the planter is entirely filled with soil
The bottom is resistant to cracking or damage from watering and growing roots
Cons:
Occasional unit has been sent out missing one or two pre-drilled holes, requiring independent drilling on arrival
Natural finish of wood can give splinters in building, so consider wearing gloves
Are you absolutely interested in durability, but your home has an aesthetic that's much more suited to industrial chic materials than reclaimed wood? Then you might prefer this garden box kit from Foyuee instead. This piece is made entirely from galvanized metal that features an anti-rust coating and reinforcement brackets at each corner edge. The open bottom style of this box allows for great drainage in watering and natural nutrient gathering from the ground rather than just the soil immediately around the plants. The size is also generous enough that the plants have space inside without growing right up against the metal. It's very easy to assemble, requiring only pliers to tighten the nuts onto the bolts for each hole.
Although the techniques that go into the assembly of this piece are quite easy, quite a few previous buyers still had a bit of trouble near the corner brackets. The trick is to follow the stepsprecisely and very closely, doing each tiny step in order. Otherwise, you'll end up either one piece short or will an extra piece left over, neither of which is correct. Additionally, this durable bed doesn't actually raise your plantsout of the ground, so it might not be suitable for years with pervasive crawling weeds that can grow under barriers, though itwill protect your plants from more average weeds like dandelions.
View price on Amazon
Pros:
Durable galvanized metal treated with an anti-rust coating
Reinforced corners for even strong construction that will stand up to harsh weather
Efficient design for good drainage after watering
Cons:
Setup at corner brackets can be a little confusing; steps must be followed precisely in order
Garden beis bottomless, meaning that it will protect your plants from some kinds of weeds but not others because it doesn't actually lift them off the ground
Do you have small gardens that will absolutely suit the average raised box size in mind, but you were feeling intent on planting two different things, and you know they can't be planted together? Then perhaps a dual-box raised garden like this one from Outsunny is the best design for you! Their model gives you a visually pleasing tiered effect that's also great for keeping separate plants from tangling together as they grow. The exterior of this unit, which is made from durable, lightweight, and weatherproof plastic, features a pretty faux basket weave pattern for detail. Each box also features a self-watering disc with an excess water reservoir, giving plants the chance to fully absorb enough water over time without overwatering.
Naturally, even weatherproof plastic is not necessarily as durable as wood or galvanized metal, which might be a consideration for some people who live in harsh climates. If you're from a plastic that experiences high winds, large snowfalls, and other harsh conditions, you might want to break down and store these planters away in the off-season until you need them again in order to help them last longer.
View price on Amazon
Pros:
Lightweight, durable, and weather-resistant plastic materiality
Cute faux basketweave exterior design for detail and character
Tiered double box layout to allow for planting of different things without tangling or one plant strangling the other off
Self-watering system and bottom reservoir to allow for full water absorption without overwatering
Cons:
Plastic is naturally not as durable as many metals and woods, so you might consider taking this piece down and storing it safely for the offseason if you live in a place with very harsh winters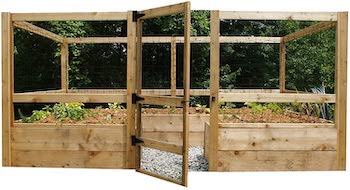 Have you actually been searching for something much larger and more comprehensive because you havebig hardening plans this season, but you need an easy way to keep larger animals out? Then you just might find what you need, thanks to Gardens To Go. The purpose of this kit is basically to enable you to build your own entirely enclosed and sizeable vegetable garden with as little hassle and as much ease as possible. The design is so safe that it even has high walls and a door soyou can access your plants, but leaf-loving animals like rabbits and even deer cannot. The kit gives you what you need to build 12 raised garden beds, a black vinyl-coated steel wire perimeter gate, black netting trellises for climbing plants, and an access door.
Although this kit is wildly helpful, it's essential to note here that the actual lumber you need to build the boxes, walls, and door isnot included. That's denoted by the collection name "Just Add Lumber," of course, but it's a detail some people still missing. The kid provides you with all other materials, streamlining the process exponentially, but you'll still have to purchase your own lumber that is cut to the specified measurements provided in the kit's guide.
View price on Amazon
Pros:
Provides necessary materials for raised boxes, trellis walls, and a gate with a lock
Protects plants from larger animals, from rabbits to deer
Features 12 different boxes so various plants can be grown without interfering with one another
Easy assembly with a full instruction guide, includes illustration
Cons:
Keep in mind that lumber isnot included even though everything else is; you must purchase lumber separately for this kit, cut to specifically listed sizes
Are you really feeling this whole "everything but the lumber" kit idea because you like the handiwork element it leaves you, but you're not sure you need a garden with tall walls? Then you might prefer this smaller vegetable garden, also from Gardens To Go. This kit includes brackets, plastic fencing grids, nylon trellis netting, hinges, and a lock that will help you make a series of raised garden boxes enclosed with a half-height gate for safety. They even show you how to include a trellis wall at the back for plants that creep and climb. This design is ideal for small vegetable gardens that you want to protect from kids, pets, and wild rabbits.
Like the kit above, this package doesnot come with the lumber it requires included. You will need to purchase your lumber separately and cut it (or have it cut) to the dimensions specified in the guide. You will then be able to assemble all of that lumber using what the kit provides, building your own enclosed veggie garden that way.
View price on Amazon
Pros:
Good opportunity to practice simple woodworking and building techniques
Will protect vegetables and other plants from small animals and children
Trellis wall to support climbing plants
Kit provides all non-wood essentials and pieces, streamlining process exponentially
Cons:
Lumber is not provided and must be purchased and cut to size separately, adding to the cost of the overall project, which might take this kit out of some budget ranges
Are you still thinking about simple tabletop-style planting boxes, but you're looking for something with better dimensions for flower display? Then this raised box from Cyanhope might be a little more up your alley. This table height planter makes for a physically low maintenance garden experience that can happen essentially anywhere, rather than just on your lawn. The wood is durable cedar that has a natural finish but would be easy to paint or stain if you wanted to. The bottom of the planting box feaures strategically placed holes to allow drainage after watering, letting the plants absorb from the soil without over-hydrating.
Although it's nice that this raised planter is easily put together with minimal tool requirements thanks to a peg and hole system, it's not unheard of for this kind of assembly process to be alittle harder in practice than in theory. Watch out for holes that were drilled slightly too small for their corresponding pegs (or possibly forgotten), and try not to outright force anything so that your pegs break. We'd suggest keeping your drill and perhaps a mallet on hand just in case.
View price on Amazon
Pros:
Convenient table height for physically low impact gardening
Strategically placed drainage holes allow for well-regulated watering without over-hydrating
Durable cedar wood that's naturally rot-and-weather-resistant but would also be easy to paint or stain
Easy peg and hole system that requires minimal tool use
Cons:
Some holds for assembly might be a tighter fit than intended for their corresponding pegs, and one or two might be missing, so having tools on hand just in case isn't a terrible idea during assembly, even though it's simple
Have you mostly been looking to build a small protective barrier around your plants for simple weed protection, but you'd like a wider but shallower design for the shape of your yard? Then you might be better off with something like this garden box from Greenes Fence. This garden box is made from ethically sourced American cedar that's naturally-rot-and-insect-resistant, which also makes it unlikely to crack. Rather than requiring tools, the ends of the sideboards slide into place within the posts nice and easy. The decorative tops do work best with a screwdriver, but the setup does not need power tools. This kid gives you a planting depth of 14 inches and lets you separate the length into two boxes so you can plant two distinct types of seeds separately.
Like some of the other natural lumber options you've seen, the only real snag in the otherwise very easy assembly process is the propensity of natural, unfinished wood to get slightly stuck at its knots and other imperfections. Where the surface might be interrupted slightly, so might the motion while you're sliding the board ends down into the rivets n the end posts. This will just require you to apply a little extra energy while you're working.
View price on Amazon
Pros:
Naturally finished wood that's easy to stain or paint if you please
Cedar that is already rot and insect resistant and not prone to cracking
Generous 14 inch planting depth and separator wall for creating two distinct planter boxes for different seeds' needs
Simple sliding and lock design for assembly, only requiring a screwdriver to affix the decorative end post tops
Cons:
Spots, where knots and other marks in the wood's surface are present, might momentarily stick during the slide and lock process when you're assembling the planters, requiring a little more power and effort
What are the biggest perks of planting in a raised garden bed?
People choose to use raised garden beds for all kinds of reasons, but most find the idea beneficial because they can:
Let you cultivate a more well-fertilized garden even if you live in an area with dry ground that doesn't naturally grow well
Help protect your plants from burrowing animals that might eat them from tunnels underneath the beds
Help protect your plants from some kinds of insects that access roots or leaves from the ground directly
Help protect your plants from crawling or traveling lawn weeds that might steal their nutrients and take over the root systems
Make gardening more accessible for those who can't be down on their knees to tend to their plants
Provide space-efficient alternatives for those who don't have full yards or spare ground space for in-ground beds
Give you additional gardening opportunity and space if you've already planted as many gardens plots as your yard can handle naturally
Help protect your plants from getting trampled on the ground by running feet while your kids and pets play
Let you mix a different kind of custom soils to specifically benefit plants with special nutrient requirements that not all of your plants might grow well in
Which kind of raised garden bed kit is best for you?
Of course, the answer to this question depends entirely on your space, the climate where you live, and what you intend to plant. There's not always a right or wrong answer, but there are certain elements that you can analyze and research that will help you determine which kind you should be aiming for. Some factors to consider might include:
What kind of light your chosen plant needs to thrive
What kind of soil and fertilizer you might be required to use
What kind of "predators" your plant is most likely to attract, if any
Whether your plant might try to travel or climb, and whether it will require support
What height of raised bed might be most accessible for you based on your personal physicality, comfort, and range of movement
Do you know another gardening enthusiast who has been thinking about investing in their own raised garden box kit but who doesn't know where to start looking? Share this post with them, so they have some quality options to start with.