Beautiful Colours That Go Well With Yellow in Any Scenario
The process of working with shades and hues might not sound like a DIY skill at first, but today we're here to show you otherwise.
Whether you're knitting, painting, designing clothes, or working on hand crafted interior decor pieces, you're probably going to come to some point in the DIY process that involves making colour selections and choosing combinations and contrasts. So, if you think about it, colour theory is actually quite an integral part of crafting.
Lately, we've been really obsessed with using any crafts or projects we do as opportunities to create very brightly, spring like colour schemes that help us feel refreshed and ready for a new season now that winter is finally thawing out.
Colors that go with yellow
So, what's our favourite colour to work with in these combinations, you ask? We find that we just can't stop ourselves from making awesome colour combinations involving and centring upon yellow.
Just in case you love yellow colour schemes for spring crafting and decor as much as we do, here are 15 helpful resources, tips, and suggestions to get your own creative juices flowing too.
1.Colour wheel recommendations for bold yellow
If you're a follower of fashion, decor, and colour trends like we are, then you probably already know that very bold, bright shades of yellow are all the rage right now.
Personally, we've been enjoying pairing really bright yellows with slightly calmer, more neutral colours. We're particularly big fans of the combinations that use a darker shade to offset the brightness of the yellow!
Just in case you need a helping hand with your own bright yellow combinations or you'd like to see what we mean in more detail, check out this awesome list of visual colour wheel representations featured onMy Web value.
2.Creative colours combos that look great with clothing
We've talked a lot about DIY and decor schemes up until this point, but what if your primary tool for showing people your creativity is in your fashion? In that case, colour combinations that work well with yellow in clothing will be especially important for you!
We think the way you combine yellow (and which shade of yellow you choose) says a lot about your mood on any give day so, to help you along with choosing the contrasting shades that work best with your mood and colouring, here's a useful combination chart created by40 Plus Style!
3.Pale yellow with blues
Above and beyond the fact that it's avery trendy combination of shades this year, we have always fall en completely in love with shades of yellow and blue together immediately upon encountering them.
In the past, we've chosen brighter, deeper options on the spectrum but this year, dusty, vintage inspired shades and combinations are definitely winning the race for us.
The wayIntimate Weddingsused denim and grey toned blues in combination with lighter, buttery yellows in a fan display as part of a wedding decor scheme is the perfect example of what we mean.
4.Yellow and soft green at home
Perhaps the thing you're getting creative with this spring is actually your living area because you'rereally feeling like a cheerful, bright upgrade after a particularly dark, chilly winter?
Well, whether you're making drastic changes by doing things like painting the walls in every single room or perhaps just re-accessorizing the lounge room that your family gathers in most often, using various shades or yellow is a great way to get that carefree, whimsical aesthetic it sounds like you might need!
Rather than keeping things monochrome and overdoing the whole yellow idea, though, we'd suggest taking a look at how pretty it looks whenNashville FCcombines the yellow you have in mind with a beautiful, spring-like soft green.
5.Yellow pumps and clutches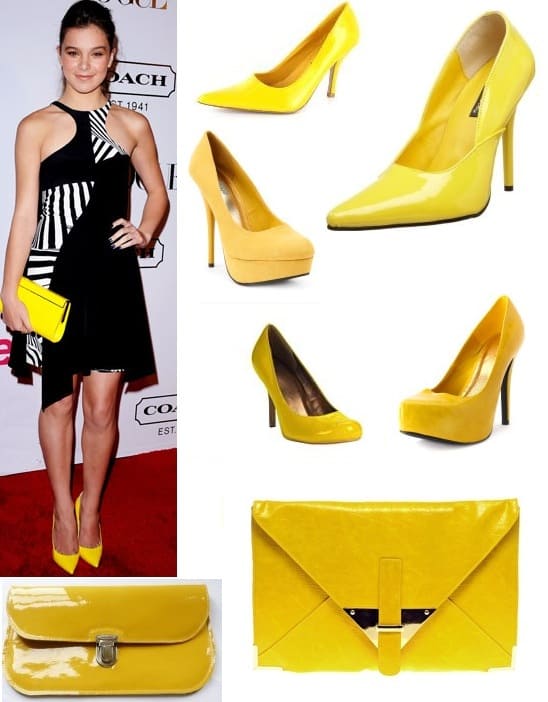 Have you actually been scrolling through our list still thinking about how much you love the look of yellow incorporated into fashion? Well, we certainly can't say we blame you!
That's why we've been metaphorically drooling over the idea of using bright yellow accessories as an opportunity to give dark or black outfits a bright pop of colour to amp up the visual interest.
We love the wayDressed in Mackmade their colour pops happen using pumps and clutches for a fancy night out!
6.Yellow and bright green
If you can use green and yellow in beautiful combinations in home decor and you can use bright yellow as a fashionable colour pop in clothing ensembles… then it only makes sense that both green and yellow will suit well at a spring or summer wedding!
Exclusively Weddingsshows you how they used the two cheerful shades in combination with each other, sometimes paired solely together for deep colour saturation and other times in the same vicinity but only in direct contact with the classic white of traditional weddings, so each hue gets its own colour pop moment.
7.Yellow accents in a white kitchen
Speaking of bright colour pops that look great standing out against pure white, have you ever considered including such a stark contrast in your home?
We're genuinely thinking about it and the room we have our eye on most is the kitchen! Because it's such a high traffic area of the house, we don't think a bright yellow scheme will overwhelm the room like it might in a bedroom or a very small bathroom.
That's why we love the wayHomeditused yellow stools flowers, and other accessories to stand out against their white counters and appliances!
8.Yellow lighting shades with darker brown accents
Perhaps you'd prefer to work with a softer yellow in your kitchen rather than incorporatingquite such a loud hue as you saw in the previous photo? Well, that can look cute with white too, but we actually prefer the way warm yellows look with neutrals and sandy tones.
The wayFreshomepaired yellow shaded pendant lights and soft yellow walls with natural marble counter tops and wooden cupboard doors and trim is the perfect example of what we mean.
It's all very warm and comforting at the same time as it brightens things up for spring (and thenkeeps them bright in the winter).
9.Pops of yellow with white, pink and peach at a wedding
This stunning style board fromBrooklyn Bride might specifically deal with establishing a colour scheme at a wedding, but that's definitely not to say that you can't use that same scheme in fashion or even in your home!
We're basically obsessed with the way they combined a bright (but not overwhelming) yellow with pale pink and peach to create an aesthetic that looks so good together we practically want to eat it.
10.Yellow and cream in floral schemes
Are you an avid gardener the moment spring arrives? Have you actually just become a flower lover because putting them in beautiful bunches and arrangements in the kitchen lifts your mood?
Well, either way, even the world of floral design is following the pretty pale yellow trend!
We were happy to learn this because the moment we combined yellow and white roses in our favourite vase, we felt instantly more at ease in our own dining room.
Jessica Frey Photographyshows you here what the scheme looks like in the form of an absolutelystunningwedding bouquet, but you could recreate this beautiful floral scheme anywhere.
11.Yellow with sophisticated grey
We've talked about fashion ensembles and glamourous outfits that use Bright yellow against black as a bold colour statement, but what if you'd rather wear yellow thats a little more subtle or more fit for the office?
Then perhaps you'd prefer to combine it with a lovely, pure shade of grey instead!
We love grey and yellow together because, asLooking Stylishshows you here, any shade of yellow, right from buttery and pastel to bright like a sunflower, suits it well!
12.Yellow with neutrals and florals
Are youstill notquite satisfied with the yellow options we've shown you on the list so far because you've always been more a fan of visual texture and patterns than simple colour blocked combinations?
Then we'd absolutely suggest taking a look at howPlus 40 Stylescombined yellow with florals! We quite enjoy how they kept their floral patterns pretty neutral but, if we're being honest, we'd absolutely pair these yellow shades with florals that feature bright gem tones too.
13.Yellow walls with yellow seating at home
Are you actually so in love with the idea of incorporating yellow into your home's decor scheme that you think you might be willing to make it a primary feature in your main room or some kind of statement piece?
In that case, we think perhaps you should take a look at and consider this stunning, entirely yellow accent wall!
We absolutelyadore the wayInteriorishamplified the yellow of their wall with a matching accent chair and some throw pillows but kept everything else white and neutral for balance.
14.Yellow walls with yellow statement art
Are you perhaps intrigued by the yellow accent wall idea we've shown you above but you actually can't help but feel like there's something missing and another really funky element would need to be added for you to be truly happy with the finished product?
In that case, we'd suggest considering some impressive, equally yellow wall art!
We love the way the yellow of the wall the art is mounted on draws out the yellow tones in the painting, really helping to establish your scheme firmly take a look at Lushome,for more detail!
15.Light yellow with pinks and greys
We already talked a little bit about partnering yellow and grey in a colour scheme when it comes to fashion, but have you ever thought about bringing those two elements into decor?
Well, if you haven't, here are some inspiration photos fromA to Zebra celebrationsto show you why that's actually a great idea!
Beyond that, they actually show you how great yellow and pink can look together too, just in case the grey scheme doesn't have quite enough pizzazz for you.
Conclusion
Do you have another favourite colour combination that you love to use with yellow whether you're getting dressed up or redesigning a room in your home?
Link us to pictures of things you've made or outfits and decor schemes you've put together in the comments section!