DIY Beach Towels for Summer
Any towel will do the trick when it comes to drying off at the beach, but part of the fun in a beach trip is setting up camp and chatting on the sun with your friends. Your beach towel dries you off, keeps you warm, gives you a place to sit, and even looks cute if it's got a bright, summery pattern. If you don't see any towels you like on sale, though, don't stress! As usual, you can just make one of your own. You can even spice things up a bit and make your beach towel more practical or unique.
Check out these adorable DIY beach towels that will have you ready to go every day this summer!
1. Mermaid tail towels
Stitch to My Lou shows you how to make adorable tying beach towels shaped just like mermaid tails! They're perfect for swimming play dates with friends because kids can use them to dry off and then immediately wear them to dress up.
2. Beach towel blanket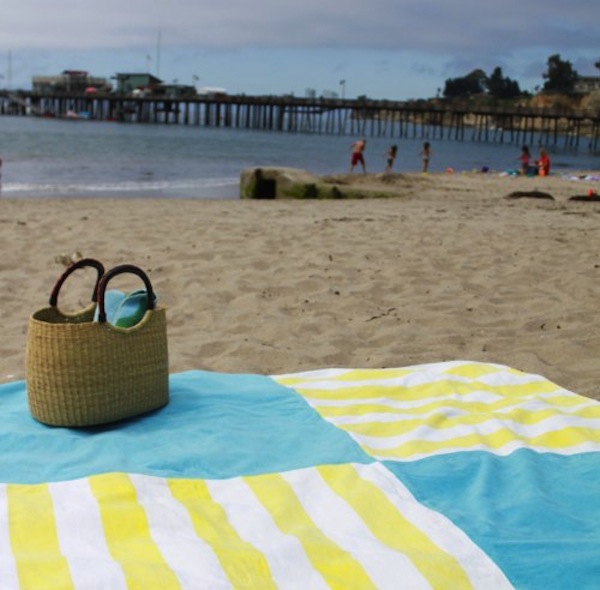 Susty Party reminds you that upcycling is best! Instead of bringing many towels to sit on individually, try sewing one big beach blanket that everyone can sit on together while they dry off.
3. Beach towel bag
Brit + Co. has the greatest beach towel life hack that you didn't even know you needed! This tutorial guides you through the process of making a towel, pillow, and beach bag all in one. Unroll it, lay on it, and roll it right back up!
4. DIY graphic beach towel
Stencil letters, some bleach, and a pair of rubber gloves are all you need to make trendy graphic towels, just like these ones from Studio DIY. Make sure you do this one carefully so you don't ruin carpets or floors!
5. Hooded beach robe
Dry kids off and then keep them warm with this adorable hooded towel robe design by Made Everyday. This is the perfect beach prep project for DIY enthusiasts who love sewing.
6. Wrapping towel cover up
La Vie DIY suggests a simple wrapped dress to dry off on the beach and then cover your bathing suit while you walk to the car or the ice cream parlour after. This design is simple to make and stay on with two easy straps.
7. Ruffled towel dress
How cute will your little ones look bundled up on the beach in these ruffled towel dresses? Rather than bringing a towel and and change of clothes for them on each beach trip, zip them up on one of these and they're good to go! Get the pattern on Crafter Hours.
8. Towel poncho
Do you like the idea of a wearable towel for your kids, but worry that you're not quite ready to be sewing long sleeves and hoods? This towel poncho design by The Blue Closet is exactly what you're looking for!
9. Beach towel dress
Made Everyday gives you yet another style option in the category of towel dresses! This one's great for kids or adults and is so cute that we'd probably wear it around all summer, rather than just at the beach.
10. Custom designed beach towel
Southbound Suarez shows you how to jazz up a simple, solidly coloured towel using stencils, a bleach pen, and some fun pom-pom trim. You'll certainly never mix up your towel with your friends' in the sand!
11. Shark hoodie towel
Just Crafty Enough guides you through the unique process of sewing not just a good but also a shark's fin into a big beach towel. Talk about making it easy to find your little ones on the beach!
12. Pocketed beach towel
If you prefer napping, reading, and relaxing to music over going swimming on your beach trips, this DIY towel is the design for you. Making it With Danielle shows you hot to make a towel that can still be used to dry off, but is mostly practical for holding everything you need in its pockets! It'll keep your things from getting quite so sandy while you soak up the sun.
13. X's and O's towel
Grab some rocks and some seashells and get playing! The Chic Site  shows you how to make a Tic Tac Toe board right on your towel to keep yourself and your kids busy between building sand castles and splashing through the waves.
14. Graffiti beach towels
I Love to Create has a unique idea that's just as fun to make as it is to use all summer! This graffiti style lets you get messy and creative, then enjoy and display your own art for months to come.
15. Tie dye towel
If you just can't get enough bright colours in your summer, then this tie dyed towel by The Swell Designer is definitely the project for you! Show off your personality and DIY skills while you catch some rays.
Do you have a crafty friend who loves nothing more than a good beach day in the summer? Share this post with them for a little bit of inspiration!