25 Bathroom Space Saver Ideas
If you're like me, you struggle with storage space in the bathroom… square footage is at a minimum, and hidden storage is hard to come by. Well don't panic, because there are plenty of creative ways to add storage to your bathroom. Here are 25 of our favorite space saving ideas.
1. Plant Stand Storage Hack
Use this clever hack to add some serious storage to the back of your bathroom door. In this simple project, you'll simply convert an IKEA plant stand into an over-the-door rack for toothbrushes, soap and other bathroom necessities. Get the easy how-to here.
2. Shower Rod Clips
Short on shelf space in the shower? Mount an extra shower rod and hang shower curtain clip rings along the length of it. Then you can clip your shampoo, conditioner and body wash right to the rod and they won't take up any surface space. Found over at BHG.com.
3. Wall Mounted Cups
Save valuable drawer space by mounting one of these fun organizers to your wall. All you'll need are a few copper cups, some suede cord and a few other basic supplies. Head on over to A Beautiful Mess to check out the full tutorial and to see more images.
4. Tiered Storage Shelves
When trying to save space in the bathroom, don't forget that vertical space is your friend. You might consider purchasing a tiered storage shelf similar to the one above to triple the amount of storage within one small area of counter space. Found at Happiness Is Homemade.
5. Above The Door Shelf
There is often a bit of wasted space above the bathroom door, so why not take advantage of it by creating a box shelf in that space? It is the perfect spot to store extra towels or spare toiletries. Head on over to The 2 Seasons to check out the building instructions for this project.
6. Use Magnets
If the back side of your medicine cabinet door is metal, attach often-used items using magnets. You can purchase magnets with adhesive on one side, so you can attach them to your lip balm or small storage boxes as seen in the photo above. Found via Dreaming In DIY.
7. Store Between The Studs
If you own your home, you might consider taking advantage of the space between the studs in your walls. You can remove the drywall between two studs and create a little shelving nook for extra storage. Head over to Top Inspired to see this and many other genius ideas.
8. Over-The-Toilet Storage
The area above the toilet is another spot that is underused. So why not use this space to your advantage by purchasing a freestanding organizer shelf like the one above? It will give you a place for magazines, toiletries and other bathroom items. Buy this one here. 
9. Mesh Shower Organizer
Here's another great way to organize your shower gel, shampoo and other bathing necessities. Simply buy a mesh shoe organizer and attach it to the curtain rods on the inside of the shower. Genius! Make your way over to DIY Home Decor Guide to see this and other ideas.
10. Repurpose A Wine Rack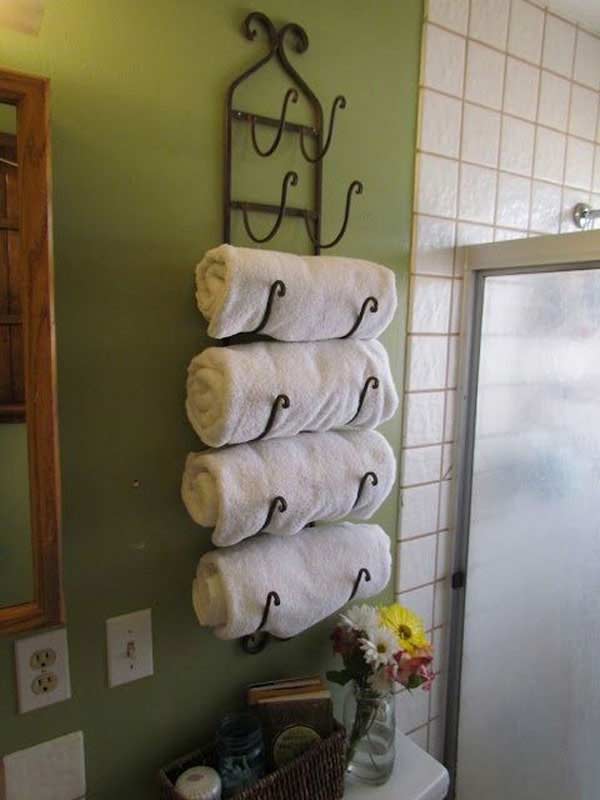 Who knew that wine racks could be useful in the bathroom too?! Simply hang a plain old wall-mounted wine rack on the wall in your bathroom and you'll have instant storage for all of your extra towels. Head on over to Woohome to check out this and tons of other ideas.
11. Medicine Cabinet Storage
Make sure to purchase a medicine cabinet with storage so that you can have a sneaky place to hide away Q-tips, makeup and other items. This one has a unique slide out feature instead of opening on a hinge. Read more about it at Decora Cabinets.
12. Makeup Organizer
Organize your makeup by putting it in one of these clever makeup carousels. It is a caddy with six compartments, and the whole thing spins so you can have easy access to your cosmetics. Make your way over to Amazon to find out more about this handy product.
13. Door Mounted Towel Racks
If you don't have enough space to mount towel bars to the wall, don't forget about the back of the door. This is often unused, and the depth of the towel bars should be similar to the door knob so they won't prevent the door from being all the way open. Found here.
14. Back Of Cabinet Doors
Similarly, the back of your cabinet doors are probably underused just like your bathroom door. Mount an organizer to the back side of the cabinet door and use it to hold your hairdryer, flatiron and other hair styling products. See this and other products here. 
15. Over-The-Sink Shelf
Try kitchen products in the bathroom! This space saving solution for the kitchen will likely work perfectly in the bathroom too for anyone who has a flat countertop to rest it on. Be sure to measure the width first! Head over here to buy this handy item.
16. Triangular Corner Shelves
Use the wasted area in the corner of your bathroom to create storage where there previously was none. Simply fashion wooden shelves into triangles and mount them on the wall. You could even do a set of floor to ceiling triangular shelves if need be. Found here. 
17. DIY Barn Door Cabinet
Flex your woodworking skills with this fun little DIY project that will provide you with a little extra bathroom storage… and a lot of extra style. Make your way over to Shanty 2 Chic to check out the full tutorial and more photos of this beautiful piece.
18. Fruit Basket Storage
Here we have a clever idea… this person has used a three-tiered fruit basket to hold shower supplies. The use of vertical space will help reduce the storage footprint in the bathroom, and guests will smile at your ingenuity. See more images at The Lettered Cottage.
19. Triple Duty Storage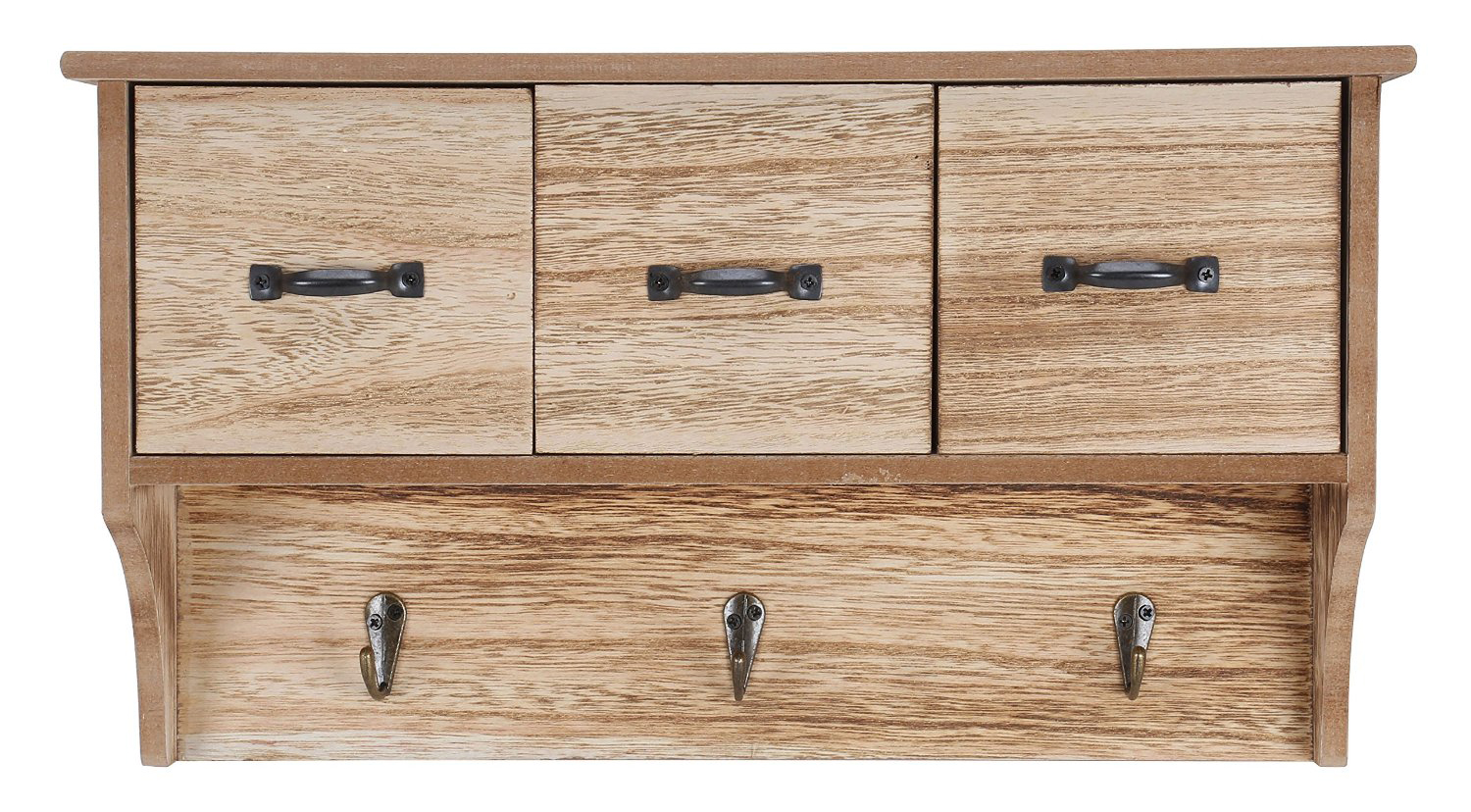 If you're going to mount a storage unit on the wall, why not pick something that does triple duty? This handy piece has hooks, drawers and a flat surface on the top to satisfy all of your different storage needs. Head on over to Amazon to pick it up.
20. Ceiling Level Storage
Don't forget about that space right up along the ceiling… nobody will bump their head on it because of its location against the wall, but it will provide plenty of extra hidden storage. Try multiple baskets of the same size to make it feel uniform and organized. Found here.
21. DIY Built In Shelving
If you own your home, investigate any unused wall areas in your bathroom. This blogger found out that there was a large open space behind the drywall so she made some built in shelving. Check out her full photo tutorial over at Unexpected Elegance. 
22. Add Floating Picture Shelves
Floating picture frame shelves are another great way to add some serious storage to a section of open wall space. Fill them with lotions, makeup brushes, cotton balls and other toiletries. Make your way over to Graceful Order to find out how she uses floating shelves to organize her small bathroom.
23. Use Tension Rods
Have you ever noticed how empty and useless that space right below your sink basin is? Well, not anymore! Just grab a tension rod and hang all of your cleaning supplies and spray bottles from it. Genius. Head over to They Say A Picture Is Worth A Thousand Words to read more.
24. DIY Ladder Storage
Believe it or not, you can make your own ladder storage shelf just like this one using a handy set of building plans from Home Depot. Add baskets and canisters to each shelf to hide unsightly items. Head over to Home Depot's blog to check out the instructions.
25. Repurpose Hat Boxes
Even the humble hat box can be a wonderful way to store towels and toilet paper, thanks to this genius idea from Country Living. Simply grab a few colorful hat boxes and mount them sideways to the wall. Talk about thinking outside the box! Get the how-to here.