15 Bar Stools You Should Be Buying Right Now
Whether it's for the man cave or the breakfast nook, it seems like every home needs a set of these snazzy seats. Fortunately enough, we've done the research and found some of the most stylish, versatile, and affordable pieces around. Below you'll find 15 bar stools that you should be buying right now for your home.
1. Trenton Saddle Bar Stools
Some simple saddle bar stools could get the job done. Just get them in a washed wood for some edge and add them to your modern scape or farmhouse vision. You can pick up these ones over at Target.
2. FANBYN Bar Stools
Ikea knows how to get the job done too in terms of simplicity and ease. But thankfully, even the simplest of their designs offer a great amount of uniqueness. For those that like a Scandinavian, posh styling, this is it!
3. Cora Bar Stools
Maybe you want something more delicate and a bit more glam, the "cora" design will give that to you. We're loving the blue and gold color combination as well. If you want this pop of color then head on over to West Elm and snag the details.
4. Pittsburgh Adjustable Bar Stool
Here's a vintage beauty that you'll love to display in the house. Not only is it functional but it'll offer up a fair amount of edge as well. Sneak this industrial design in, you just have to visit Pottery Barn to do so!
5. Emery Gold Bar Stool
Urban Outfitters has another small, delicate design to swoon over. This simple piece has been dipped in gold for a fun bout of personality. If you're bar area isn't as spacious, this is the one to go with!
6. Angel Lined Padded Bar Stool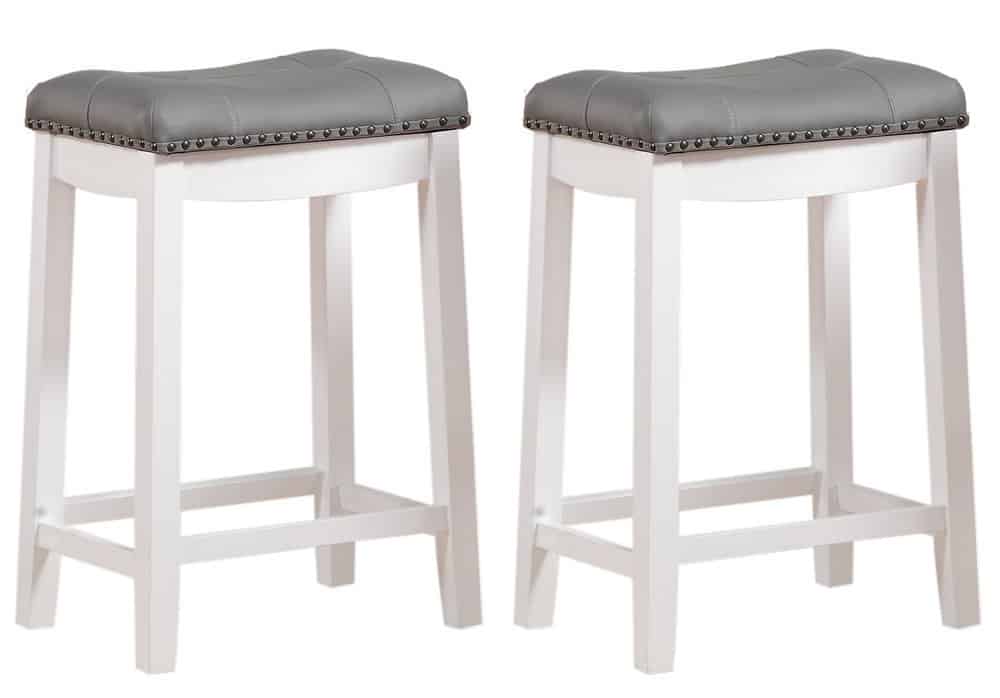 Maybe you're on the market for something more traditional? If so, these padded stools from Amazon deserve a second look. But the color duo, white and gray, will make for a chicer addition.
7. 1940's Vintage Toledo Leather Bar Stool
If you like industrial and you like vintage-inspired, then head on over to RH to look at the details behind this rad design. A set of these at the bar in the man cave or even at the wet bar in your extra-large dining area will do the trick. And they come in an array of color combos as well!
8. Dovercliff Bar Stool
Fitting both modern or trendy schemes, check out Birch Lane for the "Dovercliff." These standout because they have actual back support. So, if you have a more spacious and open area that won't feel too cluttered from the extra design, this one is a comfortable choice.
9. Moriann Pub Height Bar Stool
Ashley Furniture has some great choices as well. This one has some back support and it's more plush. If you have tradition in mind, then you'll definitely want to look into the options here.
10. Nautical Rope Reeves Bar Stool
World Market has a lot of trendy and interesting options. We're loving this woven piece and loving that its black making it quite versatile. Also, it's an outdoor design as well so it's completely up to you on where you use it!
11. Emma Bar Stool
Chic and glam is always a great combination and that's what you get with this piece. We love that it's got a bit of a feminine appeal as well. Check it out by visiting Joss & Main and their amazing collection pieces.
12. Pelham Living Bethany Round Bar Stool
Hay needle has a lot of sweet choices as well. But we're loving this vintage-washed piece as it would fit in cozy, cottage-inspired nooks all around. That creamy canvas will also pair well with pastels.
13. White Tractor Bar Stool
If you're really looking for something unique then you're at the right place. At Home has so many funky designs to choose from. So, when we saw this tractor stool, we knew it had to make the list. It's really the perfect addition to your farmhouse home.
14. Mason Teal Bar Stool
Pier 1 Imports has quality items as well and we fell in love with this rich, teal stool. It's a more traditional design so it'll fit in a lot of homes. If you're looking to add color subtly then go with this one.
15. Dorene Bar Stool
And finally, visit Target again for a more unique and modern design. If you like artistic additions to the home, then this red duo will help out a bit. Red will play well with a black and white or stainless-steel vision.