Awesome DIY Patio Projects for Warm Weather
We know that everyone gets excited about patio season the moment the first summer sun begins peaking its head out from behind the clouds but where we're from, the best summer weather comes near the end, from the middle to the end of August when the sun is high and everything has been warm and wonderful for months. If you ask us, that is when the perfect patio season has finally arrived. That's why we think this is the perfect time of year to tackle a few of the patio related DIY projects we've had bookmarked all summer, waiting until we had some sunny time off to get started on them!
Just in case you're as excited about the idea of getting crafty in order to make your patio season as comfortable and cheerful as it can possibly be, here are 15 of the very best designs, ideas, and tutorials that will get you started on making your patio your own.
1. DIY tabletop fire bowl
Did you grow up in a home that had a lovely fire put in the backyard and it sparkled some of your fondest summertime memories from childhood, but you live in a much smaller place now and you just don't have the room for a full sized fire pit? Well, as long as you have a clear, stable tabletop, to set stuff on out on the patio, then you have a great spot for a simple DIY tabletop fire bowl just like this one outlined step by step on Today's Creative Life.
2. Rope wrapped tire seats
Are you already quite pleased with many features on your patio but you still think you're lacking comfortable seating, which is pivotal since you love hosting friends whenever you can? Sure, you could buy all kinds of comfortable patio chairs in stores, but why not take that need as an opportunity to do some crafty upcycling that's a lot more fun and a lot more affordable? If your home goes well with pieces that are a little bit rustic or farmhouse chic, then we'd definitely suggest taking a look at how Style Me Pretty made these low patio stools by wrapping spare tires in rope.
3. DIY stone serenity pond
Perhaps you're actually quite pleased with how your patio has been looking lately but you have some space around it that could use some sprucing up? Well, if you're feeling up to a challenge but also interested in making something that will really contribute to the summer atmosphere and maybe even help you relax, we'd definitely suggest taking a look at how Oh My Creative made this beautiful stone serenity pond!
4. Mosaic style stone walkway
Now, we've talked about the patio itself and we've also talked about the area around the patio, further out into your yard, but what if the detail that could really use some work is the path that leads up to it? Perhaps you actually don't have a garden path leading to your patio at all! Either way, Budget 101 has you covered with a full (and surprisingly simple) tutorial that outlines how to create a fantastic mosaic style stone path from your house or garden gate right to your patio.
5. Painted patio planters
Have you actually been scrolling through our list hoping to come across a simple, visually appealing way to add a few pops of colour to your patio and garden area? Well, if you're a flower enthusiast who has a lot of planters placed all around the edge of the patio, then we have a feeling you'll get along very well indeed with this cute, hand painted geometric design featured on Today's Creative Life.
6. DIY in-ground fire pit
Did we actually really catch your attention when we started talking about fire pits and the different forms they can take earlier on our list but the difference for you is that you do have the space to add a full sized one? In that case, we think we might actually have found the perfect tutorial for you to try your hand at! Good Home Design guides you step by step through the process of digging out, lining, and safely building an impressive DIY in-ground fire pit.
7. DIY patio water fountain
Were you quite enamoured with the idea of making a relaxing water feature for your patio but the fact of the matter is that you simply don't have the space available in your yard, at least not in the area you like to sit in the most? Then maybe this cute DIY patio water fountain would serve you a little better! See how it's made in full detail, with a simple and useful step by step guide, on Today's Creative Life.
8. DIY patio pergola
Are you actually a rather experienced handyman with plenty of confidence in woodworking, so you don't really find the idea of wooden structures built from scratch particularly intimidating? Then you sound like you just might be the perfect person to try your hand at building a stunning wooden patio pergola that will provide you a little bit of shade and a place to grow even more pretty plants in your garden. Get the full instructions for making one of your own on That's What Che Said.
9. DIY tiered outdoor herb garden
Just because you've decided that you'd really like to include some kind of garden element around your patio area doesn't have to mean that you need a plot of land space to put dirt in and cultivate a flower bed. If you're working with limited space, you might actually consider making something smaller, like this stunning (and easy to manage) tiered herb garden outlined on Today's Creative Life.
10. Floating island outdoor deck

Have you always been the kind of person who loves to sit on the deck or patio in the summer evenings but your house actually unfortunately doesn't have either of those things? Well, you can certainly build them yourself, but what if you were hoping to enjoy some time out there this summer a little more quickly than those larger projects will allow for? We'd suggest taking a more in depth look at how Poppytalk created a fantastic floating deck in the middle of their yarn instead of a proper, large deck against the side of their house. We love the way they built it right around their trees to take advantage of the shade!
11. Patio table with a built-in icebox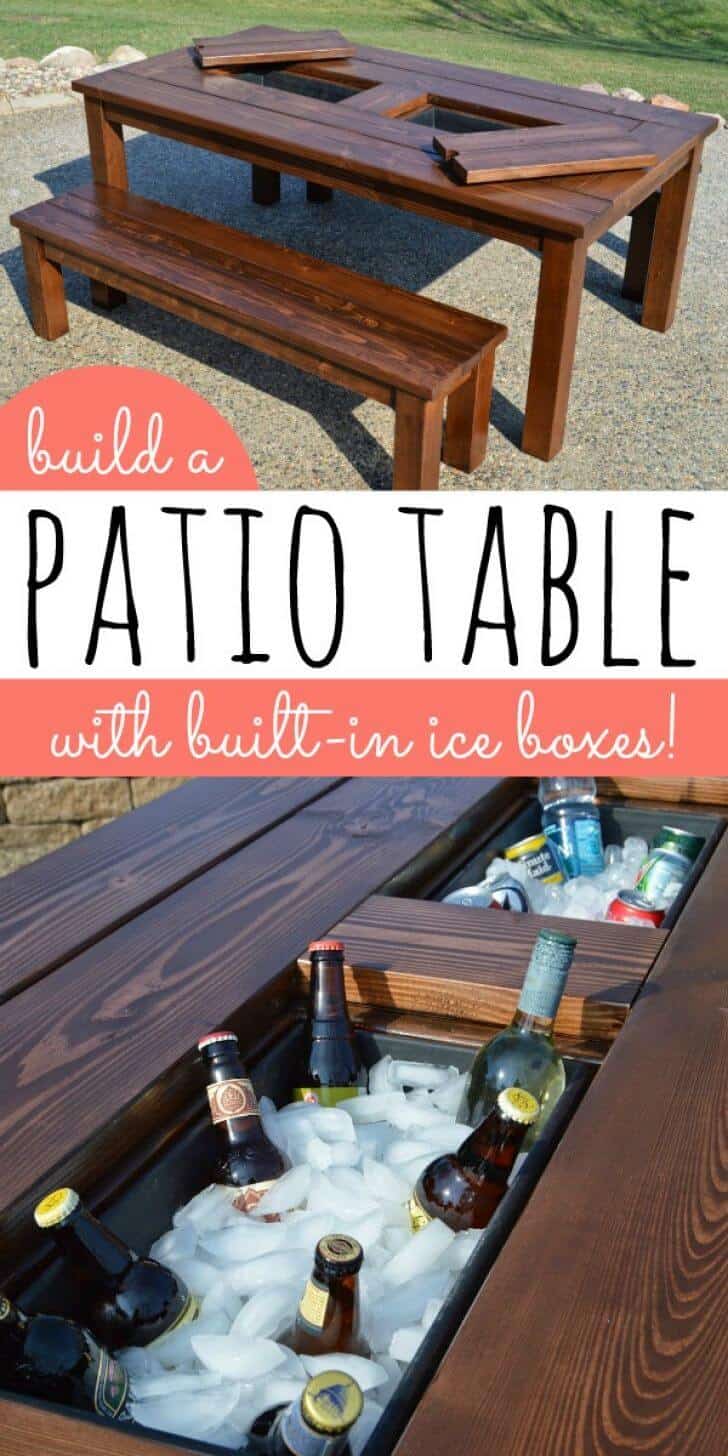 Did we really catch your attention when we started talking about DIY patio furniture but it wasn't actually seating that you were in need of? Then here's an awesome homemade patio table project that's perfect for anyone whose even a little bit handy with woodworking tools! Check out how Remodelaholic not only created a great seating space but also added a fantastic cooler feature right there in the middle of the table to keep your drinks cold on the hottest summer days, which are still yet to come.
12. Painted wicker charger plates
Are you the kind of enthusiastic host who adores having friends over for dinner in the summer and always sets your best table, even when you and your pals or family members are just eating casually out on the patio for sandwiches? Well, if you're ever been a fan of hand painting, then we think perhaps you'll get along very well indeed with the way Today's Creative Life suggests making bright, geometric wicker charger plates, which are a picnic staple where we come from.
13. Fairy lights patio canopy
Are you very interested indeed in the ideas we've shown you so far of building a covering structure over your patio but you're just not sure that you're quite ready to tackle a huge woodworking project like the pergola we showed you earlier? In that case, we'd suggest taking a look at this homemade but slightly simpler folding canopy idea outlined step by step on The Created Home! We adore the way they decorated their canopy with cheerful fairy lights.
14. Cedar and cement garden bench
If you're going to make yourself some DIY patio seating, would you rather make a more classic style at a full height instead of lower stools because you think that will make your guests more comfortable? In that case, we'd encourage you to check out this complete instructional guide from Hunker for making yourself a lovely garden bench that's a blend of aesthetics thanks to being part wood and part DIY concrete.
15. Outdoor patio drapes
Now, we've mentioned a few different ways to make your own patio covers, which we think is a great idea because we actually love sitting out on the patio in the rain even though we'd prefer not to get wet, but what if you've been coveting the idea of being able to spend time outside while still maintaining your privacy? In that case, we think perhaps these outdoor patio drapes featured in full homemade detail on Today's Creative Life might be just the thing you're looking for!
Have you created other awesome DIY patio features or homemade patio art and furniture that you were very pleased with in the end and use all the time but that you don't see anything quite similar to here on our list? Tell us all about what you made and how you did it or link us to photos of your finished work in the comments section!