7 Of The Best Alcohol-Based Markers For Painting and Sketching
Whether you like to dabble in calligraphy or you are known for your love for all things artsy and craftsy, we all know that a really good marker can make or break a project. There is something really special about the perfect amount of bright ink and a soft glide when it hits the paper. The problem is that there are just so many different sets to choose from when you are on the hunt!
You may be faithful to one brand, or you are looking to branch out to test out some newbies; either way, we feel as though you will enjoy our list of the best alcohol-based markers on the market. Why? Because we did the research, we tested some out ourselves, and we found where you can buy them all and get them within just days (Amazon, of course!).
Editor's Choice
Versatile Pick
Why Alcohol-Based Markers?
Have you ever been working on a project and smeared the ink? It is one of the absolute worst things that can happen. Whether you are creating a new piece of art for your classroom or you are just coloring a new page out of your book while relaxing on a Sunday afternoon, no one wants the bleeding colors on the paper or on our hands. And that is where the magic of alcohol-based markers comes in. The biggest benefit of having a set of these beauties is that they will dry quickly. No more smudging your arts and crafts with these sets!
What To Look For When Shopping
When you decide to begin your search for a new set of markers, there are going to be a few different features you will want to read up on or check out before you make your final purchase. Check them out below!
The Tips
You will always want to check out the lines they make. Draw different types of shapes and lines while using different angles of the marker. The ink should stay consistent throughout the entire process, and you should know how they draw beforehand.
Some markers will come with thicker tips and others with finer. Depending on the type of art you want to take on will depend on what you end up buying. Calligraphy markers need angled tips, while journals may need something thinner. Dual-sided markers are the best of the best, especially for those that like to dabble in a bit of everything. You will get a chiseled side for drawing thicker lines and a finer side for writing!
Color Options
What colors are you in need of? Check out the brightness of the colors. If there is a way to test them out before buying, do it! Once that ink hits the paper, your colors should stay bright and not lay lackluster. Even better, if you can try out the markers on different types of papers – you can get an even better idea of how they will work for you in the future.
You may want to make sure the colors can blend as well. This makes projects even more versatile and fun to experiment with. Some ink does not play well with other colors. When you do your test run, see what happens here as well.
Drying Times
If your markers are alcohol-based, the ink should dry extremely fast when it hits the paper. When ink is suspending in alcohol, there should not be a wait time at all. Alcohol is a fast-drying solvent, and this takes away the chance of smudging and smearing, especially for our richer colors that usually take longer to completely set on paper.
Best Alcohol-Based Markers For Painting and Sketching
There are a lot of really great alcohol-based markers that are perfect for painting and sketching, and we're going to help you get the best of the best.
The AspireColor Dual Tip Sketch Markers – 80 Pack has so many colors to choose from and comes with its own carrying pack to make life a little easier and a bit more organized. The ink is vibrant, and the shade selection is truly one of the best. There are skin tones, pastels, and some of the richest gemstone shades. And because of the color versatility, the projects that these could be a part of are nearly endless too. Use them to color in coloring books or letter new invitations for a friend's bridal shower!
They also are great for blending! If you are into experimenting with colors, this is a great set for you to snag. Each marker is essential two-in-one – with higher ink volume – and with their intelligent cap design, they will not be drying out anytime soon. You also will not need to uncap each marker to find the correct shade; instead, each is marked with the color name and number to make the search a bit easier on the user.
Pros
Dual-Sided Tips
Carrying Case Included
Higher Ink Volume
Cons
View price on Amazon
Up next is the Spectrum Noir Triblend-Blendable Markersthat come with 24 pens in the set but with 72 colors to use! Each marker is able to blend tones and make new ones with ease. You have heard of dual-tip markers, but you get three tips with each pen in this case. It is an absolutely innovative way to stay creative. And they are user-friendly, so even the novices can jump in and utilize them.
The colors themselves are stunning and realistic. And because of the blending, you are able to bring depth to projects that you may not have been able to conquer previously. Although the price may seem a little steep, it is absolutely worth the investment.
Pros
Try-Tip Per Marker
72 Color Choices
Easily Blendable
Cons
View price on Amazon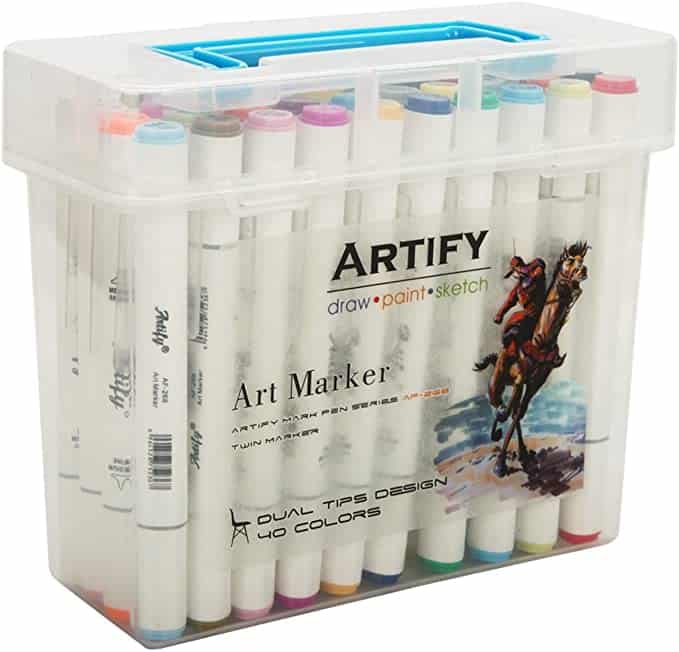 Hop on over to check out one of our favorite sets on the list! The Artify Artist 40-Piece Marker Set comes with dual-tips and a lot of trendy tones. There are 40 vibrant colors inside of this set, including all the primary shades that you need to make more! Peek at the white shade that makes blending and customizing colors an easier task.
Each pen comes with an easy grim for comfort, and the ink flows nicely onto paper – while drying quickly with no smudged lines! As its description proclaims, "draw, write, sketch, illustrate, shade, design, render and so on" with these markers. Of course, the carrying case included is a nice touch as well.
Pros
Dual-Sided Tips
Friendly Price-Point
Carrying Case Included
Cons
View price on Amazon
The Shuttle Art Dual-Tip 51-Piece Markers is a great set for beginners or veterans alike. It is a perfect add-on to already large collections or as a way to get someone started on their artistic journey. The price point is easy to manage, and there are 50 colors included in the set, and more can be made by blending (there is a colorless blender included, which is a nice perk!).
Their triangular grip gives extra comfort to users' hand, and the storage case makes storing a lot easier to manage as well. Each marker has a 7mm tip for quick coverage projects and a 1mm bullet tip for writing or sketching.
Pros
Friendly Price-Point
Dual-Tipped Markers
Includes a Blender
Cons
View price on Amazon
If you are looking for a smaller set or one to add on to a larger collection, check out the COPIC 12-Piece Basic Marker Set! You may look at the price and wonder why such a small set is double the price of others, but COPIC is one of the best marker brands around. These are what the veterans are using, and this particular set has all the original, bestselling COPIC colors included.
Each marker is double-sided, including a chisel tip and a fine point to take care of all the projects. And the storage case is included in the purchase as well. The COPIC markers were designed by anime and comic book illustrators – and if they do not know ink, then we are not sure who would!
Pros
Dual-Tipped Markers
Highest-Quality Ink
Professional Grade
Cons
View price on Amazon
We are loving this set of ARTEZA Everblend Sketch Art Markers! The price is friendly, and there are so many colors to choose from. The markers are highly-pigments, and within this set, you will receive 36 rich markers in gray-toned hues. Each marker also comes with a chisel tip, and a fine tip to easier conquer any project that you may have up your sleeve.
One of the great things about this set is the versatility. Whether you want to colors on paper or wood, you can make that happen! Whether you are a novice in the area or a veteran calligrapher, they work for you!
Pros
Friendly Price-Point
Dual-Tipped Markers
Highly Pigmented
Cons
Not usable on highly-porous paper
View price on Amazon
Just like its predecessor, the ARTEZA Everblend Sketch Art Markers 60-Pieceis just as fun! The only difference is in the amount of colors you get in this set. Although it is a bit more expensive, you get all the benefits plus more color variation.
Pros
Friendly Price-Point
Dual-Tipped Markers
Highly Pigmented
Cons
Not usable on highly-porous paper
View price on Amazon
Art Inspiration: What Do They Help Create?
There are so many different ways to utilize these types of markers. The possibilities are nearly endless! Here are some of our favorite projects or specialties:
journals/planners
calligraphy/lettering
greeting cards
scrapbooking
coloring
gift tags
calendars
classrooms
invitations
addressing
flyers/posters
bulletin boards
Conclusion
And there you have it, folks! Above, you have seven different sets of amazing markers to choose from as you set out on your next batch of artistic creations. There are so many great colors to choose from and price points that will not take too big of a hit on your wallet. Let us know which ones you decide to buy and what you decide to make when you get them!