80's Outfits – 50 Ideas for Theme Parties Or Halloween Night!
It's finally October! As the leaves start to turn colors and pumpkins line up on front porches, we can't help but think of Halloween. Whether you're a child dressing up for a school parade or a grown-up throwing a party, these 80s outfits are perfect for your costume party.
Why go with the 80s? Because it's a period that everyone loves and feels nostalgic about, even if they didn't get to live back then. But the stories heard from parents and grandparents are timeless. The 80s were a revolution in music, fashion, and freedom of expression.
So you can easily play with this idea by integrating the 80s into your costume, whether you are attending a Halloween or a theme party. We made a list of ideas that we hope will inspire you.
Best 80s Outfits to Wear at a Halloween or Theme Party
Without keeping you on your toes any longer, here are the best 80s outfits you can wear at any Halloween or theme party this year. We are sure that you can find something you will fall in love with!
1. Bright Makeup and Sports Trowel – 80s Outfits
It is truly the golden age of creativity when it comes to Halloween costumes. But you might enjoy a trip down memory lane back to your or your parents' days of neon makeup and curling your bangs in preparation for an 80s party. It's easy to go too far with this 80s outfit and look like a reject from an old 80s movie flick, so be careful!
Toss on this outfit to get the attention of your friends at any party! Or, dress it down to go trick-or-treating with kids. If you're dressing up for a school parade, use this outfit as an inspiration to create your look. You can throw on a sports trowel and wear some bright makeup to get the most out of this costume. No matter how you wear this 80s outfit, you'll be sure to have a good time!
2. Fashion Icon – 80s Costume
This 80s costume is perfect for a friend who loves to take risks with their fashion choices and become a fashion icon. You have your black jacket, bright pink fishnet gloves, colorful wristbands, neon green fishnet headband, and retro striped plastic sunglasses.
You can wear this 80s outfit anywhere you want, but it's sure to get tons of attention at any party. If you're feeling bold, throw on an oversize neon necklace, blue mascara, bright blue eyeliner, and neon yellow hi-tops for a look that is guaranteed to get the attention of everyone in the room!
But don't forget the most important piece of this outfit: the 80s fashion icon attitude!
3. Oversized Hoodie and Retro Sunglasses – 80s Outfits Women's
This 80s outfit is perfect for women who want to show off their curves in a trendy outfit. The oversized hoodie is paired with flashy leggings, which are great for twirling or spinning when you're on the dance floor at your party.
You can even wear this outfit while running errands or doing household chores if it's not your chosen costume for the night! The best part is that it isn't too expensive to pull off this look, so you can save money to buy other accessories like neon socks or fingerless gloves.
4. David Bowie – 80s-Style Clothing
David Bowie is the perfect 80s-style clothing idea for your retro party, and it's pretty common to see people dressing up like him around Halloween. With a variety of different makeup and hairstyles, you can play around with all the options that Bowie has offered throughout his career!
Like other costumes on this list, you should be especially careful when putting together an outfit that mimics David Bowie's wardrobe. It can be challenging to capture the artist's genius when it comes to his choice of makeup and clothes, but we found a magnificent Instagram post to get you inspired, courtesy of @katoriknight.
The best part about it? You can pull it off whether you're a man or a woman since the look is put together by a non-binary person. They have short red hair and are wearing bright and colorful makeup.
In addition, you can spot mismatched earrings, a multi-colored blazer, a shirt with a pink 8-bit bow tie, retro sunglasses with lightning bolt stickers on the lenses, and salmon-colored men's shorts. Granted, you might not be able to get these exact pieces, but it's a fun way to start looking!
5. 80s Dress
This 80s dress is another great choice for a retro party. We found this gem on Instagram, thanks to @laura.lea.kbh. She is wearing a long red 80s dress with colorful flowers that she probably found in her mom's closet (which isn't a bad thing!). The vintage outfit is paired with a pair of white tennis shoes.
You can also get extra fancy by wearing the long red dress with some neon yellow heels, adding brightly colored lipstick for a more mature look, or throwing on flashy jewelry that matches your personality. Another good idea is to throw in some rubber bracelets, an 80s-style ribbon choker necklace, and bright colored socks to complete your trendy outfit.
6. Denim Vest and Boombox – 80s Theme Party
Are you the type of person that always brings a boombox to every party? Then you're going to love this 80s outfit, which is perfect for you! All you need to complete this look is a denim vest, a white shirt, retro black sunglasses, and a black-and-white bandana to use as a headband.
This can be coupled with a pair of straight jeans that have a washed-up style. Furthermore, you can get a pair of big headphones to cover your ears! You don't even have to wear the headphones if you don't want to since you can just pretend like you're leaving!
It's the perfect clothing idea for your 80s theme party! The outfit preserves an iconic aspect of the decade by featuring things made from cloth materials that have been used since then.
7. Retro Fitness Guy – 80s Halloween Costumes

Are you a fan of retro style? Then this idea for 80s Halloween costumes might be perfect for your next party! You can wear it if you want to portray someone who just got fitness, or if you want to go as yourself. Either way, this is an excellent idea that has quickly become popular among vintage lovers who are putting together outfits for Halloween parties!
Most 80s women wore oversized clothing items like sweaters and jackets, stretchy leggings worn underneath jeans or skirts, leg warmers, neon accessories including socks and shoes featuring bright hues of pink and purple.
However, if you're a guy who doesn't want to go overboard, you can sport a purple shirt with an orange towel, and plain shorts. Don't forget about the black wristbands and white weights to show your commitment to your newly founded love for fitness!
8. Kids 80s Outfit
You know the 80s is back when people are sharing pictures of their kids wearing awesome outfits that can be considered vintage. This 80s outfit for kids is a more subtle take on the decade's style. Your daughter can rock it at Halloween, or you can just use this as inspiration for dressing them up!
Check out this cool Instagram post made by @kbock526. A young girl with short blonde hair is wearing a plain blue t-shirt, black tutu skirt, black fingerless fishnet gloves, silver boots, retro sunglasses, and a pink 80s-style ribbon in her hair. It's simple and sweet! Plus, it works perfectly if you're thinking about a mother-and-daughter combo for an 80s-styled Halloween party!
9. Oversized Sweatshirt and Belt Bag – 80s Theme Outfit
Are you looking for an 80s theme outfit for Halloween this year? If so, check out this idea for portraying everyone's favorite 80s girl. All you need is to wear an oversized, bright yellow sweatshirt with a belt bag, cute leggings that have cartoon-like characters printed on them, and some retro sunglasses.
This outfit screams I'm in charge of my life. It also symbolizes how women were not afraid to go against the social norms by wearing what they wanted to feel comfortable. Not only that, but it shows how people back in the day would express themselves through their clothing choices to stand out from the crowd without even saying anything at all, which is pretty impressive!
10. 80s Outfits For Boys
In the 80s, fashion was all about being as outrageous as possible. Boys would wear clothing not seen before during that period because it was considered modern due to its unique cut or design.
Many people who were children in the 80s often wore neon-colored clothing items made of stretchy cotton materials like spandex and lycra. They would wear sneakers with their favorite cartoon characters on them, leggings under their pants, and tight t-shirts that highlighted cool designs to show how tough they are!
Check out this photo, for instance, which depicts a cool 80s outfit idea for boys. The buy has an extravagant look and is wearing round golden glasses and a sports trowel with a bright turquoise shirt. It's best to ignore the smartphone since it wasn't available at that time. Or, you could replace it with a bulky cellphone that has an antenna to capture the spirit of the 80s!
11. Bright Yellow Tracksuit with Fedora Hat – 80s Costumes Women
It's clear that the 80s is a time in history when people were over embracing pop culture. People would wear bright colors to look unique and express themselves through fashion.
The decade was all about standing out, which explains why everyone would dress like they're wearing neon even during the nighttime. It didn't matter if it was too bright or blinding. What mattered the most back then was how you ended up looking like!
This picture perfectly illustrates that idea for an 80s costume for women. It shows a young girl who's trying to build an 80s-themed outfit by wearing a bright yellow tracksuit with a black velvet fedora hat. She has long curly hair and is also wearing an orange-and-yellow scarf! However, that doesn't mean that you can't add more accessories like a pair of black sunglasses.
12. 80s Party Outfit
When you think about the 80s, what comes to mind? If you sing the lyrics of Rick Astley's Never Gonna Give You Up, then chances are that you're in love with this time.
If you're looking for an 80s party outfit for women to wear this Halloween, check out this photo to get inspired. She is wearing a pink shirt with long sleeves, a blue shiny jacket with elbow-length sleeves, white shorts, white knee-socks, white tennis shoes, and a white short-haired wig.
However, don't just emulate this outfit. Think about the accessories you'll need to wear to complete your 80s look! You can wear a neon green headband and some armbands to highlight the fact that you're ready to party like it's 1989!
13. Homecoming – Kids 80s Costume
The 80s was an incredible decade, where fashion and technology collided. Kids would wear bright-colored clothing such as neon pink and orange because it made them look like the coolest kids on the block!
They would wear their hair in a stylish hairdo, wear sunglasses indoors and outdoors, and make a statement with their neon clothing items!
So, if you want to be the most fabulous person around this Halloween, then get inspired by this photo from @lakeh_deleigh of two kids with 80s costumes. They are both wearing plain shirts with long sleeves, gym shorts and cropped jeans, colorful leggings, socks over the leggings, and tennis shoes.
They didn't forget about the accessories either. Each has a headband, which is what throws back to the 80s outfits. But you could also throw in a pair of retro sunglasses.
14. Brightly Colored Tracksuit – 80s Attire
Why not dress up with an 80s attire when you go to Halloween parties? You can do so by putting on a blue or purple tracksuit, just like in this photo. You might as well wear white socks over the pants and white tennis shoes to complete the look.
Don't forget about the hairstyle! The 80s were all about big and puffy hair, so make sure that your hairstyle reflects that time.
What's great about this outfit is that it works year-round. You can wear this outfit during the day if you're looking to buy something from the mall, or at night time when you go out for drinks with your friends!
15. Maverick and Charlie from Top Gun – 80s Couple Costumes
If you can't get enough of Top Gun and are seeking ideas for 80s couple costumes, then why not go as Maverick and Charlie this Halloween? The two lead characters wear some stellar outfits, which makes them perfect for any event that requires costumes. Check out this awesome Instagram post made by @retroizmo to get inspired!
However, before you go out to buy the outfit, take note that it won't be easy to find a pair of aviators as well as a bomber jacket. Especially if you want these items to look as realistic as possible. If you're up for the challenge, however, then we recommend going on Amazon to search for where you can order these items from.
Charlie's outfit is easier to put together since you need regular jeans with a straight cut, a plain white shirt, and a pair of white sneakers. You still need to order a black bomber jacket from the Internet, though.
16. Grace Jones – 80s Inspired Outfits
If you're searching for unique 80s-inspired outfits for Halloween, then Grace Jones is the perfect person to look up to. She is known for her one-of-a-kind fashion sense that is bright and colorful. If you want to be this hip this Halloween, then check out this photo by @_seaworld.
As you can see, she's wearing a black jacket with colorful stripes, a white top and belt, together with blue pants. It can be challenging to pull off this exact look, even if you have expert sewing skills. But you don't have to get it just right. Instead, remember that it's all about the unique attitude and devil-may-care style of Grace Jones.
17. Vintage Shirt – 80s Outfits
Another great outfit that you can get for Halloween is a vintage shirt, like the one showcased on this Instagram post, courtesy of @juliettesthrftshop. It's a great idea because you can pair it with any other pieces of clothing inspired by 80s outfits. For example, you can wear a vintage shirt with a white collared shirt with jeans and trainers.
While working on your outfit, don't forget about the 80s accessories! You can wear a pair of spectacular vintage sunglasses to highlight your stylish attitude and make it look like you went back in time.
If you don't want to spend money on this outfit, check out your parents' or grandparents' closet. They might be able to provide you with an old shirt from the 1980s! Then again, it's still up to you if you also want to add white socks over the pants and some fancy running shoes to make it look like you walked straight out of an 80s movie.
18. Cropped Hoodie – 80s-Style Clothing
One of the most iconic pieces of 80s-style clothing is the crop top. A cropped hoodie, like this one by @mamatabushi, is another great way to go!
Wearing just a hoodie might seem boring, but if you're all about comfort then this is the outfit for you. A pair of high-waisted shorts or pants, some comfy trainers or pumps, and some simple accessories like a pair of retro sunglasses in the same color as the hoodie are all the ingredients needed to create an 80s outfit that doesn't scream Halloween costume.
Don't forget to have fun with it! Since it's not really that hard to put together, why not experiment more with your look? Skinny jeans, patterned tights, lots of colors – the possibilities are endless!
19. Roller Girl – 80s Costume
If you're looking for awesome ideas when it comes to 80s costumes, you could dress up as a roller girl. This Instagram photo by @stdskates shows us the perfect look.
As you can see, she's wearing a black and pink outfit that features lots of lace and frills, several layers of long and colorful beaded necklaces, pink sleeveless gloves with multiple colorful wristbands, pink legwarmers, protective kneepads, and, of course, the roller skates. The whole ensemble will make you stand out from the crowd this Halloween.
However, if you feel there are certain aspects of this outfit that might be hard to pull off, then you don't want to complicate things too much. Instead, you can always go for a pair of regular sneakers, pink leggings or pants, and any kind of sports top that's within your budget. You'll be the most fashionable roller girl around!
20. Rock and Roll – 80s Couple Costumes
If you want a couple's outfit for Halloween inspired by the 80s, then look no further! This Instagram photo by @jessicaaahernandez is the perfect inspiration for 80s couple costumes so that you can match with your special someone this season.
Both partners are wearing outfits that are totally rock and roll: a denim vest, a black sleeveless shirt with a rock band's print in the front, black jeans, black nail polish, and dark eye makeup!
The two of them also have some great vintage accessories which give them that authentic vibe that makes people think they walked right out of an old movie from the 80s, such as the leather black fingerless gloves with studs and a small chain that hangs on one side of the black jeans.
Don't feel limited by their style or look! If you want to wear a skirt instead of pants or add more accessories, go right ahead. The sky's the limit when it comes to rock and roll outfits. Plus, it never hurts to use makeup products like lipstick and foundation primer so that everything stays in place all night long when attending a Halloween party.
21. Time to Party – 80s Dress
If you want a great 80s-themed outfit that's appropriate for either Halloween parties or a get-together with friends, then get your hands on an old dress that looks absolutely fabulous! This Instagram photo by @carla.dos.passos shows us a black party dress with a long V-line and sequin top.
This dress looks too good to pass up. And even if you don't want to wear it, you can always use it as inspiration to find a glamorous 80s dress that you feel comfortable with.
If you can't find anything good in your mom's or grandma's closet, you should be able to find some interesting choices online. Or, you can put your sewing skills to the test to design something tailor-made for your body and measurements!
22. Gingham Plaid Two-Piece Set – 80s Outfits
This Instagram photo by @vanninvintage shows us a classic 80s outfit that's perfect for Halloween: a gingham plaid two-piece set. It's a pretty formal outfit that a businesswoman would normally choose when going into office meetings. Even so, it would surely make one killer outfit for a dance party or Halloween-themed event.
The best part about the outfit is that it's super simple to recreate: you can get the two-piece set in black and white or any other color combination you like, pair them with some black boots or high heels, and wear a cute black cropped shirt underneath the jacket to expose your waist. It's how they did it in the 80s, after all!
You could also replace the skirt with long pants in the same color scheme and pattern as the jacket – whatever you feel most comfortable with. And, when it comes to accessories, you could add anything colorful to the mix to brighten up the two-toned look. For example, you could wear a pair of oversized sunglasses or several layers of long and colorful beaded necklaces.
As far as hair and makeup are concerned, we recommend going with simple colors since anything too crazy might ruin your 80s look: a high-ponytail or a simple hairstyle with a black vintage bowler hat in the style of Hillary Banks!
23. Glam Rock – 80s Costume
Rockers are known for their unique and extreme style, especially back in the 80s. However, if you're not looking to dress up like a total rocker, then there's something even better for your taste: glam rock.
This Instagram photo by @brendam.jackson shows us what an awesome Halloween outfit looks like: it has natural makeup and hair, although you can also get away with some cute pigtails! What we love about it is that it's simple enough that it doesn't require a lot of effort, but it still looks great when going to a party.
The glam-rock look from this Instagram post has a bit for everyone: a cropped shirt with your favorite 80s rock band, ripped jeans with a straight cut and pink fishnets underneath, a simple black leather belt, and natural makeup. If you want to get creative with your makeup, then you can also use some purple or blue eyeshadow to spice it up.
It doesn't have too many accessories, though, but you can add some yourself if you feel that something is missing. For example, you could wear a pair of black leather fingerless gloves with studs.
Another way to go about it is by replacing the entire outfit with a glam rock dress, black leather jacket, and knee-length boots. First off, make sure that your dress is short enough so that people will notice your boots. Voila! This 80s costume will give off a rock and roll vibe.
24. Eccentric Party Guy – 80s-Style Clothing
If you're not really into dressing up as a specific character, then just go for something simple: an eccentric ensemble. Take the gentleman in the photo, for example, who looks like he's having the time of his life at an 80s party on the beach.
He is wearing an ultra-colorful Hawaiian shirt, plastic heart-shaped glasses, and a straw hat. There's no doubt about it – the abundance of colors screams that this is 80s-style clothing. If you want to put a spin on it, then pick a shirt with crazy prints or even with a collar.
Another great accessory for this outfit is a cocktail glass, which you should be able to find at the bar and include in your photo shoot. You don't need to go overboard here, which is great if you are seeking a simple and fabulous 80s outfit.
25. Pop Fashion – 80s Outfits
If you want to recreate an outfit that was popular in the 80s, then think about what made this decade so unique. Here are some of the top aspects to successfully put together 80s outfits: neon colors and big hair!
This Instagram photo by @portal_lerae shows us that if we want to have a fashion-forward look, then we just need one thing: pop colors. In the 80s, every single clothing article was bright and colorful. And even though fashion tastes have changed drastically since then, wearing something pops of color is still looked down on.
However, this doesn't mean that it's impossible to find clothes in neon shades today! Many boutiques sell them, but you can always repurpose old articles of clothing as well. Just make sure to use a lot of bright colors on top of your DIY project. You also shouldn't forget about adding stylish accessories!
25 More 80s Outfits
We have another 25 80s inspired outfits that you can try out at a theme party or Halloween night if you want to go as a "blast from the past".
26. Wild Child 80s Outfit
Here's some great inspiration when creating a youthful, 80's "wild child" look. Grab your converses, some funky tights, crop tops and all the accessories you can find! (via)
27. 80s Outfits for Women – Workout Girl
The spandex, those socks and the best topping on an outfit like this: a Top Gun sweatshirt; why not dress like you're about to get your aerobics in for the day? This will be a fun one to put together, don't you think?
28. 80s Attire for Fall Weather
You don't have to do anything too kitschy. Instead, when there's a bit of chill in the air, grab a chunky sweater, pair it with some high waisted jeans that aren't too tight and … voila! … 1980's inspiration!
29. Shift 80s Dress
Thankfully stores like Forever 21 are starting to sell pieces based on past decades and their favorite trends. This denim shift dress could start your outfit off on the right foot!
30. Business Casual 80s Women's Outfit
Molly Ringwald is always a great source of 80's fashion inspiration. This business casual look complete with the extra-oversized blazer could be the right pick for you next decade party.
31. Squad 80s Halloween Costumes
Dress in a pack inspired by this fun decade of fashion. Jean skirts, teased hair, easy tees and the right kind of sneakers will set it all off right.
32. The Gap 80s Style Clothing
Here's a Gap ad from the 80's that inspired us too. It's such an easy outfit to recreate. Just top it off with a teased side ponytail for good measure.
33. Adidas 80s Style Clothing
Adidas was a brand of the decade. Grab an oversized sweatshirt and some of these sneakers for an easy vintage-inspired look.
34. Colorful Pairs 80s Costume
Paulina Porizkova is a great source of 80's inspiration as well. As a model, she was the face of so many different trends and looks like this colorful pants and sweater pairing that screams "totally tubular" style.
35. Polka Dots 80s Style Clothing
Stripes and dots were also a big deal throughout this decade. Sprinkle yourself with some polka dots and a dash of red for an extra bit of 80's flair.
36. Madonna 80s Style
Of course you could also look to Madonna for advice and inspiration on your 1980's outfit concoction. Jean, mesh and more can make you a funky replica of the icon.
37. Baggy Duo 80s Women's Costume
The top and the bottom of most 80's ensembles were a bit baggy. And that includes this high-fashion office look we found from a 1989 Vogue.
38. Prom 80s Party Outfit
A great color, maybe a little sequins and some puffy sleeves is a surefire way to create a winning 80's costume. Just check out this throwback look for inspiration!
39. Prints + Bows 80s Theme Outfit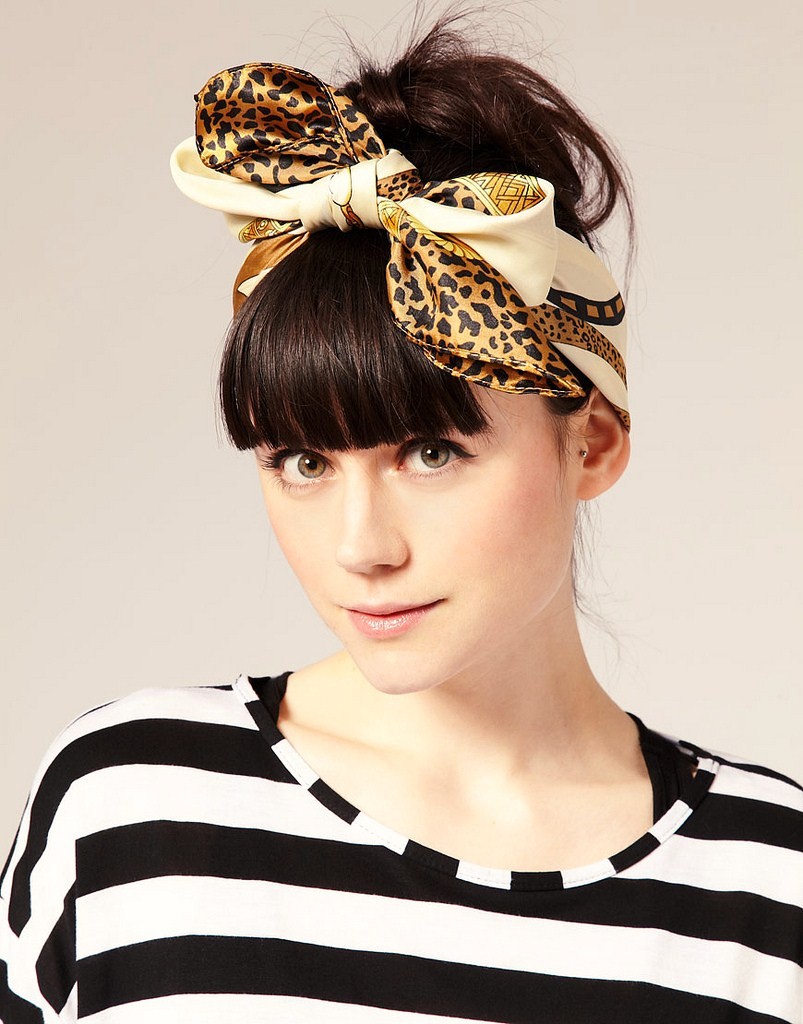 Headbands sealed with a bow and a mix of prints is another way to bring in this gnarly decade's style into your own. We found this bit at Brit + Co!
40. Boy George 80s Style Clothing
Stealing some style knowledge from Boy George is another great way to fashion your 1980's costume. If you want something a bit brighter and bold, this is the man to grab it from.
41. 80s Outfits for Boys – Bold and Colorful
The men need some inspiration too. And this is a classic, 1980's look that you can style your own costume idea around for the next themed party you're invited to.
42. Prince 80s Theme Party
Another great one to grab your 1980's costume inspiration from is the one and only … Prince! Purple Rain can inspire so many more ideas than just a great song to play.
43. Kids 80s Outfit – Great Halloween Costumes
This throwback snapshot gives some more ideas when putting together some themed outfits for you and your friends. And you must not forget the scrunchies!
44. 80s Workout Gear – Easy 80s Halloween Costumes
Here's some more workout gear that you can snag an idea or two from. Matching spandex with tube socks and a headband on top; it's sexy and hilarious!
45. Floral Prints 80s Attire
Floral prints are another great way to pay homage to the decade. Whether it's a dress or a romper like you see with this gem, add some shoes, white socks and an updo to finish off the look.
46. Michael Jackson 80s Outfits
Michael Jackson is another great source for 80's fashion inspiration. Ladies and men can grab a pointer or two on the decade's best looks.
47. Colorblocking 80s Style Clothing
When it comes to your sweaters and sweatshirts look for pieces with a bit of colorblocking. This is traditional 80's flair as well!
48. Knee Highs 80s Theme Outfit

Knee highs were a staple of the 1980's as well. So grab a jean skirt and a denim jacket and have Lily James help you piece together your outfit for the night.
49. School Girl 80s Theme Party
Here's a school girl outfit that was plucked right out of 80's fare. The skirt, the turtleneck and the crocheted sweater tank come together in easy fashion as well.
50. Ms. Pacman – 80s Women's Costume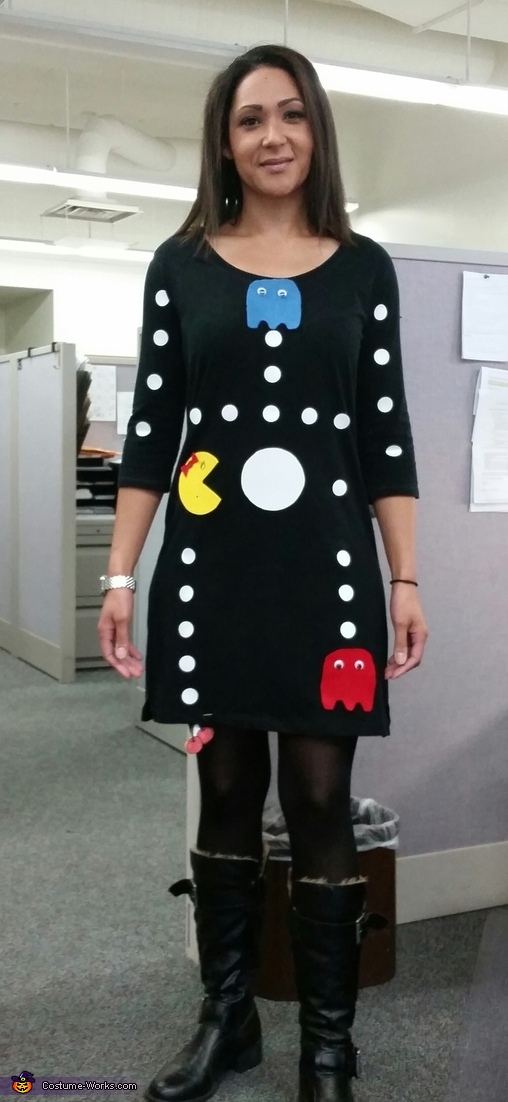 If you want to do something more costume-y, then check out this idea! Go as the biggest game of the decade and make it a fun DIY project along the way!
Final Thoughts on 80s Outfits to Wear
If you're not sure what to dress as for Halloween this year, check out our list of ideas for 80s outfits! Whether you want a sexy outfit from the 80s or something more spooky and scary, we have an idea that will fit your style. We hope these outfits inspire your creativity and make it easier to plan your costume so you can start shopping or sewing early.
What are you waiting for? Transform into an 80s fashion icon this Halloween season! You will get tons of compliments because everyone loves the 80s era! Be sure to return to this page and let us know what 80s outfit you picked for Halloween night or an 80s-themed party. Also, feel free to share more ideas with us by dropping a line in the comments section below.