Celebrate In Style With These 50 DIY 30th Birthday Ideas!
When the big one hits, you'll want to celebrate and forget that you 20's are a thing of the past. From drinks to decor, celebrate in style with these 50 DIY 30th birthday ideas! Theme your event and have a ball ringing in a new decade of adventures and experiences.
1. The End of the Roaring 20's
Catch My Party showed us how a "Roaring 20's" themed birthday can be the most clever for when you turn 30. Saying goodbye and all.
2. 30 Sucks
Pass out "30 sucks" lollipops at the party too! It's quite the witty, clever addition that everyone will get a laugh at. And easy to DIY! (via)
3. Casette Tapes
HWM showed off a charming, cassette-inspired 30th birthday party we're loving too. Show off your love for the 80's.
4. Bar Signs
You've gotta have a few cute signs around, for the bar and the dessert table too. Check out this beauty over at A Blissful Nest.
5. Golden Accents
Cue the Confetti gave some great ideas for a sparkling, golden-infused 30th birthday party! From the tables to the ceiling, everything was a bit gilded.
6. Matchstick Candles
Instad of 30 candles, why not make it with matches? Check out this unique idea over at A Subtle Revelry.
7. 29-ish Tote
We're loving this fun inspiration from Cafe Press. You can easily DIY something similar at home or use it as a gift for a friend!
8. Message Wall
Here's a fun idea we found at HWM. Create a message wall where all the family and friends of the birthday girl/guy can write a celebratory note on!
9. Dirty 30
Of course a "dirty 30" birthday party could be fun. Check out all the details behind this one over at Occasions by Amy.
10. Kate Spade
Pretty My Party showed off a stunning Kate Spade-inspired extravaganza too. We can't help but swoon over this one!
11. Movie Night
A simple movie night, including beer and all things sweet is just another great way to celebrate ringing in the big 3-0. Check out the details on this one at Kara's Party Ideas.
12. A Program
Add a program to the day's events. Brit + Co showed off some majorly fun idea for this pool party-themed 30th!
13. Champs Garland
Brit + Co also featured these cool balloon decorations. Create fun slogans and clever phrases with letter balloons that are easily personalizable.
14. Confetti Poppers
You're never too old to add glitter and sparkles to the event. Check out these DIY poppers over at Bird's Party.
15. Dunked Cups
Here's another fun way to add a bit of sparkle to the vent. Dunk those cocktail cups and add some hand touched style to the day. (via)
16. Drink Stirrers
Vicky B. TV shows us how to DIY some celebratory drink stirrers. This is a major event and it should feel like it!
17. Emoji Balloons
Of course you could decorate the party with emoji balloons too. Grab all the details over at Studio DIY.
18. Beer Tasting
HWM showed off this beer tasting 30th birthday party and we had to feature it too. It's sophisticated but full of adult-like fun!
19. Bloody Mary Bar
Do something a b it outside-the-box for the party gal or guy. A bloody Mary bar is fun for everyone to participate in! (via)
20. Gourmet Burgers
But so are burger bars. Check out all the details behind these gourmet treats at Card Store.
21. Food Truck Catering
The TomKat Studio showed off how fun it is to have you event catered by a food truck. Your 30th birthday could easily be fed by your favorite quick treat!
22. Lost Count Topper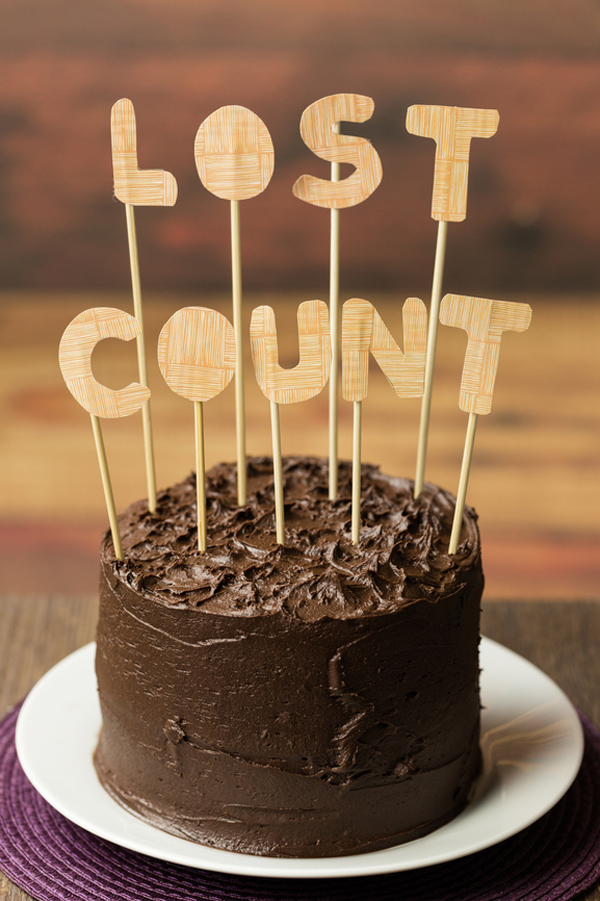 For a clever and witty way to top the cake, check out this DIY topper from A Subtle Revelry. Everyone will get a giggle out of this one.
23. Gold-Brushed Balloons
You've got to have balloons at the party! But it's all in the styling. You can add a bit of gold-brush accents all in an afternoon. (via)
24. Vodka Gummy Bear Popsicles
For those warmer-weathered events, make up some vodka-infused gummy bear popsicles! Grab the recipe at A Spicy Perspective.
25. Balloon Bash
Are you looking at throwing your friend a surprise party? Turn a glum 3-0 into a balloon-inspired event! (via)
26. Chocolate Beer Cupcakes
All Recipes has all the details behind chocolate beer cupcakes. Since you're out of your 20's and officially an adult, you might as well have some adult-like treats!
27. 30 Gifts
Give your friend 30 gifts for turning 30. Grab all the cleverness over at La Force Be With You.
28. Mudslide Cupcake
Here's another adult-like treat you could serve up for the party. Mudslide cupcakes from The Curvy Carrot are both pretty and delicious!
29. Glitter Candles
Studio DIY has a bunch of candle ideas on their site. But we're particularly fond of these glitter ones and how they top a cake so perfectly.
30. Sparklers
Of course, topping the cake with some sparklers could be fun too. Thanks for the inspiration PunchBowl, this is how you celebrate right!
31. Ring Toss
Have some fun and games in the backyard for everyone to participate in. Just make sure to add some glitter like this ring toss featured on Style Me Pretty.
32. Grown-Up Pizza
Brit + Co has all the best ideas for throwing an adult pizza party. From the actual pizza to the floats in the pool, no one is unhappy with a slice of the pie.
33. Carat Cocktails
Learn how to make 24 carat cocktails over at Brit + Co too. Again, turning 30 is a major celebration and we want you to feel like it from top to bottom.
34. Booze Vases
Who's a fan of Jack Daniel's? Take those old bottles and turn them into decor for the party! (via)
35. Strawberry Margarita Jello Shots
Buzzed gives us a great recipe for some strawberry margarita jello shots. Serve these up with a slice of birthday cake. Everyone will be happy.
36. Digital Invites
Check out Best Friends For Frosting and learn how to send snazzy, digital invites for the party. You can personalize them to your liking.
37. Just Brunch
You could always have a 30's-themed brunch. Instead of a nighttime party, celebrate with pancakes and pie! Grab the details of this event at The Decor Fix.
38.  Glitter Sticker Topper
Catch My Party teaches us how to make a glitter sticker DIY cake topper. Use it for your 30th birthday but take the inspiration and apply it to other events as well.
39. Champagne Bottles
You may want to dip your champagne bottles as well. Everything can be sparkling and full of celebration! (via)
40. Bluegrass & Bourbon
HWM featured a fun, bluegrass and bourbon even that seemed to be fitting for a 30th celebration. Combine the birthday guy or gal's favorite things and theme the event after it.
41. 30 Marquee
Make a marquee! Set it on the bar, the food table or out on the back patio for extra festive, birthday vibes. (via)
42. Gilded Piñata
Why not have the adults gather round and strike a piñata? Learn how to make a gilded donkey over at Studio DIY.
43. Sparkling Pops
Here's more "30 sucks" pops that you can DIY yourself. This time they have glitter! Check it out at Pop Cosmo.
44. Glitter Ice Cubes
You can eve add glitter to the ice cubes! Check out A Subtle Revelry for all the details and infuse those 30th birthday cocktails with sparkle!
45. Confetti Balloons
Studio DIY has another fun way to decorate your balloons for the event. Of course, it involved a bit of gold.
46. Party Picks
Party picks are always a great way to jazz up the event. Stick them in the food and desserts and learn how to DIY these yourself! (via)
47. Chanel No. 30
Maddy Cakes Muse showed off a "Chanel No 30" birthday party that we swooned for too. It's so clever and so much fun to plan!
48. Stout Cake
Style Sweet CA made a chocolate stout cake that became our favorite pick for a 30th birthday cake flavor. Grab the recipe after the jump!
49. Balloon Chandelier
Wedding Chicks shows us how to make a balloon chandler. Take 30 balloons and 30 photos from the birthday guy or gal's life and BAM! That's the best way to decorate for the party.
50. 30 Years of Awesome
And finally, visit Jenny Collier and grab all the details behind this "30 years of awesome" birthday theme. It's clever and easily personalized.