15 Favourite Garbanzo Bean Recipes
If you've never had garbanzo beans before then we're very sorry indeed to tell you that you've been missing out on something delicious, diverse, and quite easy to work with! We've had and enjoyed the before, but it was only recently that we actually took an interest in cooking with chickpeas and garbanzo beans ourselves (for they're actually the same thing). Now that we've realized not only how simple the recipes are to do but also just how many kinds of dishes and flavours we really can create, we just can't stop searching for new things to try!
Are you feeling just about as enthusiastic as we have been, if not more, over the idea of learning how to make some new and unique dishes with garbanzo beans and chickpeas? Then check out these 15 mouthwatering ideas, flavour combinations, and tutorials that we've come across so far in our search for inspiration and guidance.
1. Wild rice and black garbanzo beans
If there's one thing we've learned already in our short time of loving and cooking with garbanzo beans, it's that rice and beans is a staple we can't believe we ever lived without. It's filling, nutritious, easy to make, and can be prepared with so many different flavour notes that we don't think we'll ever get bored! To get you started, here's one of our recent favourites: wild rice and black garbanzo beans as outlined by Framed Recipes.
2. Swiss chard with garbanzo beans
Are you feeling rather interested in the basic concept we showed you above but you can't help wondering whether there isn't a slightly lighter alternative to the rice, since you're trying to avoid heavy meals and bloating? Then maybe you'd prefer this greener version featured on The Ktchn instead. Take a better look at their page to learn more about making this Swiss chard with garbanzo beans.
3. Italian garbanzo bean salad
Did you know that some of the very best recipes made with garbanzo beans are actually served cold rather than hot? In fact, they're basically a staple in the world of bean salads. We'd tried this concept made by other people before and really enjoyed it but had never tried it ourselves, so we were grateful to come upon this Italian garbanzo bean salad recipe from Chelsea's Messy Apron to get us started.
4. Italian garbanzo bean soup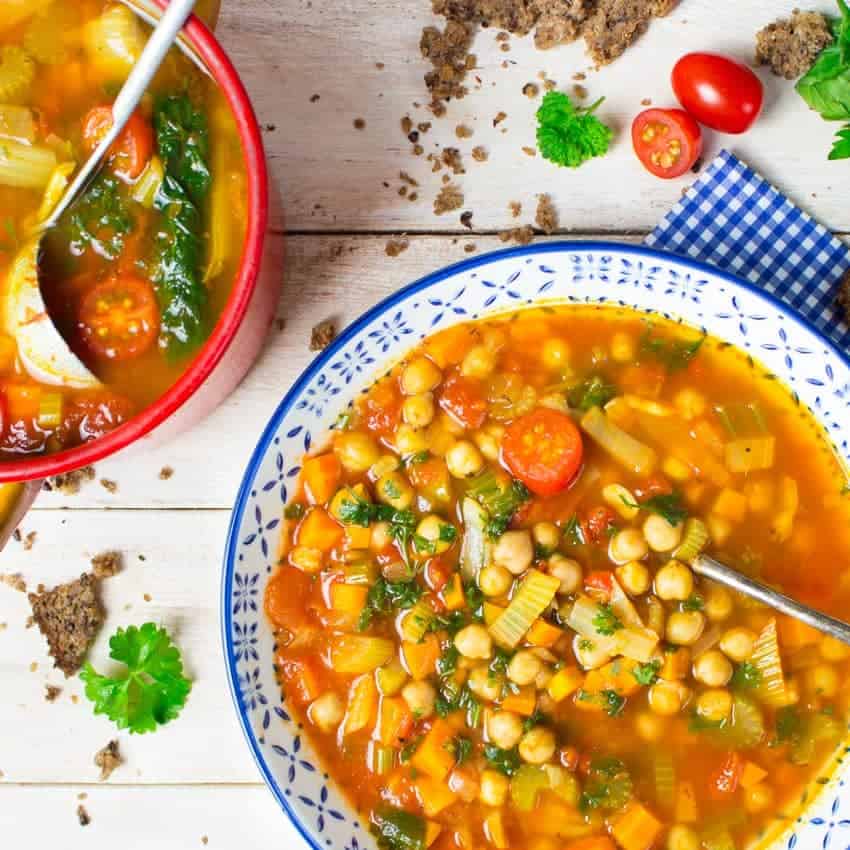 Are you actually specifically looking for warm garbanzo bean recipes because you live in a very cold place, but you want something extra hearty that will really warm you through, from the inside out, on a super chilly day? Then soup is definitely what you need. Luckily, that's precisely what Vegan Heaven is here to show you how to make, garbanzo beans and all. This recipe for Italian garbanzo bean soup is also vegan, make it friendly for all different dietary restrictions!
5. Fresh garbanzo beans
Have you ever gone for all-you-can-eat sushi and found yourself practically filling up on the edamame served with your meal because it's just so snack-able and delicious? Then we think you'll be rather interested indeed to learn that chickpeas can actually be prepared in much the same way for a flavourful, healthy snack! Get the full details for making your own fresh garbanzo beans on Shockingly Delicious.
6. Roasted chicken breast with tomatoes and garbanzo beans
Have you actually been scrolling through our list hoping to prepare something that's a little more like an entree or the heart of your meal, rather than being a salad or side dish? In that case, we think you'll get a real kick out of this next idea from LaaLoosh, especially if you're also a tomato lover. This roasted chicken breast with tomatoes and garbanzo beans tastes amazing served with just about anything!
7. Spicy sauteed garbanzo beans with beef and cilantro
Are you actually the kind of person who prefers a little bit of kick in your home cooking, so you've been holding out for a recipe that will show you how to add spice to your dish, at least to some degree? Well, so long as you also eat meat, then Kalyn's Kitchen just might have the precise kind of thing you're looking for. Their tutorial walks you through the simple steps for making spicy suateed garbanzo beans with beef and cilantro!
8. Tuna and garbanzo bean salad
Are you still feeling the most intrigued by the idea of making a cold garbanzo bean salad dish over anything else, but you're hoping to try something a little more unconventional and unique compared to the more classic bean salads you've enjoyed them in before? In that case, we'd definitely suggest taking a look at this dish from LaaLoosh, especially if you're also a seafood lover! They've outlined everything you'll need to make a very fresh tasting tuna and garbanzo bean salad that makes a perfect quick summer lunch.
9. Middle Eastern chickpea and black bean salad
Are you still feeling enthralled with the whole idea of garbanzo bean or chickpea based salads but you'd like to collect as many as you can find, just to make sure you're really exploring all of the flavours such a thing has to offer? Then here's another one to bookmark for your repertoire! Check out how Ambitious Kitchen made this Middle Eastern chickpea and black bean salad in just a few simple steps.
10. Cauliflower chickpea curry
Just in case you're still not over the idea of making a dish that can offer you spice along with its flavour, but that you'll still have full control over the levels of, here's a great option for people who also love cauliflower! This tutorial and recipe from Simply Recipes walks you step by step through the process of making a fragrant and mouthwatering cauliflower chickpea curry.
11. Spicy roasted chickpeas
Have we actually caught your attention the best so far with the whole concept of making snack-able chickpea dishes that you can casually enjoy in place of less healthy things like chips, but you're also still intent on finding something with a slightly spicier flavour to it at the same time? In that case, we think you just might be the perfect person to give this awesome spicy roasted chickpeas recipe from Popsugar a try. The crunch is nothing short of satisfying!
12. Garbanzo bean pasta sauce
Rather than making something that's composed primarily of just chickpeas, would you much rather learn how to add them to another dish that you already love? We do this sometimes when we're trying to introduce our kids to new foods; there's a certain comfort in having the new element come hand-in-hand with an old family favourite. That's why we liked the idea of this creamy garbanzo bean pasta sauce from The Recipe Wench so much!
13. Vegan jalapeno chickpea mac and cheese
Are you still on the hunt for something with a little more kick and perhaps a little more decadence too, but now we've also got you thinking about how yummy garbanzo beans and pasta would taste served together? Well, luckily for all of us, Cotter Crunch is here with precisely the kind of recipe you've been holding out for. Check out their page to learn more about how this vegan jalapeno chickpea mac and cheese was made.
14. Lemon garbanzo bean poundcake
Did you know that chickpeas and garbanzo beans can actually be used to make sweet things like desserts as well? Believe it or not, they add a great texture to certain kinds of treats without taking any of the light flavour away. This slightly dense and very delicious lemon garbanzo bean poundcake is the perfect example of what we mean. See how it's done on Healing Cuisine by Elise!
15. Garbanzo bean chocolate coconut cake
Are you completely enamoured with the idea of making a garbanzo bean based dessert, and maybe even a cake specifically, but your taste in desserts is a little more rich than lemon flavours usually provide? Then we're pretty sure you're going to adore this next recipe from Veronika Eats! They walk you step by step through the surprisingly simple process of making this garbanzo bean chocolate coconut cake topped with sweet candied orange slices.
Have you tried another kind of delicious garbanzo bean recipe before that was a huge hit in your household and that you'd totally make again, but that you don't see here on our list? Tell us all about it or link us to the recipe so we can give it a try!