15 Easy and Delicious Canned Tuna Recipes To Try This Weekend
Just about everyone we know remembers eating tuna sandwiches for lunch as a kid. While delicious, that manner of enjoying canned tuna certainly isn't the most gourmet or adventurous, especially when you consider all the different ways you really can use canned tuna. Of course, making dishes with canned tuna might not sound very fancy, but it's healthy, quick, easy, and very budget friendly, so we'd say the pros certainly outweigh the cons! That's part of the reason we're always on the lookout for delicious new canned tuna recipes that we've never tried before.
If you're feeling just as interested asa we were in learning how to put canned tuna to use in new ways, check out this list of 15 delicious canned tuna recipes and meal ideas that we've come across so far in our search!
1. Mom's traditional baked tuna casserole
Like the tuna sandwiches we mentioned above, tuna casserole is another childhood staple for a lot of people we know. It's also another easy but scrumptious way to enjoy tuna, and canned tuna more specifically, so if you've never tried making it before, we'd definitely encourage you to do so! This mom-style baked tuna casserole recipe outlined on Eat In, Eat Out is a great place to start.
2. One-skillet stovetop tuna casserole
Are you practically drooling at the thought of making yourself a delicious casserole but you don't often do so because you live along and find the portions in casserole dishes too large? Maybe you're just in a bigger hurry than baking something allows for. Either way, you'll probably get along a lot better with this alternative version from Chelsea's Messy Apron! They show you how to make a one-skillet stovetop tuna casserole instead.
3. Provencal tuna melt
While we're on the topic of amazing classic tuna recipes that work particularly well with canned tuna specifically, let's talk about the tuna melt! The concept is simple; season or mix the tuna however you please, put it on bread like an open-faced sandwich, top it with your favourite cheese, and bake it until the bread is toasted and the cheese has melted. Just in case you'd like to add a little extra flavour and take your meal to the next level without hassle, however, here's a recipe from Food 52 that shows you how to make your tuna melt Provencal style.
4. Mediterranean tuna pasta
Now, seafood pastas are absolutely another household favourite over here, but we find that they're not often served with tuna as commonly as they are with, say, shrimp or scallops. We'd actually never really thought about including tuna in a pasta before until we saw this delicious recipe from Simply Recipes and now we can't get enough of it! Take a closer look at their page to see how this Mediterranean tuna pasta was made.
5. Best no-mayo tuna patties
If you're looking for a meat-free, pescatarian-friendly alternative to hamburgers, the look no further! Besides the fact that these particular patties are made from canned tuna rather than beef, they're also a little healthier than usual because they're made without mayonnaise in their mixture. She Loves Biscotti shows you how to make it happen, with a few other finely chopped things added in for extra subtle flavour.
6. Fast and easy canned tuna pasta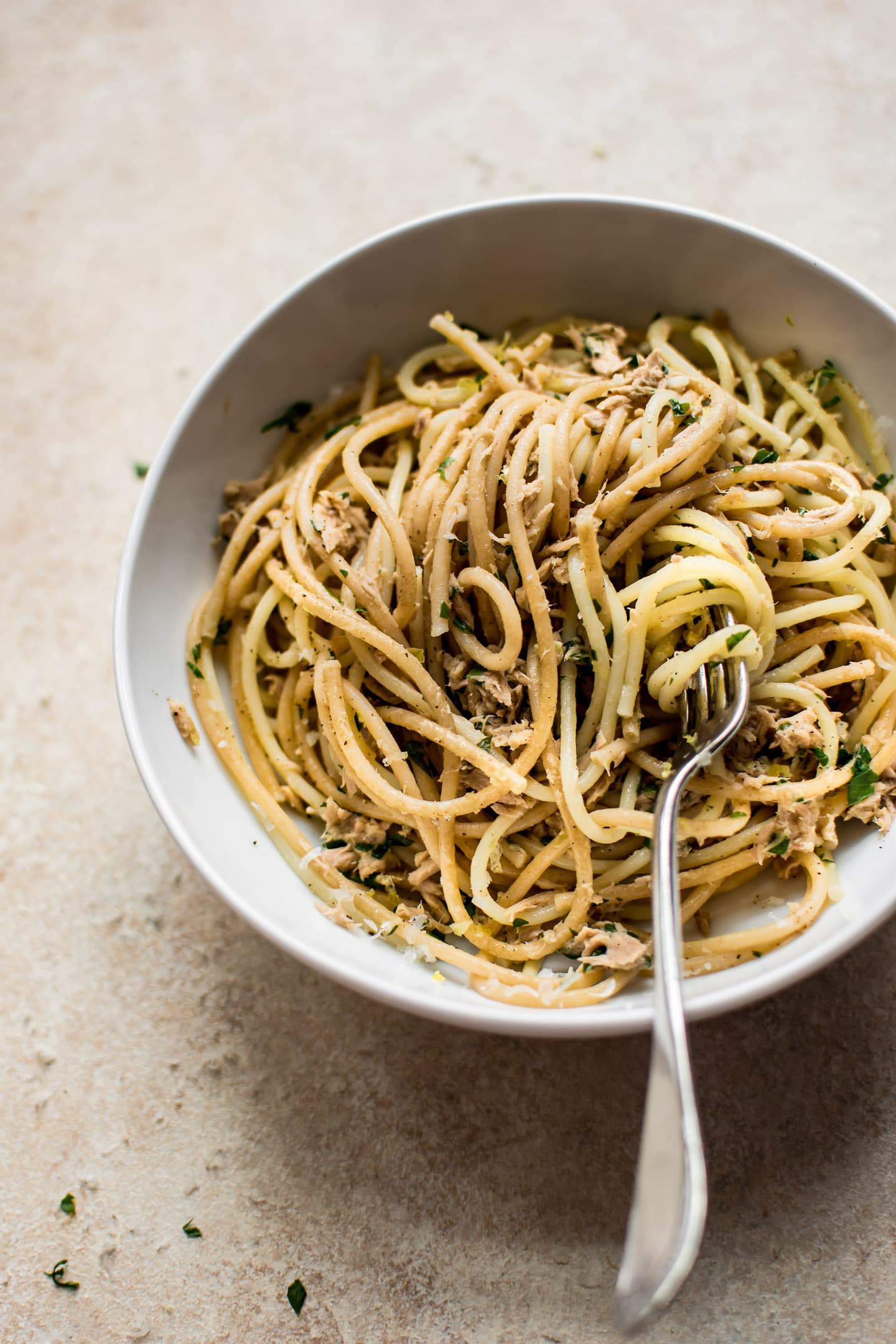 Are you still feeling very intrigued indeed by the idea of making a delicious seafood pasta using canned tuna but you're also not quite certain how receptive your young children will be to the Mediterranean spin that the previous recipe we showed you has? Then perhaps you'll have better luck with this fast and easy canned tuna pasta from Salt & Lavender that's prepared a little more like a spaghetti aioli!
7. Mexican chopped tuna salad
For those people hoping to be a little more calorie conscious this summer but who also have a soft spot for tacos and other Mexican flavours, here's a delicious recipe that's essentially guilt free, easy to make, and very unique! Kim's Cravings shows you how to mix up a delicious Mexican chopped tuna salad that has all your regular taco fixings (with a little less sour cream and cheese than the loaded ones you might have once loved). Instead of serving it in a hard or soft taco shell, however, they suggest putting your filling in a lettuce leaf for some satisfying crunch! It's almost like a fusion with Thai lettuce wraps.
8. Crispy tuna fish cakes with chipotle aioli
Did the suggestion of tuna patties get you thinking about how much you love fish cakes, but you've never made them from home before? Then we have a sneaking suspicion that you're going to get a real kick out of this recipe from Girl and The Kitchen. They each you, nice and simply, how to make not only mouthwatering crispy fish cakes, but also a slightly piquante chipotle aioli to dip them in!
9. The perfect Nicoise salad using canned tuna
If you've never had a Nicoise salad with all the classic fixings then we're very sorry indeed to tell you that you've been missing out on something quite delicious, on top of being healthy and also quick and affordable to put together. This particular recipe, which you'll find outlined in full detail on The View from Great Island, shows you how they added chunk light tuna with pepper to the mix for some extra protein and delicious flavour.
10. Tuna deviled eggs
Do you know someone who absolutely adores deviled eggs and isn't afraid to put a unique spin on their favourite things? Well, if they're also a tuna lover then you're pretty much in business with this next recipe, which combines the two together in one delicious place. Take a thorough look at this simple recipe and tutorial from Street Smart Kitchen to see how these tuna deviled eggs were made in just a few simple steps!
11. Tuna rigatoni with sun-dried tomatoes
Just in case you're still not quite over the idea of making tuna based pastas, here's yet another alternative for your consideration (yes, we'll openly admit that we're basically obsessed with tuna pastas at this point). Eat Yourself Skinny is here for the tomato lovers thanks to the way they've outlined this quite decadent tuna rigatoni with sun-dried tomatoes.
12. Chipotle tuna stuffed sweet peppers
Just in case you're still looking for extra healthy ways to present your tuna as you eat it but you're not really feeling the lettuce wrap idea, here's an awesome option for people who love bell peppers. This time, Maebells is here to show you how to flake, season, and mix the tuna in a simple but delicious way, fill large, curved slices of pepper with that mixture, and then top it with cheese before heating it all to perfection.
13. Italian-style tuna cakes with just four ingredients
Did we actually pique your interest quite well with the idea of making fish cakes but you're the kind of person who likes to see as many options as possible before you make a decision on which recipe to follow? Then here's a slightly simplified version for you to look through before you pick on concretely. Recipe for Perfection shows you how to make Italian-style tuna cakes with just four ingredients.
14. Avocado tuna salad sandwiches
Remember those tuna sandwiches we were talking about at the very beginning of all this? Well, if you've never taken the basic concept of a childhood dish you remember fondly and levelled it up to make an even yummier version for your adult self, then this is the recipe to start with right now. Simply Recipes guides you step by simple, mouthwatering step through the process of making avocado tuna salad sandwiches that are packed with favour but still quite health conscious.
15. Tuna and white bean salad with heirloom tomatoes
Just in case you're still thinking about different kinds of tuna salad that you can make but you're not feeling fully sold on anything we've shown you thus far, here's one last suggestion before we go. This particular recipe from Food 52 combines tuna and white beans with halved heirloom tomatoes for a fresh, light tasting side dish or lunch. We love their serving suggestion with pita wedges too!
Do you know a fellow kitchen enthusiast who also adores tuna just as much as we do, if not more? Share this post with them so they have all kinds of ways to keep their favourite easy canned snack interesting!