15 Fun Ways to Repurpose Newspaper
We don't get newspaper deliveries anymore, but back when we did, we were really bad for letting the papers pile up. We mean really bad. Sometimes we'd save them to read later. Sometimes we'd save them to line the compost bin or cover the floor during craft time. Other times we'd just forget about them and leave them piled on a side table. We finally admitted we had a newspaper hoarding problem when we realized we had a pile so large that we could have built a whole new coffee table out of them (and wouldn't that make a fun DIY tutorial)!
Our point is, if you're also a bit of a newspaper hoarder, you're not alone! You're also not without options for using them, either. Instead of just dumped the whole lot in the recycle bin outside your building, try turning the papers into one of these 15 awesome upcycling DIY projects!
1. Sailor hats
Folding newspaper pages into a sailors hat is hardly a new idea, but it's one we hadn't done in many years. We learned how back in kindergarten and then kind of forgot! Modern Christian Housewife is here to remind you, however, just how simple, fun, and adorable newspaper hats can be, especially if you use them in your baby's monthly photos.
2. Newspaper and glue beads
If you've ever done papier mache then you've actually already got a bit of experience with this cool technique! A Storybook Life shows you how to turn shredded newspaper pages into spherical beads with a cool, shiny finish. You can even paint them whatever colours you like! We love that they look like kitschy costume jewelry when you're finished.
3. Mini soil pots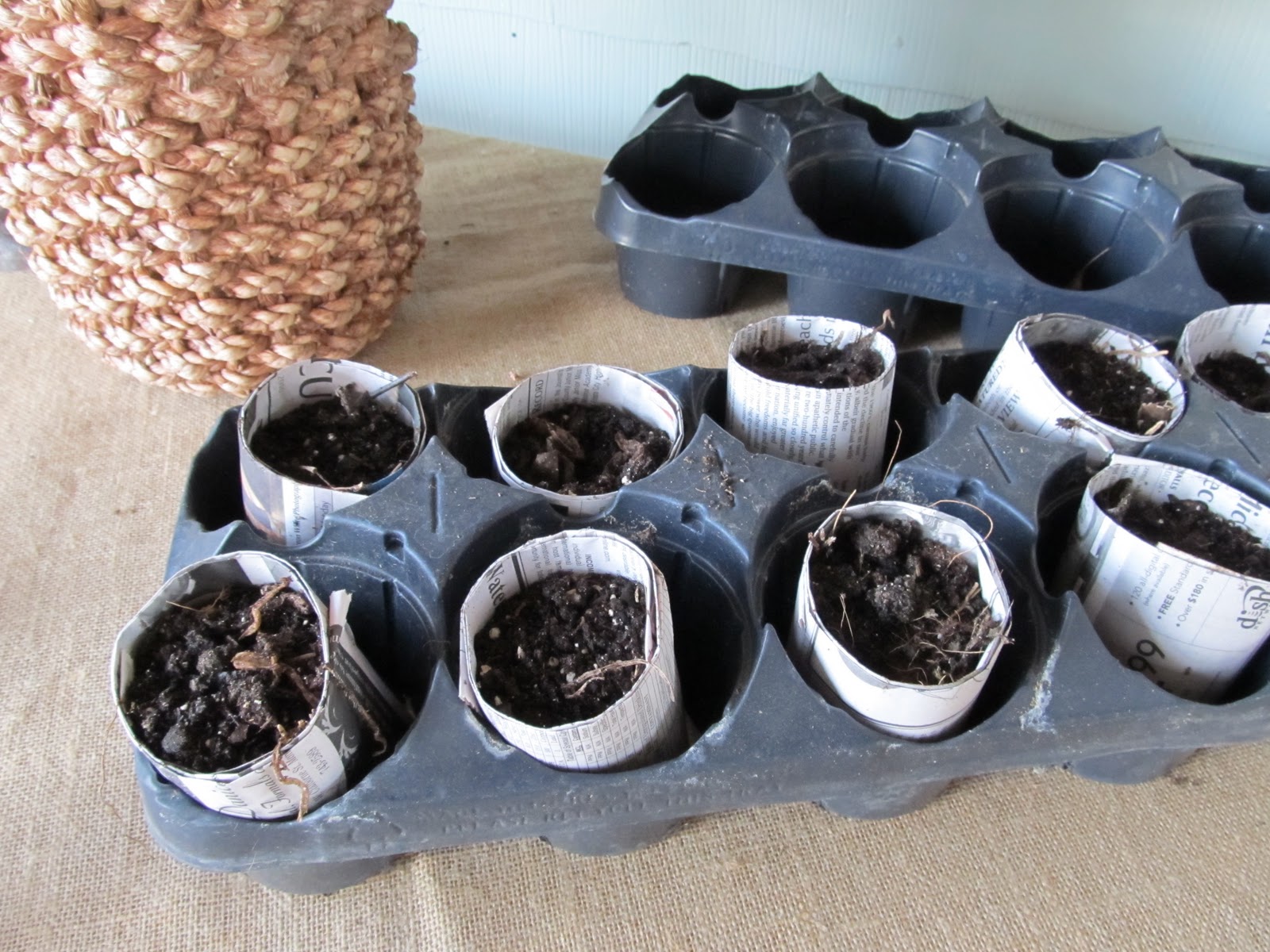 Are you an avid gardener who's always look for ways to make things easier? Well, Lindy Cottage Hill has a suggestion that'll help you move young sprouts more easily when it's time to plant them in the actual garden and use up some of those stashed away newspapers while you're at it! Try making these little planter cups and planting away.
4. Paper spiral trivet
In case you've never heard the term before, a trivet is the pad that you put down on the counter top to absorb heat from a hot pot or dish. It protects the counter from being burned or melting (yes, we learned this the hard way). Sure, you can buy all kinds of trivets at the store, but we always think it's more fun to make things where we can. Check out how Sarah Grand made this awesome and surprisingly simple design out of coiled strips of newspaper all glued together!
5. Heart and star garland
Are you on a strict budget but you're still intent on having a little bit of decor, whether it's for a party you're throwing or just your regular daily life? That stack of newspapers can help you out! Check out how Think Crafts made these adorably simple little hanging garlands featuring heart and star shapes cut from newspaper! They'll make your craftiness immediately apparent to guests, and that's never a bad thing.
6. Mini hair bows
Childcare is Fun thinks newspaper is great for decor, but even better for accessorizing with, and we're inclined to agree! Check out how they made this adorable little hair bow from a page of newspaper, cut and folded and glued to a plain hair clip. A bigger version of this would look really neat too!
7. Newspaper gift bag
Do you love the idea of giving your friends and family gifts in packaging that's clearly upcycled and reclaimed? We think it's a cool idea too, because it promotes green living and shows off some of your crafting skill. Learn how to make your own versions of these simple little paper bags from How About Orange.
8. Newspaper leaf decor
Do your kids love drawing but sometimes they get tired of the same old blank white paper every single day? Even just switching up their canvas can totally renew their interest in crayon creativity. Your spare newspapers are the perfect thing for this! They'll have a blast using the pages to cut and colour, turning the word stamped pages into art. Life with Little Ones suggests pretty fall leaves as a great starting place!
9. Newsprint nails
Have you ever noticed when you touch a newspaper that the ink sometimes rubs off on your fingers and hands? Well, rather than seeing this as a hassle, we think it's something you should take advantage of! Follow the steps on Fashion and Poise to see how they created this awesome newsprint nail design using actual printed news stories.
10. Newspaper flower bouquet
Are you crafty and a writer, media specialist, or journalist? Then a bouquet of flowers made from newspaper pages is exactly what you need on your wedding day! Alternatively, you could just make these for some fun decor, setting them in a vase on your side table for the summer. Either way, check out how they're folded on Popsugar.
11. Newspaper dress
Are you up for a huge challenge that's definitely a little more involved than most of the newspaper projects you've seen so far? We think you might be after seeing how gorgeous the finished product of this design is. If you have an especially large pile of newspapers, then you have just about everything you need to make yourself a whole newspaper dress! Check the steps for making it out on Instructables.
12. Newspaper wallpaper
Do you love the idea of printed news so much that you'll take any chance to preserve it and highlight it's strange beauty in a world of electronic media and online news? Then we think you might be the perfect person for this crazy unique idea by You Have been Here Some Time! Instead of using regular wall paper, you can actually follow their lead and paper your walls with real newspaper pages!
13. Woven newspaper basket
Do you remember back in the early 2000s when it was trendy to make purses and such out of colourful Starburst wrappers folded carefully and linked together in chains? Well, we sure haven't forgotten the technique and we'd be willing to bet that you haven't either! Just in case you have, though, here's a reminder tutorial from Nifty Thrifty Things! The little basket they'll teach you how to make would make a great change holder near the front door or a pen and trinket holder near the phone.
14. Newspaper award ribbons
Are you organizing a backyard olympics for your child's birthday or making joke award ribbons for a work barbecue? Those make for an adorable craft, but they're not the kind of thing you want to spend a lot of money on. Upcycling is definitely your most affordable option, so check out how Zakka Life made these ones out of newspapers just like the ones piled in your garage!
15. Newspaper envelopes
Do you love sending unconventional letters and cards to your family and friends, giving them something extra interesting to receive in the mail? We think that's a great idea, and we have a great suggestion for you for your next outgoing card! Check out this tutorial from Kanelstrand that will show you how to fold nicely symmetrical little envelopes your friends will love finding near their mail slot in the morning.
Do you know someone with a huge collection of newspapers taking up space in their home? Share this post with them to help inspire them to put the pages to good use!