30 Beautiful Watercolour Painting Techniques
We've longed to learn how to do watercolour paintings properly for years now and we've finally found the time to start practicing, so we're thrilled about that! Before creating any real masterpieces, however, we decided to find as many technique guides and effect tutorials as possible and practice painting swatches. That way, we know how to make all kinds of visual textures and shapes when it comes to creating larger art pieces we really care about.
Just in case you love the idea of learning some new watercolour painting techniques too, here are 30 fantastic and excitingly different skills and strokes for you to try!
1. Wet on wet painting
To create an impressive concentration of colour that spreads beautifully, wet your page and your brush before you pick up colour and start painting. Watercolourpainting.com reminds you that this method, which helps the colour spread through the page in that classically whimsical watercolour way, is called "a wash".
2. Creating texture with a cut bank card edge
If you're looking to create straight, edgy, concentrated marks of colour in your page, here's a way to do it that lets you upcycle something you're not using anymore! Mary P. Murphy suggests cutting an old bank card in half and using that raw edge to manipulate the paint.
3. Vertical dripping technique
Have you always loved the artistically messy look of painted colours running together? In that case, we'd urge you to take a look at how Jesse Oleson Moore created a vertical dripping effect by painting wet horizontal lines and then tipping the page so drops run downward, from colour to colour, vertically across the page's surface.
4. Colour concentration layering
Layering in watercolours is how you'll add density to the shades and created shadow. First, wash your initial shape and colour  on using the wet on wet technique we showed you above. Wait until it dries entirely and then add another layer on top with a wet brush and same colour. Look carefully at how Craftsy only layered paint in the spots they wanted to look darker, shadowed, or more concentrated.
5. Feathering technique
To feather your watercolours, do a simple one colour wet on wet wash. Next, take a flat, clean wet brush and use that to carefully diffuse the colour. This lets you create various concentrations of your shade without adding more paint and wetness to the surface.
6. Wet on dry painting
For this technique, Watercolourpainting.com tells you to wet the brush but not the page and paint that way. This lets the colour seep more deeply into the paper, which gives you a little more control over the paint but also means it concentrates more easily and therefore looks darker.
7. Create visual texture with a non-waterproof pen
The beauty of non-waterproof ink is that, when wet, it will diffuse on a page quite similarly to how watercolour paints would! That's what Jessie Oleson Moore tries to show you here by drawing lines across their paper in pen ink and then doing a wet on dry wash across the page, letting the moisture of the paint blend its colour with the ink.
8. Underpainting
According to Craftsy, underpainting is a watercolour painting technique that adds realism and a luminous effect to your finished product in a subtle way. First, the main shape is created in a very light purple, starting with a light hand and not much colour concentration. Add your other main colours once the underpainting has dried completely.
9. Textured strokes in different directions with a fan brush
Never has so much texture resulted from a single brush! Check out how Watercolourpainting.com made all kinds of differently shaped strokes and effects across their page by wetting and manipulating their fan brush differently.
10. Colour bending technique
Colour bending is a wash with two colours. Start with basic a wet on wet wash with your first colour, then do the same with second colour right beside or on the edges of first. Craftsy says that a wet surface and wet paint will let the two shades bend together and around each other, creating natural gradient between the tones.
11. Dry on dry painting

To create a dry on dry effect, Watercolourpainting.com tells you to paint with a dry brush dipped in paint and on a dry page. The result is wispy, allowing brush strokes to be seen.
12. Lifting colour
Remove pigment from concentrated parts of your painting when you've made a mistake or want to add a white space. On wet paint, blot your brush thoroughly and then touch it to the spot, holding it so the bristles absorb colour and lifts it. According to Craftsy, you can also lift pigment with paper towel or tissue paper in places where you don't need the shape, control, or detail a smaller brush provides. You can also lift colour from dry areas of watercolour paintings using a clean eraser, or by wetting the area and then blotting it using a stiff nearly, dry brush followed by paper towel.
13. Salt for spotted texture
Salt creates little speckles of colour concentration and lifting across a space all at once. Adventures in Making suggests sprinkling salt on a wet section, waiting for it to dry while the salt absorbs some colour, and then chipping the salt away once painting is totally dry so it leaves speckles behind.
14. Splattering
This speckling technique outlined on Craftsy might be one of our very favourites! Wet your brush and saturate it with paint. Then hold it over page, and either tap the handle for a darker droplet splatter or bend the bristles back and let them go fast for a lighter spray texture.
15. Dry on wet painting
According to Watercolourpainting.com, using a dry page and a wet brush lets you create more colour concentration and increases your control of the paint.
16. Watercolour blooms technique
Craftsy says that watercolour blooms appear when very wet paint spreads out on drier (but not completely dry) paint. In this technique, you're basically putting wet paint on a still-damp wash. The new paint forces drying pigment out of the way. Simply touch watered down paint on your brush to the page very lightly and let that do the work; you can watch it spread!
17. Crinkled tissue paper
Adventures in Making shows you how to create crinkling texture in your colour wash. While it's still wet, crumple a piece of tissue paper up and set it on the area, covering the whole surface you want to add texture to. Leave it until the section dries and then remove it.
18. Alcohol droplets
To create this look, Watercolourpainting.com says to colour wash your area and then soak a cotton swab in pure rubbing alcohol. Tap the swab to drop alcohol into the colour wash, creating drop marks, and then let it all dry to see the spots where the alcohol lifted just some of the paint.
19.  Back runs
Craftsy's description of back runs alone sounds like enough fun to make us want to try it out. Paint your base colour and let it dry a little, then apply a wet wash of the same colour on the edge. Tilt your page so the new paint drifts to one side. Finally, set it back down and, as it dries, the colour will bleed upwards again, back the way it came. This creates something like a bloom but in a wider shape.
20. Flat wash technique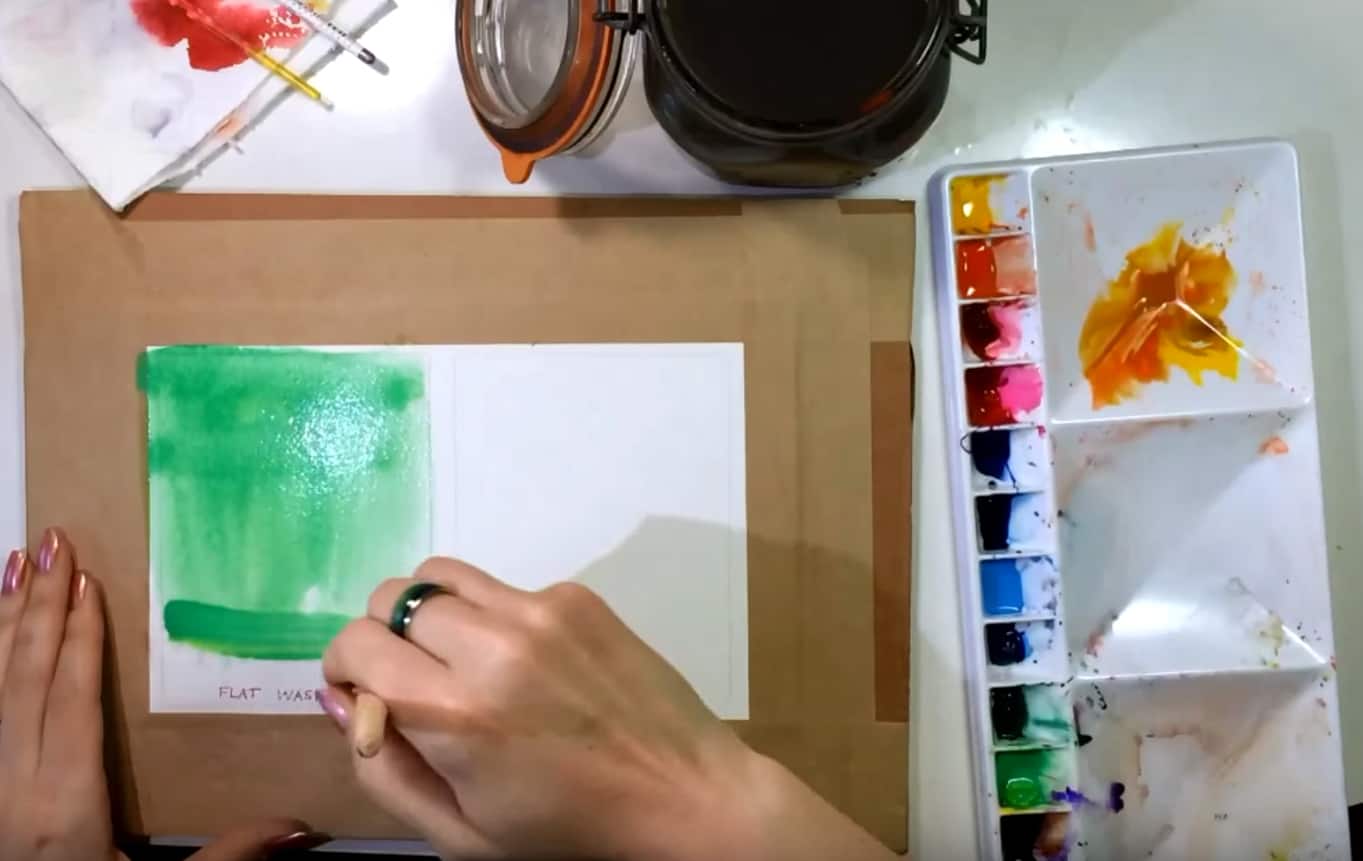 To use the flat wash technique, Watercolourpainting.com says you'll do something similar to standard wet on wet painting. This time, however, angle the brush onto its flat side so you get an even stream of colour all the way across in a way that's slightly wider.
21. Crayon wax resist technique
Do you remember that fun paint resist craft you might have done as a kid? Well, it works with adult watercolour painting too! Draw lines or patterns with white crayon, do a simple colour wash overtop, and watch how paint slips off wax and leaves lines visible. Adventures in Making shows you how it's done.
22. Sponge painting
Here's another classic painting technique leftover from childhood that you can use with your watercolours. Just like Craftsy did here, dip your sponge in your colour and dab onto your paper for texture. Do this on a fresh area or on top of dried sections to add textured layers in contrast colours.
23. Masked lettering in watercolour
This masked lettering technique outlined on Kristina Werner Designsuse is like two crafts in one! Using a masking pen (which applies a drying substance to the page that can be peeled off later), write your quote in handwriting or calligraphy. Colour wash over top and let it dry. Peel the masking off to reveal negative space lettering within colour wash.
24. Gradated wash technique
To create an ombre effect, Watercolourpainting.com directs you to take your flat brush and stroke it horizontally and down without refilling paint on the bristles. This leaves the most concentration at top and applies more transparent colour fading towards bottom like a colour gradient.
25. Plastic wrap on wet wash
This technique from Craftsy is similar to the tissue paper tactic we showed you earlier in terms of the lines it leaves on your page. Plastic wrap doesn't actually lift colour, however, because it isn't absorbent. Instead, it kind of makes space in the colour, pushing it aside until it dries around the plastic folds
26. Background washing
Homesthetics suggests making your images feel full and whole by painting a light, nearly transparent wash across your whole page. This is usually done once a base sketch has been made (or before you freehand paint your shapes). Let the backwash fully dry and add all other colours on top as though paper is blank.
27. Rain painting
Have you been looking for a way to introduce your kids to watercolour painting? Then we'd suggest trying out rain painting! First, do some abstract colour washes and let them dry. Then take your paintings out in the rain and let the raindrops add texture into the colour. Alisa Burke shows you how this makes neat splashing effects in the paint (just don't leave them out too long so the pages get soggy)!
28. Hot glue watercolour
Here's another fun watercolour based kids' craft for those who are careful enough to safely use a hot glue gun! Nurture Store suggests making unique swirls and raised patterns with the glue and then letting it dry before watercolour painting over and around it. The glue will leave clear, textured swirls through the streaks of colour.
29. Variegated wash technique
Just in case you can't get enough of Watercolourpainting.com's trips for colour blending, here's how they made a variegated effect! This technique is great for painting surfaces like skies or water or anything that might blend two colours. Wet the page and dip the brush just enough to make it damp. Then do a standard wash, but allowing enough paint to gather where the colours meet that they blend and make a new shade there of their own volition.
30. Watercolour stamping
This technique outlined on Alisa Burke is fun for kids and adults alike, if you ask us! First, paint a wash of colours onto rubber stamps. Next, carefully lay the stamps down on your page and lift them slowly, letting the resulting image dry. This tactic looks especially awesome on top of background wash.
Do you know a fellow crafter or DIY enthusiast who has always adored watercolour painting just as much as we do, if not more, but they've expressed that they could use some guidance in trying new things? Share this post with them to give them all kinds of inspiration!