Creative Ideas for Using Fabric Scraps
Any seamstress or sewing enthusiast can tell you how quickly their fabric scraps pile up. You'll probably use most of the fabric you bought for a particular project when you make it as long as you follow the pattern, but sometimes you'll have ends that are just too big, complete, or nicely patterned to justify getting rid of when you're done. Always saving your ends, though, can result in you having tubs of them in all different colours, designs, and textures. If you're avid in DIY then you've probably thought many times about how useful they might be for different crafting projects, but it's not always easy to think of what you can make!
We've definitely been there before, so we decided to make a list of 15 of our favourite kinds of projects to make with our fabric scraps. Check it out!
1. Baby diapers and wipes case
If you're a new mom then you're probably used to carrying a diaper bag with you at all times. You can make that bag even more efficient, however, by making yourself a small diaper and wipes case from scrap fabric! This case makes sure that the diapers and wipes are always together in the bag so you can grab them quickly in case of a bathroom emergency. Maybe you're just running to a friend's house down the road and you don't want to take the whole bag with you? Just grab the diaper and wipes case! Check out the pattern on Crazy Little Projects.
2. Fabric heart coasters
In the summer, when it's hot enough to make your cups and glasses sweat, sometimes it's nice to have fabric coasters rather than ones made of harder materials because the fabric will actually absorb the moisture instead of pooling at the bottom of the glass. These little coasters are quick and easy to make and they're great for using up very small fabric scraps! Check them out on Thirty Handmade Days.
3. US map hoop art
Do you have one slightly larger fabric scrap and many smaller ones? Grab yourself an embroidery hoop and make yourself an eclectically patterned map collage, just like Flamingo Toes did here!
4. Sweet napkin rings
Do you love napkin rings when you serve a fancy dinner but you don't really have any more casual rings for things like summer picnics, play dates, or luncheons with friends? Living with Punks has a solution for that! These simple buttoned rings are the perfect project for fabric scraps because each one only takes a few inches.
5. Quilted circle coasters
Do you like the idea of a fabric coaster but the previous design with the cut out hearts wasn't really your style? Try these simple circular coasters instead! The easy shape here means you can choose wilder patterns without things looking like they're clashing. Craft Foxes has more details for you.
6. Hot or cold packs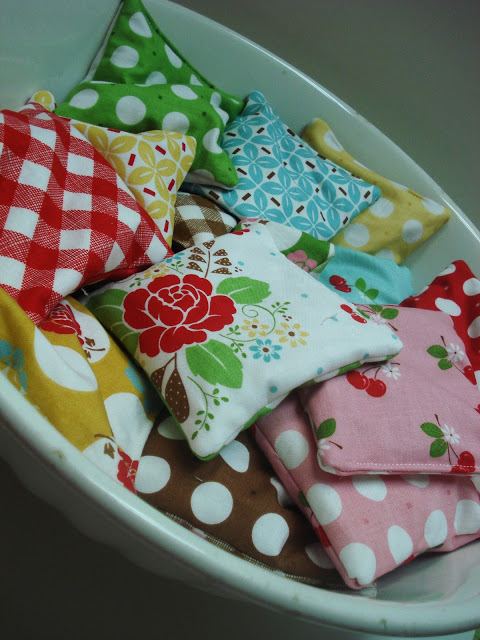 Do you love those magic bean bags that you can heat in the microwave or cool down in the freezer to help you control your temperature? Those bags are often rather big, so they're great for at home but not for traveling or taking on day trips in extreme weather. Instead of just going without, use your fabric scraps to make this mini version by Bee in My Bonnet.
7. Ruffled keychain fob
Do you like the idea of having a bigger handle or a wrist strap on your keys to make them easier to find in your purse and less likely to lose when you're carrying things? Use your fabric scraps to make yourself an awesomely ruffled key chain strap! Sugar Bee Crafts shows you how.
8. Circle zip earbud pouch
Dog Under My Desk suggests using your fabric scraps to make an adorable, compact earbud pouch that keeps your headphones together and untangled in your bag. We love that it has a zipper to make sure they actually stay in!
9. Fabric feather dish towel
You might not have enough fabric left to make an entire project from scratch, but that doesn't mean you can't customize something! We love this patterned fabric applique idea from Flamingo Toes that lets you add some stylish little feathers to a plain dish towel.
10. Tiny fabric house ornaments
Retro Mama suggests using the littlest of your fabric scraps to create some adorable little houses or cottages that you can stuff for structure. Leave them as sideboard decor, let your kids play with them, or sew a loop of string into the top to make them into hanging ornaments!
11. Scrappy fabric flower
Do you love adding little personal touches to whatever you can get your hands on in order to customize them? Ruffled fabric flowers are an awesome way to do that! Cluck, Cluck, Sew shows you how to make the layered blossom in the picture. You could pin it to just about anything!
12. Caravan pin cushion
Some of the best DIY projects are the ones that help you out with making more DIY projects later! This adorable little caravan pin cushion by Crafts Beautiful is definitely one of those. You'll have an easier time pinning together future sewing projects if you can just reach out quickly for the next pin from your new eclectic caravan!
13. Teeny tiny keychain coin purses
Do you like keeping your subway tokens or some spare change accessible at all times? Make this tiny little change purse pouch for your keys so you can get at them really easily! Flamingo Toes walks you through the process of making them.
14. Little patchwork needle book
Remember how we said we're really big fans of making DIY projects that will help you out with future DIY projects? Well, we weren't kidding! Here's another one for you: a neelde point needle book! This little book stores your needles, buttons, and other small sewing trinkets and making it uses up some of your smallest fabric and trim scraps. Check out how it's made on Nana Company.
15. Mega card holder wallet
Is your regular wallet so overloaded with points cards, gift cards, and membership cards that you can hardly find your regular ID or bank cards when you go to buy things? Infarrantly Creative has a solution for that, and it also happens to be a solution for using up your spare fabric! This loaded card wallet gives you a specific place to store all those extra things so you can keep your regular wallet just for cash and essentials.
Do you know someone with a huge stash of scrap fabric that they're been really wanting to use but they're still looking for creative ways to do it? Share this post with them for a little bit of inspiration!