Top 8 Best Waterproof Tents on the Market in 2023
For most people, camping season might not be here quite yet, but it's certainly coming as spring approaches! We've been spending some time doing some early prep so that we might be ready to just get on the road by the time the weather is right, but we've realized in the process that some of our most necessary gear could use replacing after many years of hard use. That includes our old tent, which is a pretty key aspect of traveling!
Spring and early summer can be quite wet where we live, so we've been in the market for a new, upgraded model, with the one unconditional requirement that the tent we buy be waterproof.
Editor's Choice
Best Budget
Best Waterproof Tents
We've chosen one now, but we'd bookmarked so many potential tents by the time we came to a final decision that we'd essentially made a recommendations list worth sharing and that's precisely what we've decided to do. Check out the top eight waterproof tents that we came across in our search!
Besides trying to find a tent that's appropriately waterproof, are you also in the market for something that's on the smaller side and very easy indeed to set up? ThenZenph might have just what you're looking for right off the bat!
This particular tent is a pop-up model, meaning you don't have to disjoint and collapse the poles each time and set it up. Instead, you turn and fold the flexible monolithic piece in certain ways to collapse it into a circle that slides right into a zipping case. When you pull it out again, it pops right up, ready for you to go inside! It's reasonably priced and made from durable waterproof fabric, but it only comfortably fits two to three people.
Pros
Very light and you can set it up in 3 seconds.
Waterproof and great against strong winds.
Cons
Doesn't have as much space as advertised.
View price on Amazon
Would you actually prefer a more classically formed camping tent with poles and all, whether because you like the setup as part of the fun or because you find them more stable, but you still want it to be waterproof and around the same size? Then we'd suggest taking a look at this one fromRedcamp!
This particular model is slightly more affordable and, despite the fact that it require more setup, it's still extremely simple to get standing. It also has a 100% money-back guarantee for an entire year, banked on the fact that the durable polyester will be truly waterproof and the flexible metal poles will be very strong indeed.
Pros
3-season tent with double layer.
Windproof, waterproof, lightweight
Cons
Doesn't withstand really windy days.
View price on Amazon
Did we almost have you feeling convinced by the design you saw above but you're actually looking for something slightly bigger, fit for your little family? Then maybe you'll have better luck with a tent like this one fromHewolf!
Like the one above, it has all the durability of a regular flexible pole tent, and this tent also has an impressively durable and waterproof exterior. The different here is that, for a slightly increased price, you're getting more square footage, which means more sleeping space.
Pros
Over 5 foot tall, fits 2-3 adults.
Quick set-up.
Cons
Tent fabric is not very durable.
View price on Amazon
Have you found, in the past, that even the tents that are labeled as being waterproof often leak through the bottom on very wet days that tend to puddle? Then we have a feeling something like this tent from JPFS might be a little more up your alley.
The main draw of this particular tent is its double layered bottom. Rather than being composed of only one thick layer of woven polyester on the bottom, creators gave this tend an additional inside layer that you won't notice in use but that will make a huge difference on days where the ground is very wet.
Pros
Thick tent bottom is great on colder weather.
Easy to set up.
Cons
Strong winds may be too much for this tent.
View price on Amazon
Are you the kind of camper who adores sleeping in the actual fresh air under the stars as often as you can but who usually ends up inside the tent anyways because your sensitive to mosquito bites and the bugs get bad in the summer where you live? In that case, we think you'll love the construction of this tent fromColeman!
Rather than having solid walls made entirely of waterproof polyester, this particular tent has panels of polyester that zip down from the top half of each wall and reveal squares of fine netting. This lets you keep the tent entirely waterproof in some weather but enjoy a view and breeze on dry nights without being constantly bitten by bugs like if you were to sleep in the open air.
Pros
Up in a minute.
Good price.
Cons
Seams need better sealing.
View price on Amazon
Have you actually been hoping to find something durable and waterproof in thesmaller direction, rather than getting a bigger tent than you might fit a whole family in? Well, if you prefer to camp along or with one other person that you don't mind sharing close quarters with then maybe this design fromMoon Lence will be more your speed.
Part of the appeal of this tent, besides being greatly waterproof, is that its actually built from only two poles. Click them into place and you're all done! It doesn't quite fall into the "pop up" category, but it's about as simply built as tents come otherwise. It's also built with an ergonomic design that's intended for wind resistance, with minimal details that might catch in a gust.
Pros
Very light and easy to set up.
Material is UV-proof so you're protected.
Cons
Can't withstand lots of rain.
View price on Amazon
Are you still looking for somethingeven larger than what you've seen so far so that it might fit your entire family comfortably on the same camping trip, but you're also intrigued by the idea of mosquito netted panels that will let you enjoy the breeze? Then we're pretty sure thatQT Qomotop has the perfect tent for you.
This particular tent has a square footage that will comfortably house five people or an entire queen sized air mattress and all of your other camping supplies with room to walk. Like the other design with netted panels, this tent features zipping down sections in the polyester so you can feel a little less closed in on very warm nights but stay dry and warm on cold, wet ones.
Pros
Quite spacious fits 4 people.
Can be set up in a minute.
Cons
You may want to seal the seams and spray it with silicone if there's a lot of rain incoming.
View price on Amazon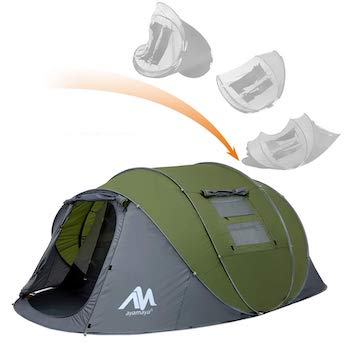 Are you still finding yourself totally fixated on the idea of a pop-up tent, like the super easy to build option you saw earlier on your list, but you need a much larger size than than what we showed you previously? Then we think you'll be rather pleased to see this design fromayamaya!
Despite its larger size, this tent still pops out almost automatically, keeping things nice and simple. This is actually the size and kind of tent that we opted for and even our kids managed to put it up without much help! In addition to being super easy to set up, this tent is also waterproofand has netted "window" panels for warm days.
Pros
Super spacious tent, can host up to 6 people.
Comes with ventilated mesh windows.
Cons
Material is a bit thin for a 4-season tent.
View price on Amazon
Conclusion
Do you know another camping enthusiast who has been thinking about investing in a new waterproof tent but who also feels like they could use a little bit of guidance? Share this post with them to help them out and give them a little more information to work with!