15 Flavour Your Meals With Delicious Sun-Dried Tomato Recipes
Are you looking for new ways to add flavor to your family meals? Because, if so, simple additions such as sun-dried tomatoes are a great way to add that taste you're craving while staying in the health-conscious lane. These colorful mix-ins will satisfy the family without scaring anyone off or making the chef feel guilty. Let's check out our favorite 15 delicious sun-dried tomato recipes now!
Add flavor with Sun-Dried Tomato Recipes
1. Creamy Sun-Dried Tomato Pasta
This creamy, sun-dried tomato possible will absolutely become your next go-to family dinner. It's easy to whip up and the ingredients list isn't lengthy either. Serve it up with a green salad or homemade garlic knots.
"This creamy sun-dried tomato pasta will leave you feeling satisfied and happy with its hearty flavors." –Eatwell101
2. Chicken with Creamy Sun-Dried Tomato Sauce
This chicken is so, so versatile. You can pair it with pastas, salads, or even alongside rice. It's a quick family-friendly staple.
"Dinner on the table in 20 minutes! The sauce is ridiculously addictive – I'm tempted to double it!" –RecipeTin Eats
3. Sun-Dried Tomato Chicken Florentine Pasta
Here's another pasta dish that will knock everyone's socks off. And it all fits in one pan, our favorite way to whip up dinner!
"Sun Dried Tomato Chicken Florentine Pasta – a 30 minute recipe with a sun dried tomato cream sauce, chicken, ziti, and Mozzarella cheese." –Pinch of Yum
4. Angel Hair with Sun Dried Tomatoes and Goat Cheese
This pasta dish is a bit elevated and great for more sophisticated flavors. That goat cheese addition makes these sun-dried tomatoes pop and will make everyone at the table feel as though they're at their favorite restaurant.
"Easy to make. Super-rich. Made it with home-made pasta. It felt like a sumptuous feast." –Food Network
5. Sun-Dried Tomato & Basil Bean Dip
Not every sun-dried tomato recipe has to include pasta or dinner. Instead, it can be a light appetizer or snack! Serve this with chips or pita pieces.
"I'm not saying that you'll devorea whole bowlful yourself… but baby, there's a new bean dip in town, and it gives people anoutrageousappetite. Or so I've heard." –Host The Toast
6. Sun-Dried Tomato Quinoa Salad
Lunchtime just got more flavorful as well. This quinoa salad is filled with fresh ingredients and you can make ahead for your work week!
"Sun-Dried Tomato Quinoa Salad is on Sweet Caramel Sunday. With a Basil Pesto Drizzle. It is perfect for work lunches or your next BBQ!" –Sweet Caramel Sunday
7. Sun-Dried Tomato Pasta Salad
This is a wonderful make-ahead salad as well. It's great for summertime lunches, BBQ's, potlucks, or even celebratory showers. Take a peek at the easy ingredient list after the jump!
"This Sun-Dried Tomato Pasta Salad is a flavorful twist on a classic recipe. It's simple to put together, making it the perfect accompaniment to any meal. Your family and guests will be raving about it." – Inspired by Charm
8. Sun-Dried Tomato Garlic Bread
Side dishes can be taken to the next level with a bout of sun-dried tomatoes too. Garlic bread is the perfect accompaniment, truly!
"his fast bread recipe tastes terrific with a variety of main courses. It comes together in minutes and is easy enough for a weekday, but special enough for a weekend meal with guests." – Taste of Home
9. Super Green Sun-Dried Tomato Herb Salad
This super green salad is a delicious way to prep for the work week as well. Pair it with some of your favorite sandwich recipes for a healthy side dish. Or add some protein to create a main course!
"Shredded kale, baby arugula, sweet sun-dried tomatoes, carrots, and plenty of fresh herbs. All tossed together with a simple lemon vinaigrette, crispy chickpeas, toasted pine nuts, feta cheese, and avocado for a salad that's plentiful, healthy, and filling." – Half Baked Harvest
10. Sun-Dried Tomato Pesto Smashed Potatoes
These smashed potatoes just got a delicious, healthy upgrade with its sun-dried tomato pairing. This would go wonderful with some baked chicken or veggie platters.
"The most delicious Vegan Oil-free Sun-dried Tomato Pesto with Crispy Smashed Potatoes is bursting with so much flavor and texture! It is a dish you can serve to impress your guests and it is totally plant-based and healthy! It is also nut-free!" –The Vegan 8
11. Sun-Dried Tomato Ricotta Crostini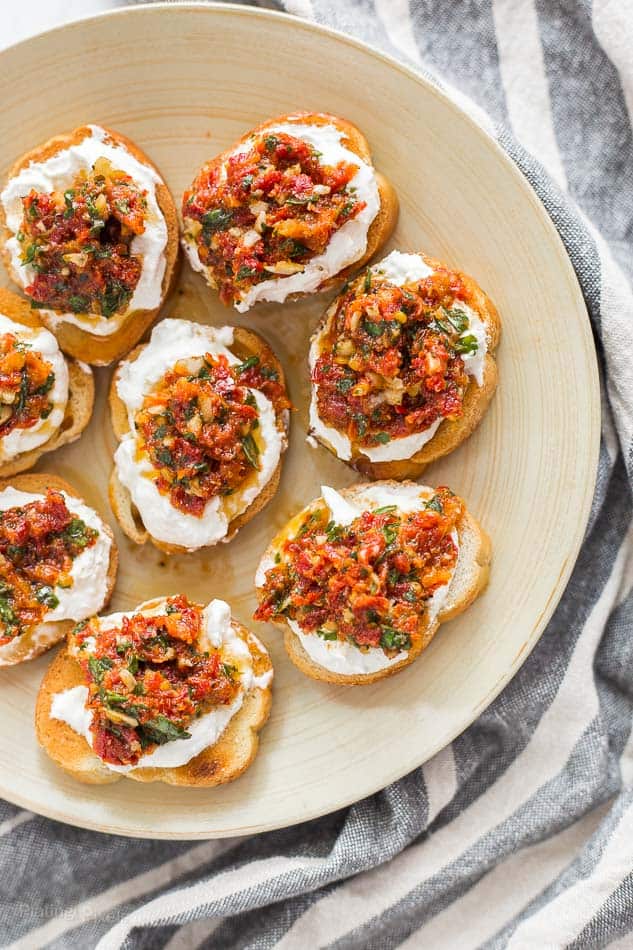 We have another appetizer that is the perfect start to your next friendly dinner party or holiday get-together. It's such an easy recipe too – even for our novices in the kitchen.
"A quick Sun-dried Tomato Ricotta Crostini appetizer recipe, made with sun-dried tomatoes, basil, garlic, pepper, and ricotta served over crispy crostini pieces. These little bites are packed with flavor and make a great speedy snack, light lunch or appetizer." –Plating Pixels
12. Sun-Dried Tomato Pizza
Pizza is one of the best places to add a few sun-dried tomatoes. Paired with pesto, and it's truly one of the best combinations around.
"A simple, homemade Sun Dried Tomato Pizza that uses sun dried tomato pesto in place of pizza sauce, and is topped with prosciutto, tomatoes and goat cheese, and ready in under 30 minutes!" –The Almond Eater
13. Sun-Dried Tomato Hummus
Add some sun-dried tomatoes into your next homemade hummus recipe. This blend goes well with sandwiches, veggies, and even on top of salads.
"Trust this Creamy Sundried Tomato Hummus to kick-start your dinner party! It requires no tahini and is made using sesame seeds. It is creamy, nutty and all things yummy and middle eastern! To top that off, it has a really small ingredient list. Party menu = sorted!" –My Food Story
14. Sun-Dried Tomato and White Bean Soup
Comfort food can be made with these additions as well. This white bean soup is both nutritional and tastes indulgent. It's a great soup to whip up all year round.
"This savory sun-dried tomato bean soup comes together in no time, but thanks to several layers of flavor, it tastes like it simmered all day." –One Lovely Life
15. Sun-Dried Tomato Roast Breakfast Potatoes
And finally, these breakfast potatoes will knock your socks off. Finish off your brunch menu in style or offer your eggs a delicious accompaniment.
"Liven up your breakfast with these Sun-dried Tomato Roasted Breakfast Potatoes! Baby yukon gold potatoes are quartered and roasted before being tossed in a homemade sun-dried tomato pesto! Serves 6 in 30 minutes." –Simply Scratch