25 Awesome Scarf Projects to Try This Summer
Scarves aren't just for Fall and Winter, and you don't even have to feel limited to just using them around your neck in the usual and expected way. Why not use some of your old scarves and repurpose them into brand new accessories and other fun projects to use around your home? Here are 25 ways you can use scarves to accessorize, decorate, and then some!
1. Make a shirt
Grab a couple of vintage scarves and fashion them into a totally unique and totally adorable shirt like Erica from Recycled Fashion.
2. Silk pillows
Yes, you can sew silk pillows into some seriously chic and expensive-looking pillows. Just check out a couple of tutorials over at Ouno Design.
3. Turn it into a handbag
If you're really in a pinch, or you just want to have a totally unique handbag, why not make one of your scarves into one? See more over at A Bullseye View.
4. Make sun catchers
Using embroidery hoops and an old scarf, Sadie Seasongoods made some fun and colourful sun catchers!
5. Wrap gifts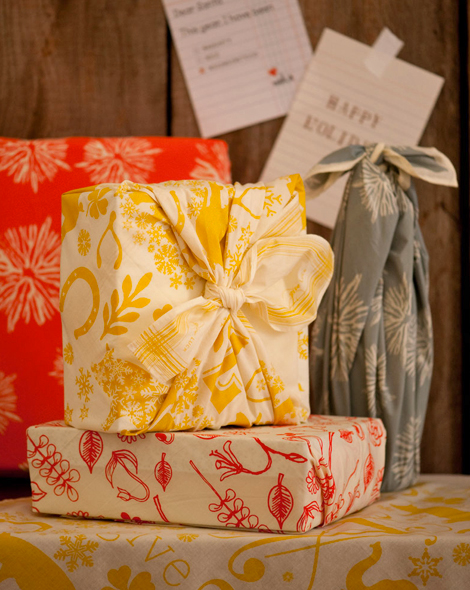 Easy and totally unique, you can use scarves to wrap presents for Summer parties. See more over at Babble.
6. Make a quilt
Have a sewing machine? You can turn old hankies and scarves into a gorgeous quilt. Get the full tutorial at Polka Dot Chair.
7. Frame them
Make your very own artwork by framing vintage scarves and putting them up on your wall as a collection. Talk about a totally unique gallery wall! Details over at Apartment Therapy.
8. Fashion a tunic
How cute would this be as a beach/pool coverup for the Summer? And the tutorial is super easy! See it all at Lost in Paris.
9. Turn it into a camera strap
Why use the boring, basic black camera strap that came with your camera when you can style your own in whatever colour you want? Get the full instructions over at The Learner Observer.
10. Refashion an old shirt
Gypsie Sister used a scarf to make an old shirt brand new again with a few simple stitches. How creative!
11. Spruce up your bun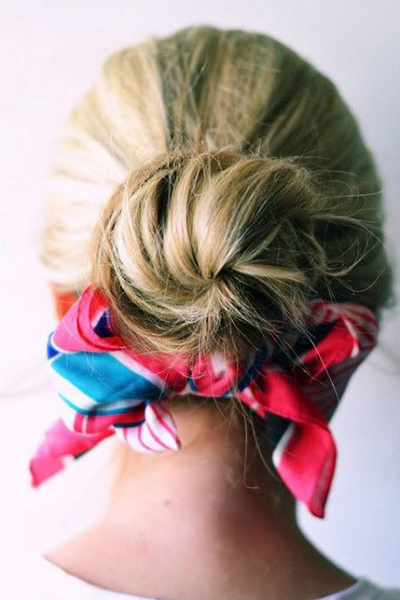 A simple, but very cute way to use a scarf is to simply wrap it around a low bun and tie a bow underneath it. See more over at Daily Makeover.
12. Make a silk jacket
A no-sew project, and a super cute light jacket for the Summer? Sounds too good to be true, right? Get the tutorial at Kendie Everyday.
13. Make a stamped scarf
Not only do you get to stamp a one of a kind pattern on a scarf, but Almost Makes Perfect also shows you how to make the stamp itself!
14. Make strappy sandals
Would you believe these used to be regular flip flops? You can make cute strappy sandals with a scarf, just go see how they did it over at She Knows.
15. Fashion a twisted bracelet
These take just 5 minutes to make, require no tools, and can even be made by kids! Step by step over at Hello Natural.
16. Wear it as a head scarf
Keiko Lynn shows you how to make a scarf into a fashionable head accessory, which is especially useful for those days when your hair is a little oily!
17. Make a braided bracelet
If you'd like a more advanced tutorial on making a bracelet out of a scarf, check this on out from Type F.
18. Make a wreath
If you want something to do with those thick Winter scarves, now you have the perfect project to make this Summer to get you all set for Fall and Winter! See how on One Fab Day.
19. Make it into a bib
With a little sewing, you can make some super adorable and useful bibs for your littles! Get the pattern on Toddah.
20. Tie it into a shrug
So many ways to wear a scarf, and this no-sew shrug is pretty genius. See how to make your own at DIY Confessions.
21. Sew them into shorts
How cute are these shorts? And yes, they're really made from a scarf, just go to A Pair & A Spare to see the tutorial.
22. Make them into a curtain
Sew a bunch of scarves together and make a colourful and completely one of a kind set of curtains. More over on Disfunctional Designs.
23. Tie around other accessories
A simple hat becomes something much more special with the simple addition of a scarf tied around it. See more ideas over on Here & Now.
24. Adorn your shoes
With this simple little trick, you can give your shoes a more expensive and custom look. See how at Stars for Streetlights.
25. Bunt them
Decorate a party in a totally unique way by bunting some scarves together, as you can see over at Lily. The best part is, you can still use them after!