Stucco House 101: How to Beautify and Protect Your Home from the Elements
When done correctly, stucco can be an attractive and affordable way to protect your home from the elements. It requires regular care and maintenance, but it can add character and beauty to your home's exterior.
This guide teaches you everything about stucco house tips.
If you're considering stucco, start researching your state and local building codes to ensure that the material is allowed in your neighborhood.
Keep reading to find out everything you need to know about stucco, including types, finishes, advantages, disadvantages, application technique, and maintenance and repair tips. We're also sharing some stucco house ideas to help you get inspired.
What Is Stucco?
Also known as stucco siding, stucco is a wall covering used for centuries. It has gone by various names, including plasterer's putty and cement plaster. But the material itself has not changed much since ancient Mesopotamia.
Stucco is made of hydrated lime or gypsum bound with portland cement, sand, and water. And while the ingredients have not changed much since antiquity, it has advanced to create modern-looking stucco houses.
Stucco vs Plaster
There is a significant difference between stucco and plaster, although people often confuse the two terms. Stucco may contain up to 90% portland cement, while plaster does not have any. This makes stucco harder than regular plaster.
Additionally, stucco houses are made using mesh or lath board to provide added strength and stability before applying the material on the wall. It is then allowed to cure for about seven days before applying paint as a final coat.
Stucco vs Brick
Brick and stucco both add beauty and value to homes, but their differences make them unique. Firstly, brick is a manufactured product made from clay or shale, while stucco contains natural ingredients like lime and sand.
Secondly, bricks are put together with mortar for easy installation, while stucco is applied in layers on the house wall. To complete a brick project, homeowners should allow the mortar to cure for about 28 days before applying paint as a final coat. For stucco projects, it's best to add mesh or lath before installation and regular painting.
Stucco vs Concrete
Concrete is popular for driveways, sidewalks, and foundations but not often used as siding. On the other hand, stucco is an excellent siding material you can use to cover concrete blocks, cinder blocks, or poured concrete walls.
Applying stucco over concrete helps protect the surface from weathering and fading. It also adds insulation value to the home and can improve the soundproofing of your property.
Why Choose Stucco Homes
While brick and stone houses have been around from the earliest years of civilization, they were primarily used as sturdy homes by those who could afford them. It's because the materials were expensive and hard to craft into smooth walls that still retained their structural integrity.
Stucco houses are more affordable, but they are also easier to create. Specialized tradespeople do not need to chisel bricks into shape. They also do not have the bothersome task of placing stones into formation.
Because of this ease in construction, stucco homes gained popularity because stonemasons could turn their attention to more extensive projects that required their skills.
Types of Stucco Materials
You can use two types of stucco for your home: traditional and synthetic.
Traditional stucco contains lime, sand, and water. It cures slowly and is highly breathable. This makes it a good choice for climates with high humidity or where there is a lot of moisture in the air.
Synthetic stucco is a mixture of portland cement, acrylic, and other additives. It cures quickly and is less breathable than traditional stucco. This makes it a better choice for climates with low humidity or little moisture in the air.
Stucco Finish Types
As far as finishes are concerned, you can choose between two types for stucco houses: smooth and textured.
Smooth stucco uses a thin coating of stucco on a lath base. It is soft, even, and uniform in color throughout, making it a good choice for modern-looking homes with neutral colors and little architectural detail.
Textured stucco is possible by using a mechanical or sponge texture tool. The texture creates a rough surface that offers visual interest and is easier to paint than smooth stucco. This makes it a good choice for homes with complicated architectural details and unusual colors.
Stucco Advantages
Stucco is a durable wall covering, and it offers several advantages:
Fire resistance. Its high compressive strength makes it very resistant to heat.
Wind resistance. Traditional stucco can withstand hurricane-force winds of 110 miles per hour (180 kilometers per hour).
Debris and tear resistance. Stucco is not prone to damage from flying debris like wood or metal shingles are. It has high tensile strength and low elasticity.
Moisture resistance. Stucco does not absorb water as wood does, so it is a good choice for homes in climates with high humidity or where there is a lot of moisture in the air.
Even appearance. It is smooth and uniform throughout, which means there are no spaces or voids where water or insects can get in and damage your home's interior and exterior finishes.
Various stucco house colors and textures. Stucco comes in many colors, so you have a wide choice of looks. Furthermore, you can apply it to create different textures, which gives your home added visual interest.
Noise-cancelling. The rough surface of textured stucco absorbs sound, making your home quieter indoors. As such, you can use it to create soundproof walls.
Long-lasting. When properly applied, stucco gives your home an artisan look that is rich with history and character – and it will protect your walls for decades to come.
Adds insulation. Traditional stucco is a thermal barrier that has a high R-value. It adds some insulation to your home, helping you save on energy costs.
Stucco Disadvantages
On the downside, here's what you need to know about stucco:
Takes time to cure. You need the patience to achieve a quality finish with the traditional application method. The stucco might not adhere well to your home's exterior if you rush this process.
Messy and dusty. The stucco application process requires you to haul a lot of equipment in and out of the work area. If you have a small driveway or tight space between your home and the street, this might not be a feasible option for you.
Hard to maintain. Traditional stucco uses highly breathable material, making it challenging to care for. Although smooth stucco does not require as much upkeep as textured stucco, it is still more demanding than other types of wall coverings. Given its porous nature, stucco requires regular maintenance to prevent mold from developing on interior or exterior surfaces where moisture has been allowed to seep through from the outside. It also requires frequent painting to remain fresh-looking.
How to Stucco a House
If you're wondering how to stucco a wall, keep in mind that the steps are identical for applying stucco to an entire house. The only difference is that working on a single wall is significantly faster.
Applying stucco to your home is not a difficult task, so it's not necessary to hire a professional if you have enough time on your hand. Here's what you need to do for stucco installation:
Gather the following supplies:

An application tool.
A base coat.
Texture material.

To apply the base coat to your stucco house, dip the application tool in water and squeeze it until all excess liquid has dripped out.
Drag the tool across the wall's surface to apply a thin layer of stucco.
Wait for the base coat to dry out.
Mix a small amount of texture material with stucco and water to form a slurry.
Drag the application tool through the slurry and then across your home's surface to create a pattern. It should hide any imperfections in the base coat.
If you want to paint over stucco, make sure it dries and sets for about one week.
How to Repair Stucco
If you have a few cracks in the stucco on your home's exterior, don't rush to replace it. Instead, you can repair it with ease and save yourself some money.
Fill the cracks with caulk or acrylic filler, depending on their size. Once dry, apply a second coat of material. This will ensure that the patches blend seamlessly with the surrounding stucco wall.
How to Paint a Stucco House Exterior
Painting a stucco house is a simple process that will protect your home from the elements and keep it looking fresh for years to come. Here's what you need to do:
Inspect your stucco walls for any damage or cracks.
If you find any gaps, repair them before painting.
Apply a layer of primer to the walls.
Wait for the primer to dry off.
Paint the stucco with a coat of exterior paint.
Apply a second coat if needed.
If you're wondering how much it costs to paint a stucco house, keep in mind that it depends on where you live and the project's complexity. On average, expect to pay between $1.80 and $3.60 per square foot.
How to Remove Stucco from a House
Removing stucco from a house is a time-consuming process, but it's necessary if you want to update your home's exterior or change the color.
Use a chisel and hammer to break the stucco into small pieces.
Remove all loose material until there's only the underlying surface left.
Use a scraper to remove stucco from any areas where it was attached directly to the wall.
Wash the underlying surface with a hose or pressure washer to remove all traces of the stucco material.
Apply a coat of primer and then paint the surface with a fresh coat of paint.
Stucco House Ideas You're Going to Love
Check out the following stucco house ideas to get inspired for your next project!
1. Stucco and Stone House
Stucco house ideas can mean anything from carrying the stucco finish onto the stone walls beyond the porch to complementing an all-stone exterior with a bit of stucco trim. In the photo above, you can see one example of a stucco and stone house.
2. Green Stucco House
Another stucco house idea is to go for a green stucco finish. This will give your home a natural look that will complement the surroundings while also helping to keep the home cooler in summer.
3. Brick and Stucco House
Brick and stucco house ideas can give you a classic look. A brick exterior with some additional stucco decoration will make your home both attractive and durable, ready for whatever weather comes your way.
4. Modern Grey Stucco House
If you're looking for a more modern look, go for a grey stucco finish. This will give your home a sleek and stylish appearance that will be sure to impress your neighbors. Here's an excellent example of a modern grey stucco house showcased in the image above.
5. Modern Stucco House Colors
If you're interested in something that's not only modern but also unique, you can always choose unusual stucco house colors, such as gold and mustard yellow. This can give your home a look that's all its own and will really make it stand out from the crowd. As you can see in the photo above, modern stucco house colors can be awe-inspiring.
6. White Stucco House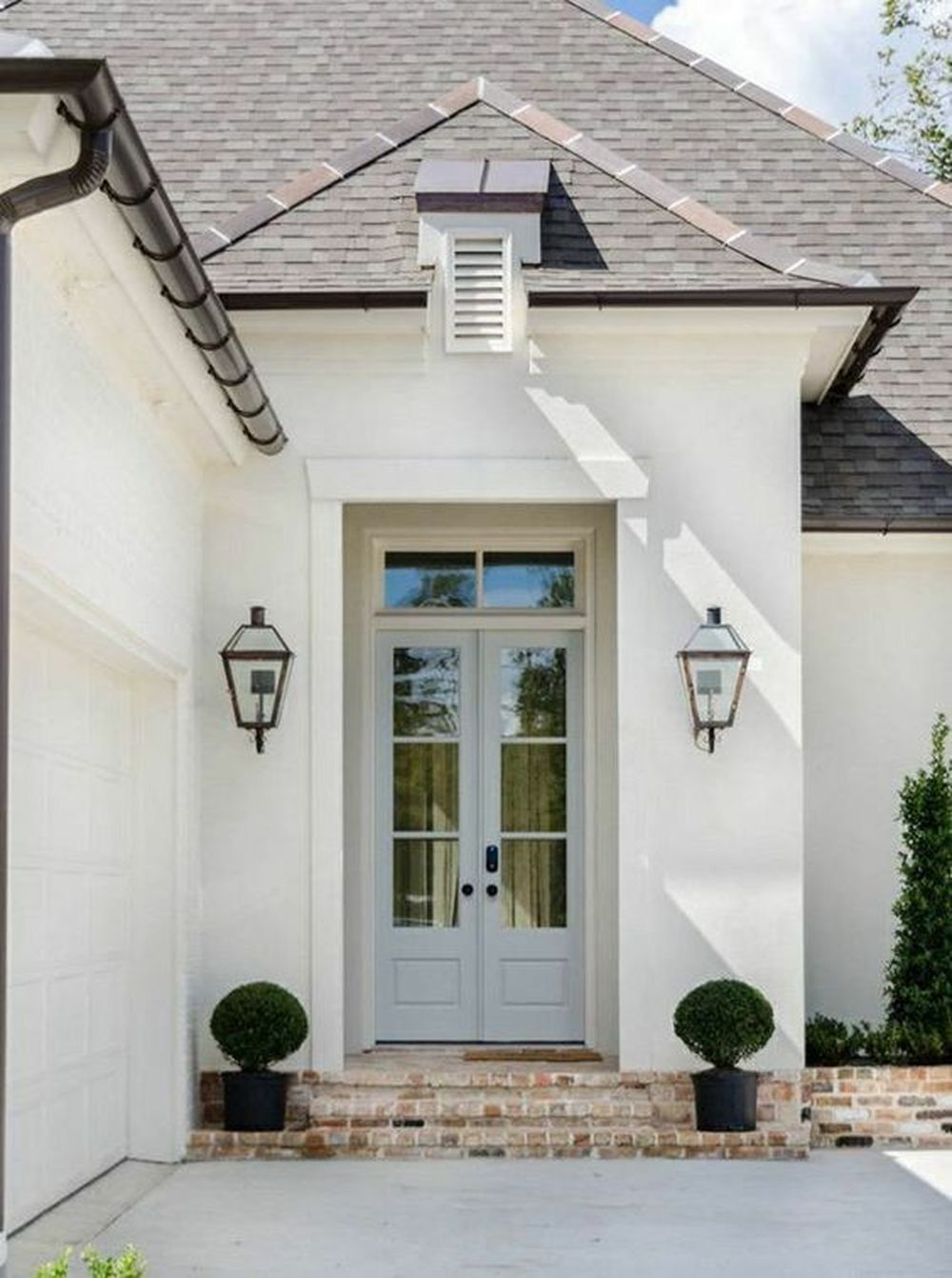 A white stucco finish is a classic look that will never go out of style. A home with a white stucco exterior is sure to be both attractive and elegant, perfect for those who are looking for a more traditional appearance. Check out this great example of a white stucco house on Pinterest!
7. Cozy Home with a Stucco Exterior
If you're looking for a cozy home with a stucco exterior, you're in luck! There are plenty of homes out there that have this type of finish. This will give your house a warm and inviting appearance that will make it the perfect place to come home after a long day. Here's a great example on Pinterest!
8. White Stucco over Brick
If you're not sure whether you want a stucco or brick exterior for your home, you can always combine the two to get the best out of both worlds: a white stucco finish over brick. This way, you can enjoy the beauty of both materials. As you can see in this Pinterest post, this look can be really stunning.
9. Elegant House with a Stucco Exterior Wall
A stucco exterior wall with a stone trim is elegant and stylish, so you can't go wrong with this combination. It's perfect for creating a sophisticated appearance that will impress anyone who steps inside your home.
10. Modern Stucco Finishes
If you're looking for a more modern look, you can always go with a stucco finish that has a more geometric pattern. This will give your home a unique appearance that you won't find anywhere else. As you can see in the photo above, modern stucco finishes can be eye-catching.
11. Black Stucco House
A black stucco house has a dark and dramatic appearance that will surely impress all people passing by. If you wish to make your home stand out, this type of exterior is the way to go. Check out this post on Pinterest for more inspiration!
12. A Home Interior with Stucco on Frames
Stucco is not only designed for exterior walls since you can also use it inside your house. In fact, it's a fantastic way to add texture to your rooms, like going with stucco on frames. Besides adding more interest to your house, it will also feel more inviting than usual. Head over to Pinterest to find out more!
13. Blue Stucco House
A blue stucco house is a perfect choice for those who want a beachy or coastal look for their home. This type of exterior will give your home a seaside vibe that you and your guests will love. Check out this Pinterest post for more inspiration!
14. Grey Stucco House Colors
Grey is a great color for stucco because it's neutral and versatile. This means that it will match any type of home, whether you have a modern or traditional style. As you can see in this post on Pinterest, grey stucco house colors can look amazing.
15. Green Stucco Designs
Since green is such a natural color, it's perfect for stucco designs. It will give your home a fresh and earthy appearance that everyone will love. As you can see in this Pinterest post, green stucco designs can be really beautiful.
Stucco House FAQ
Learn more information about stucco houses.
How much does it cost to stucco a house?
The cost to stucco a house will vary depending on the size of your home, the type of stucco you choose, and whether you hire a professional. On average, it costs around $5 to $10 per square foot to have stucco applied to your home.
How much does it cost to re-stucco a house?
It consists of two parts: removing the current stucco and applying a new one from scratch. If you're wondering how much it costs to remove stucco walls, keep in mind that it depends on the size of your house and other factors.
For instance, it might be necessary to repair the underlying surface before starting. On average, expect to pay between $9 and $16 per square foot.
What is stucco made of?
Stucco is made of a mixture of portland cement, lime, and sand. It can also be mixed with other additives to create different textures and colors.
What are the benefits of stucco?
Stucco offers many benefits, such as durability, insulation, and resistance to fire and moisture. It's also a versatile material that you can customize to suit your style and needs.
How do I clean stucco?
Cleaning stucco is easy as long as you avoid products that contain bleach or ammonia, which will damage it. Instead, use a pressure washer or steam cleaner on vinyl siding and all-purpose cleaners with lukewarm water.
How do I repair stucco?
Stucco is a versatile material that can be repaired with the right tools and supplies. If your house has been damaged by moisture or extreme weather, however, you might have to patch up all of it from scratch. In this case, opt for a premixed stucco product to save time.
What is the difference between stucco and EIFS?
Stucco is a traditional exterior wall covering that dates back to ancient Greece. EIFS, or engineered insulated foam systems, are more modernly used for insulation purposes in walls and roofs.
Is it a risk to buy a stucco house?
All houses have some form of risks, but stucco isn't usually one of them. Many people buy stucco homes because they offer low-maintenance exteriors without the hassle of painting or repairs.
How thick is stucco on a house?
The thickness of stucco on a house will depend on the size and type of your home. It's typically applied in skinny, three-inch strips to ensure that it remains level with the ground.
How to fix cracks in a stucco house?
If you have cracks in your stucco house, you can repair them by filling them with a portland cement mix. Make sure to use a trowel to smooth out the surface and make it even with the stucco.
What is the average life expectancy of stucco?
Stucco typically lasts around 50 years when applied correctly. It can stand up to anything from extreme weather conditions to earthquakes, but it's important to remember that stucco is a material and not a coating.
What is the best product to use for cleaning stucco?
You can use many types of cleaners on stucco exteriors. Opt for a mild soap or general-purpose cleaner to safely remove dirt and dust. Be sure to rinse the surface with clean water afterward.
Can you paint stucco?
Yes, you can paint stucco, but it's not always necessary. If your stucco is in good condition and doesn't need any repairs, you might be able to get away with just a fresh coat of paint.
How do you hang Christmas lights on a stucco house?
There's no one-size-fits-all answer to this question. The best way to hang Christmas lights on a stucco house depends on the condition and texture of your exterior. Try using staples, nails, or adhesive hooks to avoid puncturing the stucco.
Do I need a permit to stucco my house?
The short answer is yes. You'll need to contact your local municipality to find out about the specific requirements for stucco applications. Typically, a permit is required for any exterior wall covering that extends more than 12 inches from the home's surface.
How to power-wash your stucco house?
You can use a pressure washer on vinyl siding, but you might want to avoid spraying stucco directly. Opt for an all-purpose cleaner instead and rinse with clean water afterward.
How to drill into a stucco house?
If you need to drill into a stucco house, use a masonry bit to get through the surface. Be sure to wear safety goggles and a dust mask to avoid getting any debris in your eyes or lungs. Drill slowly and steadily to avoid cracking the stucco.
How to replace windows on a stucco house?
Replacing windows on a stucco house can be tricky, but it's definitely doable. You'll need to cut out the old window frame and then install the new one. Make sure to use a level when installing the new frame to make it even with the existing stucco.
Can you wallpaper a stucco house?
Yes, you can wallpaper a stucco house, but it's not always recommended. If your stucco is in good condition, you might be able to get away with just a fresh coat of paint. However, if your stucco is cracked or peeling, it's best to opt for a different wall covering.
Can you stucco a house with wood siding?
It's not recommended to use wood siding over stucco. If you must, be sure to seal it adequately. The caulking will keep the wood from absorbing water or warping.
Final Thoughts on Stucco Houses
In conclusion, many people prefer stucco houses because of their incredible appeal. They're also energy-efficient and last a long time when properly maintained. If you're considering buying a new home, consider doing some research on the stucco homes in your area.
However, it's also possible to apply stucco to an existing home with the appropriate tools and plenty of patience. If you're not comfortable doing this on your own, you can always hire a local contractor.
What are your favorite stucco house ideas? Feel free to share your thoughts with us in the comment section below!.