50 Spanish Tapas Recipes To Ignite Your Dinner Party
Add a bit of festive flavor to your dinner party with some starters that add a bit of spice to the mix. These 50 Spanish tapas recipes will ignite your dinner party and the tastebuds of all your guests. Check them out below!
1. Braised Chorizo
Martha Stewart starts off our tapas list with some classic, braised chorizo. It's satisfy every palette at the dinner table.
2. Stuffed Fried Sardines
Okay, so sardines may not be everyone's favorites but Food & Wine knows how to make them delicious. Check out this recipe after the jump.
3. Marinated Olives
Dance of Saucepans went with another classic, tapas recipe. Some marinated olives will definitely set off the dinner party with the right flavors
4. Tortilla Española
Everyone loves a good tortilla espanola! And over at Savvy Eats you'll learn how to whip this up before dinnertime.
5. Apple & Manchego Crostinis
Red Online combines some apple and manchego cheese for this delicious bite. A little sweet and some savory will go along way with the guests and the family too.
6. Mushroom & Ham Croquettes
Uno de Dos gives us some delicious croquettes to try out. Stuffed with mushroom and ham, they're quite the satisfying starter.
7. Flank Steak with Goat Cheese on Toast
It's hard not to get excited about this tapas recipe. Delicate, flank steak atop some toast cheese and crispy toast, visit Steamy Kitchen for the details and the how-to.
8. Morrish Pork Skewers
Woman and Home went with skewers! These morrish pork kabobs are a real winner for someone that likes some kick.
9. Churro Bites with Chocolate
Maybe you want something a bit sweeter for your guests to dive into. Churro bites dipped in chocolate can be found over at Cooking Classy.
10. Chunky Bean Dip
Martha Stewart gave us some chunky, white bean dip to try out as well. Serve up with chips or grilled tortillas and naan.
11. Ham-Wrapped Seasonal Plums
Take some juicy plums and wrap them in ham! Delicious shows us how to whip these easy tapas up without any fuss.
12. Caprese Empanadas
These empanadas have been stuffed with all the goodness of a caprese salad. Mozzarella cheese, tomato and pesto on top; everyone will want a bite. (via)
13. Spanish Shrimp
Start the dinner party off with some Spanish shrimp! Snag the recipe over at The Gourmet Gourmand.
14. Serrano Ham & Manchego Cheese Plate
Food Network made up a yummy ham and cheese plate that guests will want to quickly dive into. Serve it up with some wine on the side!
15. Spanish Tomato Bread
Salt & Wind makes an easy tomato bread that utilizes serrano ham and manchego cheese as well. Even the kiddos will like this one.
16. Creamy Spanish Lentils
Serving up a bowl of Spanish lentils could be a great way to warm bellies and start off dinner as well. Grab the recipe over at Pinch of Yum.
17. Asparagus with Cheese & Prosciutto
Prosciutto-wrapped asparagus seems like another satisfying treat too. Snag the details at I Cook Different.
18. Sautéed Chorizo with Red Wine
Red wine makes any recipe better. But paired with chorizo and you've got a bite that will knock everyone's socks off. Peek at BBC Good Food.
19. Potato & Mozzarella Croquettes
Here's another recipe for some delicious and indulgent croquets. Visit Food & Wine to learn about these potato and mozzarella concoctions.
20. Stuffed Mushrooms
Martha Stewart made some stuffed mushrooms that have a bit of a Spanish flair. These are easy tapas to whip up in the kitchen too!
21. Shrimp & Spanish Chorizo Bites
Shrimp and chorizo can make a really delicious combination too! Grab all of the details over at The Galley Gourmet.
22.Gazpacho Shooters with Cucumber Ribbons
ParTASTE made some gazpacho shooters topped with cucumber ribbons and we can't help but think how perfectly these would start a party off! Visit now for the recipe.
23. Pan-Fried Spanish Cauliflower

With a bit of crunch and a lot of spice, these pan-fried cauliflowers can add something extra-special to tonight's meal. Just a Little bit of Bacon shows us how to make them happen.
24. Fried Calamari
The Fork Bite fried up some calamari! Impress your guests with your knowledge of this fun appetizer.
25. Fried Herbed Almonds
Some fried, herbed almonds are an easy way to satisfy palettes before you plate the meal. Check out the directions at Martha Stewart.
26. Open-Faced Crab Empanadas
How do these open-faced crab empanadas look to you? If you find yourself drooling a bit, then you may want to visit Food & Wine now.
27. Smoked Paprika Almonds
Devour went with some smoked paprika almonds as their choice for a Spanish tapas recipe. Again, easy and satisfying for all kinds of taste buds.
28. Spanish Meatballs
Everyone loves a good meatball! And these Spanish-inspired bites are the perfect way to accent a dinner party or even serve up something different at your next BBQ! (via)
29. Oven-Roasted Patatas Bravas
Food and Journeys went with a classic Spanish recipe that we all love. These patatas bravas are a great accompaniment to any meal or to use as a starter.
30. Rolls with Serrano Ham & Fig Preserves
Again, we have serrano ham making a splash in a delicious recipe. Check out this yummy, savory and sweet, treat over at Sweet Paul Magazine.
31. Spanish Peppers
These pepper boats are delicious to eat but fun to make too! All you have to do is hop on over to the Kitchn and get started.
32. Spanish Beans with Tomatoes
Grab a scoop of these beans on your way to lunch or dinner. Perfect as a side dish as well or served with a great, crunchy roll, snag the recipe at Veggie Desserts.
33. Apple Cider-Glazed Chorizo
Eat Well 101 went with a chorizo bite as well. But this time it's been glazed with some apple cider. That savory and sweet combination is one of our favorites!
34. Garlic & Chili Mushrooms
Toss your mushrooms in a bit of garlic and chili. Make your tapas have a kick and a bit with this flavorful recipe! (via)
35. Spanish Puffs
We spot some spinach inside these Spanish puffs! Grab the recipe for these flaky treats over at Bon Appetit.
36. Fried Padron Peppers
Honest Cooking fried up some padrone peppers! Have fun biting each and every one of them to find out if they are "hot" or "not!"
37. Flamenco Eggs
Some flamenco eggs could be a great tapas to serve up at brunch time. Just don't forget the crunchy toast on the side. Recipe is at BBC Food.
38. Deep-Fried Anchovies
Who loves anchovies? Okay, so the list may not be that long but Happy Foods Tube fries them up in a way that makes them quite scrumptious.
39. Sautéed Eggplant with Honey
A Spicy Perspective goes with a lighter tapas recipe. Sautéed eggplant with a bit of honey, the kiddos may even like this one.
40. Chickpea Salad
Some lighter, chickpea salad – full of flavor – can be served at lunchtime or as an appetizer. Visit Daily Mail for the recipe.
41. Shrimp Tapas with Mango Shooters
Here's a fun tapas recipe to try our hands at. We start off with mango shooters and finish off with some shrimp! Find the recipe at Eat Well 101.
42. Chorizo, Red Peppers & Manchego Tarts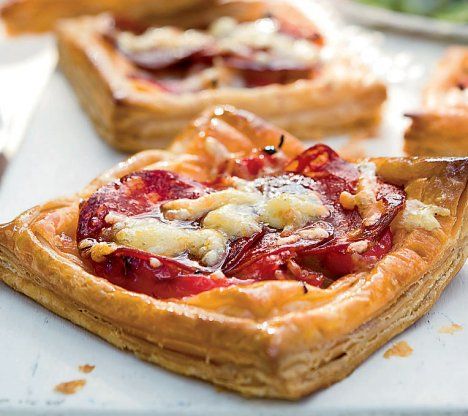 A personal favorite on the list, these chorizo, red pepper and manchego tarts are delicious all the way around. Daily Mail has all the info behind these.
44. Paella
Paella is a dish we instantly think of when it comes to Spanish food. So, it's only natural that we had a beautiful recipe, like this one from Mommy's Home Cooking, on our list!
45. Ham & Peach Wraps
BBC Good Food wrapped some ripe peaches up in ham. And we're drooling over how wonderful these little bites would be.
46. Spanish Mussels with Chorizo & Tomato-Wine Sauce
If you're a seafood lover than you love this dish from The Comfort of Cooking. Serve it family style or as a treat to indulge in before the salad is plated.
47. Pinchos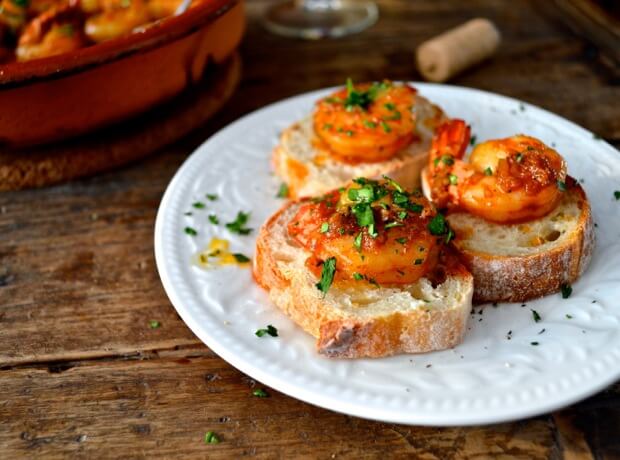 The Woks of Life went with a classic pinchos recipe. Toasty bread bites topped with flavorful shrimp, it's a fan favorite!
48. Spanish Chickpea Fritters
Veg Kitchen has a healthy, chickpea fritter recipe we're loving. Just don't forget something to dip them in!
49. Garlicky Shrimp with Olive Oil
Food & Wine utilized shrimp in their tapas recipe as well. Garlicky shrimp will satisfy lots of tummies too.
50. Croquettes with Ham & Manchego Cheese
Martha Stewart leaves us off with another croquette recipe that we're loving. And this time they're filled with ham and manchego cheese!