These 21 DIY Snow Globes Will Have You Jolly All Season Long
Dive into the latest and greatest holiday do-it-yourself project tonight! These 25 DIY snow globes will have you jolly all season long. The family will also love coming together for these creative sessions. Check them out now!
1. Winter Wonderland
Martha Stewart shows us how to make a classic, winter wonderland snow globe right at home! Check out the details after the jump.
2. With Photo Cut-Outs
Over at Our Best Bites, you'll find how to place some photos into your globes! Your favorite memories come to life!
3. Baby Food Jar
Craftaholics Anonymous shows us how to reuse all of those baby food jars! Turn them into tiny snowglobles to sprinkle around the house!
4. Waterless
Have you ever seen or heard of a waterless snow globe? Tidy Mom will teach us all how to make some for ourselves.
5. Complete Village
Kelly Elko made an entire snow globe village with larger containers! They're become beautiful addition to a vintage trunk or the mantle over the fireplace.
6. Halloween
You can make some snow globes of other holidays too and not just for the winter season. The DIY Village whipped up some fall-inspired Halloween pieces!
7. With Cars
It All Started With Paint stuck a car in their globe! It's like a little nod to our favorite Christmastime family – The Griswolds!
8. Terrariums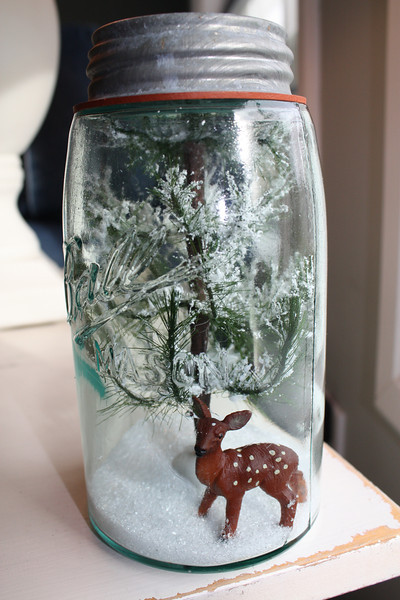 The Lemonista combines the organic beauty of terrariums with the magic of a classic snow globe. Check out the details after the jump!
9. Under the Sea
We're loving this funky idea from Chickabug! Use them as favors or carve out an afternoon full of fun making some "under the sea" globes!
10. Fishbowl
Craftionary used a fishbowl to house their new holiday decor. It's such a genius way to set the scene of your snow globe.
11. Anthropologie-Inspired
Create some simple, Anthropologie-inspired mason jar snow globes with some help from  Simple Craves & Olive Oil. We're loving its classic nature.
12. Plastic
The 36th Avenue used a plastic cup to make their snow globe happen! And we're loving the finally product and it's chic style!
13. Ornaments
You can even decorate the tree with  some snow globes. Learn how to make some with the help of Girl Inspired.
14. Light Bulb
Even a light bulb could be used to whip up a snow globe! They can be transformed into ornaments too. Check it out at Magical Daydream.
15. Jewelry
Apartment Therapy shows us how to make a super unique and beautiful snow globe with the help of some older jewelry. It's great way to display heirlooms!
16. Party Time
Gray Malin shows us how to make some stunning party-inspired globes! We love the festive colors!
17. Tiny Cookies
So you can even stuff your favorite Christmas cookies inside! Grab the details over at I Heart Nap Time.
18. Olaf
A Pumpkin and A Princess gives all Frozen lovers something to get excited about. Make your very own Olaf snow globe!
19. Arctic Animals
You can make a seasonally-inspired one instead of a globe that's all about the holidays. Check out these arctic cuties from Classic Play.
20. Valentine's Birds
Big DIY took Valentine's Day and used it as their inspiration. Just take a peek at these adorable little love birds!
21. Sleigh Rides
Martha Stewart makes a beautiful sleigh riding snow globe too! Hop on over and grab the details for this one.