These 50 Smash Cakes Are Perfect To Ring In Year One
Once that first birthday rolls around, you'll be ready and waiting for those little hands to dive into a slice of cake. And these 50 smash cakes are perfect to ring in year one with. Grab some inspiration and a recipe or two with all of our favorite finds below!
1. Classic
Brit + Co starts us off with a classic and simple recipe. Give your baby an easy smash cake to dive into on their first birthday.
2. Vanilla with Pink Rosettes
Over at Belle of the Kitchen you can create a vanilla cake with rosettes on the outside. They just so happen to be pink, and we love them!
3. Piñata
Have your little one smash into the cake and have candy pouring out! With some help from A Subtle Revelry it's easier than you may think!
4. Cinnamon Spice
Oh Everything Handmade makes a cinnamon spice cake that could be a fun and unique way to celebrate. If your babe is already a favor of the spice, go with this recipe!
5. Banana with Blueberry Frosting
Fruity and delicious, check out this banana cake over at Kristine's Kitchen! Just don't forget to top it with some blueberry frosting.
6. Vegan
Kitchen of Eatin' makes a beautiful vegan cake as well. If you're raising a vegan household, you'll want to check out this recipe for sure!
7. Low-Sugar Carrot Cake with Cashew Cream Frosting
The Vintage Mixer whipped up a cake with a bit less sugar. A yummy carrot cake topped with cashew frosting seems pretty delicious, don't you think?
8. Banana
Banana cake is always a hit with the little ones. Just check out Sugary & Buttery for the details. 4
9. Mini Sprinkle
How Sweet It Is made mini sprinkle cakes that your babe can dive right into. And those sprinkles will definitely garner some big smiles.
10. Spiced Banana & Date
Snixy Kitchen went with a banana cake with a kick. Some spices and added date can really round out the flavors.
11. Blueberry
A simple blueberry cake could be nice. It's a bit lighter than a dense chocolate or vanilla. (via)
12. Dye-Free Sprinkles
Weelicious makes a sprinkle cake we're loving too. But the sprinkles here are dye-free without all the chemicals!
13. Ombre
If you're looking for more of a style rather than a favor, then check out this ombre look over at This Silly Girl's Kitchen. It's easier to recreate than you may think!
14. With Applesauce
Hungry Little Munchkins made a smash cake too! And the ingredients uses a bit of applesauce.
15. Fudge Frosting
The Baker Mama shows us how to make a delicious fudge frosting that will definitely go down right for the big celebration. Grab the recipe after the jump.
16. Funfetti
A big celebration will always call for sprinkles and that means right inside of the batter! Check out this funfetii recipe at Posh in Progress.
17. Coconut & Raspberry
Healthy Little Foodies went with a coconut and raspberry combo that has this little one chowing down. Grab the details after the jump.
18. Paleo
If you eat on a paleo plan, then we have something for you too! And it's still packed with deliciousness and festive flavors. (via)
19. Spinach
Yes, there's a spinach cake happening here. If you're interested, check it out at Weelicious.
20. Mini Chocolate Layer
What the Fork whipped up a mini chocolate layer cake that couldn't be more perfect for a 1-year-old's hand to dive right into.
21. Blueberry Lavender
Style Sweet CA went a bit outside-the-box with their flavor choice. Light, delicious and seasonal, blueberry lavender bites are quite scrumptious.
22. Vanilla with Coconut Flour
Our Four Forks makes beautiful vanilla cake made with coconut flour. If that sounds like something you'd fancy, take the leap now!
23. Passion Fruit
A passion fruit cake could be fun for the party as well! Check out all the details over at West Elm!
24. Banana Pineapple
Here's another fruity treat for our sweet-loving babes. The Baker Chick made a little layer cake out of banana and pineapple.
25. Vanilla Magic Custard
If you're already a fan of custard cakes, why not whip one up for the party? They're easy to "smash" and a fan-favorite for all! (via)
26. Strawberry
Classic strawberry will always do well. You can even add some chocolate chips or icing to the mix. Grab the recipe at Julie's Eats & Treats.
27. Blueberry Lemon
Natasha's Kitchen gives us another delicious and fruity concoction to think about. Blueberries and lemon make a cake perfect for a summertime celebration!
28. Cinnamon Sugar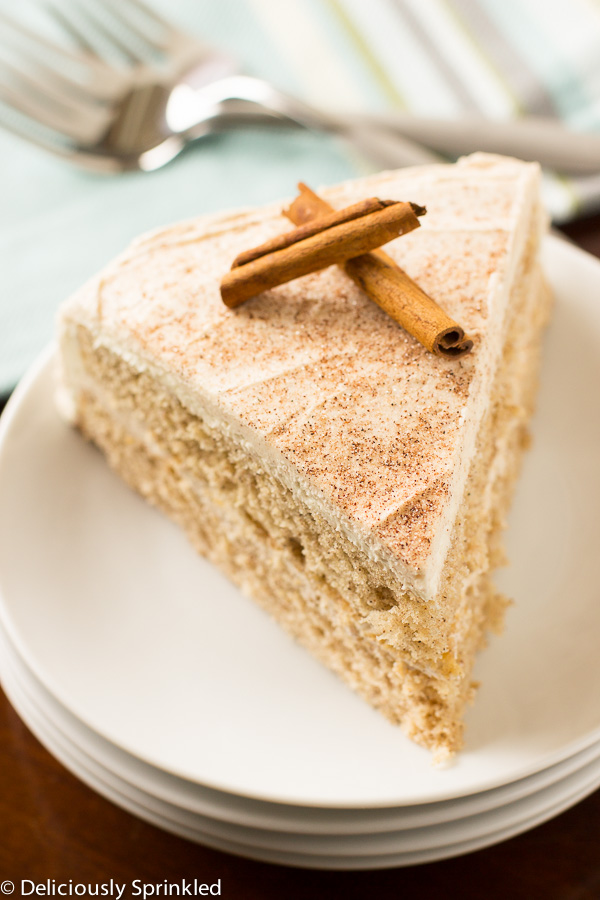 The Recipe Critic went the cinnamon sugar route. Warm and inviting, it's hard not to be satisfied with a bite out of this one.
29. Chocolate Chip
Mel's Kitchen Cafe went with a classic, gooey chocolate chip piece of heaven. If you don't care about getting the babe a little messy, treat them with a piece of this!
30. Vanilla Dream
An easy, vanilla dream cake would work too! Just add some sprinkles on top and grab some help from The Novice Chef.
31. Orange Dreamsicle
For something a little more special though, check out this recipe from My Cake School. An orange dreamsicle cake will surprise guests and satisfy them – babe will like it too, don't worry!
32. Red Velvet
The Red Feedback went with a classic red velvet. Again, classic cake flavors will always be a win.
33. Giant Chocolate Chip Cookie
So, the kiddo may not be able to actually "smash" this cake but they sure will enjoy it. Like Mother, Like Daughter made a giant chocolate chip cookie cake that we can all drool over.
34. Shirley Temple
Shirley temple cakes seem to be a lot of fun. They're festive, they're moist and we envision pictures if the smashing to be pretty special too. (via)
35. Cinnamon Roll Layer
Who loves a great cinnamon roll? Well, those flavors comes to life in this cake from Cookies and Cups.
36. Rainbow
Divas Can Cook went with multiple layers and multiple colors! Learn how to make a rainbow cake by the afternoon!
37. Cookie Dough
Here's another outside-the-box flavor that will meet the demands of more the party guests and the birthday boy or girl! Check out more info over at Bite Me More.
38. Birthday Muffins
These little birthday muffins are perfect for celebration and for smashing! Grab the recipe at Brooklyn Farm Girl.
39. Lemon Drop
The Country Cook went with a single flavor cake. If your little one loves lemon, then you'll want to check out this one!
40. Chocolate Chip Layer
Baked Bree made a personal favorite. A layered, chocolate chip cake is easy to recreate and even easier to smash into and enjoy.
41. Blueberry Zucchini with Lemon Buttercream
The View from Great Island added some veg to their cake mix! Zucchini and blueberry never tasted so sweet!
42. S'mores
Why not go with a s'mores cake in celebration of your little one turning, well, one! Brown Eyed Baker can give you all the details.
43. Chocolate Dulce de Leche
Or you can turn up that chocolate cake with a bit of dulce de leche. Snag the recipe at Liv for Cake.
44. Banana Chocolate Chip with Nutella
Bananas, chocolate chips and Nutella too, it's a cake with all of our favorite flavors in one! Give the taste buds of every one their own party with this recipe. (via)
45. Cherry Chip with Vanilla Buttercream
Completely Delicious has another favorite that we've celebrated with before. A dash of chocolate chips will finish this one off just right.
46. Birthday
Of course, a classic birthday cake would work too! Just check out Craftsy to learn how to make one to "smash."
47. Blueberry Velvet
i heart chocolate milk made a blue cake! This is perfect for a themed event and those who love blueberries too, of course.
48. Apple Spice with Maple
Simple Bites took some apple and some spice and made a cake! For apple lovers, this one is a must try.
49. Chocolate with Peanut Butter Cream Cheese Frosting
If you already know you're little one is clear of peanut allergies, than this peanut butter cake can really round out the party quite nicely. Grab the details at Hello Bee.
50. Sugar-Free Carrot & Date
And finally, nix the sugar and still make something yummy! Visit Things for Boys to learn all the details behind this carrot and date creation.