50 Baby Food Recipes Made Fresh For Your Little One
Instead of buying pre-made meals in a jar or a pouch in the store, why not create something with pure ingredients right at home. These 50 baby food recipes are made fresh and by your own hand for your little one! You'll also know what's going into that tiny belly!
1. Apple Fennel Puree
Weelicious starts us off with a simple puree using apples and a bit of veg. Hide the fennel behind the sweetness of the fruit!
2. Sautéed Zucchini Puree
Give your babe something with a bit of punch and savoriness with some help from Know Your Produce. Zesty zucchini seems rather tasty, don't you think?
3. White Peach & Banana
This white peach and banana puree from Baby Bullet could be a delicious ending to dinnertime. Check it out after the jump!
4. Slow Cooker Applesauce
A Zesty Bite made some tasty applesauce with the help of a slow cooker. Snag the recipe and start a batch in the morning!
5. Vanilla & Peach Quinoa
Are you looking for something a bit dessert-like for your little one to have this evening? Over at Teach Eat Love you'll find a scrumptious mix of peach and vanilla.
6. Bolognese
Serve it up on its own or with some noodle, this bolognese sauce is scrumptious for all! Check it out at Food 52.
7. Dried Bean Puree
Get some extra fiber and protein in your babe's tummy with this recipe from PopSugar! Serve it up with something sweet.
8. Chicken & Veg Puree
For babies that are a big older, this chicken and veg puree from What Caroline Cooked would be perfect! Grab the easy tutorial after the jump!
9. Blueberry Banana Oat
Coupons gave us the perfect idea for your little one's breakfast this weekend. Tangy, sweet and full of nutrition, this fruity oat bowl will surely be a hit.
10. Kiwi Apple Zucchini Puree
Slide in some veggies with ease by checking out this puree from Simply Whisked. Zucchini never tastes so sweet!
11. Apricot, Pear & Coconut Oil Puree
Make it a bit smoother with some coconut oil. Check out Baby Foode for this sweet mix!
12. Almond Milk, Yogurt & Cherry
Here's another one that will go down smoothly, especially in the morning. Yogurt, cherries and almond milk makes it quite the trio of yum. Thanks Project Nursery!
13. Broccoli, Spinach & Basil Puree
Teach your baby to savor and enjoy their veggies. Just make sure you add in some extra flavor to make them more bearable like they did over at Simply Whisked.
14. Mango Banana Puree
Baby Bullet took some mangos and bananas to make something scrumptious for the tiny tots to enjoy. It's easy, fresh and sweet enough for the babies to gobble right up.
15. Zucchini, Apple & Carrot Puree
Picky Eater made a veggie puree that is sweetened by a little bit of apple. It's still delicious though and one that may just become a new favorite.
16. Asparagus & Mint Puree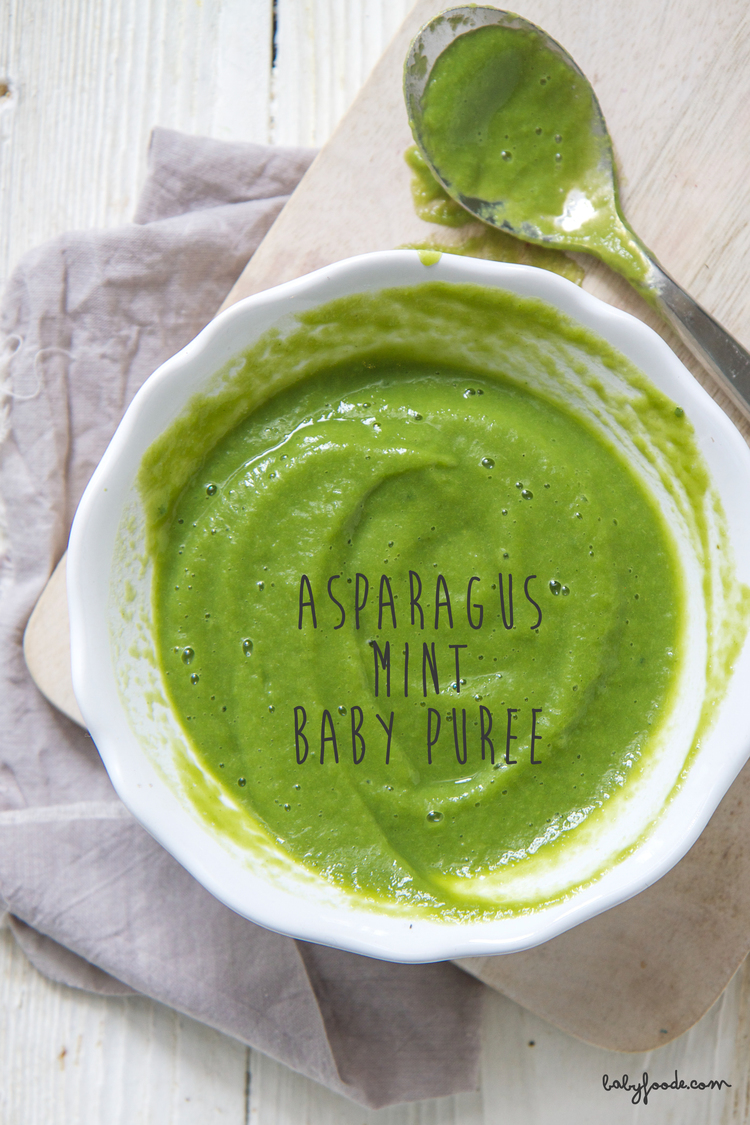 If you want to get a bit adventurous, then you'll need to check out this mixture from Baby Foode. Who knew asparagus and mint could taste good?!
17. Mango, Kale & Ginger Puree
Baby Foode knows how to hide the veggies in the most delicious of ways. Kale covered up by the tartness of mango and the sweetness of some ginger.
18. Apple, Blueberry & Spinach Puree
Little Mashies shows us how to whip up a classic combo: blueberry, spinach and apple. It's delicious and goes great as a dinnertime side.
19. Apple & Oat Porridge
Yummy Tummy made a simple apple and oat porridge that can easily become a staple for your little one too. Fresh, good ingredients will always go a long way.
20. Chicken & Corn with Cilantro Puree
Baby Bullet made a lunch of dinnertime treat with great flavors for a little one to try! Chicken, corn and cilantro, there' a bit of a Mexican vibe with this bite.
21. Sweet Potato Puree
You'll need some easy, simpler recipes in your baby food rolodex and this one is a must! Every tot has to try sweet potatoes! (via)
22. Beef Stew
Beef stew could be a fun adventure and something different! Give the gift of protein and savory flavors with this recipe. (via)
23. Strawberry Milk
Mash Your Heart Out made some healthy, homemade strawberry milk that is sure to go over big with your babes. Grab the recipe after the jump!
24. Pear & Baby Super Greens
Baby Foode paired some pears with super greens in hopes of giving your baby the best of both worlds. It's a great accompaniment to lunch and dinner.
25. Blueberry, Chickpea & Rosemary Puree
And if you want to go out on a ledge again and be adventurous, you'll need to visit Baby Foode again as well. Rosemary .. who knew a baby could enjoy that?
26. Saffron Risotto
From My Dining Table went with risotto! It'll be a real treat as your baby gains a more mature tummy and more teeth!
27. Butternut Squash Puree
Frugal Fantastic gives us another classic staple to have buried in our pockets. Butternut squash is a must-try as well.
28. Beets & Blueberry Mash
Hides your beets in your blueberries! Mash Your Heart Out gives us all the details behind the combination.
29. Roasted Banana & Rosemary Puree
Baby Foode brings us another recipe for our babies that has some rosemary inside. For interesting, adventurous combos, you've got to visit.
30. Carrots & Nutmeg Puree
Carrots and nutmeg could be fun as well. Just visit our favorite, Baby Foode, for the info.
31. Green Beans, Chicken & Avocado Mash
Buona Pappa added chicken, green beans and avocado together. And, surprisingly, it makes quite the tasty and nutritionally-packed meal for our babes.
32. Mango & Apple Oatmeal
Mangos and apples go together nicely as well. Evening out each others sweetness and tartness with ease. (via)
33. Peach, Cauliflower & Ginger Puree
Baby Foode went with a peach and cauliflower combo that we're loving. Add a little ginger to finish it all off flawlessly.
34. Mango & Banana Puree
Baby Center mixed up some mangos and bananas. Again, the two fruits even each other out without and fuss.
35. Banana Brown Rice
Banana brown rice is a great – and filling – dish to have all day long. Steele House Kitchen brings us the recipe.
36. Carrots, Broccoli & Cheese Puree
Annabel Karmel added some cheese to her veggie puree. Watch your kiddo gobble this up without a fight.
37. Cherry & Basil Puree
Basil goes well with cherries too, believe it or not. Check out another sophisticated recipe for your kids at Baby Foode.
38. Banana, Coconut Milk & Cinnamon Puree
Baby Foode used some coconut milk with this fun creation. Serve this up in the morning for a special surprise!
39. Spinach, Chickpea & Sweet Potato Puree
Project Nursery went with something more savory and veggie-packed. If your babe will eat this one, then you'll know they were fed all the right kind of nutrients.
40. Kale, Pear & Carrot Puree
Buona Pappa went with kale, pear and carrot. Packed with veggies but smoothed out with the pear, it's surprisingly delicious.
41. Potato, Carrot & Sweet Corn Puree
Annabel Karmel used sweet corn in this mixture! Potatoes, carrots and that addition of corn make a yummy and easy side dish for your babe.
42. Avocado, Strawberry & Mango Smoothie Bowl
My Humble Kitchen went with a smoothie bowl that your kiddo will eat right up in the morning. Check out the recipe after the jump.
43. Avocado Blueberry Baby Smoothie
If they can use a straw, you could make this baby-friendly smoothie from The Lemon Bowl! Snag the ingredients now!
44. Blueberry & Cinnamon Puree
Baby Foode mixed up blueberries and cinnamon in this extra-special puree. If you want to introduce your baby to new flavors, this is a great one to start with.
45. Brown Rice Cereal
Weelicious gives us another classic, simple recipe that we should all know how to make for our littles one. Follow the link and jot down the details.
46. Pureed Carrots
And here's a recipe for clean carrot puree from Chocolate and Carrots. This is the way you start off your baby.
47. Chinese Steamed Egg Custard
Light Orange Bean gives us something a bit different and outside-the-box but still baby-friendly. If you're feeling adventurous in the kitchen, check it out.
48. Red Lentil Puree
Red lentils are packed with good nutrition for your baby too. Make a simple puree for them to try! (via)
49. Mixed Veggie
Some easy mixed veggies are a good way to slide some extra "good stuff" inside those little bellies too. Adding a bit of apple won't hurt either. (via)
50. Tropical Avocado Pudding
And finally, visit Camille Styles for a tropical avocado pudding that every kiddo will enjoy. You may even like it yourself!