30 Shade Loving Plants for Your Home
When it comes to choosing the plants that go in your garden each year, including the right things that will work in your space can be a challenge. It's also, of course, important to plant things you actually like the look of too! We've recently moved into a new house where the yard is quite shady, so we've had to do some research about what will work in our new space before we dig our gardening tools out, just to make sure we plant things that will thrive in less light.
Just in case you're like to learn more about shade loving plants too, here are 15 of the prettiest and most effective plants that will work for your garden as well!
1. Cora Bells
Cora Bells are known for how easy they are to care for, which is great news for beginner gardeners. They are low maintenance, they thrive in shade, and their tiny flowers bring a bright pop of colour to green spaces. We love their particular shade of pink! Learn more about them on Gardening Know How.
2. Dead Nettle
Their name might sound in a little bleak, but these plants are actually quite lively indeed! According to Gardenista, dead nettles are a lovely purple perennial, meaning they'll grow back each year rather than dying out at the end of a season and needing replanting. They're also a ground cover, so they will make deep roots and spread out across the garden, which can be a good or bad feature, depending on your garden goals.
3. Foam Flower
Just in case you'd prefer a flower that's a little less bright but still brings some delicate petals to your space, here's the Foam Flower! This is a one stem plant with lots of individual blooms. Learn more about its annual, non-spreading nature on Plant Delights.
4. Lungwort
Were you in love with the periwinkle purple shade of the Dead Nettle flowers but you're not so sure about the pale leaves? Then maybe you'd prefer Lungwort! According to The Spruce, this flower was used once upon a time to treat lung diseases because it looks like a lung and herbalists believe there was a link between the two. It thrives well near trees but will also spread.
5. Astilbe
This is a brightly coloured flower that blooms exceptionally well in prolonged shade. it also actually attract butterflies more than other flowers, making it fragrant and pleasant for gardens where you'll often sit to enjoy nature. Get more information on Gardening Know How.
6. Foxglove
Foxglove is a pretty bell shaped flower that grows tall. Some of these plants will grow back year after year, whereas others will not. They do, however, reseed themselves, meaning new ones will grow in that place the next year. Pollen Nation tells you more about it.
7. Japanese Forest Grass
Perhaps you're looking for a little more green in your garden and you're not too bothered about whether it flowers or not? In that case, Japanese Forest Grass might be perfect for you! It has a nice pom pom-like shape, and a cheerfully bright green colour. It does need some extra fertilizing to thrive, but Fine Gardening is here to tell you more about that.
8. Primrose
These buttery little flowers are a friendly, pleasant addition to any garden and, perhaps the best part of them, is that they'll stick around all year long! That's because, according to Plantlife, they do well in both shade and cold weather.
9. Spurge
Do you love the idea of planting something specifically green but you'd like a slightly more unique shape to it than just blade of grass, no matter how impressive in size? Then maybe you'd prefer to plant Spurge! This plant stays year round in frost free places. The National Gardening Association reminds you that it's sometimes also called Euphorbia!
10. Lady's Mantle
Lady's Mangle is a cheerful looking ground cover that looks fantastic in amongst flowering plants. According to Better Homes & Garden, it does need some maintenance to prevent it from spreading too far, but it has good shape and is therefore often used as garden edging or in decor like wreath making.
11. Browallia Hybrid
This lovely purple flower is also sometimes called Bush Violet. It's the kind of "set it and forget it" flower that's a fantastic option for beginners who aren't used to plants that take more regular maintenance. According to Proven Winners, these flowers grow best in ground but also do well in pots and boxes. They are heat tolerant but also thrive in shade, meaning They'll grow just about anywhere!
12. Coleus
This tender and stunning perennial requires that you do a particular gardening technique called pinching to make them grow back next year. They will still thrive and grow their stunning red leaves if you don't, they just simply won't grow back without new seeding the next year. You can learn more about that on Morflora!
13. Copper Plant
Have you ever seen a plant that perfectly embodied its name? Well, that's what planting Copper is like! This annual plant grows well in shade but comes to full colour more intensely in the sun. It does need a bit of care since it attracts many pests, but they are mostly ones that won't hurt other plants. Mulch Masters guides you through how to manage that!
14. Creeping Jenny
Have you been reading about all these ground covering plants that will spread and thinking about how much you'd actually quite like to harness that quality? Then Creeping Jenny just might be the plant for you! These little leaves stay green year round in places without frost. Just in case you like the look of this plant but you don't want it to spread, it can also thrive in a more controlled way in a pot, which Fine Gardening has a lot of advice for you regarding.
15. Fancy Leaf Caladium
Are you really feeling the red and green leaves you've beens seeing but you need something a little more low maintenance? Then perhaps this fantastic plant is the one for you! It's simple to maintain, it grows well from bulbs, and it can also be split from potted plants in order to be added to garden. Gardening Know How has more information for you.
16. Flowering Maple
This fantastic flower, described in detail on Southern Living, has a unique shape and a bright, cheerful colour. It thrives best in warm temperatures but, at the same time, it also does very well in shade. Keep in mind that it will need replanting after winter if you live in a cold place.
17. Garden Hydrangea
If you're looking for a fantastic flower that's colourful and lovely to look at, we'd definitely suggest considering Hydrangeas! These blossoms come in a stunning range of colours but they are most often deep blues and purples. They thrive in any amount of shade and The Farmer's Almanac is here to show you how to care for them properly.
18. Heucherella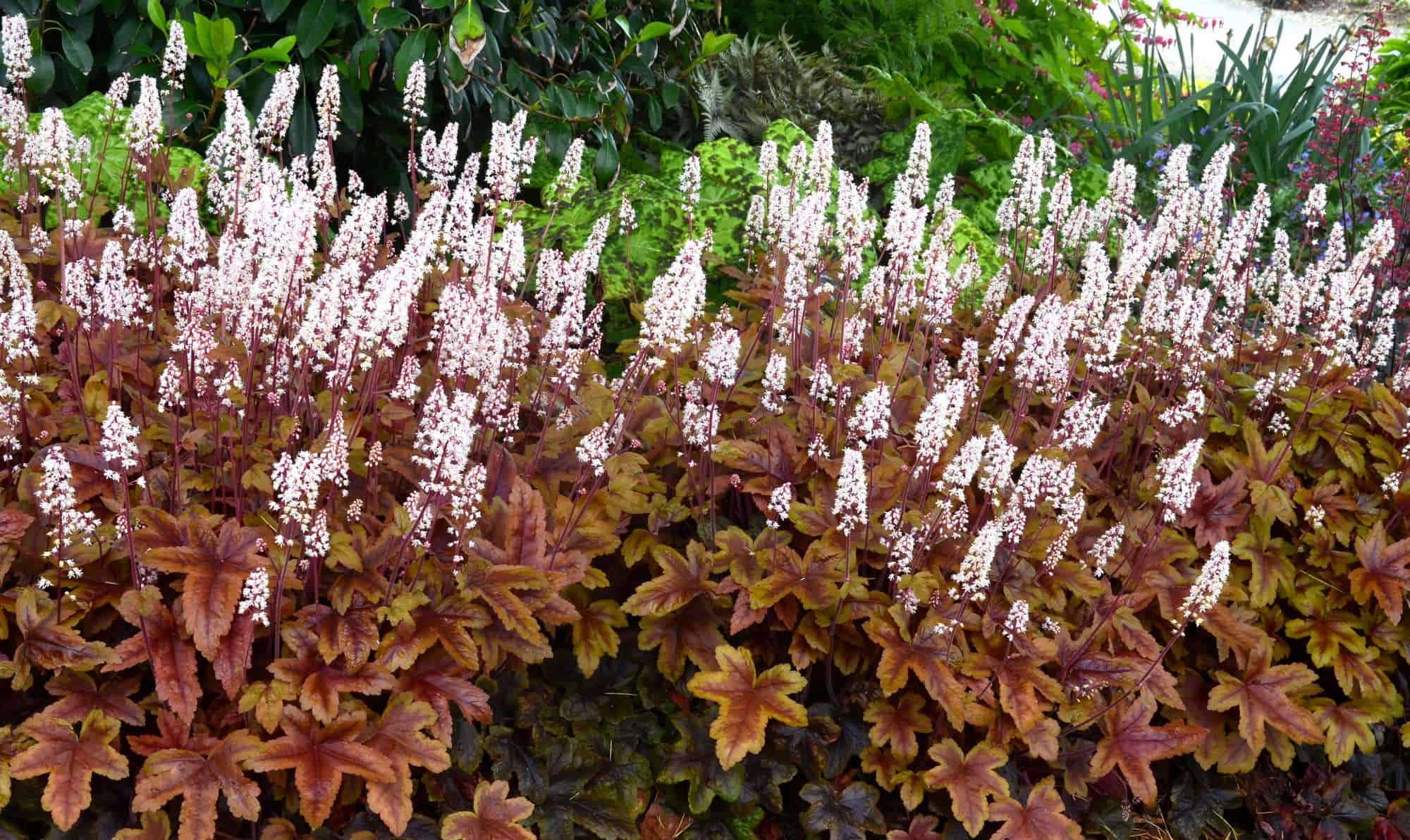 These adorable, subtle little blossoms resemble Foam Flowers quite closely except that their leaves are darker, which is very appealing. That's because they actually are a cross between coral bells and foam flowers! Greenhouse Grower describes them as shaded, leafy ground cover plants but with more flower than others of their kind.
19. Hosta
Just in case you're looking for a flower that's very fragrant, here's the Hosta! This plant with will grow almost anywhere and requires almost no work, making it another perfect option for beginner gardeners. Keep in mind when you're choosing a spot for it that, asMiss Smarty Plants says, it come back larger each year.
20. Impatiens
Would you rather plant something that comes in all kinds of bright colours? Then we'd suggest considering Impatiens! You can get them as annual or perennial plants; the perennial actually thrives very well during the winter. These are popular in the United States and are grown by most to be enjoyed in the summer. Gardening Know How gives you the full low down.
21. Meadow Rue
Just in case you're looking for something with more texture in the flower or you live somewhere very wet, here's the Meadow Rue! This plant, as outlined on Gardenia, loves swamp-like and shady wooded areas. The flowers come in all kinds of pastel colours and require regular watering, but they're not prone to disease or pest.
22. Mirror Plant
This fantastic leafy plant has a particular shine to it that makes its name very apt indeed. It's hardy, wonderfully low maintenance, and thrives in difficult conditions.Gardening Know How describes it as drought and shade friendly!
23. Persian Shield
Are you still thinking about how much you love leafy plants but you're intrigued by all the purple things we've shown you? Then check out whatProven Winners has to say about Persian Shield! This plant does well moving between outdoors and indoors based on the season, which is good because it doesn't thrive outside in winter.
24. Yesterday-Today-And Tomorrow
Would you rather plant something large and shade loving that will really make a statement, even if it stands alone in its place? Then have a read through Love to Know about this funnily named plant's sweet aroma! It's a shrub with flowers and it doesn't like cold, so move it indoors in winter.
25. Bleeding Heart
Here's another interesting looking and aptly named plant for you!The Spruce tells you about these inch long, heart shaped flowers that come in pink or white. They love heavy shade and thrive best in woodland-esque areas, making them great for years with lots of shady trees.
26. Liriope Muscari
According to Missouri Botanical Garden, this plant is also commonly known as monkey grass. It will survive well and look full in anything from full sun to chilly shade. It's a great option for garden borders and grows beautiful  lilac coloured flowers in late summer.
27. Christmas Fern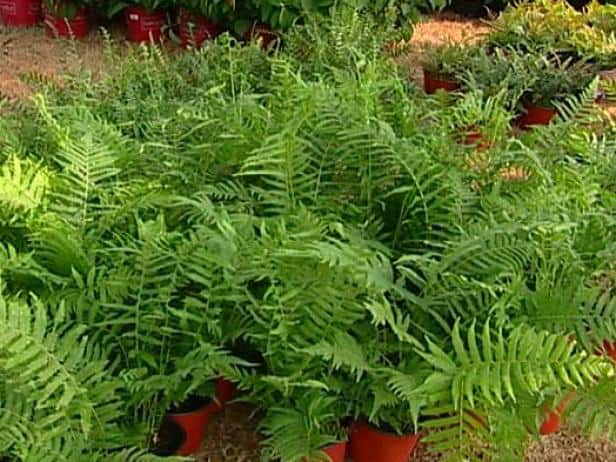 If you're a plant enthusiast already and you often buy seasonal things, then you'll have seen this particular leaf in holiday bouquets before!Canadian Wildlife Federation says it's hardy, has evergreen leaves that stay bright green and cheerful in winter, and it's often planted on slopes to prevent erosion. Christmas fern won't spread but the original clumps you plant will get larger.
28. Lenten Rose
Have we really caught your eye with all these maroon shades because that's your favourite colour but you'd prefer something with dusty red flowers rather than just leaves? Then take a look at The Spruce to learn more about Lenten Rose! Commonly known as hellebore, this flower grows in clumps with dark green leaves. The blossoms can come in white, pink, or rose-purple, making it one of the prettiest of the shade loving flowers.
29. Lily of the Valley
Lily of The Valley, outlined in more detail on Longfield Gardens, features little white bell shaped flowers that smell very sweet. This flower makes great ground cover under trees, as it thrives well there in the shade of the branches and around the roots.
30. Vinca Flower
Often called Periwinkle Plants, this flower is another one for the purple lovers out there! It's a popular ground cover with smooth leaves that spreads across the ground, putting out full roots. The Gardeners Network says it loves shade and will help keep down weeds is you plant it with other perennials.
Do you know a fellow DIY enthusiast who also adores gardening and who has been looking to add a lovely green element to their yard but you also know they could use a few tips? Share this post with them to give them some guidance!