25 Savory Crepe Fillings To Round Out Your Brunch Menu
These delicate, French pancakes can be filled with so many fun treats. From the sweetest indulgences to the cheesiest and meatiest concoctions, it's a great way to serve a light lunch of a fun dinner for you, the family or for a few of your best friends. And with these 25 savory crepe fillings you'll be rounding out the brunch menu quite nicely.
1. Steak, Spinach, Mushroom
Half Baked Harvest whipped up a crepe recipe that works perfectly for a light and satisfying dinner. It's also a great plate to serve up for friends when they're over for a bite.
2.
Shrimp & Crab
If you're a seafood lover, pop on over to Kraft and scoop up this recipe. A bit of shrimp and crab some together in this creamy creation.
3. Smoked Salmon
Food & Wine made some crepes with smoked salmon inside. Serve these up at brunch time for an extra special treat.
4. Shrimp, Pork, Bean Sprouts
If you want another fun concoction, check out this one from Food & Wine too. Shrimp, bean sprouts and pork come together quite nicely here.
5. Lasagna
You can make a super delicious lasagna creation out of crepes too. Just follow along and don't forget your ricotta! (via)
6. Ham, Cheese, Hollandaise
We found the most perfect brunch recipe around! Cooking & Beer threw some ham, cheese and hollandaise together for this one.
7. Kale & Artichoke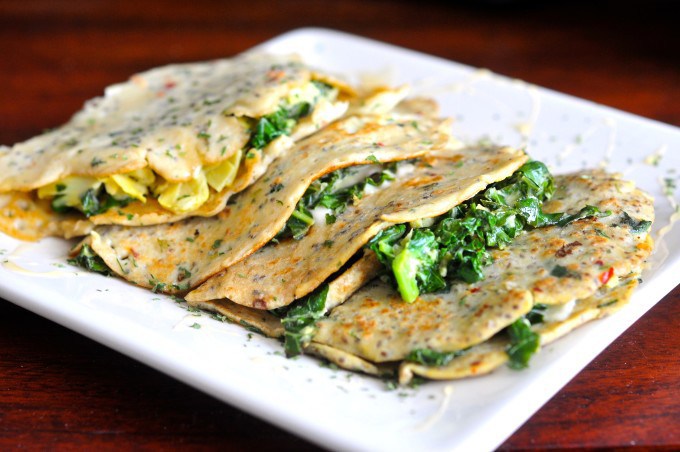 Cookies to Kale make a kale and artichoke crepe that vegetarians will love. Or maybe you're just craving something a bit lighter and healthier, this can be your new go-to.
8. Rotisserie Chicken & Cream Cheese
All Recipes mixed up some rotisserie chicken and cream cheese for something deliciously satisfying. These are great as a dinnertime treat as well!
9. Chicken & Mushrooms
Chicken and mushrooms are a powerful duo and one that satisfies across the board. Check out Julia's Album for the recipe behind this yummy crepe filling.
10. Mushrooms, Spinach, Cheese
Food has a recipe where mushrooms take center stage again. For those that wants to nix the meat, dive into this one!
11. Spinach, Bacon, Hollandaise
Chef in Training made a personal favorite by mixing up some spinach and bacon crepes. And to make it even better, it was all topped Hollandaise sauce!
12. Goat Cheese
Goat cheese could be a show stopping filler as well. With some herbs and cheese, you just cannot go wrong! (via)
13. Monte Cristo
Food Blogs whipped up a monte cristo crepe that we're absolutely drooling over. Don't forget the raspberry topping!
14. Tacos
Are you a fan of tacos? If so, fill up your crepes with some taco-inspired enchilada filling with help from Mel's Kitchen Cafe.
15. Tomato, Basil, Goat Cheese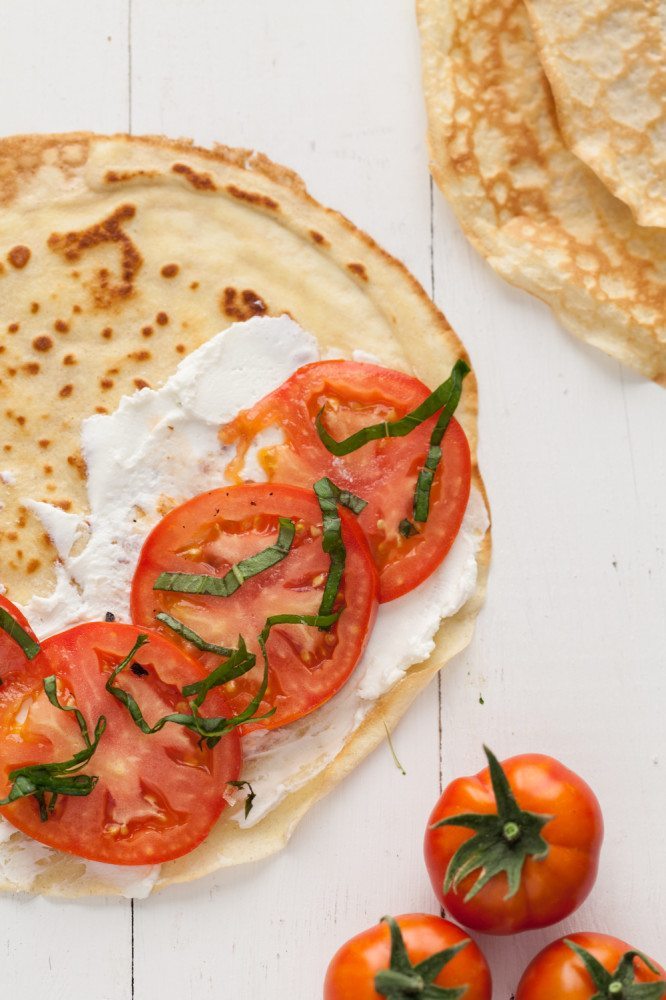 Naturally Ella made another favorite for those that want to go without some meat. Inside you'll find a caprese crepe to serve up at brunch time for the family.
16. Eggs, Ham, Swiss
Cooking Classy made a breakfast crepe the family will love too. Ham, eggs and swiss are a classic combination that'll satisfy every time.
17. Chicken & Broccoli
Creations by Kara knows that chicken and broccoli goes together seamlessly too. Check out this recipe and whip it up for dinner tonight!
18. Scrambled Eggs
Here's another breakfast recipe that you'll love. Home Cooking Memories shows us exactly what to do to make these right at home.
19. Ham, Swiss, Asparagus
We already know that ham and swiss go together. But if you add a bit of asparagus in there too you'll be happy with the outcome, we promise. (via)
20. Cabbage
Over at Cooktoria, you'll find this delicious cabbage-filled crepe to try your hand at. Grab the recipe and try it out at home now!
21. Summer Squash, Tomato, Chickpea
This beautiful recipe is from Half Baked Harvest. Fill up your crepe with veggies and dive right into this special dish.
22. Turkey & Pesto
Turkey and pesto can be quite the delicious combination too. Grab this recipe over at Chef in Training and done forget to add a bit of cheese!
23. Ham & Egg
Martha Stewart has another ham and egg recipe that we're loving. It's not only pretty to look at but it's delicious to bite into.
24. Mushrooms & Gruyere
Food & Wine mixed up some mushrooms and gruyere cheese. It's got French flair and will satisfy all the tummies at the table.
25. Spinach, Artichoke, Brie
And finally, Half Baked Harvest gave us another classic, veggie-centered combination with this spinach, artichoke and brie crepe. Serve it up this weekend!