15 Great Recipes Using Spring Vegetables
We've never really been the kind to spend our winter and spring striving for a summer beach body, but we'll fully admit that there's just something about spring that makes us naturally start craving healthier foods. Perhaps it's the warmer weather that reminds us of how many fresh, delicious plants are out there growing in the breeze, but we always start craving vegetables the moment spring hits. That's why we've been on the hunt for all new recipes that will guide us through using as many delicious spring vegetables as possible.
Just in case you dig the idea of fresh vegetable based meals as much s we do, if not more, here's a list of the 15 best spring entree ideas we've come across in our search so far!
1. Papardelle with spring vegetables
Does the best possible spring vegetable dish you can think of involve a satisfying amount of delicious pasta noodles? In that case, we have a feeling you'll be very intrigued indeed by this papardelle with spring vegetables dish! Fine Cooking shows you how to make it using carrots, asparagus, red onion, snapped peas, shallots, and garlic. Make sure to salt and pepper it to your preference!
2. Shaved spring vegetables with garden herbs
If you're going to make a vegetable heavy dish this spring, would you rather make it entirely of vegetables and enjoy a hearty salad, rather than combining it with carbs? Then we think perhaps this delicious shaved spring vegetables and garden herbs recipe featured on Proud Italian Cook will be right up your alley! Check out how they combined radishes, celery, yellow, red, and orange carrots, squash, and zucchini!
3. Spring vegetable salad with artichokes
If we're going to make a hearty salad that's actually satisfying enough to be a meal in itself, rather than just being a side or appetizer, then we almost always reach for the artichokes. There's just something about them that fills us right up and also compliments the flavour of nearly every other vegetable we love very well. This particular recipe from The Domestic Dietician encourages you to combine artichoke hearts, snap peas, petite rainbow carrots, garlic, and kalamata olives.
4. Chicken of the woods
No, this recipe doesn't actually involve cooking a chicken that used to live in the woods, which is what our kids thought when we told them we were making this dish for dinner. Chicken of the woods is actually a flavourful kind of mushroom! We loved the way Forager Chef suggested combining asparagus, fiddlehead ferns, young chicken of the woods mushrooms, English peas, and ramp bulbs with a delicious homemade vinaigrette.
5. Roasted baby spring vegetables
Just because you're eating spring vegetables doesn't mean you have to eat them raw or in a salad! It also doesn't mean those veggies have to be your entire entree either. This fantastic roasted vegetables recipe suggests combining delicious things like carrots, asparagus, and baby new potatoes with radishes and onions if you like a bit of a stronger taste. Find out how it's made on My Recipes!
6. Spring vegetable lasagna
In the winter when we start to crave a hearty, satisfying dinner that will keep us warm, we usually make a classically delicious lasagna with layers of cheese, noodles, and quality meat! In the spring, however, we find that a little too heavy on particularly warm days. We still love cheese, though, so we like being able to make lasagnas all year round! That's we enjoy this lighter spring vegetable version from Taste so much. They use tomato, asparagus, and different types of fresh greens.
7. Spring vegetable soup with pesto
Now, we know that vegetable soup isn't exactly a riveting, groundbreaking idea. There are so many different vegetable soup recipes out there we can hardly keep track of them and we'll admit that they usually start to blend together for us! This particular recipe from Martha Stewart, however, stands out to us because, besides being made from some of our very favourite spring vegetables, it's also made with a homemade pesto so flavourful that we can hardly resist making it once a week.
8. Pasta primavera with spring vegetables
When we tell you that we love pasta primavera, we mean that we love pasta primavera. What's even better, however, is when it has a whole array of spring vegetables mixed right in, just for a little extra flavour! It's not a hard recipe to make but just in case you need a bit of guidance because you're new to the whole cooking thing, here's a fantastic recipe (complete with a tutorial) from Ebony.
9. Spring vegetable frittata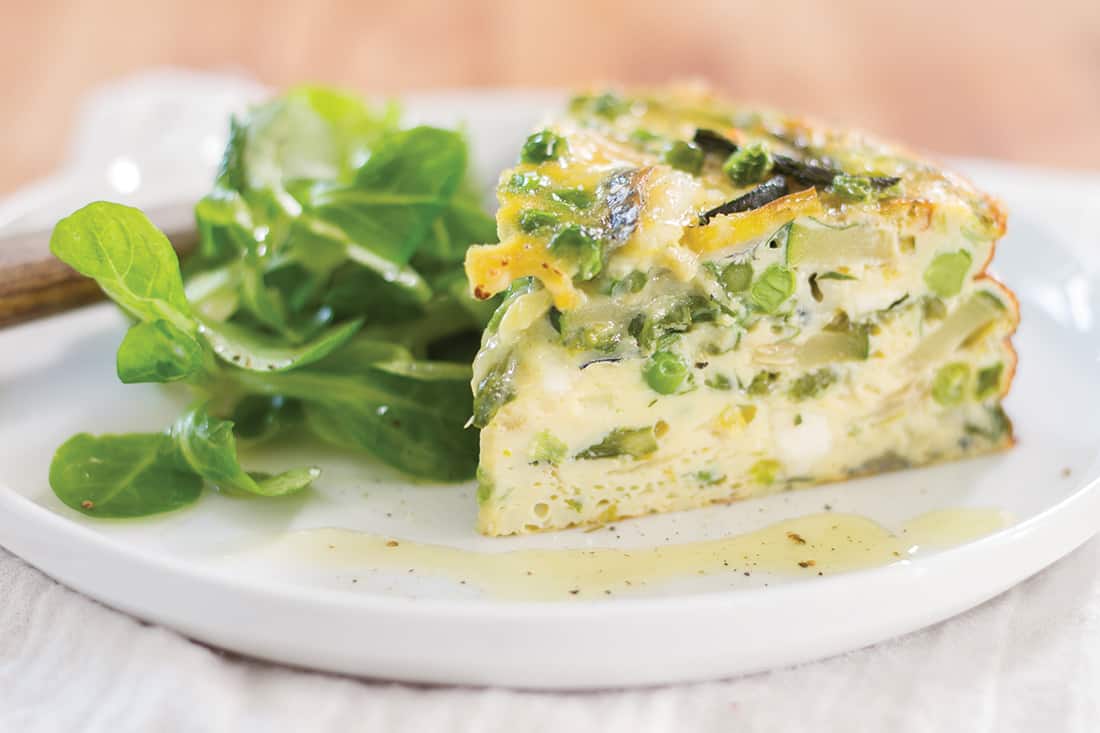 We know some people who always eat frittata in the morning as a breakfast dish and we know others who prefer to eat it as an entree at dinner, so we like to find recipes that we can keep up our sleeves for either option in the future. That's why we thought this fresh tasting spring frittata made with spinach and asparagus was such a good idea! Everything involved is something we'd eat during any time of day. Get the full cooking instructions on This Is KC.
10. Spring vegetable and chicken pasta
We've shown you a lot of vegetable based dishes so far, but we've noticed that all of them were vegetable only or still vegetarian even when other ingredients were added. Just because you enjoy spring vegetables, however, doesn't mean you have to avoid meat to cook with them! This spring vegetable and chicken pasta is the perfect example of what we mean. Take a look at Valley Leisure Lifestyle to find out how it's made.
11. Saffron risotto with spring vegetables
Are you actually quite a cooking enthusiast so you're looking for a recipe that's a little more challenging to make and perhaps even a little more gourmet in taste? In that case, we'd absolutely suggest taking a look at how Planoprofile made this fragrant saffron risotto topped with spring vegetables! We like to make our risotto very creamy so there's a big contrast between that and the vegetables with every bite.
12. Gnocchi with spring vegetables
Are you a pretty big fan of the whole "vegetables paired with a starch" idea but you actually eat so much pasta on a regular basis that you find you're bored with the idea of mixing your veggies with noodles? In that case, we'd suggest taking a look at how Pampered Chef made their spring vegetable dish with deliciously tender gnocchi potato dumplings instead! They used asparagus, stringless sugar snap peas, and fresh mint leaves.
13. Layered spring vegetable casserole
We can't lie- we make some kind of casserole just about every week. They're just so simple to do and our family loves them no matter what we put inside. That's why we like to use them as an excuse to get our kids to eat all the great, nutritious vegetables they won't eat any other time! One of our favourite recipes to use in the spring is this one from Orlando Sentinel that combines baby carrots, sliced mushrooms, peas, asparagus, and bacon.
14. Crispy chicken thighs with spring vegetables
Did we really catch your attention when we started talking about spring vegetable recipes that also involved meat but it's just hot enough in the spring where you live that you're not convinced a warm, heavy pasta dish is quite the kind of meal you're looking for? In that case, we'd suggest taking a look at this delicious crispy chicken thighs and spring vegetables meal idea featured on Epicurious instead! They suggest pairing your chicken with asparagus, baby new potatoes, radishes, and cloves.
15. Braised spring vegetables with Israeli couscous
Are you still scrolling through our list hoping to find a satisfying starch option that you can pair your delicious vegetables with but neither pasta nor risotto has caught your attention entirely yet? Then here's another alternative for your consideration! The Daily Meal suggests making a nice big helping of Israeli couscous and mixing it with braised artichoke, shallots, garlic, carrots, peas and asparagus.
Do you know someone who loves eating fresh, delicious seasonal vegetables almost as much as we do, if not more, and you know they're always on the lookout for new recipes to try out? Share this post with them to help them out this spring!