These 50 Pull-Apart Bread Recipes Will Have Everyone Grabbing For A Bite
Perfect for parties, holidays and dinner with the entire family, pull-apart bread is great served up before the meal even begins or as a deletable side to the main course. Some are sweet and some are savory, there are so many choices when it comes to this realm of baked good. And these 50 pull-apart bread recipes will have everyone grabbing for a bite.
1. Peanut Butter & Jelly
Tablespoon make this snazzy pb & j pull-apart bread and we're drooling over it. It's one of the most unique we've seen but also an absolute fan favorite!
2. Pizza
Check out Foodie Crush if you've got a craving for pizza. Learn how to create this for your next big movie night with family or friends!
3. Apple Pie
The Comfort Of Cooking made apple pie pull-apart that we are absolutely drooling over. How delicious with an afternoon cup of coffee?
4. Chocolate-Covered Cherry
Hop on over to Wine & Glue to grab this recipe for chocolate-covered cherry monkey bread. It'll be the perfect addition to brunch or dinner dessert!
5. Spinach Artichoke
You are going to get so addicted to these pull-apart bites. Real House Moms' spinach and artichoke bread just because your new dinner party appetizer staple.
6. Lemon
Your Homebased Mom took lemon bread to the next level with this pull-apart recipe. We love these rolls and could definitely see them making an appearance at your next shower celebration.
7. Caramel
Neighborfood makes a more classic pull-apart bread. This sticky concoction is full of sweetness and satisfying bites – especially with a cup of tea or coffee in the evenings.
8. Hot Chocolate
If you're a fan of chocolate, you must check out The Dutch Baker's Daughter and this fabulous recipe for hot chocolate bread! Snag a piece and indulge a little.
9. Peanut Crunch
Mrs. Peguin made a peanut crunch pull-apart bread that will definitely be the hit of the party – whether brunch or just an afternoon get together with the girls.
10. Pumpkin Caramel
Will Cook For Smiles made a recipe that's fit for fall. Pumpkin is the best flavor for autumn and when paired with caramel – it's a sure hit in the kitchen!
11. Chocolate Cinnamon
If you want something decadent in the mornings, why not try out this recipe from Crazy for Crust? A bit of chocolate in the early hours never hurt anyone.
12. Sausage & Egg
Melissa's Southern Style Kitchen made a breakfast edition of pull-apart break, complete with sausage and egg. You could even make some gravy on the side for this dish.
13. Cheesy Rosemary
If you want something a bit more unique and sophisticated – but just as delicious, you'll want to visit The Farmer's Daughter. This rosemary and cheese combo is delectable.
14. Cookies & Cream
Dessert Now Dinner Later took cookies & cream for dessert to the next level with this recipe. We love this for an after dinner treat and so will all the kiddos.
15. Cheesy
And over at Brit + Co, you'll find a classic and easy recipe for cheesy monkey bread. This is perfect for serving up alongside dinner any night of the week!
16. Strawberry Cheesecake
Lemon Tree Dwelling mades a strawberry cheesecake monkey bread that everyone will want to rip into. It's great for the spring and summer months and perfect for brunch time!
17. Stuffed Reuben
If you're a fan of classic reuben sandwiches, then you'll fall in love with this appetizer idea. Dive into the recipe over at Around My Family Table.
18. Oreo
Utilize your favorite cookie in this pull-apart bread recipe. Delicious for dessert, visit Spoon University for all the details.
19. Garlic Asiago
Dress up dinner with some garlic and asiago pull-apart bread. Food Network has the recipe and we think it's the perfect accompaniment to a pasta dish!
20. Caramel Bacon
House of Yumm makes a unique and delicious caramel and bacon pull-apart bread that everyone will want a piece of. Serve this treat at any family event!
21. Rosemary Lemon
Here's another flavor pairing for a more sophisticated palette. Flour Arrangements has all the details on creating a rosemary and lemon infused bread.
22. Carrot Cake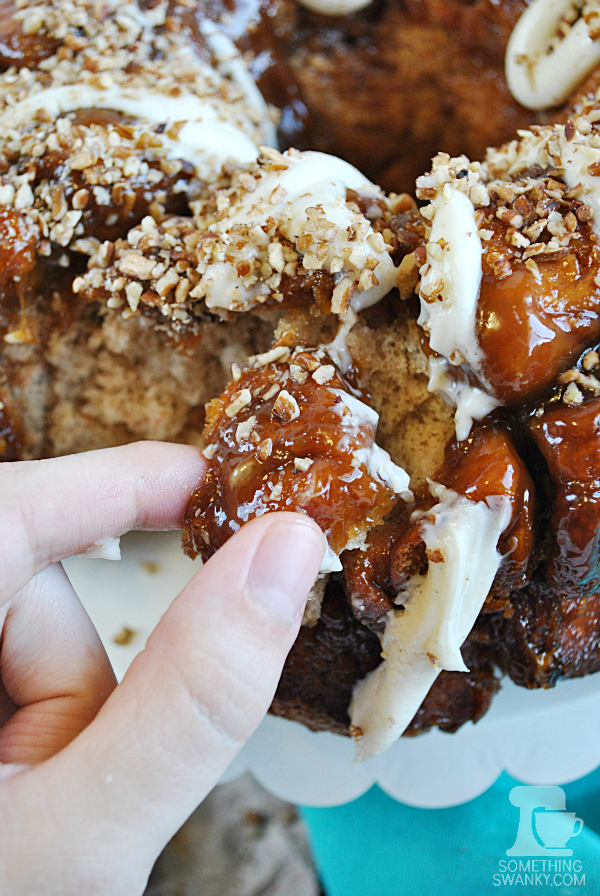 Something Swanky makes a carrot cake version of classic pull-apart bread and we're in love! For fans of this dessert, you'll love this treat even more.
23. Cranberry & Brie
Check out Vegetarian 'Ventures for this cranberry and brie concoction. This too will become an instant fan favorite and perfect for serving up as an appetizer.
24. Cinnamon Sugar
Stick A Fork makes a scrumptious cinnamon sugar monkey bread recipe that works for a morning treat or a late night snack as well. Check it out!
25. Cheesy Bacon
Here's one that every single person in the family and at the party will love. Five Heart Home serves up a perfect recipe for cheesy bacon pull-apart bread.
26. Mocha Cappuccino
Pillsbury has a personal favorite recipe featured on their site. It's a yummy wakeup in the morning and a delicious pick-me-up in the afternoon – for everyone!
27. Taco
If you're feeling tacos, then grab this recipe from Country Clever. It's a fun but just as satisfying take on the classic, Mexican dish.
28. Bean & Cheese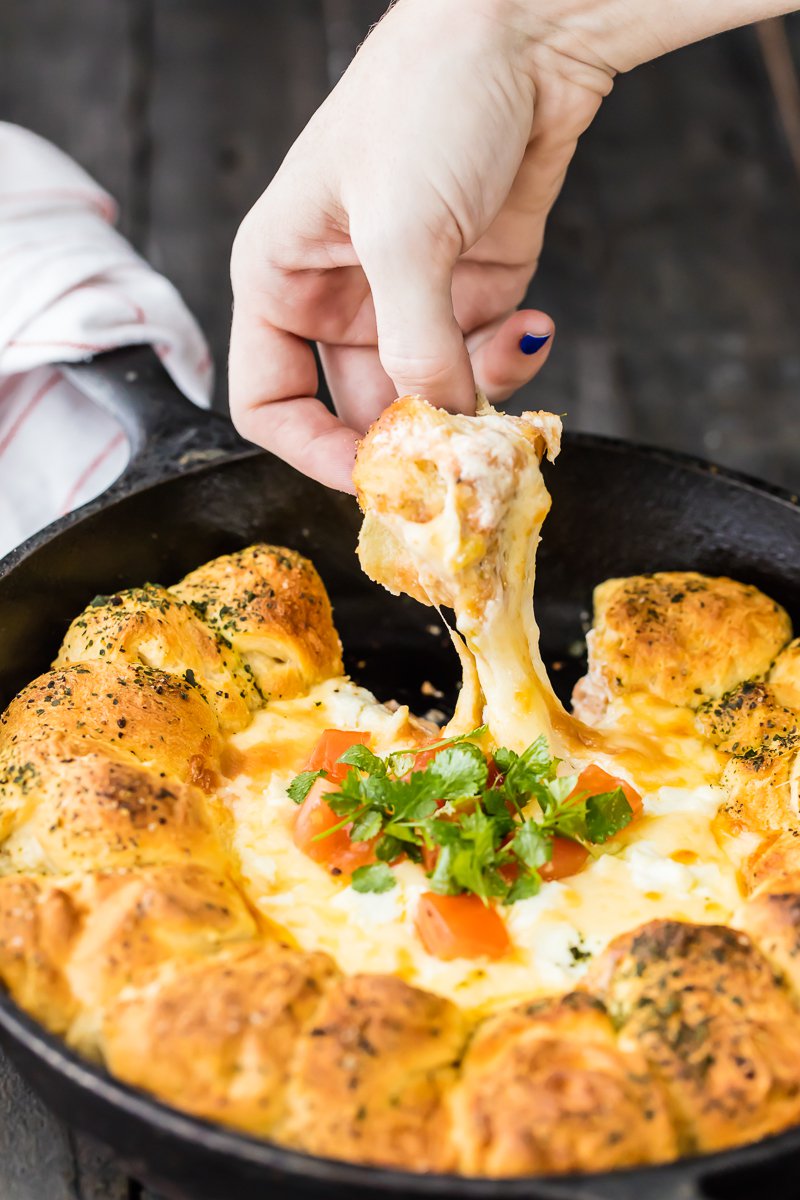 The Cookie Rookie has a two-for-special with this bean dip and pull-apart bread combination. It's the perfect party dish!
29. Olive
Check out Belly Full for a bread that is truly the best addition to an Italian or Greek-styled dinner party. Or just a fun night with the family!
30. Apple Fritter
Who doesn't love a classic apple dessert? Host the Toast has the recipe for some apple fritter pull-apart bread that compliments a hot cup of coffee just right.
31. Maple Walnut
Here's another popular baked good combination that works as a tasty treat all day long. Grab the details over at My Sequined Life.
32. Samoa
I Wash You Dry gives every Girl Scout cookie lover their dream recipe. Turn a Samoa cookie into a chunky, dreamy loaf of bread.
33. BBQ Chicken Pizza
Hop on over to Cafe Delites and snag this funky recipe for BBQ chicken pizza stuffed pull-apart bread. How delicious does this sound?
34. Buttery Dill
Bright Eyed Baker make some dill pull-apart rolls that would be so delicious with your next dinner with the family. Visit for the recipe now!
35. Sausage & Cinnamon
Call Me PMc has another unique bread that's great in the morning. Pairing sausage with cinnamon rolls couldn't be more tasty than this.
36. Ancho Chile
JujuGoodNews has this extra spicy recipe on their menu. Check this out for fiesta night or for a meal where you'll loosing to bring some kick.
37. Pesto
Weary Chef combines cheese and pesto for an Italian-inspired bite that everyone will want a piece of before the night is up. It'll quickly become a family favorite.
38. Nutella
For something delicious and indulgent, Baking Glory utilizes bouts of Nutella in this extra-special, pull-apart treat. Serve it up at brunch time, during the holidays or just because!
39. Garlic
Gather For Bread takes garlic and puts it at the forefront of this recipe. Instead of just traditional garlic rolls, make it a family-styled feast!
40. Cheddar Bacon Ranch
Gather round and start making this super addictive, cheddar bacon ranch bread from Normal Cooking. It serves as the yummiest appetizer in the books!
41. Red Velvet
Willow Bird Baking has a dessert-styled pull-apart bread that you'll be instantly drooling over. Red velvet with a cream cheese glaze, it's quite the dream bite.
42. Jalapeno Popper
For those that like a bit of spice with their appetizers, Food Babbles makes a sharable bread that's filled with all the best jalapeño popper ingredients. It looks delicious!
43. Cranberry & Brie
Cranberry and brie go together beautifully, especially after a bit of baking. And you can get this recipe over at Vegetarian Ventures.
44. Smores
Made in a skillet, check out this Rolo smores pull apart bread from Picky Palate. Serve it up as a fun and unique dessert at your next dinner party or family movie night!
45. Eggnog
Recipe Girl makes a pull-apart recipe that fits right into the holidays and ready for every guests at the party to jump into. Eggnog monkey bread looks out of this world!
46. Bloomin' Onion
Recipe Lion gives us a new take on the bloomin' onion we all love. This pull-apart bread is a party showstopper and the perfect family appetizer for the holidays!
47. Cheesy Breakfast
Recipe Lion is perfect for families that want to indulge a bit for breakfast. Lots of cheese and a bit of bacon too make this recipe stand out.
48. Lemon Blueberry
La Petite Brioche made a lemon blueberry monkey bread that the entire family will want to devour. Or may be your signature bite for bridal showers and baby celebrations.
49. Buffalo Chicken
How does some buffalo chicken pull-apart bread sound to you? Grab this unique recipe over at Host the Toast.
50. Herb & Cheese
The Tummy Train makes a really addictive and indulgent bout of bread too. Herbs and cheese make some pull-apart pieces even more delicious.